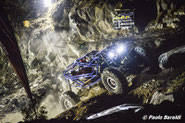 Foto e testo di Paolo Baraldi

E' incredibile come alla King of the Hammers tutto è pensato per lo spettacolo e per il pubblico. Un esempio eclatante è stato il Vision X Shootout studiato in ogni minimo dettaglio come se fosse stato un programma televisivo.
Spettacolare, elettrizzante, unico ed il tutto in soli pochissimi secondi. Questo è il Vision X Shootout ovvero la scalata in notturna del micidiale Backdoor nella Johnson Valley. La sfida, consite nello scalare un centinaio di metri di questo canyon nel minor tempo possibile per decretare il migliore pilota tra quello della East e della West coast.
La gara di per se sarebbe stata ugualmente adrenalinica se fatta alla luce del giorno ma al buio, di notte, assume tutto un'altro fascino. Fascino studiato e pensato sia  per il numeroso pubblico presente che per gli altrettanti numerosi spettatori dello streaming. 
Tutti questi sforzi per buttare in piedi non solo una bella gara ma anche uno spettacolo con i contro fiocchi sono volti a dare la massima visibilità mediatica all'evento che è estremamente interessante per attirare sponsor e partner. 
Come ho già avuto modo di dire forse è questa la strada giusta che dobbiamo seguire per portare una ventata di aria nuova anche in Italia dove si fatica per avere visibilità verso il grande pubblico e soprattutto dove non è facile trovare grandi sponsor.