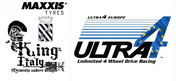 Anche per il 2015, Grip Motorsports e Ultra4 Europe hanno unito le proprie forze per dare vita alla Maxxis Tyres King of Italy, evento fuoristradistico a 360° che si svolgerà dal 19 al 21 giugno 2015 nei presi di Varano de' Melegari (PR).
La Maxxis Tyres King of Italy (KoI) quest'anno ha l'onore di inaugurare il campionato europeo Ultra4 e sicuramente, come è avvenuto l'anno scorso, sarà all'altezza della situazione dimostrando al mondo intero il valore del "made in Italy". La gara si svolgerà tra i calanchi del Monte Cappuccio; una zona collinare compresa tra i torrenti Taro e Ceno in cui convivono un mix di percorsi offroad a tratti veloci, a tratti impegnativi dove i teams potranno dimostrare le loro capacità di guida. Per il 2015, nell'intento di avvicinarsi ancora di più alla californiana King of the Hammers, lo svolgimento della corsa ha subito alcuni interessanti aggiornamenti che vanno dalle categorie ammesse (Ultra4, Legend e Modified) alla vera e propria gara che vede notevolmente aumentato il chilometraggio giornaliero. Venerdì avrà luogo il prologo di 6 km che determinerà l'ordine di partenza per la KoI vera e propria. Sabato si disputeranno, dalle ore 09.00,  due manches, da 4 giri del percorso ciascuna, per un totale di 120 km mentre domenica, sempre dalle ore 09.00, si correrà un'unica manche di 60 km. Le premiazioni sono previste per domenica 21 giugno alle ore 17.00. Come nella Johnson Valley, anche alla KoI i teams, se vorranno, potranno usufruire di una traccia GPS da seguire durante la competizione che andrà ad integrare le indicazioni lungo il percorso.
I premi della  Maxxis Tyres King of Italy 2015 sono veramente importanti! Verrà assegnato un premio in denaro di €1500, €1000 e €500 per il 1°, 2° e 3° vincitori assoluti. Il nostro sponsor 4Technique SRL si è generosamente incaricato di offrire ai vincenti di ogni categoria, alcuni premi provenienti dal suo fantastico 4wd shop. King Shocks, produttore leader mondiale di ammortizzatori, offre un premio di €1000 al vincitore ufficiale della competizione, solo nel caso in cui il veicolo sia equipaggiato con ammortizzatori King, e offre inoltre un premio di €500 per il veicolo più veloce nel percorre la King Shocks Shock Zone. Inoltre, ad un fortunato vincitore verrà assegnata l'iscrizione gratuita alla Croatia Trophy 2016. Questo ricco premio ha un valore di circa €1800 per il quale ringraziamo Igor Božiković e tutto il Team Croatia Trophy per la loro generosità.
In gara alla KoI 2015 sono iscritti 28 equipaggi in rappresentanza di ben 8 nazioni europee ed 1 per gli Stati Uniti. A sottolineare quanto è apprezzato questa tipologia di gara, 22 sono i partecipanti nella categoria Ultra4 e 6 quelli alla Modified/Legend. Anche quest'anno avremo l'onore di avere tra i piloti in lizza per il podio l'americano Levi Shirley, campione Ultra4 Europe 2014, che quest'anno si è classificato terzo alla King of the Hammers.
La KoI non è solo gara ma è un intenso weekend lungo da vivere in ogni suo momento. Come nella miglior tradizione Ultra4 a stelle e strisce, ci sarà la King Shocks-Tuning per i veicoli equipaggiati con i performanti ammortizzatori della King Shocks. La taratura degli ammortizzatori verrà effettuata dal guru dello Shock Tuning Gerardo Iribe, recentemente vincitore della leggendaria Baja500, in collaborazione con Acerni Offroad. Venerdì sera, due colossi del mondo offroad, Spidertraks e D&G Tuning, ospiteranno teams e media alla Drivers Dinner che si terrà presso l'hotel La Roccia di Varano de Melegari.     
Manca veramente pochissimo alle fasi calde della Maxxis Tyres King of Italy 2015. I teams in gara stanno prendendo posto nel paddok a loro riservato, l'organizzazione sta verificando gli ultimi dettagli e i motori si stanno scaldando con le ultime messe a punto. Grazie a tutti i volontari, ai preziosi sponsors e a tutto lo staff anche quest'anno siamo sicuri di offrire a tutti una gara unica e indimenticabile.
                                                                                                     Paolo Baraldi
                                                                                                   KoI Press Office 
ULTRA4 Series Sponsors 
Maxxis:
www.maxxis.co.uk
Euro4x4Parts:
www.euro4x4parts.com
Allisports:
www.allisport.com
King Shocks:
www.kingshocks.com
Outback Import:
www.outback-­‐import.fr
KOI Event Sponsors
Acerni:
www.acerni.com
4Technique:
www.4technique.it
Spidertrax Off Road:
www.spidertrax.com
D&G Tuning:
www.dgtuning.com
Gigglepin:
www.gigglepin4x4.net
Rock's
4x4:www.rocks-4x4.it
Maxxis Tyres King of Italy nel dettaglio:
Data:  19 - 21 Giugno 2015
Dove: Riserva Monte Capuccio - Varano de' Melegari (Parma) – Italy
Coordinate GPS KOI Headquarters: E 10° 2'11.526'' N 44° 40'28.668''
Organizzatore: Grip Motorspors a.s.d – Ultra4 Europe
Categorie veicoli: Ultra4, Modified e Legend. Questi ultimi due correranno assieme
Percorso: tratti veloci e tratti più impegnativi secondo la formula Ultra4
Distanza gara: Prologo 6 km, Sabato 120 km e domenica 60 km
Il nostro ufficio stampa è a disposizione durante l'intera manifestazione per qualsiasi richiesta ed informazione.
Programma Maxxis Tyres King of Italy:
Mercoledì 17 Giugno 2015
14.00: King Shocks – Tuning degli ammortizzatori KING.
Giovedì 18 Giugno 2015
10.00: Ricognizione del percorso di gara. Appuntamento al KOI HQ per il briefing
10.00: King Shocks – Tuning degli ammortizzatori KING.
Venerdì 19 Giugno, 2015
08.30 - 12.30: Apertura Registrazioni piloti e Verifiche Tecniche
09.00: Briefing dello Staff e dei Volontari
11.30: Benvenuto e Briefing dei Media presso Info Point
13.15: Benvenuto & Briefing obbligatorio dei piloti presso KOI HQ
14.00: Inizio prologo
18.00: Percorso disponibile in formato GPX/KMZ non appena terminato il prologo.
19.30 Drivers Dinner by Spidertrax and D&G Tuning presso Hotel La Roccia
Sabato 20 Giugno, 2015
08.00: Briefing obbligatorio dei piloti presso KOI HQ
08.30: Allineamento dei veicoli allo Start
09.00: Inizio KOI 2015 Day #1
19.00: Chiusura percorso
19.00: Lotteria dei Commissari presso KOI HQ
Domenica 21 Giugno, 2015
08.00: Briefing obbligatorio dei piloti presso KOI HQ
08.30: Allineamento dei veicoli allo Start
09.00: Inizio KOI 2015 Day #2
16.00: Chiusura percorso
17.00: Premiazioni presso KOI HQ