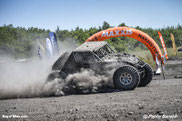 Foto e testo Paolo Baraldi
Secondo giorno di gara alla KOW 2015. Dopo il prologo di venerdì, i 43 concorrenti si sono schierati sabato mattina alle ore 9 sulla linea di partenza per il vero primo giorno di gara della Maxxis Tyres King of Wales. Il programma prevedeva 6 giri di percorso per un totale di 120 km. Jim Marsden ha letteralmente dominato i primi 4 giri infliggendo agli avversari un distacco enorme che gli ha permesso di fermarsi, quasi per un' ora e mezza, per una riparazione; Jim chiude in quarta posizione al soli 38 minuti dal primo: Il francese Nicolas Montador.
Alle 22.00 è iniziato il Maxxis Tyres King of Wales 2015 nightstage presented by Wilderness Lighting. Prova corta con tracciato misto veloce e rock cravling. Jim Marsden è stato il più veloce seguito da Nicolas Montador e Levi Shirley.