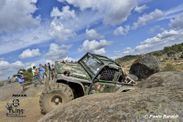 Foto e testo di Paolo Baraldi
A Vimioso, in Portogallo, in uno scenario unico ed indimenticabile dove sembrava di essere stati trasportati nella preistoria, si è svolta La Maxxis Tyres King of Portugal ultima tappa del campionato Ultra4 Europe.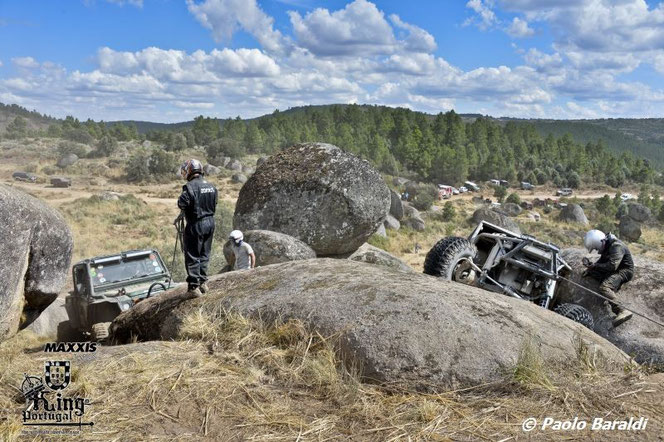 A Vimioso, in Portogallo, in un'affascinante cornice, forse quella che più si avvicina per caratteristiche del terreno all'essenza della King of the Hammers, si è svolta dal 9 al 12 settembre la Maxxis Tyres King of Portugal; ultima tappa del campionato europeo Ultra4 Europe. Presenti per la gara ben 37 equipaggi tra i quali tutti i protagonisti europei di questa specialità. Quest'anno, l'Italia era rappresentata da ben 3 equipaggi: Roberto Ciani (team Ciani), Andrea Calandri (team Ciani) e Totore Dessolis (team RTZ). Dopo la consueta pratica dello shock tuning e dell'ispezione del percorso, svoltesi mercoledì 9 settembre, da giovedì si è entrati nel vivo della corsa con il prologo. Sin da questa prima fase si è intuito che la lotta tra i partecipanti sarebbe stata serrata in quanto oltre alla vittoria di gara era da assegnare anche il titolo di campione europeo. I colpi di scena, sia positivi che negativi, non sono mancati in questa prima fase. 
Filipe Guimaraes, uno dei favoriti, a causa di un ribaltamento non è riuscito a terminare il prologo; fatto che lo ha costretto a partire tra gli ultimi nella prima giornata di gara. Jim Marsden del team Giggplepin ha corso il prologo al calare del buio classificandosi diciannovesimo. I più veloci di questa prima fase sono stati: il portoghese Emanuel Costa, il britannico Rob Butler ed il francese Nicolas Montador. Molto bene gli italiani che chiudono le qualifiche nelle seguenti posizioni: Roberto Ciani sesto, Andrea Calandri dodicesimo e  Totore Dessolis diciottesimo.
Venerdì il programma di gara prevedeva due manches su di un percorso misto veloce e tecnico con partenza dall'HQ situato in un vasto terreno cosparso di rocce e piste sabbiose veloci. Qui lo spettacolo, per il numeroso pubblico presente, è stato all'altezza della situazione. Roberto Ciani, dopo un'ottima partenza, era secondo al termine del primo giro; purtroppo, subito dopo, si è dovuto ritirare per la rottura del ponte posteriore. Calandri, con il suo nuovissimo "single seater" è riuscito a chiudere la giornata ma ha riportato alcuni problemi al suo veicolo che lo hanno costretto ad abbandonare la corsa. Stessa situazione per il team RTZ. Emanuel Costa, velocissimo e performante, si è piazzato in testa alla classifica seguito da Butler. Filipe Guimaraes è stato protagonista di una grande rimonta che dall'ultima posizione della lista di partenza lo ha portato a chiudere la prima giornata di gara in terza posizione. Nella serata si è svolta la notturna, spettacolare e velocissima.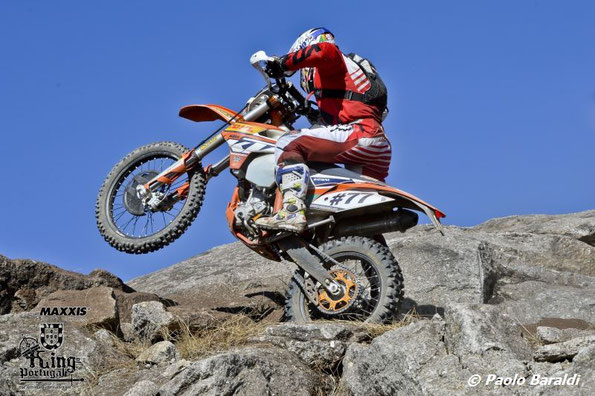 Sabato mattina, in puro stile KOH si è svolta la King of the Motos. I motociclisti hanno percorso lo stesso insidioso tracciato delle auto. Incredibile a dirlo, ma è la realtà, Emanuel Costa ha corso anche questa gara vincendola! Nel pomeriggio del sabato è andata in scena l'ultima manches della King of Portugal. Gli equipaggi e i 4x4 erano stremati ma non hanno perso un colpo per concludere al meglio la gara. Uno scatenato Emanuel Costa ha dominato tutta la giornata andando a vincere, con largo margine, laMaxxis Tyres King of Portugal 2015. Per le altre posizioni del podio la lotta è stata tra Butler, Guimareas e Montador, con quest'ultimo attardato nel secondo giro di percorso per una rottura. L'inglese Rob Butler chiude la gara in seconda posizione mentre il portoghese Filipe Guimareas si classifica terzo. Questa classifica conduce al seguente risultato nel campionato europeo Ultra4: Filipe Guimareas, navigato da Hugo Sampaio, si laurea campione 2015 con Rob Butler secondo e Nicolas Montador terzo.
Seppur con sole tre gare, il campionato Ultra4 Europe 2015 ha dimostrato tutta la sua statura. Siamo stati testimoni di tre gare molto diverse per percorsi e terreni, con tre differenti vincitori e con il risultato finale incerto fino all'ultimo chilometro. Per gli appassionati di questa specialità, l'appuntamento è per il prossimo anno e siamo certi che lo spettacolo e l'adrenalina saranno ancora migliori. Per ora i complimenti, oltre che all'organizzazione che ha portato in Europa uno "stile" di gara tutto americano, vanno agli equipaggi che hanno in ogni momento dimostrato tutta la loro abilità e sportività!