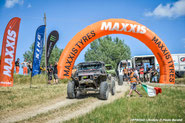 Foto e testo Paolo Baraldi
Solo ieri vi abbiamo presentato le novità 2016 di Ultra4 Europe.
Oggi abbiamo uno scoop molto interessante!
Grazie al nostro associato Motor Lifestyle siamo riusciti a svelarvi la location della King of the France.
La notizia ufficiale è di ieri ed a comunicarla è stato Richard Crossland Managing Director di Ultra4 Europe. "Dopo la cancellazione per il 2015 della tappa francese, molto probabilmente nel 2016 verrà organizzata verso fine maggio la King of France; la location si trova alle porte di Parigi".
Crossland è stato generico sia sulle date che sul luogo, ma OFFROAD Lifestyle, in collaborazione con Motor Lifestyle, è riuscita nello scoop. Abbiamo scoperto la probabile location della King of the France!
La King of the France 2016 si svolgerà presso Univers Tout Terrain che si trova a Ferté Gaucher nel dipartimento della Seine et Marne (77). Si tratta di una vasta area poco distante da Parigi che ospita numerose attività outdoor tra le quali molte di offroad. Come detto da Richard Crossland nella newsletter, "Nicolas Montador (team WSR) sarà l'uomo di collegamento in terra francese, mentre Chris Bowler, esperto tracciatore della KOW, lavorerà mettendo in campo tutta la sua maestria ed esperienza per realizzare un tracciato degno di Ultra4. 
Non ci resta quindi che aspettare le date ufficiali e la King of France!
Link al sito di Univers Tout Terrain: www.universtoutterrain.fr

Leggi QUI il comunicato Ultra4 Europe di novembre
Leggi i report delle gare 2015:
- Maxxis Tyres King of Portugal