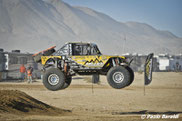 Foto e testo Paolo Baraldi
Oggi è andata in scena la 10° edizione della King of the Hammers. In soli dieci anni questa mitica gara ne ha fatta di strada se pensiamo che all'inizio contava solo 13 partecipanti. Sulla linea di partenza c'era anche Robert Butler unico europeo in corsa.
Erik Miller dopo 7 ore e 30 minuti è il vincitore della KOH 2016. Erick entra così nel club molto privato dei due volte RE!