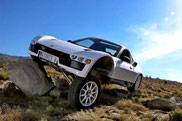 Arriva dalla Grecia, la risposta all'inarrestabile Sherp russo di cui abbiamo parlato qualche giorno fa. Se lo Sherp è inarrestabile, la Korres P4 oltre ad essere pronta sia per l'on che per off road va ben oltre grazie ad un raffinato design e ad una interessante tecnica costruttiva.
La Kosser P4 rappresenta forse il vero veicolo "all Terrain" in grado di affrontare a grande velocità asfalti e sterrati e con la dote di impareggiabile arrampicatrice che non disdegna i tracciati più insidiosi. La risposta greca al russo Sherp, è stata realizzata dopo un lungo periodo di progettazione da Dimitris Korres. le caratteristiche principali di questo veicolo sono un telaio in acciaio con elementi in alluminio, un interessante sistema sospensivo a ruote indipendenti, con una grande escursione, un motore LS7 V8 da 505 cavalli ed un cambio manuale a 6 marce. Tutto questo, abbinato ad un peso di soli 1600 kg, rende la Kosser P4 velocissima, 300 km/h, e con un'accelerazione  da 0 a 100 km/h di soli 3.8 secondi. La trasmissione può essere a 2 ruote motrici, le posteriori, o 4 ruote motrici. Infine la carrozzeria dal design degno delle più belle sportive la rende accattivante e moderna. Il risultato finale della creazione di Dimitris è veramente azzeccato e ci piacerebbe veramente tanto poterla testare.
Caratteristiche Korres P4:
Lunghezza: 3920mm
Larghezza: 1960mm
Altezza: 1250mm-1750mm (assetto basso/alto)
Passo: 2670mm
Peso: 1600kg 
Cilindrata: 7000cc
Potenza: 505hp
Coppia: 640Nm
Molto interessante è il test realizzato dal leggendario pilota WRC Tommi Makinen
Ecco le specifiche tecniche fornite dal costruttore:
Chassis
Main frame material : Stainless steel LDX 2101 with Aluminum 7075 elements
Front sub-frame: Aluminum 7075
Rear Sub-frame: Stainless steel 304, Aluminum 5083
Suspension
Front: Aluminum 7075 control arms, connected via steel pushrods, aluminum rockers and steel springs to the rear swing arm of the same side
Rear: Stainless steel 304 swing arms, connected via steel pushrods, aluminum rockers and steel springs to the front control arm of the same side
Anti-roll bars: Diagonal connection of wheels, front left to right rear and vice-versa.
Dampers: Bilstein 9100, external bypass, custom design
Transmission
Drive: All wheel drive, Locked 4WD or Rear wheel drive
Gearbox: Custom 6-speed manual gearbox, 3 final drives (normal, sports, trial)
Front Differential: OX Diff, pneumatic lock
Rear Differential: Auburn Gear ECTED LSD, Electromagnetic lock
Central Differential: Custom, worm gear type, mechanical lock.
Front Crown Wheel and Pinion: Custom
Rear Crown wheel and Pinion: Ford 3.73, 8.8"
Half shafts: Custom, floating type
CV-Joints: GKN
Hubs: SKF
Engine
Manufacturer: General Motors
Type: LS7 V8
Displacement: 7000cc
Power: 505hp @6300rpm
Torque: 637Nm @4800rpm
Compression ratio: 11:1
Brakes
Front: AP Racing discs 362mm, 6 piston calipers
Rear: AP Racing discs 343mm, 4 piston calipers
Wheels
Braid Winrace T 18", Aluminium
KORRES P4: www.korresproject.gr