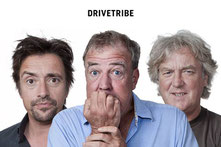 DriveTribe, è il nuovo social network completamente dedicato al mondo dei motori inventato dall'ex trio di Top Gear. Jeremy Clarkson, Richard Hammond e James May il 28 novembre hanno lanciato la loro nuova piattaforma che è "come YouPorn, ma con le macchine". In pochi giorni ha già raccolto milioni di dollari di investimenti ed un grande numero di iscritti.
Noi l'abbiamo provata, ci è piaciuta e ci siamo!
Fonte La Stampa
Jeremy Clarkson, è sicuramente uno che sa muovere le folle. Quando la BBC decise di cacciarlo perché aveva tirato un cazzotto a uno dei produttori di Top Gear, più di un milione di persone firmarono una petizione affinché fosse perdonato. Non servì, ma oggi il presentatore inglese – insieme ai compagni James May e Richard Hammond – firma il programma The Grand Tour con AmazonPrime e, a conferma della sua definitiva conversione al Web, sfrutta la forza del suo personaggio per lanciare una nuova piattaforma social, chiamata DriveTribe , il cui obiettivo è quello di diventare il principale aggregatore di contenuti motoristici sul Web. "Non avevo capito DriveTribe fino a quando Richard Hammond non ha detto che è come YouPorn, ma con le macchine", ha detto lo stesso Clarkson qualche mese fa. 
DriveTribe è un "social hub for motoring", una sorta di social network per appassionati di motori, cui hanno già aderito, ancora prima del lancio ufficiale, anche molte case automobilistiche. Serviva davvero un nuovo sito da tenere sott'occhio, oltre a Facebook, Twitter, Instagram e compagnia? È presto per dirlo, ma ai tempi di Top Gear, Jeremy Clarkson aveva un pubblico di circa 5 milioni di spettatori a puntata nel Regno Unito, e di ben 350 milioni nel mondo, come testimonia persino il titolo di "programma tv più visto al mondo" nel 2013 Guinness World Record: sulla carta, ce n'è abbastanza per investire su una piattaforma dedicata. Oltre 2.000 personalità del mondo dei motori – per un totale di 150.000 follower, dice il comunicato ufficiale di uno degli investitori – si sono già unite al progetto.  
Su DriveTribe non si trovano persone, ma "tribù": oltre a quella di Clarkson, May, Hammond e numerosi piloti, ci sono per esempio "Euro4x4parts", "Gigglepin X-Trem", "XTC 4x4" ed ovviamente "OFFROAD Lifestyle". Ciascun utente può seguire le tribù che preferisce, commentare le foto e i video, mettere cuoricini ("bumps") e condividere i post sia su DriveTribe sia sui classici social network. Gli utenti possono anche creare la propria tribù, che funziona più o meno come una pagina su Facebook. A proposito, a DriveTribe ci si può iscrivere soltanto con il proprio account Facebook. 
Chi c'è dietro il nuovo "social hub? 
DriveTribe Limited è un'azienda inglese, con sede a Londra, fondata da Clarkson, Hammond, May, dal produttore (di Top Gear prima, di The Grand Tour ora) Andy Wilman e dall'imprenditore Ernesto Schmitt, che ha l'incarico di amministratore delegato. Ad agosto, i fondi Breyer Capital e Atomico (in cui Schmitt ha lavorato) hanno annunciato un investimento di 5,5 milioni di dollari. A settembre, la 21st Century Fox di Ruper Murdoch ha investito altri 6,5 milioni di dollari in DriveTribe. "Il nostro team ha riconosciuto un enorme potenziale, mai sfruttato, nella sfera degli appassionati digitali di motori: ci sono 400 milioni di fan dei motori solo su Facebook", ha dichiarato Ernesto Schmitt nel comunicato stampa di Breyer Capital. A Business Insider , Schmitt ha detto che "è assolutamente senza precedenti" avere due sostenitori di questo peso ancora prima del lancio ma, senza rivelare quanto abbiano ceduto agli investitori, ha sottolineato che lui e i suoi soci mantengono "il controllo dell'azienda". 
OFFROAD  Lifestyle è stata invitata su DriveTribe nei giorni precedenti il lancio della piattaforma; ci è piacuta e ci siamo rimasti. Vieni a trovarci e seguici anche tu! SIAMO QUI