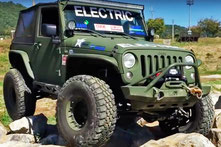 Scopriamo questa interessante versione della Wrangler con motore elettrico che a detta dei suoi creatori metterà in vergogna le versioni benzina e diesel.
Mentre siamo tutti in attesa per le future versioni della Wrangler che Jeep metterà in produzione, dalla Corea arriva un allestimento che, a detta dei suoi inventori, rivoluzionerà l'attuale modo di concepire un veicolo 4x4. Si tratta di una Wrangler equipaggiata con motore elettrico che seppur non molto veloce  ci lascia a bocca aperta per come affronta gli ostacoli. 
Il Laboratorio CAD4X, con sede presso il Korea Advanced Institute of Science and Technology, ha messo a punto già da qualche mese questa particolare versione equipaggiata con con un doppio motore da 60 KW che riceve energia da una batteria Kokam NMC. Questa Wrangler elettrica, a detta dei suoi costruttori, dispone di 160 cavalli con una coppia, subito a disposizione, di circa 29 kgm. Equipaggiata con pneumatici da 37 pollici BF Goodrich Mud Terrain e kit Teraflex Longarm, "questa Jeep", come afferma il team di CD4X , "metterà qualsiasi altro JK con un motore diesel o benzina alla berlina.
Osserviamo in questo video il Wrangler elettrico in azione durante i test effettuati con alla guida il pilota professionista  Naehyuck Chang.
Cosa ne pensate?
Mentre vi fate un'idea, QUI potete conoscere meglio il CAD4x Laboratory.