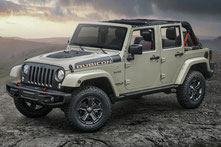 Jeep, partner ufficiale della King of the Hammers, ha regalato a tutti i media accreditati alla gara nel Lakebed la presentazione in anteprima mondiale della nuova Wrangler Rubicon Recon con un DNA ancora più offroad. Ecco di cosa si tratta.
La nuova Wrangler Rubicon Recon vede notevolmente maggiorate le già buone qualità offroad della Rubicon grazie ad interventi mirati che non solo migliorano l'estetica ma anche la funzionalità di questa leggenda del fuoristrada. "Con una nuova serie di componenti rinforzati per l'offroad, il nuovo Recon offre migliori capacità in fuoristrada alla Jeep Wrangler," ha dichiarato Mike Manley, responsabile di Jeep Brand - FCA. "Con le sue qualità fuoristradistiche senza pari e con un aspetto unico, Rubicon Recon è il Wrangler perfetto per i nostri più fedeli ed irriducibili appassionati di offroad che amano affrontare i percorsi più impegnativi." La nuova 2017 Jeep Wrangler Rubicon Recon Edition sarà messa in commercio sul mercato statunitense a fine mese con un prezzo suggerito (MSRP) di 39.145 $ per il modello a due porte e 42.945 $ per il modello Wrangler Unlimited. Non siamo sicuri, e non sappiamo, che la Recon venga distribuita anche in Europa.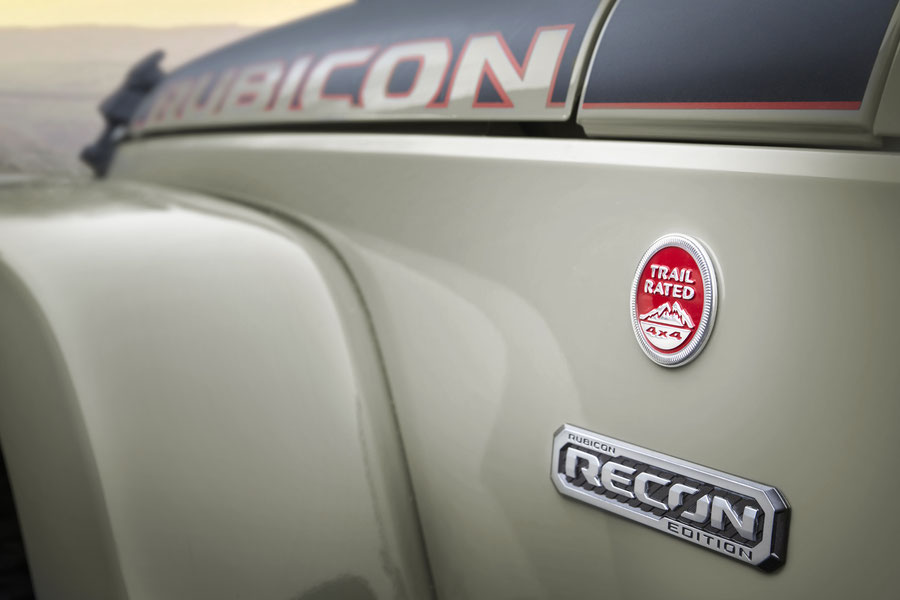 La Jeep Wrangler Rubicon Recon Edition è stata sviluppata sulla base del modello Wrangler Rubicon, con l'intento di migliorare le sue qualità offroad. L'aggiornamento più importante vede protagonista il ponte anteriore Dana 44 che ora ha una struttura più robusta e quindi resistente ad un uso "pesante" in fuoristrada; sono stati rinforzati anche i giunti delle ruote. Inoltre i differenziali sono dotati di protezioni. La Recon è inoltre più alta di mezzo pollice rispetto alla Rubicon ed è stata studiata per ospitare pneumatici fino a 35 pollici anche se di serie presenta dei BF Goodrich KM da 32 pollici montati su dei nuovi cerchi in alluminio Low Gloss Granito Crystal da 17 pollici. Continuando con l'aspetto tecnico, il riduttore Rock-Trac in modalità "4-Low" ha un rapporto di 4: 1.  I rapporti al ponte sono standard come lo sono i differenziali Tru-Lok. Con un cambio manuale a sei marce, la Wrangler Rubicon Recon Edition ha un impressionante crawl ratio di 73,1:1 (indica quante volte gira la ruota rispetto al giro dell'albero motore con il rapporto di riduzione più basso, cioè la prima ridotta) che rende facile ogni tipo di arrampicata. E' prevista anche una versione con cambio automatico a cinque rapporti.
La Wrangler Rubicon Recon Edition è disponibile in sette colori: nero, bianco brillante, billet argento, rosso, gobi, rhino e granito crystal.
Anche l'aspetto estetico della Recon è stato migliorato; oltre ai nuovi cerchi, notiamo un nuovo cofano più sportivo, un interessante paraurti con installato un verricello Warn ed un nuovo design per i fari. All'interno, la Wrangler Rubicon Recon viene fornita di serie con un sistema di otto altoparlanti audio, sedili riscaldati in pelle nera con il logo "Rubicon" ricamato ed un volante rivestito in pelle con cuciture rosse. La capote Premium Sunrider è di serie, mentre è disponibile anche un hard top in tinta con la carrozzeria.
La Wrangler Rubicon Recon Edition è nata per i fuoristradisti, peccato che in questa versione forse non la vedremo mai in Italia...