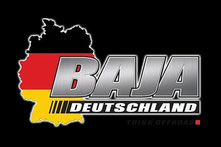 Foto e testo Paolo Baraldi
Annunciate le date della Baja Deutschland 2018 con la presentazione della nuova categoria Breslau Extreme. La gara si svolgerà, come ogni anno a pochi chilometri da Lipzia in uno scenario unico; quello di una miniera di carbone a cielo aperto.
"SAVE THE DATES!
Dal 5 al 7 ottobre 2018 si svolgerà l'undicesima edizione della Baja Deutschland!
L'evento inizierà giovedì 4 ottobre con i controlli amministrativi e le verifiche per poi entrare nel vivo dell'azione con i tre giorni di gara: venerdì, sabato e domenica.
L'organizzatore ha annunciato importanti novità che verranno rese pubbliche a breve e che renderanno la Baja ancora più versatile!
La gara inizierà venerdì mattina per poi continuare nella serata con il night stage, il sabato sarà caratterizzato da un lungo tracciato e la domenica da uno più breve al quale seguiranno le premiazioni. 
La lunghezza totale della gara sarà di circa 400 km. 
BRESLAU EXTREME
I 4x4 della categoria "Breslau-Extreme" ora potranno gareggiare anche alla Baja Deutschland 2018; sarà l'ultima occasione per mettere le ruote nel fango prima dell'inverno!
La Baja Deutschland è orgogliosa di presentare una nuova classe per la sua edizione 2018: "Baja Deutschland Breslau Extreme"!
"Per oltre 20 anni, il Rallye Breslau è stato un evento con caratteristiche uniche e 4x4 molto speciali, i quali uniscono le qualità e le capacità dei veicoli Trophy ed Extreme con quelle dei Cross Country", afferma Alexander Kovatchev organizzatore del Rallye Breslau e direttore di gara della Baja Deutschland. "Esattamente a questi piloti vorremmo dare la possibilità di mettersi in gioco con i loro fuoristrada durante il lungo weekend d'autunno della Baja".
I partecipanti alla nuova classe Breslau-Extreme correranno insieme alle auto, ai camion ed ai side by side della Baja Deutschland, ma con varianti che un giro dopo l'altro li tufferanno nel loro "parco giochi" dedicato dove sarà necessario l'uso del verricello, dei blocchi del differenziale e dove le sospensioni con lunga escursione faranno la differenza. In poche parole il tipico percorso in "stile Breslau".
"Abbiamo le possibilità, abbiamo il terreno adatto a questo tipo di fuoristrada ed abbiamo un team dell' ORGA con esperienza in questo settore" ha confermato Karsten Dorn dal 4x4 Club Leipzig, che ogni anno realizza i percorsi.
Alexander Kovatchev continua dicendo che "i regolamenti tecnici per le auto extreme saranno uguali a quelli del Rallye Breslau. Quindi, ad eccezione di alcuni piccoli aggiustamenti necessari per le specifiche della Baja, come la luce bianca posteriore, per i partecipanti al Rallye Breslau non dovranno modifiche il loro veicolo. Non vediamo l'ora di vedere in azione la nuova classe!"
Tutte le informazioni sul sito ufficiale: www.baja-deutschland.de
---
Ecco come è andata l'edizione 2017
La Baja Deutschland che, come si può ben capire dal nome, si disputa in Germania a pochi chilometri da Lipzia, è forse una delle più intriganti e belle competizioni europee di fuoristrada da weekend. In primo luogo è interessante perché è una gara "license free" ma questo non vuol dire che non sia organizzata professionalmente o che i partecipanti non siano altamente competitivi. Significa solo che non è richiesta nessuna licenza in modo che tutti e proprio tutti vi possano partecipare. In secondo luogo, la miniera di carbone a cielo aperto dove ogni anno si svolge questa corsa è una delle location europee più particolari che abbia mai visto. Per darvi un'idea, il perimetro della cava è di circa 70 km ed il tracciato si sviluppa su di un terreno che presenta notevoli differenze morfologiche cha vanno dal sottobosco alla sabbia passando per il pietrisco. Ma questo non è nulla se si pensa che con il cambiare delle condizioni metereologiche, la gara assume caratteristiche  così diverse da far credere che la location sia un'altra. 
Quest'anno, ad esempio, la pioggia è stata il lite motive di tutta la manifestazione. Ciò ha significato fango ed acqua ovunque lungo il tracciato con tratti degni della Breslau nella categoria estreme. Ma non è sempre così! Quando il sole fa capolino, come in alcune precedenti edizioni, la Baja Deutschland diventa quasi una corsa africana con tratti velocissimi e polvere ovunque. Credo che proprio questa imprevedibilità dovuta al meteo imprevedibile in questa regione renda cosi affascinante ed unica questa gara. Quest'anno, dal 6 all'8 ottobre, è andata in scena l'edizione numero 10 della Baja Deutschland che fa risalire le sue origini all'anno 2008 quando si chiamava Baja Saxonia, divenuta poi Baja 300. Ma questa non è l'unica ricorrenza che si è festeggiato; anche il Liepzig 4x4 Club, storico organizzatore dell'evento e che oggi affianca Alexander Kovatchev della Breslau Series, ha celebrato il ventesimo compleanno. 
Venendo alla gara vera è propria, ben 199 sono stati gli iscritti, provenienti da tutta Europa, e presenti sulla griglia di partenza. Venerdì è andato in scena il prologo e la notturna mentre sabato e domenica si è corso la gara vera e propria con le moto ed i quad in pista al mattino ed i side by side, le auto ed i camion il pomeriggio. Tra piogge e schiarite tutto si è svolto come da programma sino alle 14.00 di domenica dove un diluvio incredibile ha reso la cava impraticabile e costretto gli organizzatori ad annullare l'ultima prova speciale per motivi di sicurezza.
Bagnati, infangati ed infreddoliti, i superstiti alla Baja Deutschland 2017 possono essere ben fieri di aver tagliato la linea del traguardo ed in vincitori di ogni categoria lo possono essere ancora di più!
- ENDURO 1 cyl.
NABER, JANIKO - DEU - HUSQVARNA FE 450
- ENDURO 2 cyl.
KROPF, GERD - DEU - BMW HP2
- QUAD
LUEHRING-LINDAU, SVEN - DEU - BRP OUTLANDER XTP1000 
 -SSV
HOFMANS, JOOST / VAN DER SPANK, MARK - NLD - YAMAHA YXZ1000R
- CAR up to 2000 cc
ELTEN, STEFAN / ROEDEL, SEBASTIAN – DEU - LADA NIVA
- CAR over 2000 ccm
HOFSTRA, RIENTS / BOERSMA, EVERET - NLD - DEFENDER
- TRUCK up to 7,5 t.
HEIDENREICH, UDO / SCHMITZ, HERMAN - JOSEF / BORZYM, JAN -  DEU -  DB UH1
- TRUCK over 7,5 t.
UEPTITZ, TILO / STEINBACH, RENE / HILLER, LARS – DEU - KAMAZ 4911
Come le premiazioni che hanno incoronato i veloci e performanti piloti, la Baja Deutschland chiude la stagione 2017 della Breslau Series. E' stata un'annata ricca di emozioni e di tanta adrenalina che il prossimo anno si ripeterà sempre sotto l'attenta organizzazione di Alexander Kovatckev e del suo eccellente staff che ha saputo portare il fuoristrada europeo ad un nuovo livello ed ha saputo coniugare passione e professionalità come nessuno ha mai fatto!