The French round of Europe Truck Trial has seen among its participants in the two-axle category also a team of professors and students of a professional school in Nimes. The crew of the Raimu Motor Sport managed to complete the race on board of an Iveco Unic 75 built by them.
Photography and story by Paolo Baraldi

Raimu Motor Sport is a project born in a French technical school with the aim of participating in the French round of the European Trial Truck Championship.
Raimu Motor Sport, a project dedicated to the passion for mechanics and offroad
The Raimu Motor Sport association is made up of teachers and students from the sections of heavy vehicle driving (CTRM), mechanics (MVTR), bodywork and painting (CCAR and CPEIN) of the Jules Raimu professional school in Nimes.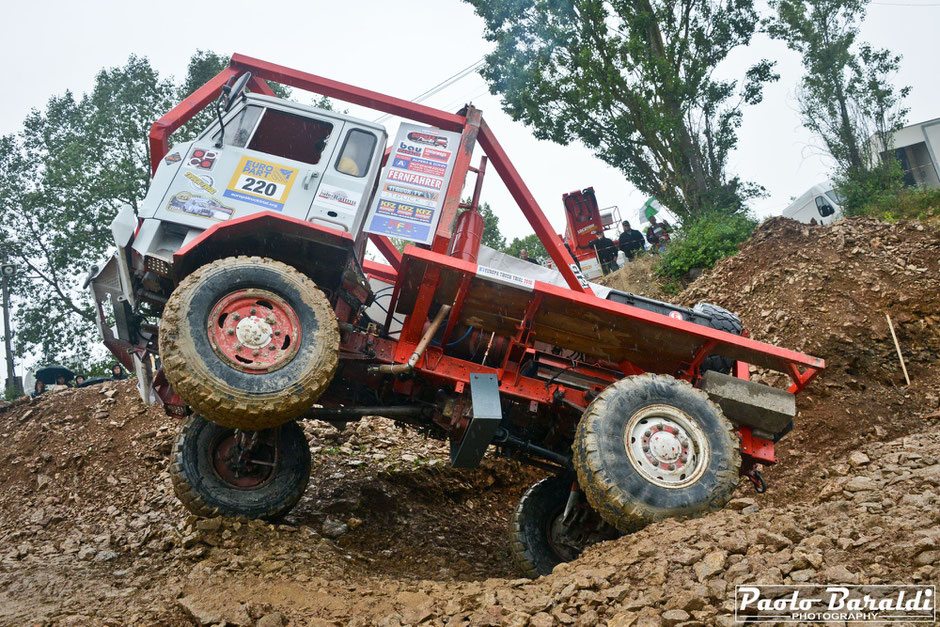 The association was born in April 2016 from an idea of Jean-François Audigier, professor of heavy vehicle driving at Jules Raimu high school, and of two of his students who are very motivated for this project. Later, mechanics teachers, bodywork teachers and even Christophe Estève, marketing professor, joined them. Once the project started, the entire high school, directed by Gaston Darboux, joined the project involving all the students to prepare the truck for the French round of the Europa Truck Trial.
An Iveco donated to the students of Jules Raimu school for their project
Boris Truck Aigues-Vives, enthusiast about this project, gives the school an Iveco Unic 75 former Fire Department. After more than a year of work in the sections of the heavy mechanics and bodywork school, in May 2018 the truck is ready to participate in the Montalieu Vercieu race. Unfortunately due to a technical problem they failed to participate in the race; "We were still able to show our project to other teams."
Professors and students competing at Europa Truck Trial in Montalieu Vercieu
This year the Raimu Motor Sport team was able to participate in the French race of European Truck Trial. Tom Belhomme, one of the few students with a driver's license, drove the Iveco in the race with the professor Jean-Francoise Audigier at his side as a co-pilote. Despite the stress for the debut, Tom and Jean-Francoise, supported by the whole team, managed to complete the race, passing both the Saturday and Sunday special stages.
---
---