It is always nice to be able to tell a race from the voice of the protagonists. In this report Françoise Hollender tells us about her Balkan Offroad Rallye which she won in the Extreme category with Franck Daurelle. So let's read this beautiful story together.
Story by Françoise Hollender & Franck Daurell

It has been another great edition of this extreme race that is the Balkan Offroad Rally. Extraordinary tracks, devilish ingenuity to stray competitors in azimuth navigation, high-flying crossings in rivers dotted with huge rocks, fast sections that have nothing to envy to the cross-country category...a superb race, in one word!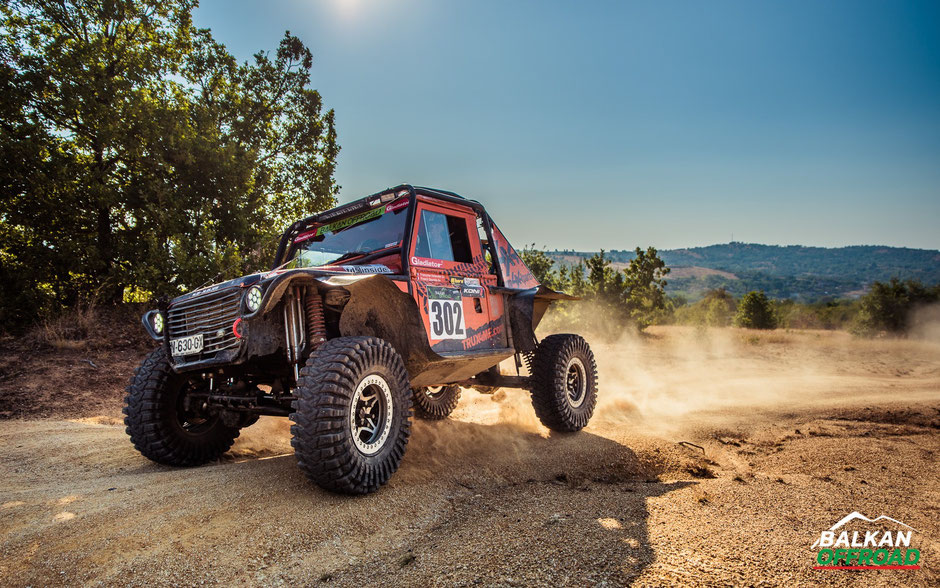 Unfortunately, the prestige of this extreme race is more and more eclipsed by the parallel race that takes place in the cross-country class. And this year, this phenomenon has reached its peak: 14 crews in extreme class, out of 104 crews in total. This very beautiful race leaves more and more its genuine extreme 4x4 roots to become a prestigious cross-country race at a European level, maybe even at a worldwide level (a crew from Kazakhstan, and another from Israel this year).
Result, which is not surprising in itself:
- Media coverage unequivocally prioritizes the cross-country category
- The Facebook page hardly ever speaks of the extreme category
- The finish of the extreme race took place in a place distinct from the other category, and very discreet, without the presence of the race management and almost without journalists
- The extreme category was rewarded first during the prize giving ceremony, even before the "small" categories of the cross-country class, whereas it was previously considered the most prestigious with that of cross-country cars, whose awards made the apotheosis of the ceremony.
Here I'm writing my own impressions, but I also echo some of the extreme-class competitors who had adopted this race since its launch in 2011 because of its superiority in all matters compared to Breslau Poland. Despite the great interest of this race, we, extreme people, who represent the genuine roots of RBI events, today feel we no longer are at home in this event. And only a potential decision to make a distinct extreme event, separate from the cross-country event, would make us change our mind about the future of the extreme class within the Balkan Offroad Rally.
Now here is the day-by-day story of this rally, so that you live it from the inside, because it is obvious that everything we experienced there is clearly worth it, no doubt about it.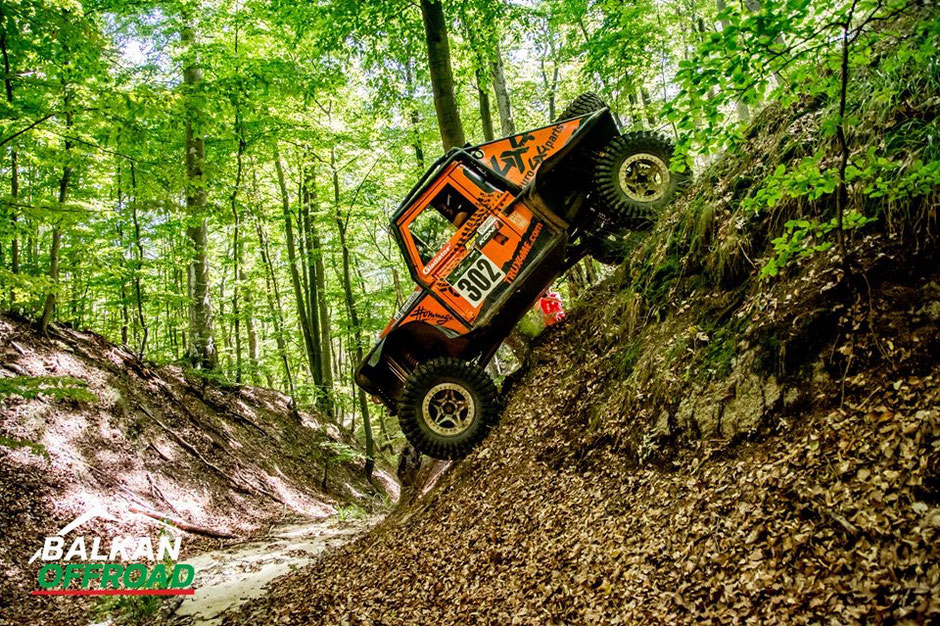 Our Balkan Offroad Rallye day by day
LEG 1 Saturday 14/09/19: 99km including 57 of special stage from Borovets 
After a nice show start in the city of Samokov located 11 km from the camp, we are launched from this first day right into a 100% extreme stage with mudholes, impressive climbs and descents, azimuth navigation in a row ... no gradual rise in difficulty, we are right into it from the start! The stage is called "extreme toaster"! We start in first place thanks to our ranking in the previous edition of the race, but we encounter from the outset a crucial problem: breakage of the front axle, which probably is due to the breakage of a differential bearing. We therefore have to complete the whole of this really extreme stage in 2-wheel drive mode. If it's already hard on 4 wheels, imagine the amount of winching I had to perform in 2-wheel drive for a first racing day ... We still finish this stage in 6th position with a handicap of 38 minutes compared to the first, Romain Porchère, because half of the committed crews will not manage to finish this first stage. When I told you about a hard first stage, it was clearly the case!
LEG 2 Sunday 15/09/19: 189 km including 173 of special stage, marathon stage from Borovets to Starosel 
Composed of 2 special stages, the day goes very well overall.
The first special stage, the shorter one, is called "extreme holiday" but that is not quite the case: from the outset, we go completely off-road to reach a hilltop with trees lying in every direction, no tracks, endless climbs and descents. Something to enjoy or ... lose confidence and take risky decisions.
The second special, "speedy", is quieter, more predictable, even if at navigation level, it has its lot of difficulties!
In total, we finish this stage in first position, 4 'ahead of Romain Porchère and 11' ahead of Christophe Moine.
Nothing to do mechanically wise, except adjust the right front wheel bearing.
LEG 3 Monday 16/09/19: 123 km including 119 of special stage from Starosel 
During this very mountainous stage, which is called "bumpy", we will do well. A lot of azimuth navigation, with a series of bearings, steep climbs and strong descents, but also more rapid sections, which is far from displeasing us. We finish the stage in first position, 5 'ahead of Romain Porchère, 11' ahead of Christophe Moine.
Nothing to do mechanically at night.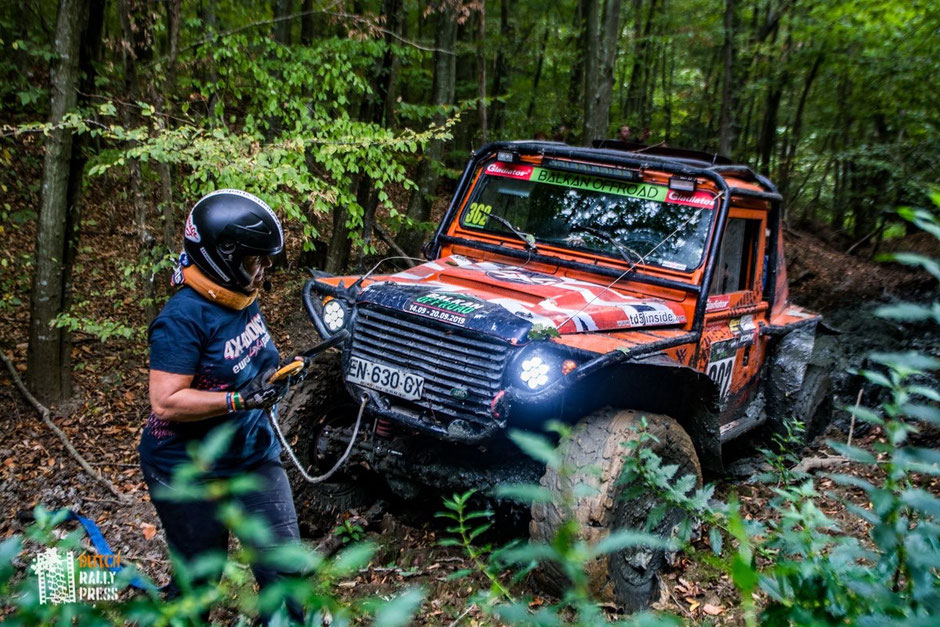 LEG 4 Tuesday 17/09/19: 114 km of which 97 of special stage from Starosel 
The special stage is called "nice but hard", the hardness being calculated by an average kilometer of 15 km / h ... In addition to the usual harder and faster sections, we drive into rivers congested with pebbles that can larger or smaller. It's hard, but we like it ... We finish in 1st position again, only 50 seconds ahead of Christophe Moine, and 6 'over Gilles Girousse.
At the mechanical level, we encounter a small radiator leak, which we try to seal.
LEG 5 Wednesday 18/09/19: 462 km including 189 of special stage, marathon stage from Starosel to Shkorpilovtsi 
Consisting of 2 special stages of equal length, one is called "on the ridge" and the second "old tracks". Between the two, 221 km of liaison on the trailer. We like the idea of reaching the Black Sea with the incomparable charm of driving on the beach, but we are warned from the briefing: this year, no driving on the beach, under any circumstances. I must admit that this news is somewhat disappointing for the "old" Balkan Offroad, but what can we do?...
No too big driving difficulties in this special stage, but a lot of pitfalls navigation-wise.
We finish the stage in first place there too, 2 'before Christophe Moine. Abandon of Romain Porchère, which will upset the overall classification and give other teams the opportunity to climb in the ranking.
At the mechanical level, we tune a wheel bearing and a belt tensioner, that's all. 
LEG 6 Thursday 19/09/19: 116 km of which 97 of special stage from Shkorpilovtsi 
The special stage of the day is called "dry mud". And luckily it is dry and the mud is not wet, or only very little ... Because we are left from the start in the infamous mudhole that we know very well, with its super sticky clay, and so hard clay that we are stuck in it to the point of losing one's shoes or clothes (it's true!). Fortunately, we were the first to pass!
Other than that, a classic day with climbs and sescents, relatively dry rivers to follow, azimuth navigation. But also, GPS points to reach, including a particular one that will be a problem for many crews and that will tip the race ranking in our favor.
On this point, I applied the technique that proved to be the right one on the second day of the race in Borovets: dare to move sufficiently far from the point to circumvent the obstacle and find a path that goes back in the opposite direction towards the desired point. Risky technique, especially when the driver starts to worry about getting too far from the target, but rewarding!
We finish this day with 52 '(yes, you heard right!) ahead of Sven Syfrid and over an hour ahead of Gilles Girousse.
At the mechanical level, we tighten the upper rear tie rods.
And it's already the penultimate racing day!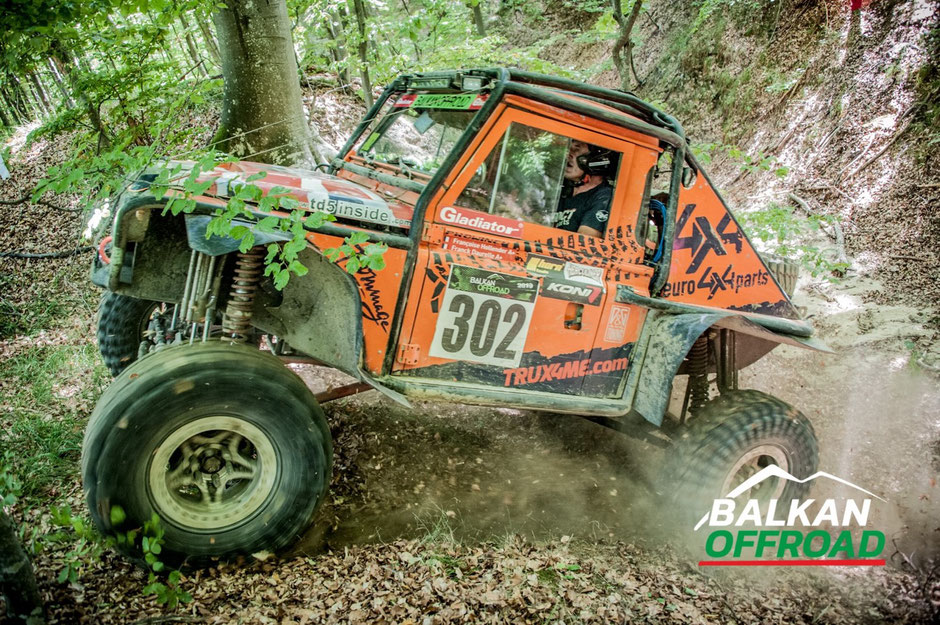 LEG 7 Friday 20/09/19: 131 km of which 127 of special stage from Shkorpilovtsi 
This stage is called "Euro4x4parts special" and is really beautiful, except that the dry weather of the previous days has totally changed and it's raining ... As we reach the mountain peaks for truly unforgettable passages, with that feeling to be balancing between two valleys, something wonderful and truly unique that has stayed in our memory from previous years, we do this that time in the mist without any visibility. What a pity!
Last day of the race, with extraordinary passages, places that you have to drive with sensitivity, guts and without fear, if you don't want to crash or hurt your car. For example, this extremely digged ravine to take downhill at Km75, with holes sometimes higher than the car itself and that you have to take crossway at the end before descending a vertical wall 3 meters high and follow up with azimuth navigation in a riverbed. All the spirit, but also the difficulty of the Balkan Offroad is there, in this stage. We were experiencing a lot of pleasure during this stage, until the moment when... we experienced a major mechanical problem: breakage of an upper rear tie rod, which forced us to strap / winch the rear axle, to idle and stop regularly to control / tighten the whole lot to avoid further breakage. Fortunately, we had some advance!
Despite of that problem, we finish this last stage in 4th position, 56' after Christophe Moine.
Discrete stage arrival, without media or race management, just with an arch to distinguish it from an ordinary stage finish.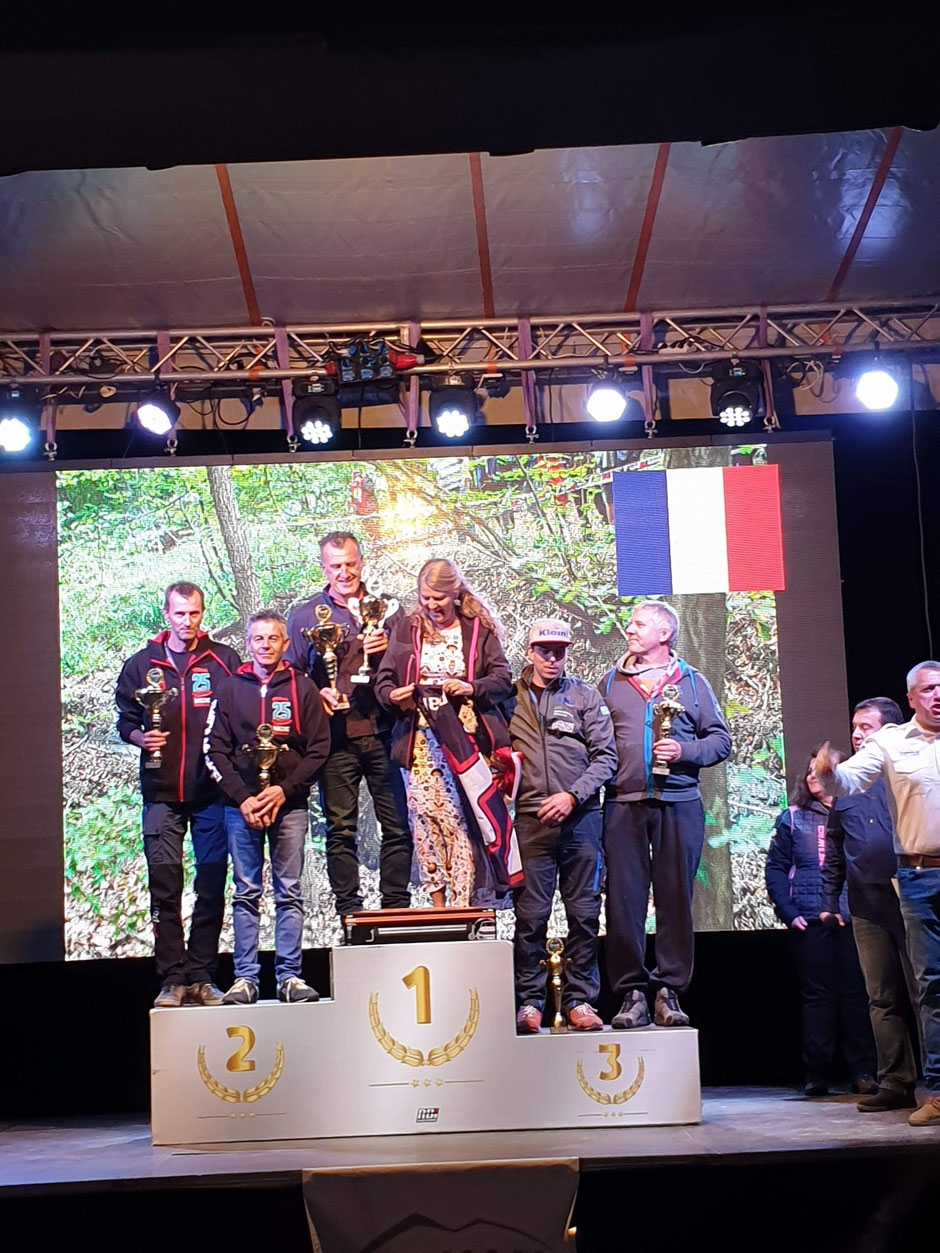 Then follows the award ceremony at the beach bar on the beach of Shkorpilovtsi, with the sound of the Marseillaise!
Final podium:
3rd: Sven Syfrid / Michael Ginter (CH / POL, 32: 38h)
2nd: Christophe Moine / Olivier Vailleau (FR / FR, 30: 16h)
1st: Franck Daurelle / Françoise Hollender (FR / FR, 29: 28h)
---