The much awaited Rainforest Challenge (RFC) Grand Final of Malaysia aka 25RFC 2022 aka the "mother" RFC finally returned to the world of 4x4 extreme racing after 2 years of missing in action during the pandemic years!
Story by RFC International, photography by Agustinus ATM, poster pix by Jessy Phuah


We Are Back!
A remarkable "return back to glory" comeback with many records and achievements in the making and taking its rightful place once again as the World's No.3 Toughest Off Road Races!
Most Challenging of Times
However, the comeback came on the backdrop of world geo-political and economic uncertainty, it was not an easy assignment by all means for the RFC organizing committee, but passionate teamwork and willpower pulled everyone through the challenges and "won the day" to make 25RFC possible.
25RFC & 50Tourism Malaysia
A media launching for both national and international press was held at Malaysia Tourism Centre (MATIC) to warm up both domestic and to 68 overseas media stations on the 25th anniversary of RFC as well as the 50th anniversary of Tourism Malaysia, a glittering start on 16 Nov
RFC in the City
Right from the start, from 26 to 27 Nov, 25RFC kicked off with the first "Big Bang" exhibition in the city of Kuala Lumpur with Motor & Sports Exhibition (MSEXPO) at Tropicana Gardens Mall. It was a record debut which attracted hundreds of urban crowd to the world of adventure extreme sports, auto accessories, equipment, motorised off-road & sports utility vehicles, outdoor lifestyle like camping, archery, horse riding, hiking and trekking. It was a great show for the urban dwellers on outdoor lifestyle associated with the RFC.
Avengers Assemble
Another record for the year is the assemble of wheel sports adventurers from ATV, Classic 4x4 cars, Pick Up 4x4, RC (radio control) model cars and Enduro bikers to come together under the RFC banner for the first time at an exhibition, like a calling from Marvels "Avengers Assemble."
Two Opening Ceremonies
Two flagging off ceremonies were executed successfully in a matter of 4 days, one after the other. The first at MSEXPO on 27 Nov Sunday; while the second, on 30 Nov at Dataran Kerayong, Bera turned out to be the biggest crowd puller in the thousands even though it was held on a weekday. The eagerness of both participants and fans to be at Opening & Prologue SS stages on a working day also showed the popularity of the RFC brand even in this mid-western region of Pahang.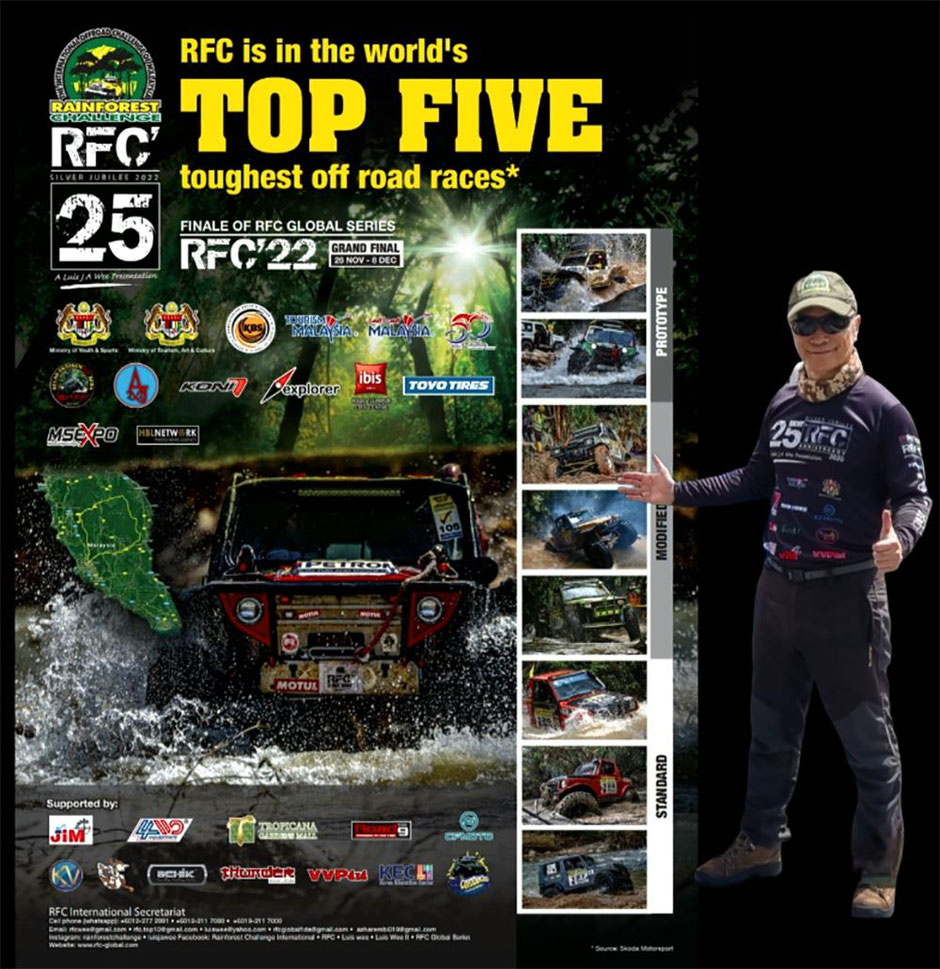 Land & Water Opening Razzmatazz
Yet another record was achieved here, with an impressive array from 2 wheels (Enduro motorbikes) to 4 wheels (4x4) to "no wheels" (boats) made another historic record for this year's RFC. It was ceremoniously flagged off by the Right Honourable Dato Sri Ismail Sabri, the ex Prime Minister of Malaysia & current Member of Parliament (MP) for Bera.
Prologue Showtime
After all the razzmatazz, it was fast and furious time at the Prologue SS for the R1 (prototype), R2 (modified production) and R3 (production) participants in full view of hundreds of fans and supporters.
Two years is a long time indeed for the die-hard racers and their eagerness to start was understandable. So, it was "full blast" ahead to start the battles of 4x4 supremacy for 25RFC 2022.
New Blood
Another record achieved this year is the opening up of a new category: RFC Lite' in standard 4x4s to experience RFC racing. This is geared especially to the next generation enthusiasts during the two days of Prologue SS.
This augurs well for "New Blood" potentials to join future Rainforest Challenge. The 9 SS opened to them was a real hit which greatly inspired them to make more improvements in hardware and skills for next year.
The Swamp Thing & Swim or Sink
As for the RFC racers, apart from warming up sections, they know that nothing comes easy even at the Prologue SS, like at "The Swamp Thing" obstacle which require wits and strategy to get out of this muddy madness.  For the unwary, the mud pool can swallow a 4x4 whole.
Swimming lessons also required if your vehicle is stuck into the watery grave  SS where you are required to swim or sink. Most made it through but others learnt it the hard way.
Beware the Mighty Monsoon
The Prologue is done by 1 Dec, but with the impeding warnings by the authorities of heavy monsoon rains, strategic changes were made to shorten the deeper end of the forested regions for quicker access to tarmac road via shorter escape routes.
As it turned out, it saved valuable time needed to get back to Bera for closing ceremony on 8 Dec. In a tropical environment, light off-road tracks can transform into a "Mr Hyde" nightmare in a matter of hours. Such is the power of Mother Nature.
Record of 44 SS
By so doing, another record was achieved, with the most number of SS in the history of the Rainforest Challenge with a record of 44 tests of driving and recovery skills under jungle extreme terrain.
Rough & Tough
The forested regions of Predator (Felda Kumai), Twilight Zone (Felda Retnam) to Terminator (Ulu Bera) provided a great diversity in obstacles, The moderate to light rain in between 2 to 8 Dec filled the terrain with muddy soggy terrain, slippery rocky surfaces, river crossing, extreme uphill, downhill descends and ascends provided the ideal "battle ground" for the world's No.3 toughest off-road races.
Close Race to the Top
This 25RFC 2022 edition also turned out to be the closest 4x4 race in the R1 and R2 categories where man and machines are the most prepared in hardware and software.
In fact, so close that only the last two SS (43 & 44) were the deciders for who will clinch the champion trophy. As the results showed, only 10 and 23 points separated the champions of each category from the 1st runner up teams.
Record 9-Time Champion
In the heat of all the battles for 4x4 supremacy, an amazing unbeatable record was achieved by Team 117 aka The Wizard (Tan Eng Joo) winning 5 times in Malaysia (with his win in R2 category of 25RFC 2022), 2 times in RFC China and 2 times in RFC India.
Down to Earth
Yet, he's a humble, amable & "down to earth" champion like no other. Why race again and again? "Racing makes me feel alive, make friends worldwide, also provide a role example for newcomers, keep me updated and relevant in today's 4x4 racing and machine preparation. Last, but not least, I fully appreciate our RFC brand which has not only uplifted me to the world of 4x4 racing, but, many others too, in Malaysia & globally," he smiled with his Mongolian co-driver Tsengelkhuu Gantulga.
Sporting Spirit
His closest rival came from Corporate Team CST 118 piloted by Khairul Razuan @ Ewan with his co-pilot: Mohd Ismail. They put up a great fighting spirit from start to finish, only to lose at SS 43, the penultimate SS. Only 23 points behind Team 117 but fought out in the most sporting of spirit in the RFC. A team to watch out for in 2023!
Closest of Margin
However, the closest of all winning margins came from the R1 category between Team Malaysia 139 (Malaysian brothers Lee Beng Loon / Lee Beng Koon) against Team Philippines 100 (Edison Patio Dungca / Onassis Onniel Johny).
It was all neck to neck of thrills and spills between these two top teams from Prologue SS, Predator, Twilight Zone to Terminator.  The decider only came in the last two SS. A joy to see them in action and certainly they will also be teams to watch out for next year.
Top Gun from Land of Smiles
For R3 (production) category, Thai Team 135 from Hatyai proved themselves to be well above the rest of the contenders in driving and recovery skills. They came with the most prepared 4x4 vehicle accompanied by experience for being a Top Gun from 4x4 events from southern Thailand. A deserving win here for Kampanat and Rachanon from the Land of Smiles for being crowned the 1st Thai champion on the 25th anniversary of RFC.
Extraordinary Winners
For the rest of the participants, they are proud be listed in the entries for this return of the RFC after 2 years of pandemic. Indeed, they are all winners to be at the start and all of them also completed the entire event in one piece at the closing, thus, living up to the tagline of "Winners at the Start, Extraordinary for Finishing the Race at the End."
In summary, it was, indeed, an extraordinary year for Rainforest Challenge Grand Final 2022. A fitting return against all odds from the challenges of both external factors and Mother Nature; and breaking records in the making of this 25th anniversary edition.
 A tribute to the passionate teamwork from the men and women of the RFC; Who Are We?
Results
R1 (prototype)
Champion: Johor (Malaysia)
Team 139: Lee Beng Loon / Lee Beng Koon (4,114 pts)
1st Runner Up: Pampanga (Philippines)
Team 100 (PH): Edison Patio Dungca / Onassis Onniel Johny (4,104pts)
2nd Runner Up: Kelantan (Malaysia)
Team 129: Mohd Afendi Arifin / Mohd Syafiq (3,749pts)
R2 (modified production)
Champion: Malaysia / Mongolia
Team 117: Tan Eng Joo / Tsengelkhuu Gantulga.  (3,941 pts)
1st Runner Up: Malaysia
Team CST 118: Khairul Razuan (Ewan) / Mohd Ismail (3,918 pts)
2nd Runner Up: Russia
Aleksei Filiar / Denis Kupriianov (3,627 pts)
R3 (production)
Champion: Hatyai (Thailand)
Team 135: Kampanat Woracachavan / Rachanon Khamsi (3,972 pts)
1st Runner Up: Bera (Malaysia)
Team 133: Abdul Hadi Hamdan / Mohd Zaid Mat Hamsi (3,137)
2nd Runner Up: Johor (Malaysia)
Heng Mok Yoong / Tan Kok Sing (2,381 pts)
RFC Lite Team Event
Champion: Geduut 4x4, Terengganu
1st Runner Up: Bkt Rimau 4x4, Selangor
2nd Runner Up: Team Mache Off Road, Kelantan
RFC Lite Individual Event
Champion: Team 312, Team Tembo 4x4, Terengganu
1st Runner Up: Team 305, Geduut 4x4, Terengganu
2nd Runner Up: Team 318, Gila Gila 4x4, Terengganu
Special thanks:
Ministry of Tourism, Arts & Culture,  Ministry of Youth  & Sports, Tourism Malaysia, Cuti Cuti Malaysia, KBS, Pahang State Gov, Member of Parliament (Bera), Royal Malaysian Police, Bera Town Council, Pahang Forestry Dept, Fire & Rescue Dept (Bomba), Civil Defence (JPAM), Health  Dept (Bera) & Bera Extreme Off Road Club (BORC), Toyo Tires, KONI, AJ4x4, MsExpo, Explorer, IBIS klcc Hotel, Tropicana Gardens Mall, VVP 4x4 (TH), JIM logistics, 4WD Equipment (MY),  Promas atv, Chong Thunder, Road 9 (KR), CDCpoetryinmotion, KCE, Heritage Travel & HBL Network,
RFC is among the longest running motorsport competitions globally & among the Top 5 Toughest Off Road Races in the World:(1) Baja 1000 (2) Dakar Rally (3) Rainforest Challenge (4) East African Safari Rally (5) King of the Hammers.
RFC International secretariat
Email: rfc.top10@gmail.com. rfcwee@gmail.com. rfcglobalfida@gmail.com.
Tel: +6012 2772991, +60 12 201 0590 & +6012 2117080
Website: www.rfc-global.com.
---