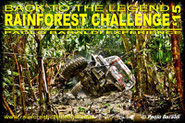 Foto e testo Paolo Baraldi
Manco dalla Malesia e dal Rainforest Challenge dal 2012, l'anno dei festeggiamenti per i 15 anni di questa leggendaria gara. Ora, è tempo di ritornare nella giungla!
Il Rainforest CHallenge è una leggenda tra tutti gli appassionati di fuoristrada e per molti è sogno a volte difficile da raggiungere. Ho seguito fino al 2012 questa competizione sia in Malesia che nelle varie "series" in Cina, Sri Lanka e Italia.  Dopo una breve pausa, è giunto il momento di ritornare a "casa". Si perchè il Rainforest è una grande famiglia, un gruppo unito di amici che hanno condiviso esperienze uniche.
Essere in Malesia nella giugla è una vera e propria emozione e l'esperienza che rimane dentro ognuno di noi è fatta, più che dalla gara, dai momenti passati con tutti gli altri nei campi.
Di seguito sono orgoglioso di riportare il caloroso benvenuto che Luis J. A. Wee ha dedicato a me:
"Beware, Sharpshooter Ahead! Once you are targeted, you are shot ! Well, luckily, only on lenses from one of our European coordinators of the RFC Global Series, who's also a highly skilled professional photographer! He has done his "tour of duty" with RFC in Italy, China, Sri Lanka & the mother event Grand Final RFC.! However, he was MIA (missing-in-action) since 2012, but now, this year, it's "Payback Time," he said. So, its BENVENUTO to our Paolo Baraldi, photographer extraordinaire from RFC Global Series Europe. "I am eager to get into action again & catch up with everyone," he said. His professional career spans from 1988 in major shoots for advertising, landscapes, urban & fashion in Milan, incl in photographic publication. "In the last 15 years I have dedicated myself to in the world of off road & motorsports, with published reports in Italian & international magazines & working with the best reputable event organizers & racing teams," added Paolo. He's also the chief editor of his own Off Road Lifestyle (www.offroadlifestyle.com). To sum up, he's "on-the-go" as a sharpshooter "at large" in RFC 2015, so watch your step & look good!"
Luis J. A. Wee
Leggi QUI la presentazione del Rainforest Challenge Grand Final 2015