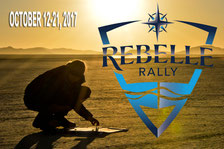 Rebelle Rally after the great success of the first edition, is back in October 2017. 
The Rebelle Rally is the first women's off-road navigation rally raid in the United States. 
October 12- 21, 2017.
On the heels of a successful launch of the inaugural Rebelle Rally Presented By Hoehn Adventures, the 2017 edition will return to California and Nevada Oct. 12-22, 2017. Registration officially opens on November 15th with 60 coveted team spots up for grabs.
The automotive navigation-based rally raid for women competitors will cover approximately 2,000 kilometers, using compass, map, and roadbooks.   Next year's course will have some changes and some similarities to this year's competition route. The second edition promises to expand on historic Wild West areas, iconic OHV locations, remote roads and trails, and will once again feature the stunning scenery of two states, California and Nevada. However, the course will remain confidential, with some reveals happening prior to the event.
FORMAT
Teams consist of two women, taking the interchangeable roles of driver and navigator.  No cell phones, GPS, or outside assistance is allowed.  The rally is not a race for speed but focuses on precision.  Using traditional map and compass skills, competitors must find checkpoints that share a ski-like rating system of green, blue, and black.  While green and blue CPs are physically marked, black CPs have no physical marking.  Some sections use traditional roadbooks and require teams to maintain an average speed (at or below the posted legal speed).   The ultimate goal is to push competitors to problem solve, be self-reliant, and sharpen driving and navigation skills.
VEHICLES
The Rebelle Rally consists of two vehicle classes – 4x4 and crossover.  These vehicles must be licensed and street legal in all 50 states.  The competition is designed to highlight standard manufacturer vehicles, and in the 2016 edition, vehicles included Jeeps, Land Rovers, Toyota SUVs and pickups, the Ram Rebel, Chevy Colorado, the Mercedes G-Class, with the Honda Ridgeline, Porsche Cayenne, and Jaguar F-PACE rounding out the CUV category.   "The vehicles in driveways across the globe are much more capable than people realize," noted Emily Miller, the rally founder.
A WORLD-CLASS EVENT
And while the rally is a grueling test and endurance challenge, there are notable amenities, making the experience a world-class event.  Michelin-starred chef, Drew Deckman will return for 2017, the base camps feature decorated and comfortable tents, and a final formal awards gala.  The awards ceremony will return to San Diego to a new, premium location on the bay with sweeping views of the city skyline.