Ci si può innamorare di un 4x4? Si, e a volte è un vero e proprio colpo di fulmine. A me è successo al Rebelle Rally durante la giornata delle verifiche tecniche. Passavano davanti ai miei occhi bellissimi Wrangler JK o imponenti pick up, come il Ford Raptor, ma la mia attenzione è stata attratta da una Jeep Wagoneer del 1969.
Foto e testo Paolo Baraldi

Il Wagoneer è stato il primo 4x4 di lusso prodotto da Jeep ed ha dominato il mercato dal 1963 al 1993. Sicuramente il mio interesse è stato richiamato dal fascino di questo 4x4 old school tanto che mi ha distolto da tutto il resto e mi ha fatto avvicinare per guardarlo meglio. Subito mi accorgo che non è proprio di serie e che aveva subito delle modifiche molto particolari. Apro il cofano per osservare il motore, mi abbasso, guardo le sospensioni e tac... scocca la scintilla che mi fa innamorare di questo Wagoneer. Cavolo! Si tratta proprio di una di quelle preparazioni che più mi piacciono: un vecchio 4x4 al quale sono stati apportati importanti aggiornamenti tecnici senza però stravolgere la sua essenza e le sue linee distintive. Come ben sapete, al Rebelle Rally partecipano solo equipaggi femminili. Chiedo alla proprietaria Courtney Latter qualche informazione in più e chi è l'autore dei lavori. Courtney, mi sorride e mi risponde: "Io, sono stata io aiutata dalla mia navigatrice Martha Tansy. Ho trovato questo Wagoneer abbandonato in un ranch ed ho pensato che una macchina del genere non poteva finire così. L'ho comprata e portata nella mia officina, la Trail Tested Manufacturing con sede a Atascadero in California nella contea di San Luis Obispo, per riportarla in vita". 
Courtney Latter è cresciuta in un ranch a Half Moon Bay; durante gli anni del college si appassiona al fuoristrada e si iscrive al club Cal Poly. Da allora l'offroad è la sua vita; diventa co-proprietaria della Trail Tested e trascorrere il suo tempo libero girovagando per i trails della Johnson Valley e facendo la volontaria per la King of the Hammers. Ritornando al Wagoneer, Courtney mi fa vedere un video che descrive le varie fasi della preparazione; è impressionante quanto sia stato fatto sotto la carrozzeria, con quale perizia e precisione.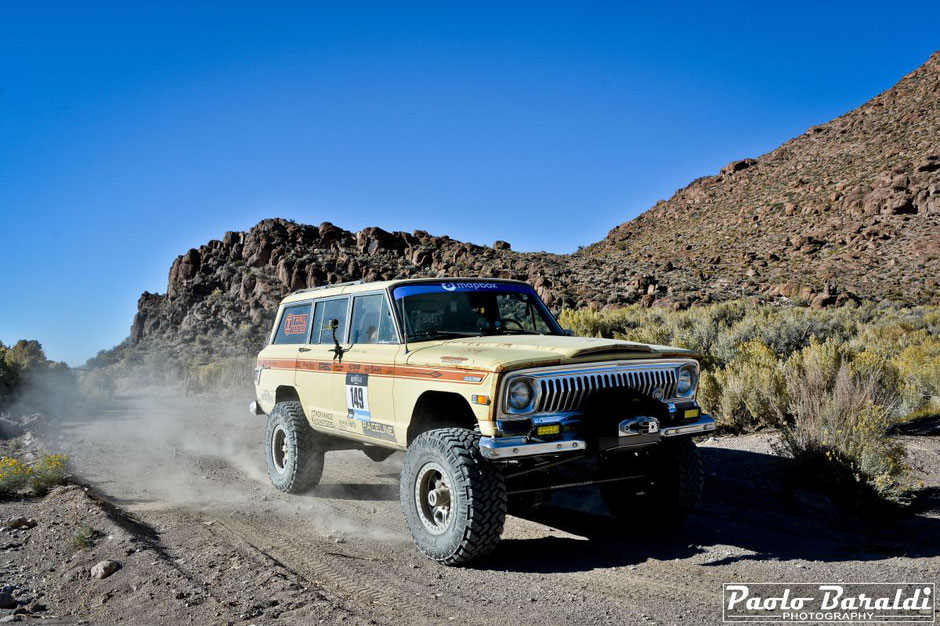 Per prima cosa il motore di serie, un Buick 350 V8 è stato rimosso ed al suo posto è stato installato un 6.0 litri V8 Vortec L96 Small Block della General Motors proveniente da una Suburban con una potenza di 352Hp a 5400rpm ed una coppia di 518 Nm a 4200rpm. Il cambio automatico è un 6L90E al quale è stato abbinato il riduttore Atlas 2-Speed della Advanced Adapters. Il telaio è stato rimosso e sostituito con uno nuovo appositamente realizzato per questo veicolo. I ponti di serie, Dana 44 e Dana 30, sono stati rottamati e sostituiti con ponti one-ton rinforzati. Nel '69, le balestre erano uno standard per tutti i veicoli, dalle station wagon alle auto da competizione. Lo stesso avveniva anche per la maggior parte dei 4x4, incluso il Jeep Wagoneer. Con i nuovi ponti ed il nuovo telaio, la cosa più logica da fare era eliminare le balestre e creare una nuova geometria delle sospensioni. Ed ecco quindi un 3-link anteriore con coilover Fox montati in stile tradizionale: attacco inferiore al ponte e superiore ad una torretta fissata al telaio. Per il 4-link posteriore, l'idea è più geniale visto che non era possibile installare sul Wagoneer gli ammortizzatori nella classica posizione senza entrare in cabina con gli attacchi superiori. La soluzione consiste nell'utilizzare un sistema "cantilever" costruito su misura con bracci a sbalzo collegati all'asse, i quali agiscono su di un perno per consente ai coilover di essere fissati in posizione orizzontale e funzionare al meglio. Complimenti per una soluzione unica e ben eseguita! Gli pneumatici scelti sono dei Nitto Trail Grapplers 35x12.50R17 installati su cerchi Raceline con Beadlock. L'interno di questo Wagoneer è per lo più intatto, con il cruscotto di serie ed i vecchi sedili.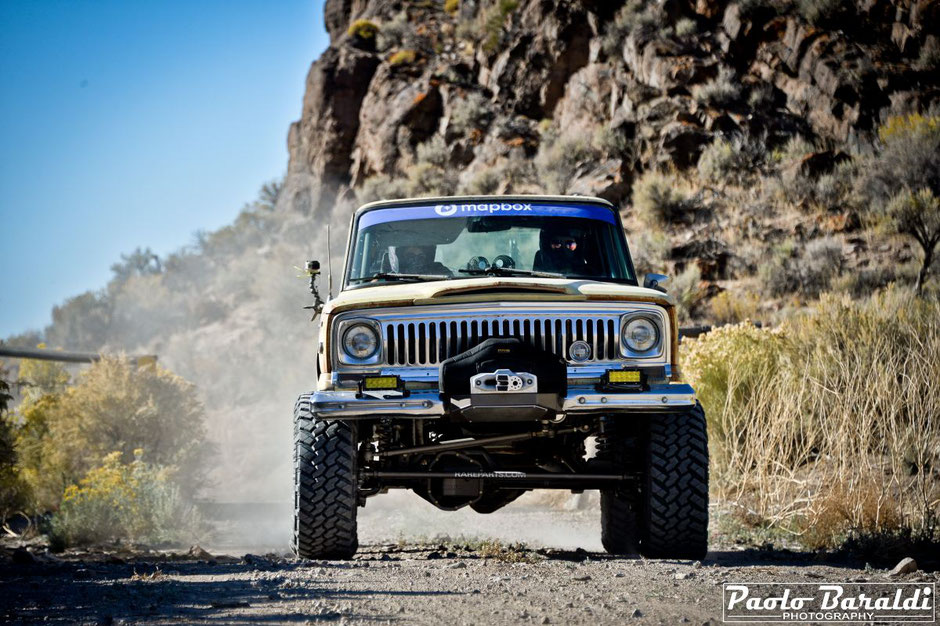 Troviamo ovviamente un rollbar ben installato contro l'abitacolo interno quasi come se fosse sempre stato presente. Oltre all'indubbio valore tecnico, l'aspetto più interessante di tutto questo makeover è sicuramente la scelta di mantenere la carrozzeria così come era con quella patina vintage lasciata dagli anni  trascorsi nel ranch.