Da oltre 25 anni la Total Chaos Fabrication Inc. è nel mondo del fuoristrada. Fra pochi giorni prenderà parte alla più lunga e dura gara americana di fuoristrada: la Vegas to Reno. Come è avvenuto l'anno scorso per la The Mint 400, noi saremo li per seguire da vicino questo fantastico team.
Foto e testo Paolo Baraldi

Da oltre 25 anni, Total Chaos Fabrication Inc.è legata al mondo del fuoristrada. Dalle escursioni tra amici alle gare, il loro è un vero e proprio stile di vita. Con sede a Corona (CA), nella West Coast americana, la Total Chaos è specializzata nella costruzione di sistemi di sospensioni ed accessori per i vari modelli di fuoristrada Toyota. L'alto livello tecnologico raggiunto in questi anni li ha resi leader mondiali in questo settore. La comproprietaria Nicole Pitell-Vaughan è una vera appassionata di offroad e di vita all'aria aperta. Ama il mondo delle competizioni che ritiene siano il perfetto banco di prova per i suoi prodotti. Nel 2016 ha portato al podio il suo Toyota Tacoma al famoso rallye marocchino Aicha de Gazelles, lo scorso anno ha corso alla The Mint 400 ed alla Vegas to Reno. Quest'anno, fra qualche giorno, sarà ancora presente, con Tim Schrader come navigatore, sulla griglia di partenza della più lunga dura gara americana di offroad, ben 530 miglia, organizzata in Nevada dalla Best  in the Desert.
Questi sono giorni frenetici per il team Total Chaos, ma Nicol ha ugualmente trovato il tempo per rispondere ad alcune nostre domande.
Perchè porti i tuoi prodotti in gara?
Come azienda, ogni nuovo componente  di Total Chaos deve superare un test di 500 miglia in fuoristrada prima di essere messo a disposizione del cliente. Queste sessioni di prove ci danno un importante feed back sul prodotto e la fiducia necessaria nel sapere che ogni miglio percorso con un nostro equipaggiamento sarà piacevole e performante. Per questo, TC utilizza queste situazioni di gara come un banco di prova dei suoi prodotti. Il nostro truck da corsa è un Toyota Tacoma del 2005 derivato da quello di serie ed equipaggiato con le nostre sospensioni; tutti i prodotti installati su di esso fanno parte della nostra produzione.
Il team Total Chaos sembra una squadra molto unita e determinata, ci dici qualcosa di più…
Il team TC vive la vita in modo diverso. Noi siamo appassionati. Siamo innovatori. Ci piace prendere strade sterrate che portano verso il nulla. Il nostro motto è: "hey fermiamoci qui e vediamo dove porta questo sterrato". Inseguiamo le avventure! Siamo alimentati da una grande passione e decisi a lanciare il nostro marchio come leader nel settore delle preparazioni fuoristrada aftermarket. In questo siamo fortemente incoraggiati dai nostri clienti e dalle loro avventure. E per loro, dalla Death Valley alla Baja Messico passando per le gite per surfare, dai viaggi per pescare alle battute di caccia in Canada, dalle corse in Africa, alla Mint 400, passando per la Vegas to Reno, testiamo personalmente la maggior parte dei nostri accessori. 
Tuo marito, Matt Vaughan, è comproprietario con te della Total Chaos… com'è lavorare così a stretto contatto con la tua metà?
Io mi definisco il "Chaos" e chiamo Matt "Total". Siamo una grande squadra e ci completiamo a vicenda. Matt è un costruttore di talento, e mi infonde un grande equilibrio. Si merita una medaglia!
Sei famosa per dare dei nomi ai tuoi 4x4. Perché?
I nostri veicoli sono i nostri figli. Passiamo tanto tempo con loro: durante la costruzione, le modifiche e poi a giocare con loro nella polvere. Ognuno è diverso dall'altro e ognuno ha la sua personalità. Proprio per queste ragioni gli do un nome. Ma ho anche un soprannome per ogni persona del mio team… il nickname rappresenta quello che siamo!
Ecco alcuni nomi dei miei 4x4: Easter Egg – il Tundra del 2006, Little T – il piccolo Trophy Truck o il piccolo ragazzo on the block, Mister T - il Tundra del 2010 sembra che ha solo bisogno di una catena d'oro, Scrambled Egg – il Tundra del 2013 perché la verniciatura si presenta come una frittata, Brown Derby – così chiamato dal team Locos Mocos nel deserto del Mojave, perché è sempre stato al passo con i grandi truck da viaggio (è il preferito di Matt; non capisco perché),
Grey Squirrel- il Tacoma del 2000 – il veicolo da caccia di Matt, The Tit - la Nissan Titan che ho comprato quando mi sono laureata all'università e T2 - Mister T #2 - il  Tundra del 2017che è la nostra ultima new entry.
CARATTERISTICHE TECNICHE LIL'T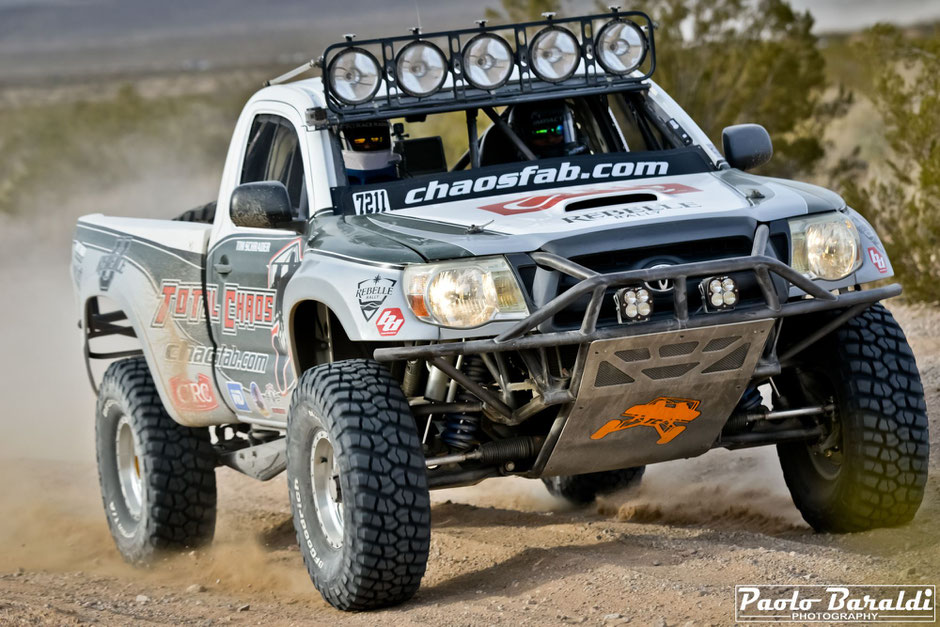 -       Toyota Tacoma 2WD del 2005
-       Peso: 1791,69 kg
-       Passo: 279,40 cm
-       Carreggiata: 215,90 cm
-       Sospensioni anteriori: indipendenti con triangoli maggiorati e rinforzati by Total Chaos
-       Sospensioni posteriori: 4-link by Total Chaos
-       Ammortizzatori: per ogni ruota un Coilover da 2.5", un By-Pass esterno da 3.0" ed un Bump Stop da 2.0" della Fox
-       Motore: Toyota V6 da 4.0 litri con filtro K&N e scarico Doug Thorley
-       Cambio automatico: Turbo 400 by Culhane Racing Trasmissions
-       Serbatoio: Fuel Safe da 110 litri
-       Pneumatici: BF Goodrich Mud Terrain KM2 da 35"
-       Cerchi: Method Race Wheels da 15"
-       Freni: Wilwood Calipers con impianto CNC Masters
-       Luci: Baja Designs
-       Sedili: Mastercraft
TOTAL CHAOS FABRICATION INC.
159 NORTH MAPLE STREET - UNIT #J 
CORONA, CA 92880
951.737.9682
Web: www.chaosfab.com 
Mail: info@chaosfab.com
Facebook: TotalChaosFabrication