Seguire in giro per il mondo gare ed eventi di fuoristrada offre molte occasioni interessanti. Una di queste è sicuramente quella di scoprire luoghi unici che spesso sono lontani dalle classiche rotte turistiche. In Nevada l'International Car Forest è sicuramente uno di questi luoghi.
Foto e testo di Paolo Baraldi

Il Nevada non è solo Las Vegas. Il Nevada è soprattutto sconfinati spazi desertici e montuosi dove si possono incontrare villaggi ormai abbandonati, o in via di declino, che raccontano la storia della corsa all'oro. Goldfield, un centro di 268 abitanti sulla US95 e capoluogo della Contea di Esmeralda, ne è un tipico esempio.
Anche se si tratta di un luogo molto affascinante, non è quello che ci interessa in questo momento. Vi vogliamo invece parlare di qualcosa di veramente unico che si trova appena fuori da quella che una volta era una delle più ricche goldtown del Nevada. Si tratta di una incredibile installazione artistica all'aperto: l'International Car Forest of the Last Church.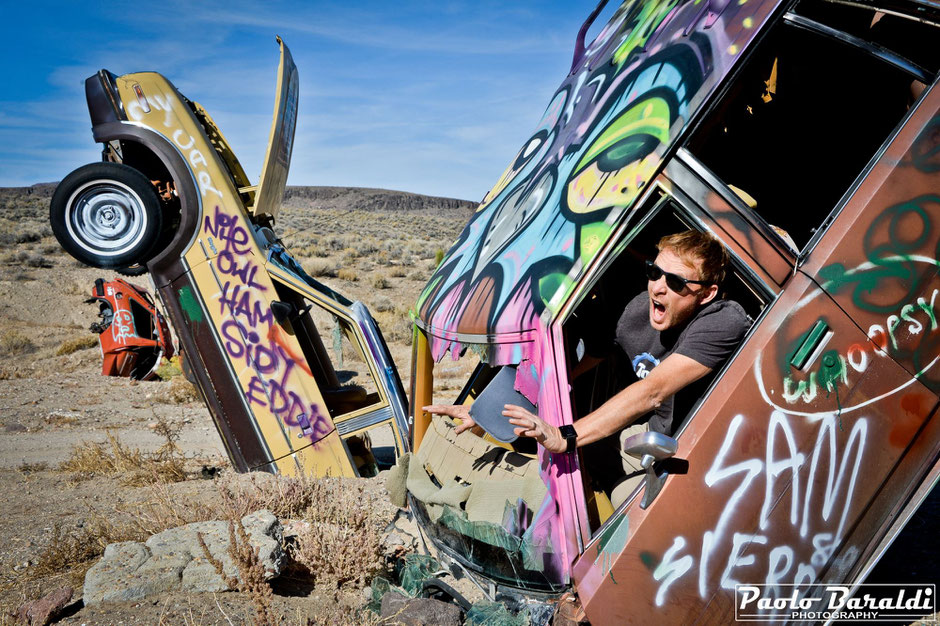 International Car Forest of the Last Church, dove le macchine nascono dal terreno come gli alberi
Di macchine siamo abituati a vederne di tutti i tipi ed in tutte le situazioni, ma vederle spuntare come alberi dalla terra non capita proprio tutti i giorni. Questa particolare "foresta" di rottami è diventata una sorta di galleria d'arte del deserto, ricca di graffiti che creano uno spettacolo affascinante e suggestivo. L'idea originaria per questa opera è nata da Markfield Mark Rippie, che abitava a Goldfield,  il cui intento era quello di creare uno spazio in cui gli artisti potevano esprimere la loro creatività sulle automobili invece che sulle tele.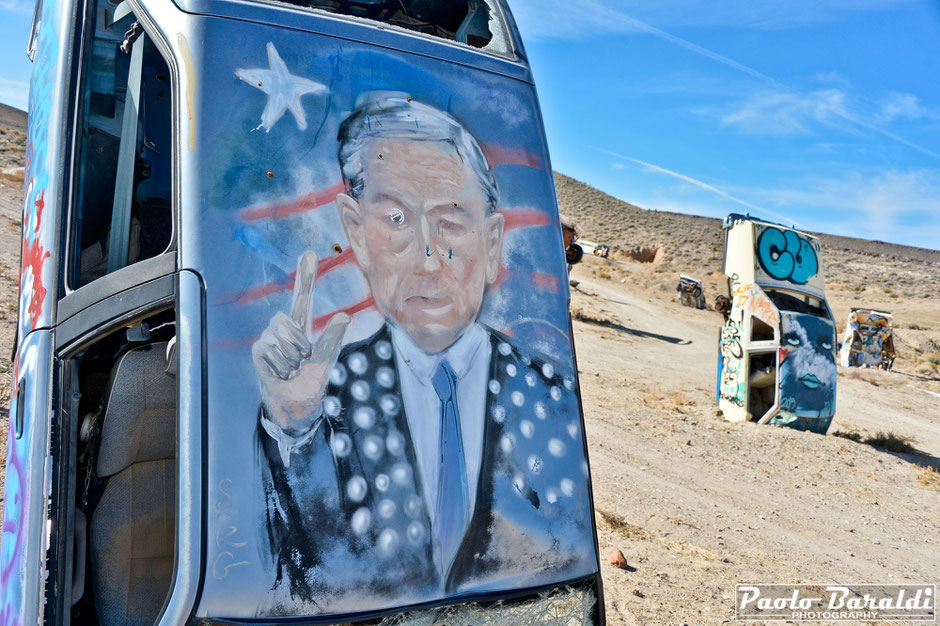 Chad Sorg, pittore di Reno, mentre guidava nelle strade solitarie del Nevada giunse a Goldfield e si imbatté in una macchina a testa in giù conficcata nella sabbia. Impressionato dalla cosa contattò il creatore di questa opera: Mark Rippie. Più tardi, Sorg, ispirato da questo affascinante progetto si trasferì a Goldfield per collaborare con Rippie. 
International Car Fores, una galleria d'arte contemporanea all'aria aperta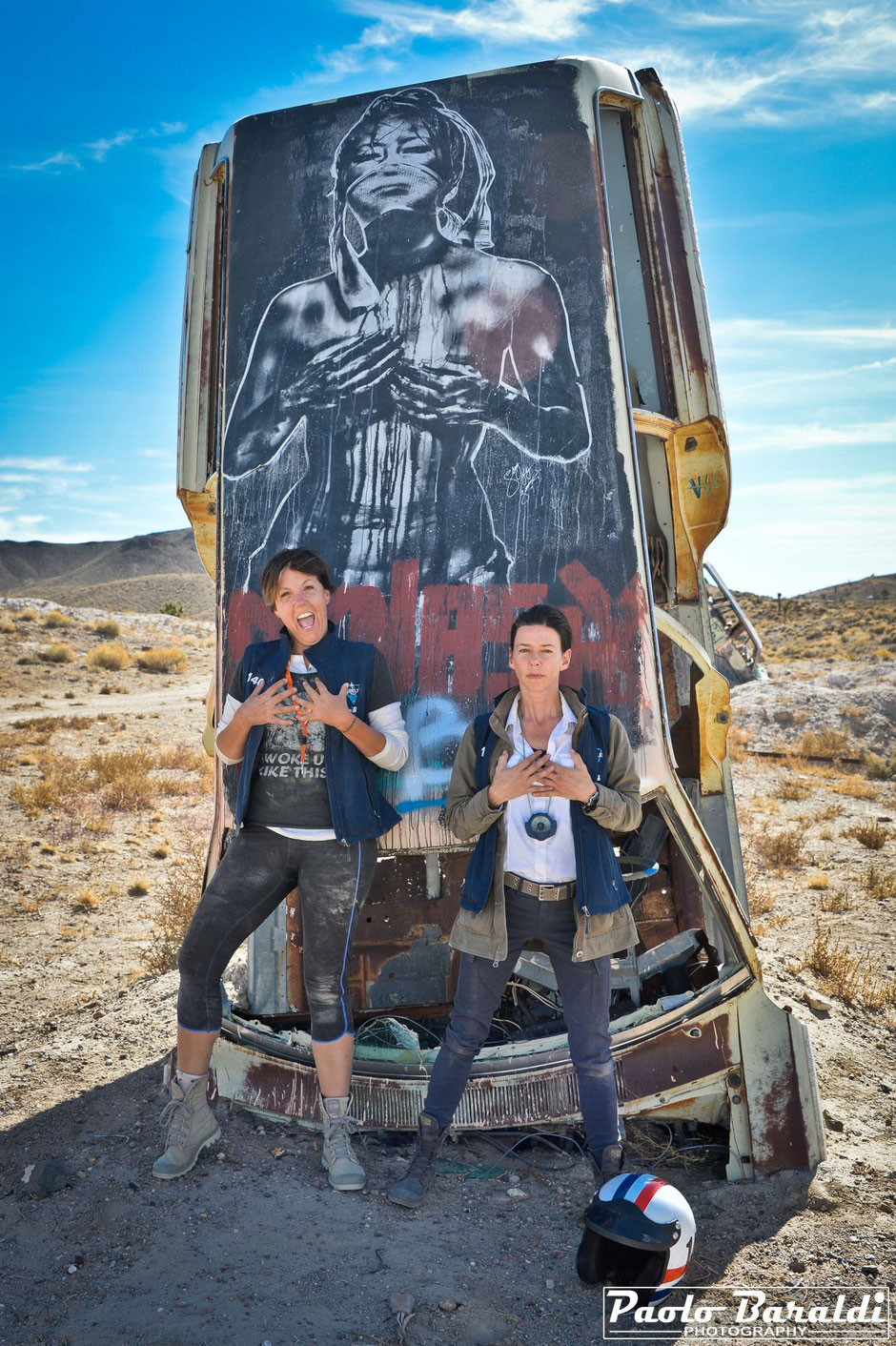 E' grazie alla visione insolita di questi due artisti, che ora possiamo godere di questa galleria d'arte contemporanea gratuita composta da oltre 40 auto, ognuna delle quali è un capolavoro unico nel suo genere. Il nome del progetto, International Car Forest of the Last Church" deriva dall'idea di Rippie di creare un'opera d'arte contemporanea che la gente potesse visitare liberamente e dalla sua fede che non voleva avere niente a che fare con le religioni organizzate. Anche se in America ci sono altre installazioni del genere, come il Cadillac Ranch in Texas o il Nebraska's Carhenge, The International Car Forest of the Last Church è sicuramente la più grande del paese e da visitare se vi capita di essere da quelle parti.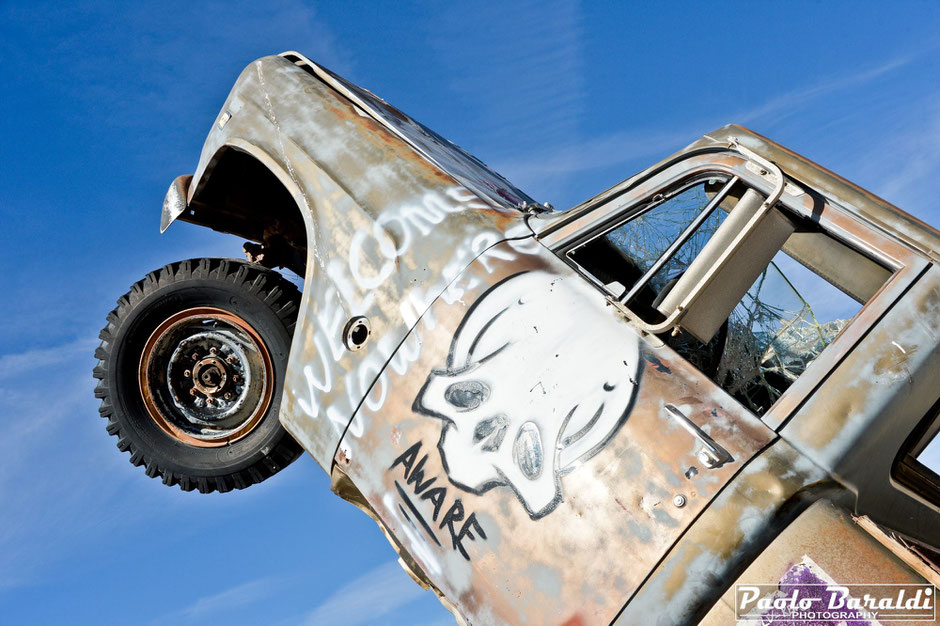 Goldfield
Goldfield è ora un villaggio di 268 abitanti capoluogo della Contea di Esmeralda dello stato del Nevada. La comunità, nata nel 1902, ha raggiunto una popolazione di circa 30000 abitanti nel 1906 all'apice dell'estrazione dell'oro, ed è divenuta capoluogo della contea nel 1907. Tra il 1903 e il 1910 è stata la più grande città del Nevada. Virgil Earp, fratello di Wyatt Earp, impersonato da John Huston nel famoso film Sfida all'O.K. Corral, è stato vice sceriffo a Goldfield, dove è morto di polmonite il 19 ottobre 1905.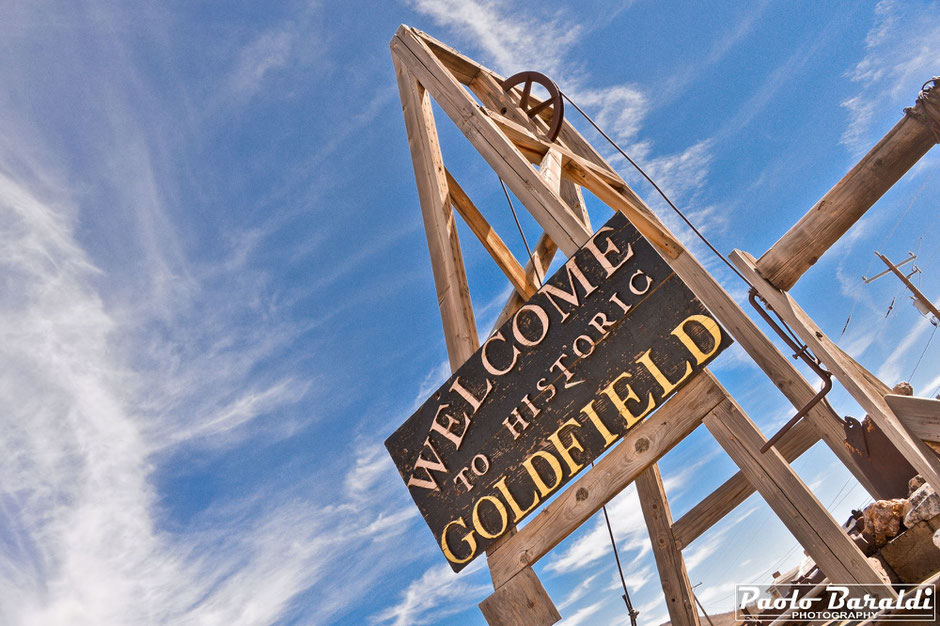 ---