Conclusa l'edizione 2019 del 4X4 Fest: passione integrale, incontri al Mud Café, successo di tour, pista, sand emotion ma anche grande attenzione alle donne e alla tutela dell'ambiente.

Un successo annunciato per il 19° 4x4 Fest
Cala il sipario sulla diciannovesima edizione del Salone Nazionale dell'Auto a Trazione Integrale svoltosi da venerdì 11 a domenica 13 al complesso fieristico di IMM_ CarraraFiere.  Oltre 30.000 visitatori di provenienza italiana ed estera all'unico appuntamento italiano con la passione integrale (#4X4LIFE PASSIONE INTEGRALE) che consente di testare su tracciati disparati le proposte più innovative offerte dalle Case Auto, Moto, Quad e Accessori, ospitando 200 marchi (di cui 169 diretti e 31 indiretti) provenienti da 15 regioni Italiane e da Spagna, USA, Regno Unito,   Australia, Belgio, Bulgaria, Canada, Cina, Croazia, Danimarca, Francia Germania, Giappone, Malaysia, Olanda, Polonia, Slovenia, Sud Africa, Spagna, Svizzera, Taiwan, Thailandia, Ucraina per quanto riguarda l'estero. I metri quadri occupati in totale sono stati 45.000 di cui 20.000 per la pista esterna dedicata ai test drive e show.
Numerose le presenze di Case Auto, Pneumatici, Quad, Moto ed E-bike dirette o rappresentate: Jeep, Mahindra, Mitsubishi Motors con l'anteprima nazionale del Nuovo Pick-up L200, Suzuki, Toyota; Brenta Gomme, Lerma Gomme, Yokohama Italia con l'anteprima nazionale di GEOLANDAR X-MT G005; Terra del Quad (con CFMoto), Blue Dream (con TGB), Autogianini (con Polaris, Can-Am  e TGB)  Centerquad. Per la prima volta, le moto elettriche di SUR-RON modificate da Flat Track School in collaborazione con il partner ZuccoSuspension; bici e-bike di ITALWIN e CICLI ADRIATICA.
Accessoristi, preparatori e test drive in primo piano
Hanno animato le tre giornate di manifestazione gli accessoristi e i preparatori, alcuni espositori storici del Salone, altri new entries: 4Technique, AF 4x4, Distanziali, Evocorse, HM 4x4, Italgiunti, M.DI4x4, MAK, Modulidea, Mondo 4x4, Oram, Race4Tech, Ramingo 4x4, Raptor 4x4, Rock's, RTeam, Saito, Totani, Trasmec, XQuattro, ZIFER Italia, ZMode; per il settore lubrificanti le ditte Ceramic Power Liquid,  Rothen Oil e Pakelo; tra gli espositori stranieri: le aziende Dream team Car (Francia), Ullstein Concept (Germania), Fédération Française des 4x4 (Francia), Trayon Campers Europe ( Svizzera), Almont 4WD (Spagna), Bravo Snorkel (Spagna), Aventura-GPS (Spagna), Rtechnology (Bulgaria)
Il successo della manifestazione è da sempre legato alla combinazione di esposizione, spettacoli, show, raduni non meno che alla possibilità di effettuare test-drive, provando sulla pista esterna rinnovata per una sintesi perfetta tra sicurezza e spettacolaritá, garantendo valorizzazione degli ostacoli e promozione delle attività esterne, a vantaggio di appassionati e operatori del settore, con un nuovo ingresso ai test drive della pista per una migliore fruizione e visibilità degli spettacoli; anche i "preparatori" dei fuoristrada hanno potuto far testare i propri mezzi in pista. La pista ha registrato 3700 test drive e ben 195 passaggi Trial, oltre a 350 iscritti ai mini corsi di guida/sicurezza. Le prove fatte sul truck Jeep sono state 1454.
Sul fronte quad e moto si registrano rispettivamente nr. 300 e nr. 320 test sulle due piste dedicate.
Boom di presenze al Sand Emotion
Il Sand Emotion, percorso in spiaggia fettucciato, seguito dagli istruttori FIF ed aperto a tutti gli appassionati privati con mezzi fuoristrada, purché dotati di trazione integrale e ridotte ha ottenuto un boom di presenze (quasi 250 partecipanti!). 
L'accesso all'arenile, fruibile solo durante i tre giorni di 4x4Fest, a bordo dei propri mezzi, si è svolto con un occhio di particolare riguardo al territorio: il progetto di educazione alla buona condotta in materia di rifiuti "4x4Fest Thinks Green", dalla sinergia di Imm_CarraraFiere e Nausicaa, due aziende partecipate dal Comune, ha creato sull'arenile isole ecologiche finalizzate alla raccolta differenziata e coinvolto i più giovani con un progetto didattico all'interno del quale è stato sviluppato un  videogame per educare i più piccoli alla tutela ambientale divertendosi.
"Siamo molto soddisfatti dei risultati raggiunti in termini di pubblico e di apprezzamento da parte degli espositori, che ci confermano la validità di un evento che non ha eguali in Italia e che è uno dei primi anche in Europa per il settore off-road, anche in considerazione del momento di oggettiva difficoltà che il settore sta vivendo a livello globale - commenta  Fabio Felici, Presidente di IMM_CarraraFiere - Al di là del successo dell'evento, l'altro forte motivo di soddisfazione risiede nella consapevolezza che questo evento, grazie al forte afflusso di visitatori che richiama, rappresenta anche un volano economico per il nostro territorio"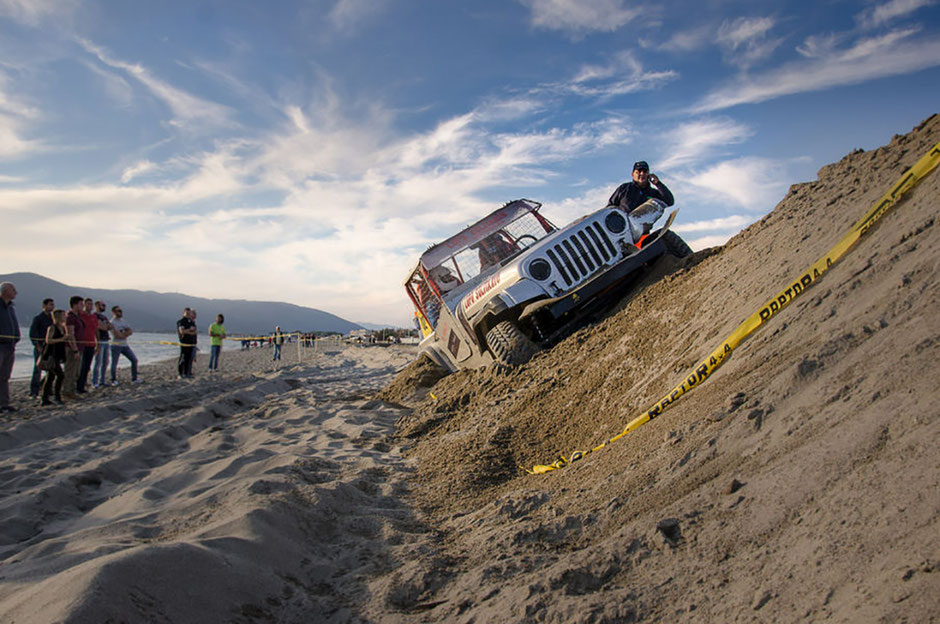 La carica dei 700
Oltre 700 sono stati i partecipanti totali ai TOUR e ai RADUNI, che rappresentano un modo diverso per conoscere il nostro territorio: le Cava Breccia di Capraia, le Cave di Marmo di Fantiscritti, e le Cave del Corchia.  Il 2° Raduno Nazionale FIF CarraraFest plurimarca ha raccolto in totale 55 equipaggi: di questi facevano parte anche gli iscritti al Mitsubishi Day, i soci del Mitsubishi Club Italy con 30 equipaggi.
All'Escursione Nazionale Lunae Trail, organizzata dal Club Sarzana Fuoristrada, si sono iscritti 80 veicoli, per un totale di 200 partecipanti; grande partecipazione anche a bordo pista, dove fra preparatori, allestitori, privati e partner del club si sono avvicendate circa 650 persone.
Infine, grande successo anche per il 3° raduno nazionale di Elaborare 4x4 che ha visto un folto raggruppamento di Lancia Delta Integrali stradali.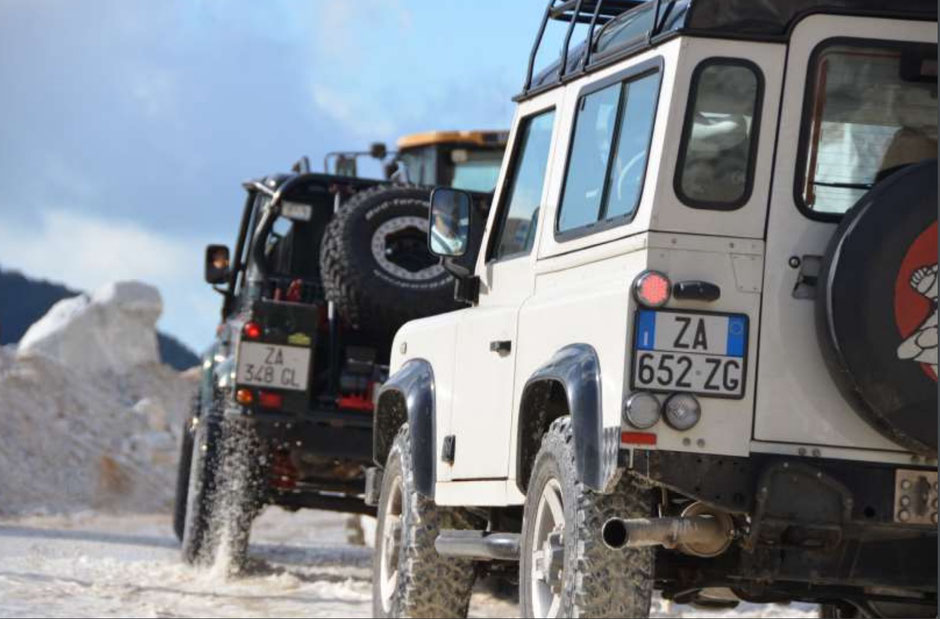 L'inedito Mud Café è piaciuto!
L'inedita area Mud Café, nel Padiglione B è stata la vera novità della manifestazione apprezzata da media, espositori e pubblico: un salotto dinamico che nei tre giorni dell'evento ha proposto incontri, proiezioni, testimonianze e confronti con ospiti del mondo dei motori.
Rosa Integrale sempre più rosa
Sul versante femminile, occhi puntati su varie iniziative a partire dal contest e calendario ROSA INTEGRALE, passando attraverso la seconda edizione del Tour Rosa Integrale nella suggestiva Cava di Fantiscritti e l'iniziativa Women's World Car of the Year, che ha ospitato 6 giornaliste automobilistiche, giurate del prestigioso premio provenienti da Italia, Germania, Spagna, Portogallo, Grecia e Sudafrica  che hanno incontrato il pubblico al Mud Café per parlare di trazione integrale e sicurezza della guida in fuoristrada, oltre che delle procedure per il World Car of the Year 2019, a partire dalle auto 4x4 e dai SUV testati alla kermesse di IMM_CarraraFiere.
Sempre in tema di donne, a gennaio 2020 la 43esima edizione della Dakar si svolgerà in Arabia Saudita, dove è caduto recentemente il divieto di guida alle donne e la competizione apre la strada a equipaggi femminili. Sono già 15 le donne iscritte ed il Governo arabo investirà nella Dakar 70 milioni di euro nei prossimi 5 anni sposando un cambiamento culturale che apre al turismo attraverso lo sport automobilistico. Un ringraziamento particolare va a Renato Rickler e a  R Team per aver nuovamente scelto il palco del 4x4Fest per presentare i suoi programmi sportivi e iniziare idealmente la prima tappa di avvicinamento alla alla Dakar 2020.
Calendario Rosa Integrale by Offroad Lifestyle e Paolo Baraldi

Novità 2019 dedicata alle "ragazze in rosa" appassionate di fuoristrada è il "Calendario 2020" di cui sono le indiscusse protagoniste.
FIF sempre più presente
Come ogni anno la Federazione Italiana Fuoristrada, oltre ad essere presente in pista e nei raduni, è stata attiva in un'area di 400 mq con le 17 Delegazioni Regionali del Villaggio F.I.F. Presente anche quest'anno ACSI Motorsport con il suo settore Fuoristrada Nazionale e per la prima volta anche il Settore Fuoristrada 4x4 ASI-CONI con una rappresentanza di 10 club associati.  Anche CSEN (Centro Sportivo Educativo Nazionale) è torna in fiera con la Scuola Nazionale Guida Sicura Fuoristrada – SUV – ATV, Academy 4x4.
Dukic Day Dream è Best Innovation Award
La seconda edizione del Best Innovation Award istituito da IMM_CarraraFiere per promuovere l'innovazione per il settore dei fuoristrada e dell'accessoristica è andato all'azienda vicentina Dukic Day Dream srl per il dispositivo antiparticolato EconoTruck, per la riduzione e non produzione di emissioni degli inquinanti della combustione dei motori diesel. Osram, leader mondiale dell'illuminazione auto presente per la prima volta a Carrara ha vinto il Best Innovation approved by FIF per la barra abbagliante addizionale LED Driving.
Garmin per gli overlander
Per gli esploratori del 4x4Fest Garmin, partner tecnico dell'edizione 2019, ha ideato Nuovo Overlander un dispositivo di navigazione multisatellitare (GPS, Galileo e Glonass) all-in-one.
4x4 Fest info
---