Tony Pellegrino, owner of Genright Off Road, wanted to challenge the King of the Hammers with an impossible mission: to finish the toughest one day off-road race in the world aboard his Jeep JKU Terremoto. Mission accomplished for Tony!
Photography and story by Paolo Baraldi


At the King of the Hammers 2019 I had the pleasure and the honor of sitting next to Tony Pellegrino on his Terremoto to participate in the Genright KOH Experience. Already on that occasion I had the opportunity to appreciate its off-road skills and build quality.
Terremoto: a special Wrangler JKU
Terremoto, a Jeep Wrangler JKU, was built by Genright Off Road in 2014 to expose it as a show car at the Sema Show. "We removed every standard element from this Jeep", explains Tony Pellegrino, "and we started to rebuild it starting from the chassis and body using all our products". Over the years, the Terremoto has always been updated and improved and has accompanied Tony in every offroad adventure and show, quickly becoming the Genright Off Road flag.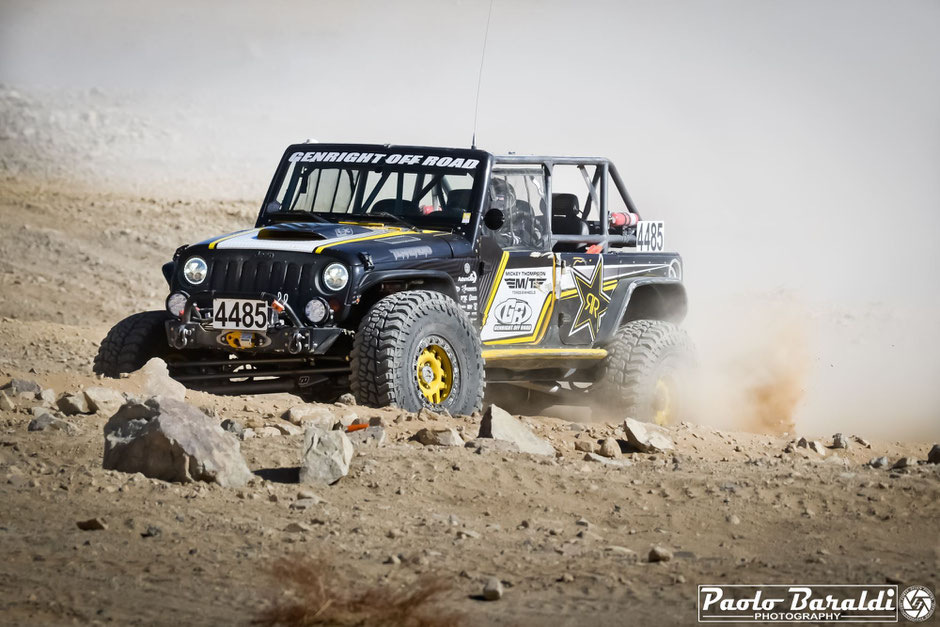 Tony Pellegrino's challenge: to race the King of the Hammers with a street legal Jeep
On the occasion of the 2020 King the of Hammers, Tony Pellegrino wanted to get involved in a new challenge: "I wanted to demonstrate that the products we sell to our customers resist the most demanding uses possible, and I did just that by finishing with a Jeep JK 4 doors (street legal) the King of the Hammers (in the 4400 Unlimited class) in front of over 60 Ultra4 vehicles built specifically for the race ".
During the 2019 Thanksgiving period, Tony Pellegrino with some friends and customers spent 10 days in the Johnson Valley and on that occasion Nick Repanich, Tony's friend, accompanied Tony on the Terremoto along all the Hammers. On that occasion they joked about how nice it would have been to participate in KOH with the Terremoto. "After returning home," Tony says, "I called Nick and asked him if he would be interested in participating in the King of the Hammers with me. I told him think about it ... and before I could hang up he said yes! In mid-December, Nick came to Genright to help me and work to adapt the Terremoto to the KOH rules".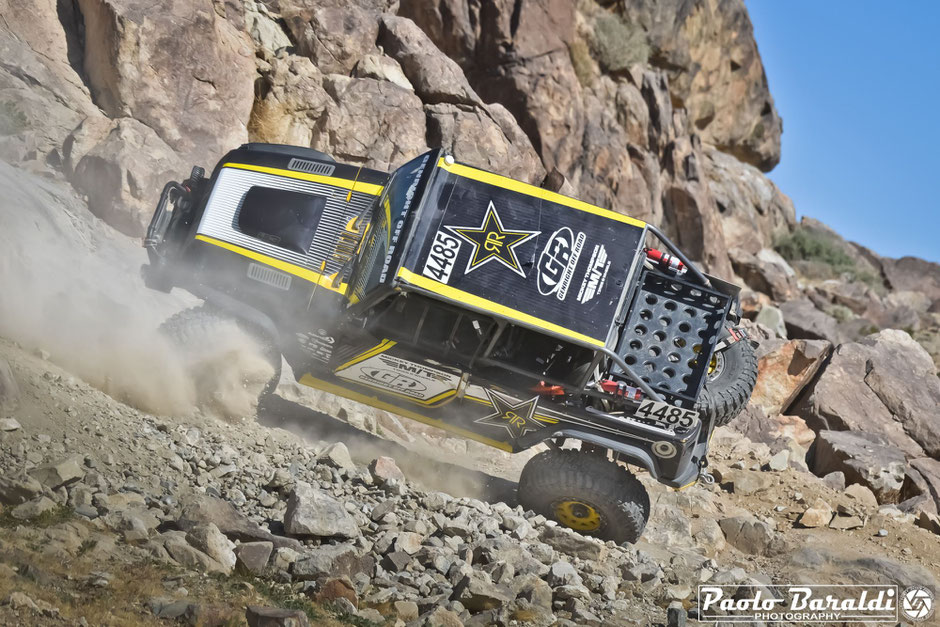 Without taking away resources and time to prepare Jordan Pellegrino's (Tony's son) car, the Terremoto has been updated in the various parts required by the KOH regulation and in the parts most subject to wear. After a 300-mile road test (I remember that the car is steet legal) to verify that everything worked perfectly, the prerun began in Johnson Valley.
---
Terremoto is a 2014 Jeep Wrangler JKU with a 640 HP LS3 engine (595 ft/lbs of torque) with a 4L80 gearbox and an Advanced Adapters transfer case. The axles are Currie Extreme 70 Hi Pinion. Front suspensions are Genright Elite 3 Link and at the rear Genright Elite Double Triangulated 4 Link with Fox 3.0"x14" IBP (Internal Bypass) Coil Over shocks with Fox 2.0"x4" Air Bumps.
Chassis           
Frame / Chassis Design: Factory Jeep (frame and tub)
Frame / Chassis Materials: Box type, Cold Rolled Steel
Cage / Cage Material: GenRight 8-point 2" x .120" thick wall DOM Tube
Overall Wheelbase: 118" (2" longer than stock)
Overall Length: 183"
Belly Pan Clearance: 20"
Overall Height: 75"
Wheel Track Width: 82"
Overall Weight: 4990
Drivetrain      
Front Suspension / Type / Materials: GenRight Elite, 3 Link with Summit Machine 7075 Aluminum Links
Front Shocks: FOX 3.0" x 14" IBP (Internal Bypass) Coil Over
Front Bump Stops: FOX 2.0" x 4" Air Bumps
Front Axle Housing: Currie Extreme 70, Hi Pinion (70" wide WMS to WMS)
Front Differential / Locker: Auburn "Select-A-Loc" Electric Locker
Front Ring & Pinion / ratio: Currie 70, 5.38:1 gears
Front Differential Cover: Currie "Thick" fabricated cover
Front Axle Shafts: Yukon 35 Spline
Front U-Joints: Yukon Super Joints
Front Drive Flanges / Hubs: Yukon Locking Hubs, 5 on 5.5 bolt pattern with 5/8" studs
Front Brakes: R1 Concepts Big Brake Kit with 14" Rotors and Billet Machined 6 Piston Calipers
Front Steering Setup: AGR Ram Assist with GenRight CrMo Hi-Steer Tie Rod & Drag Link
Front Driveshaft: JE Reel with 1350 U-joints
Rear Suspension / Type / Materials: GenRight Elite, Double Triangulated 4 Link with Summit Machine 7075 Aluminum Links
Rear Sway bar            : Rock Jock with forged CrMo arms
Rear Shocks: FOX 3.0" x 14" IBP (Internal Bypass) Coil Over
Rear Bump Stops: FOX 2.0" x 4" Air Bumps
Rear Axle Housing: Currie Extreme 70, Hi Pinion
Rear Differential / Locker: Auburn "Select-A-Loc" Electric Locker
Rear Ring & Pinion / Ratio: Currie 70, 5.38:1 gears
Rear Differential Cover: Currie "Thick" Fabricated cover
Rear Axle Shafts: Currie 40 Spline Full Floating
Rear Drive Flanges: Currie Full Float. 5 on 5.5 bolt pattern with 5/8" studs
Rear Brakes: R1 Concepts Big Brakes with 13.6" Rotors and Billet Machined 4 Piston Calipers
Rear Driveshaft: JE Reel thick wall 2" diameter with 1350 U-joints
Tire Make / Size: Mickey Thompson Baja BOSS 40 x 13.50 x 17"
Wheel Make / Size / Bolt Pattern: KMC Machete FORGED 17 x 8" w/aluminum bead lock ring, 5 on 5.5
Powertrain     
Engine Make: Custom Built Chevrolet LS3
Engine Displacement: 427 cu/in (bored and stroked)
Engine TQ: 595 ft/lbs @ 5800 rpm
Engine HP: 640 @ 6200 rpm (on pump gas)
Engine Induction: Naturally aspirated fuel injection through eight RC brand "wet" injectors
Engine Modifications: Holley Dominator ECU, K1 forged crank and rods, Wiseco forged pistons, West Coast Stage III L92 Heads, Custom Ground Comp Cam, CHE Rockers. LS7 lifters
Batteries: Dual Odyssey relocated under drivers side rear seat
Radiator / Fans: Griffin custom 4 core with two 12" Spal fans
Air Intake: FAST (1375 cfm ) Throttle body on a Edlebrock Victor JR manifold & K&N Air Filter
Exhaust: Custom stainless steel 3" with a Magnaflow muffler
Transmission Make: RDE built 4L80, full manual valve body
Transmission Adapters: Advanced Adapters
Transmission Cooling System: Griffin large Universal cooler with Spal fan behind the rear seat
Torque Converter: Coan brand Billet 4000 stall, no lock up
Transmission Shifter: Art Carr 4 speed gate shift
Transfer Case(s): Atlas 3:1
Fuel Containment: GenRight 32 gallon bladder type fuel cell and skid plate with dual Aeromotive Phantom fuel pump, filters and regulator
Body / Interior           
Body / Body Panels: GenRight Aluminum fenders, Aluminum rock sliders and bumpers with GenRight Rash Guards
Body Modifications: Aluminum 1/2 Doors
Skid plate / Material: Completely FLAT 7075-T6 Aluminum, 3/8" thick belly skid
Painter Name: DH Graphics did the Jami Pellegrino designed wrap
Hood / Grille:             Fiberglass & Carbon Fiber with functional scoop and side vents
Floors / Firewalls: Striped to bare metal and LineX'd
Dash / Gauges / Switches: GenRight Custom Aluminum, Racepak digital gauges and Racepak Smart wire MIL Spec switches
Steering Column / Wheel: Sweet brand quick release, Momo wheel, with tilt column
Pedal Assembly / Cutting Brakes: CNC brand pedals and master cylinders
Seats / Harnesses: 4 individual PRP brand bucket seats with Ostrich skin and suede on GenRight mounts
Electronics: Apple iPad, Lowrance 8" GPS unit, 60 watt Rugged Race Radio & 4 person Intercom, 40CH Cobra CB and SSV Bluetooth sound system, keyless entry for all 4 doors
Lights Interior / Exterior: VisionX 7" LED headlights, 6.7" VisionX ADV series lights on bumper and 12" VisionX light bar on winch fairlead. VisionX Dura Mini LED back up lights in the rear bumper and Rock Lights
Safety - Fire Extinguisher: Scosche billet aluminum fire extinguisher mounts
Winches - Front / Rear: Warn 9.5 CTI with in dash controls
Extras: Vintage Air; Heating and A/C system with billet butterfly vents, GenRight modified rear corner guards with frenched in LED tail lights, Flush mounted wireless rear view camera thru iPad, Scosche billet aluminum side mirrors, PRP rear tire strap, GenRight rear cargo carrier, VisionX rear Chaser bar, Fuel Safe quick fill (takes 11 gallons in 20 seconds), PRP Window nets, PRP 5 point harnesses,  Rugged Radios Mac Driver / Co-driver Pumper unit
---
"Most of the drivers would not have done it with the race car," says Tony, "we had good feelings for the great challenge that awaited us even if what worried me was the deterioration of the course after the UTV race, the Every Man Challenge and T1 race. Finally, although I am somewhat familiar with the Hammers, I had never driven the Backdoor down in a Jeep. We went to see if it was possible to do it without rolling over; I tried it 4 times to be more confident".
Mission accomplished! Tony Pellegrino ends the King of the Hammers on board the Terremoto
After 11 hours and 45 minutes, Tony Pellegrino crosses the finish line of the King of the Hammers 2020 in 32nd position, completing the mission of showing the whole world that the Terremoto set up with the Genright standard suspension system and all parts of Genright Off Road would have resisted the brutal King of the Hammers and not in the lower classes (4600, 4500 or 4800 of the Every Man Challenge), but in the Unlimited 4400 category with the hardest race course of all: 3 laps, one in the desert and 2 along the trails more demanding, for a total of 212 miles.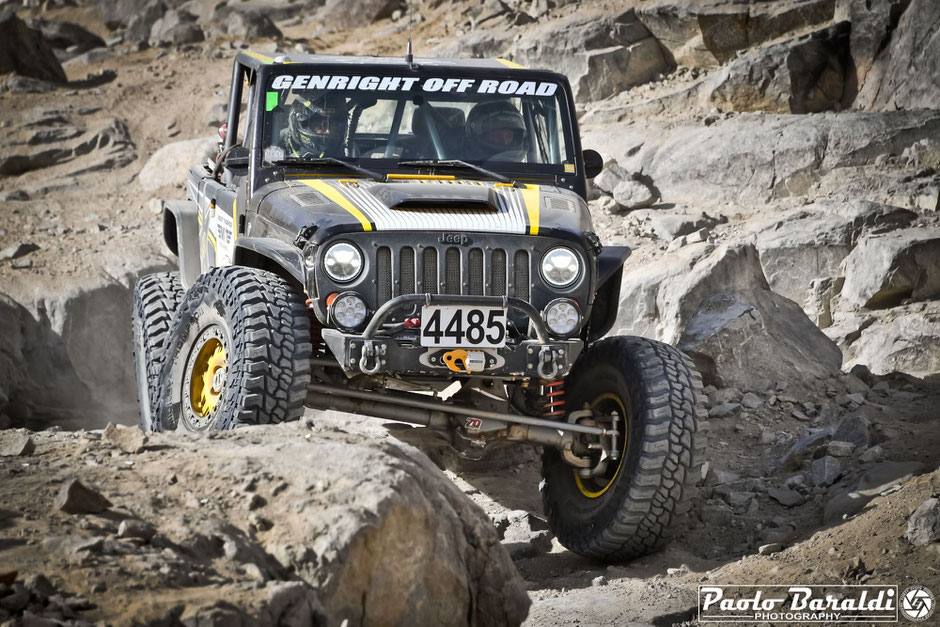 About Genright Off Road
Genright Off Road was founded by Tony Pellegrino in 2006. He was intent on building a company up to design, manufacturer, assemble and distribute the best Jeep products available on the market. Tony has over 30 years of business experience manufacturing all types of products from a variety of industries. He is often at the industry off-road events himself and ready to demonstrate the company's products to the public. Tony has been off-roading since the 1970s and is a serious wheeler himself, having raced in and finished King of the Hammers (KOH) eight times! Tony continually applies his years of experience out on the trails to verify which products work and which products don't.
Today, Genright offers the most complete line of aftermarket off-road Jeep products available (and in stock)! Everyone you can talk to at GenRight drives a Jeep and are proud to be making/selling top quality American-Made Jeep products! GenRight's products are sold and installed by over 150 off-road shops nationwide and distributed worldwide to 15 different countries. We are also a proud official sponsors of the Ultra4 Race series and members of SEMA, ORBA, CORVA and Cal4 Wheel (among others).
GenRight Offroad
4535 Runway St, Simi Valley, CA 93063
---