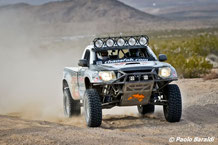 Foto e testo di Paolo Baraldi
La californiana Total Chaos Fabrication ha corso in Nevada la durissima The Mint 400. La comproprietaria Nicole Pitell-Vaughan alla guida del Toyota Tacoma Lil T ha concluso la competizione in quinta posizione nella 7200 Pro Class.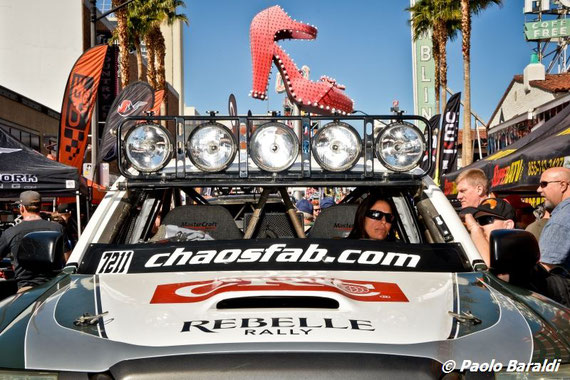 Total Chaos Fabrication è un nota azienda della West Coast americana, con sede a Corona (CA), specializzata nella costruzione di sospensioni ed accessori per i vari modelli di fuoristrada Toyota. Da oltre 18 anni, la Total Chaos è nel mondo del fuoristrada, sia sportivo che ricreazionale, e realizza in proprio ogni parte dei suoi prodotti con un particolare occhio di riguardo alla qualità. Nel 2016, la comproprietaria Nicole Pitell-Vaughan ha portato al podio il suo Toyota Tacoma al famoso rallye marocchino Aicha de Gazelles e quest'anno, nella categoria T1.S alla Dakar, il 4x4 vincitore era equipaggiato con le sospensioni di Total Chaos.  Lo scorso weekend, la Total Chaos ha deciso di portare in gara alla The Mint 400 il Toyota Tacoma Lil T, da loro preparato, per testarne la resistenza e  l'affidabilità.
La Mint 400 è una delle più dure "one day desert race" americane organizzata per la prima volta nel 1967 da Norm Johnson per promuovere e pubblicizzare il Mint Hotel and Casino di Las Vegas. Dopo una pausa di 20 anni, nel 2008 la gara è stata riportata alla gloria tanto che ora è considerata come "The Great American Desert Race". La Mint 400 è famosa per le incredibili gesta dei piloti dei velocissimi Trophy Truck anche se in realtà sono numerose le categorie di veicoli in gara che vanno dagli UTV ai Vintage passando per i 4x4 classici, i Maggiolini ed gli Ultra 4.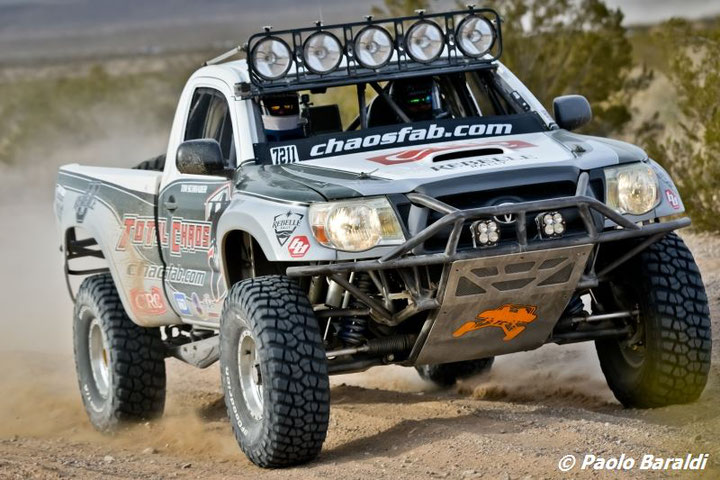 Quest'anno, le auto iscritte alla gara sono state ben 370 tra cui 13 quelle schierate nella 7200 Pro Class; la categoria nella quale ha corso il team Total Chaos. Lil T di base è un Toyota Tacoma 2WD del 2005 equipaggiato con le sospensioni di produzione della TC che adottano gli ammortizzatori della Fox. Per distinguersi dalla concorrenza nella classe 7200, Lil T, sottodimensionato nel mondo dei grandi Trucks 7200 ed in gara nella corsa Unlimited, non è un pick up realizzato ex novo con un telaio tubolare da corsa ma deriva da quello di serie mantenendo i longheroni del telaio e l'abitacolo originale e con piccoli, rispetto ai concorrenti, pneumatici  BFG Mud Terrain da 35". Il motore è un 4.0 litri V6 con filtro aria della K&N e cambio Turbo 400 della Culhane Racing Transmissions. Lo scopo della Total Chaos alla gara era quello di dimostrare la validità dei suoi prodotti portando  indenne Lil T al traguardo finale.
Con 7 veicoli che non hanno finito la gara nella classe 7200, Nicole Pitell-Vaughan è riuscita nell'impresa portando il suo Toyota Tacoma al traguardo finale praticamente intatto e classificandosi quinta. Quella nel deserto del Nevada, alla Mint 400,  è stata una lunga giornata nuvolosa e ventosa; Nicole Pitell-Vaughan e tutto il suo team erano focalizzati nel non facile obiettivo finale. Il percorso di 116, miglia da ripetere 3 volte,  era molto duro con difficoltà nascoste dietro ogni angolo. Il piano era quello di guidare bene nel primo giro per studiare il tracciato, di giocarsela nel secondo giro ed infine, nel terzo ed ultimo lap di portarsi a casa la gara. Tutto è andato secondo i piani nel giro 1 mentre al secondo passaggio è stata una vera e propria battaglia per la sopravvivenza con i Trophy Trucks, che avendo iniziato la gara un'ora prima, incalzavano da dietro Lil T. Nicole anche se ha perso molto tempo in questa fase, non si è fatta prendere dall'ansia ed ha guidato con un buon ritmo pensando ad amministrare la corsa ed il suo 4x4. Nel terzo ed ultimo giro, quasi totalmente guidato nel buio della sera, il Team Tc ha passato molti concorrenti fermi per problemi tecnici, con le piccole BFG da 35" ha faticato a passare nei profondi solchi tracciati dai grandi Trophy Trucks e, sostenuta dai numerosi tifosi ha tenuto duro per arrivare con successo al traguardo.
La quinta posizione conquistata nella categoria 7200 Pro alla dura Mint 400 rappresenta un grande successo per la Total Chaos Fabrication a dimostrazione di quanto sono performanti e resistenti i prodotti ed i veicoli realizzati da questa azienda che prima di tutto vive per la sua passione per il fuoristrada.