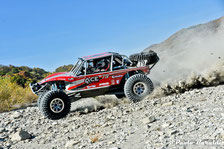 La notizia è di quelle golose ed apre la strada a nuove prospettive per i possessori di veicoli Ultra4. Tutto è nato al 4x4 Fest con l'incontro tra Mauro Tavella, deus ex machina dell'Italian Baja, e Pier Acerni, CEO e pilota dell'ACE Racing.
Come in America, dove i veicoli Ultra4 hanno iniziato a partecipare ad altre competizioni fuori dal circuito Ultra4 Racing, Mint 400 o Baja 1000 solo per citarne alcune, anche in Italia si apre la possibilità per un'esperienza del genere. Il progetto è nato grazie all'incontro tra Mauro Tavella e Pier Acerni allo scorso 4x4 Fest di Carrara durante la presentazione di Scarlett, il nuovo prototipo da corsa dell'ACE Racing costruito dall'Acerni Custom Engineering.
---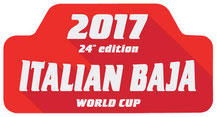 Mauro Tavella è il patron dell'Italian Baja competizione del circuito mondiale cross country della FIA. Le origini dell'Italian Baja risalgono al 1993 da un'idea del Fuoristrada Club 4×4 Pordenone. La prima edizione è stata a carattere nazionale, ma candidata alla Coppa del Mondo. Nel 1994 Nasce la "vera" Italian Baja, perché la FIA attribuisce alla gara pordenonese la validità mondiale con un ottimo coefficiente ed un'ottima valutazione. Da allora la competizione è sempre più cresciuta in fama e qualità.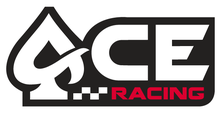 Il nome Acerni è ben conosciuto nel mondo del fuoristrada nazionale ed internazionale. L'azienda parmense da oltre 30 anni è leader nella preparazione di 4x4, con una particolare attenzione al mondo Jeep. Anche in ambito sportivo i successi degli Acerni, Tonino e Pier, sono numerosi e non si limitano alle gare Italiane ma spaziano dall'Europa sino ad arrivare negli States con la partecipazione alla prestigiosa King of the Hammers.
---
Ma di cosa si tratta?
Tutti conosciamo l'Italian Baja ed il tipo di 4x4 che vi partecipano. I T1 e T2 appartengono alla categoria dei cross country cioè sviluppati per la pura velocità in fuoristrada. Effettivamente sono auto molto diverse da quelle dell'Ultra4 come lo sono i percorsi. Ma perchè fermarsi alle differenze invece di aprirsi alle contaminazioni ed alle collaborazioni? Del resto in America, dove tutto è nato, questo accade già da anni dove vediamo gli equipaggi ed i veicoli Ultra4 partecipare alle Baja addirittura con una categoria a loro dedicata.
All'incontro al 4x4 Fest, Mauro Tavella, da tempo interessato a questi 4x4, ha invitato Pier Acerni alla Italian Baja d'Autunno come special guest per mostrare agli addetti ai lavori, commissione ACI Sport, le potenzialità dei veicoli Ultra4. Sin dai primi km percorsi da Scarlett sui tracciati della gara, sono emerse le potenzialità di questi 4x4, confermate poi dal cronometro che ha fatto segnare il miglior tempo assoluto. Gianluca Marotta, presidente della commissione ACI Sport Off Road & Cross Country, ha seguito con attenzione, anche dall'elicottero, la prova di Pier Acerni e ne è rimasto talmente entusiasta al punto di confermare la creazione della categoria TX per i veicoli Ultra4 che già dal 2018 potranno prendere parte alle Baja italiane.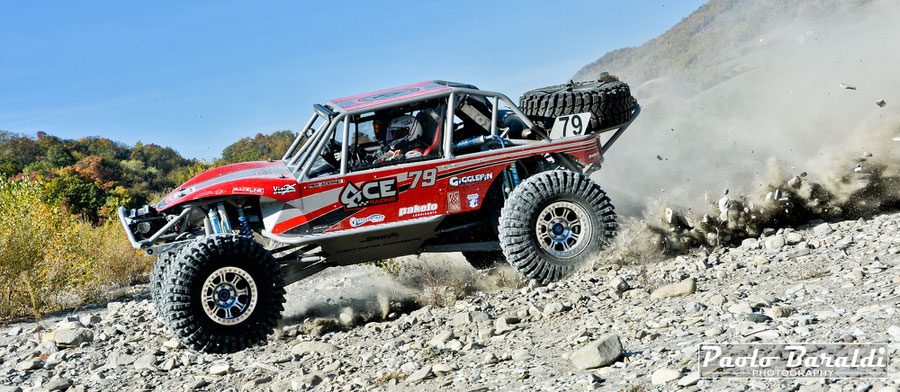 Una precisazione!
Fino ad ora, abbiamo utilizzato il nome Ultra4 per rendere più facile l'identificazione di questo tipo di veicoli. La giusta denominazione che verrà utilizzata dall'ACI Sport e nelle gare del circuito Italian Baja e nel Campionato Italiano Cross Country sara TX.
---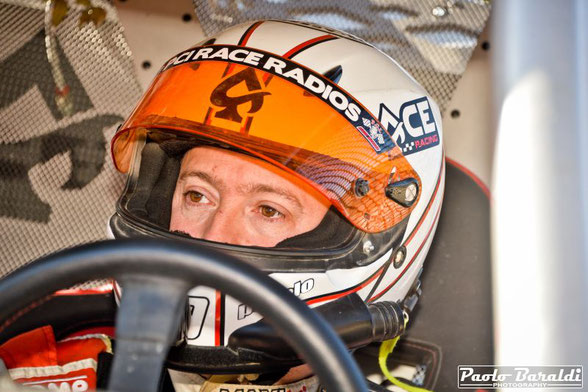 Ecco le parole di Pier Acerni per spiegare questo progetto: "Sono stato contattato alcuni mesi fa dall'organizzatore della Baja italiana, un'organizzazione FIA che gestisce 3 gare all'anno in Italia per le vetture Cross Country. Le edizioni di marzo e novembre sono solo per il campionato italiano e quello organizzato nel giugno e quello internazionale valido per il Campionato del Mondo FIA. L'organizzatore mi ha contattato perché avrebbe inserito due nuove categorie TX1 per Unlimited e TX2 per le vetture modificate e Legend nell'attuale campionato Cross Country. Ha visto la mia nuova vettura Scarlett al 4X4 FEST e mi ha invitato a prendere la mia auto all'Italia Baja D'Autunno lo scorso 10-12 novembre per averlo ispezionato dal supervisore FIA e per controllare la possibilità di partecipare alle loro competizioni.
Bene è stato un successo! l'organizzatore è stato felice di vedere il livello di sicurezza deii veicoli Ultra4 e mi hanno permesso di guidare due fasi speciali di quella gara.
L'organizzazione dell' Italian Baja ha confermato che l'anno prossimo verranno create due categorie sperimentali che daranno l'opportunità alle attuali auto Ultra4 di correre la Baja in Italia. Il formato di queste gare è leggermente diverso dal formato Ultra4 Europe, hanno tappe speciali con Roadbook come un classico raid di FIA e la difficoltà della pista non è comparabile con l'Ultra4 ma la possibilità di avere più parco giochi per tutti coloro che hanno un veicolo Ultra4 in Europa è sempre interessante.
Personalmente sono stato impressionato di come l'evento fosse ben organizzato con informazioni giuste e chiare per i concorrenti, Livestream TV, elicottero, tracking ecc. 
Credo che questa sarà una grande opportunità per noi e l'inizio di una nuova era sperando che gli altri paesi europei faranno lo stesso. Spero di incontrare gli amici possessori di Ultra4 alla prossima Baja di Primavera a marzo; una buona occasione per testare il tuo veicolo prima del prossimo campionato Ultra4 Europe".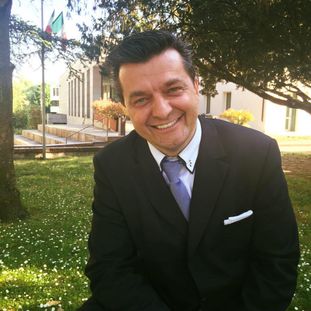 Abbiamo raggiunto telefonicamente Mauro Tavella per avere le sue impressioni su questo progetto: "Quando insieme a Gianluca Marotta ho visto in azione Pier Acerni e la sua Scarlett sui percorsi dell'Italian Baja d'Autunno sono rimasto veramente impressionato dalle potenzialità e dalla sicurezza di questi veicoli. Sono sicuro che le nuove categorie TX1 e TX2 saranno un vero e proprio valore aggiunto alle nostre gare ed uno spettacolo assicurato per il pubblico. Paolo te le immagini al salto di Rauscedo?
Come organizzatore dell'Italian Baja confermo che per il 2018 le nostre tre gare, quindi anche il mondiale FIA di giugno, saranno aperti ai veicoli Ultra4 che correranno nelle due categorie a loro dedicate.
Come Vice Presidente della commissione Off Road & Cross Country dell'ACI Sport confermo la volontà per il 2019, se i numeri mi daranno ragione, di creare all'interno del Campionato Italiano Cross Country una coppa per i TX1 e TX2, quindi un Campionato Italiano a loro dedicato, aperto anche agli equipaggi stranieri".
---
Si prospetta un 2018 veramente interessante e che smuoverà le acque del fuoristradismo italiano. Avere una categoria per gli Ultra4 all'interno delle gare cross country è veramente un'opportunità da non farsi perdere; un'opportunità in più per tirare fuori le auto dal garage e fare quello per le quali sono state costruite: correre!
Durante il Motorshow di Bologna potrete vedere Scarlett in azione all'interno del circuito Memorial Bettega dove oltre a Pier Acerni sarà presente anche Will Overton, pilota della scuderia ACE Racing.