L'ultima gara del campionato Ultra4 Europe e la prima della serie nell'Europa dell'Est. Questa nuova gara si presenta subito alettante con un montepremi di 10.000 euro per il vincitore e con la corsa al titolo ancora aperta.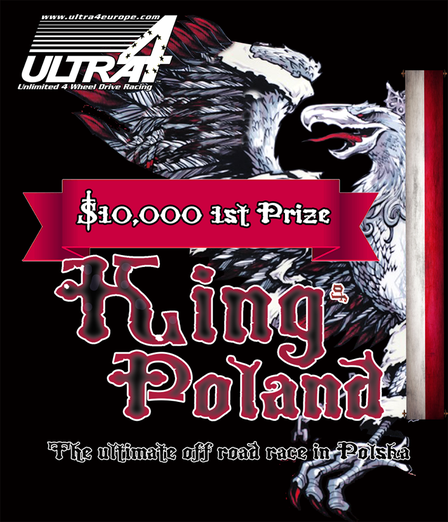 La King of Poland è la prima gara nell'Europa dell'Est per Ultra4 Europe e l'ultima del campionato 2018. In base alla classifica dopo le prime 3 gare, l'assegnazione del titolo di campione europeo è ancora aperta e come ci hanno abituato le ultime gare, tutto può succedere.
La King of Poland sarà quindi decisiva per definire i punteggi per il campionato 2018. Assisteremo quindi ad una lotta epica per la vittoria visto che in palio per il vincitore ci saranno 10.000 euro... il montepremi più alto per Ultra4 in Europe.
L'evento si svolgerà presso l'Olszyna MotoPark, M.C., Curie-Skłodowskiej 2a, 59-830 Olszyna, Polonia, con il seguente programma:
Date:
10-14 ottobre
Qualifiche:
11 ottobre
Gara:
12-13 ottobre
Km totali: 400
La King of Poland si svolgerà lungo un circuito di 22 km che ti offre alcuni dei tracciati più veloci d'Europa: piste nella foreste, sabbia e rocce caratterizzeranno la manifestazione che ricorderà i percorsi dakariani. La premiazione si svolgerà nel Castello di Czocha.