Bellissima storia di una El Camino del 1977 trasformata in una 4 ruote motrici per scommessa. Garrett Davidson, originario del Nevada, ha ereditato questa El Camino dal nonno che usava per spostarsi nelle miniere del Silver State dandogli nuova vita come Hill Camino.
Foto e testo di Paolo Baraldi

Tra le cose che più mi piace fare quando sono nella Johnson Valley (CA) per la King of the Hammers, è quella di uscire dal downtown di Hammertown e passeggiare nel Lakebed, tra i bivacchi degli spettatori, alla ricerca di veicoli unici e particolari che nascono dalla passione e dall'immaginazione dei numerosi fuoristradisti presenti per la KOH Week. Ogni volta che lo faccio, non ne resto mai deluso. Anche quest'anno è stato così!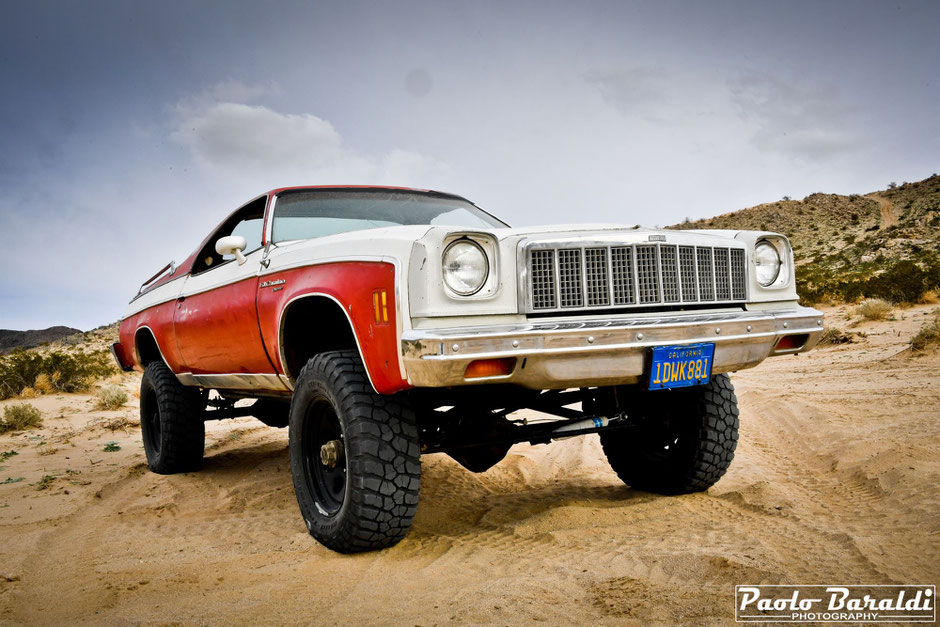 Quella che vi sto per raccontare in questo articolo, è la storia d'amore per una macchina condivisa tra un nonno ed un nipote con quest'ultimo che ha realizzato il progetto e sogno di suo nonno.
La protagonista di questa storia è una El Camino del 1977. La Chevrolet El Camino è un particolare veicolo pick-up, prodotto dalla Chevrolet dal 1959 al 1960 e dal 1964 al 1987 per il mercato statunitense e rappresentava la risposta della casa automobilistica al Ford Ranchero uscito due anni prima. La General Motors (casa madre del marchio Chevrolet) definì questo tipo di vettura "un coupè da lavoro".
"Il mio El Camino era un veicolo bastardo, mezza berlina, mezzo pick up, l'idea mezza scema di quei tipi di Detroit per accontentare i pigri cowboy da drugstore, gente che vuole guidare un pick up, senza dare l'idea di guidarne uno." (James Crumley, L'ultimo vero bacio)
Garrett Davidson ha ereditato questa El Camino da suo nonno che la usava tra le miniere del Nevada centrale e settentrionale. "Ovviamente, usandola in queste condizione", ci dice Garrett, "la macchina a 2 ruote motrici è stata sfruttata oltre ogni limite. Per queste ragioni, trasformarla in una 4x4 è sempre stato un desiderio di mio nonno ma non ha mai avuto il tempo ed i soldi per poterlo fare. Dopo che ho ereditato la El Camino, il padre di un mio amico ha scommesso che non sarei mai riuscito a trasformarla in una quattro ruote motrici spendendo meno di 4000 dollari. A quell punto sapevo cosa dovevo fare!"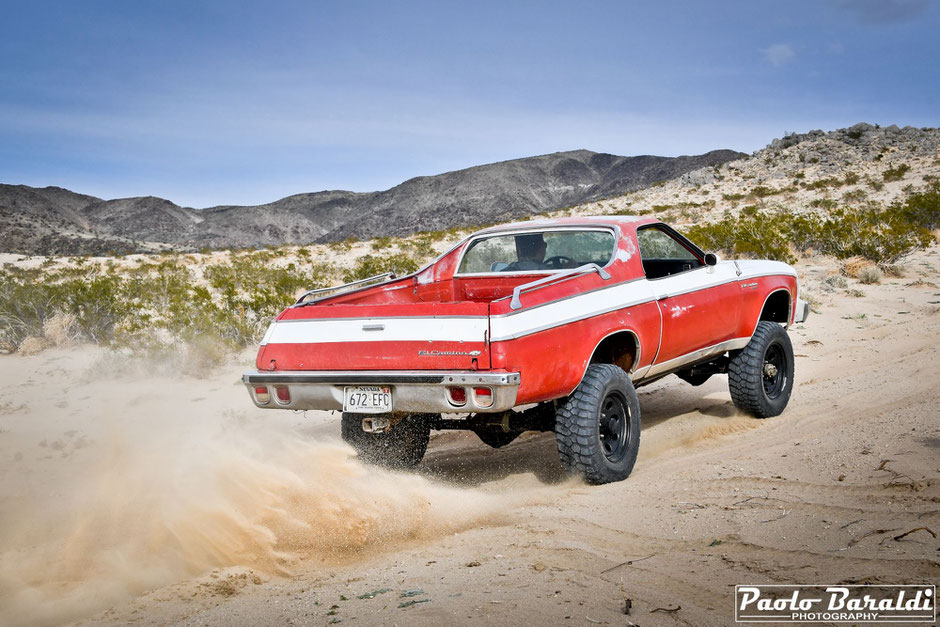 I lavori sono di trasformazione della El Camino sono iniziati il 19 dicembre 2018 e per restare nel budget della scommessa, Garrett ha usato tutte parti di recupero da altri veicoli. Il motore usato è uno Chevrolet Small Block 350ci con una trasmissione 700R4 ed un riduttore derivato da un Toyota Land Cruiser. Il lavoro più importante per realizzare questa trasformazione è stato quello di adattare i ponti rigidi di un Gladiator (Jeep) del 1967 alla El Camino. I puntoni anteriori sono stati costruiti su misura adattando le molle originali. Per il posteriore sono state usate le balestre  di un Toyota FJ40. Dopo poco meno di un mese e con la spesa di soli 2900 dollari è nata questa bellissima Hill Camino il cui primo vero viaggio è stato quello per arrivare nel Lakebed per assistere alla King of the Hammers.
Specifiche tecniche:
Chevrolet El Camino del 1977
Fari e griglia anteriore di una  Malibu del 1975
Motore Chevrolet Small Block 350ci
Cambio 700R4
Riduttore Toyota Land Cruiser
Ponte anteriore Dana 44 da un Jeep Gladiator del 1967
Ponte posteriore Dana 53 da un Jeep Gladiator del 1967
Ammortizzatori Bilstein
Molle anteriori originali El Camino con puntoni artigianali
Balestre posteriori Toyota FJ40
Pneumatici BF Goodrich KM2 da 32"montati su cerchi in acciaio da 17"
---