La nuova versione Mojave del pick up Gladiator è la prima Jeep Desert Rated, ovvero interamente pensata per affrontare il deserto ad alte velocità. Dopo averla vista in anteprima mondiale alla King of the Hammers, prima del Chicago Auto Show,ecco di cosa si tratta.
Foto Nicolas Stevenin e testo Paolo Baraldi


Il badge Trail Rated identifica quelle Jeep le cui caratteristiche sono pensate per affrontare i terreni più duri e sconnessi ed in particolare i trails più impegnativi. Sino ad oggi per queste versioni Jeep ha pensato alla mobilità rock crawling lasciando orfana tutta quella schiera di Jeepers amanti del deserto e delle sue piste.
Gladiator Mojave, pensata per correre nel deserto
Il 6 febbraio ad Hammertown, Jeep ha voluto regalare ai suoi numerosi appassionati un assaggio della nuova versione Mojave della Gladiator presentata ufficialmente dall'8 al 17 febbraio al Chicago Auto Show.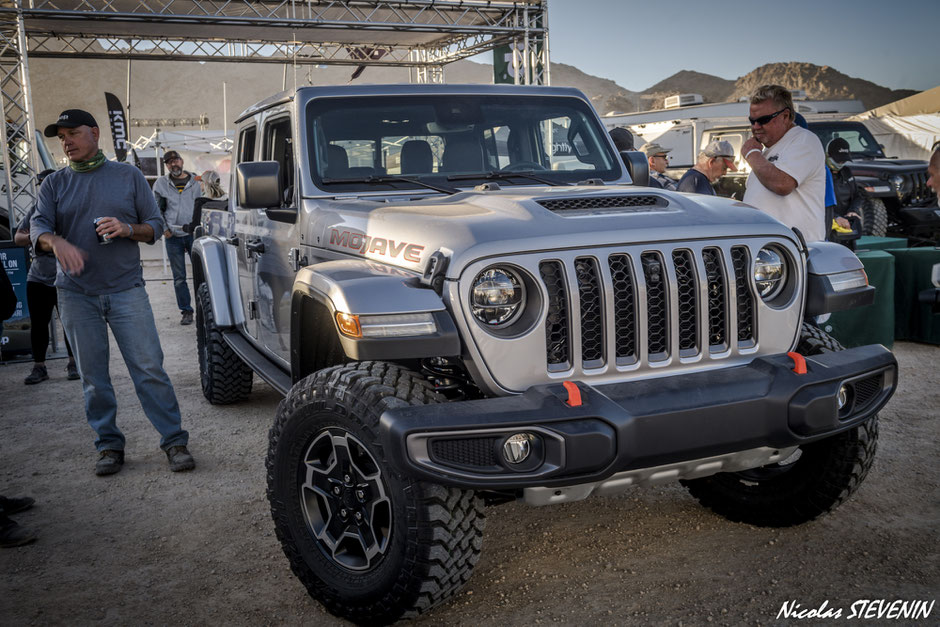 La Gladiator Mojave, che si fregia per la prima volta del badge Desert Rated - ovvero pensata ed allestita per la guida in fuoristrada ad alta velocità nel deserto – se si presenta pressoché inalterata nel layout generale del corpo vettura, si mostra profondamente modificata nei componenti solitamente sottoposti ai compiti più gravosi e nelle parti del veicolo che devono essere funzionali alla guida veloce nel deserto. In estrema sintesi è: più alta, con sospensioni ad hoc, rinforzata nel telaio, provvista di un nuovo comando di controllo della potenza nelle condizioni di marcia in offroad più impegnative, ed equipaggiata con un set di pneumatici specifico.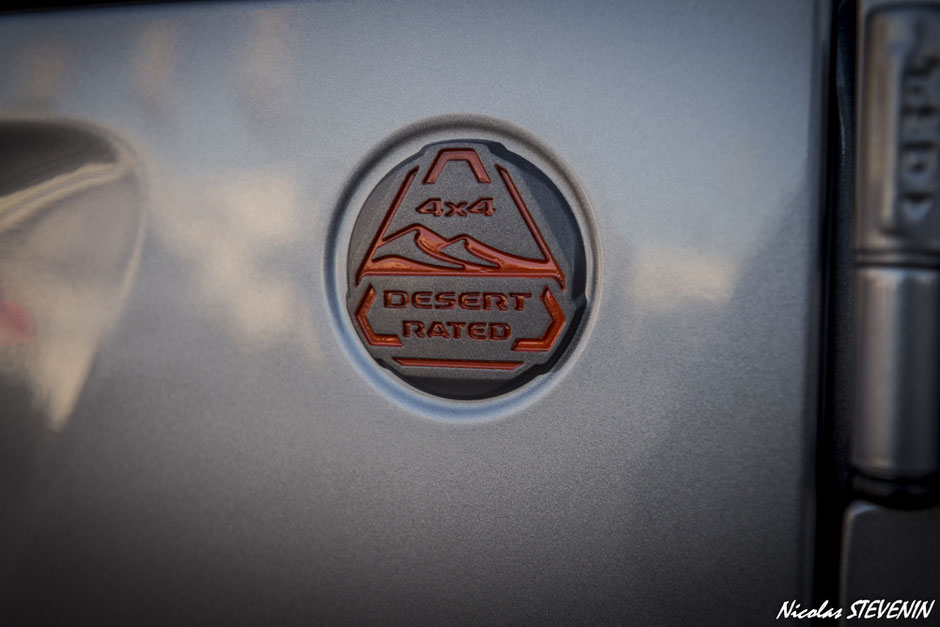 La Gladiator Mojave nel dettaglio
La preparazione della Gladiator Mojave, che si fregia della certificazione "Desert Rated", si concretizza principalmente nell'assetto con l'adozione di un kit di ammortizzatori Fox da 2.5" con bypass interno, regolati specificamente per la velocità offroad e dotati di serbatoi esterni, molle che aumentano l'altezza di un pollice e per la prima volta su di una Jeep sono presenti i Bumpstop anteriori. Oltre al telaio rinforzato, la Gladiator Mojave si differenzia dalle altre versioni per i ponti di serie che sono stati sostituiti con la terza generazione dei Dana 44 heavy duty con rapporto 4,10:1 e per il sistema di trazione integrale Command Track con un riduttore a due velocità con un rapporto sulle ridotte di 2,72:1 corredato della modalità di guida Off-Road Plus che modifica la risposta dell'acceleratore, gli intervalli di cambio ed il controllo della trazione per guidare ad alta velocità sulla sabbia o arrampicarsi lentamente sulle rocce. Il completamento del re-engineering sviluppato dai tecnici Jeep per la nuova Gladiator Mojave prevede un allargamento della carreggiata di mezzo pollice per una migliore stabilità, il montaggio di una protezione inferiore sottoscocca, di cerchi da 17" (rifiniti in nero lucido) e pneumatici Faklen Wildpeak A/T da 33". Gli interni caratterizzati dalla colorazione black o steel gray, presentano dei sedili più sportivi che riportano il logo Mojave. Sotto il cofano… tutto come prima: la motorizzazione di Jeep Gladiator Mojave viene affidata al collaudato PentaStar 3.6 V6 da 285 CV di potenza massima con 352 Nm di coppia massima. La trasmissione si avvale del cambio manuale a sei rapporti oppure, a scelta, automatico ad otto rapporti. 
Il nuovo Jeep Gladiator Mojave debutterà nelle concessionarie Jeep americane nella primavera 2020.
---
---