Grazie a Nena Barlow ho potuto testare, in esclusiva europea, la nuova Jeep Gladiator sulle dune di Glamis (CA). E' stata una piacevole sorpresa ed una conferma delle doti di overlanding di questo pick up che solo con poche modifiche cambia faccia e performance.
Foto e testo di Paolo Baraldi

La Jeep Gladiator è in commercio negli States dall'aprile scorso, mentre in Europa sarà in vendita dalla seconda metà del 2020 e solo nelle versioni Sport ed Overland con motorizzazione EcoDiesel V6 da 3,0 litri. Purtroppo niente benzina e niente Rubicon.
I Jeepers e la stampa europea hanno avuto l'occasione di vedere il nuovo pick up di Jeep al Camp Jeep di San Martino di Castrozza. Peccato che era solo esposto in maniera statica ed ancora nella versione americana, come descritto da Massimo Larossa; senza quindi gli aggiornamenti per il mercato europeo.
Per primo in Europa ho testato la Jeep Gladiator Rubicon in azione
Come potete immaginare, sia per gli appassionati del brand a Stelle e Strisce che per i giornalisti l'attesa e la curiosità di vedere la Gladiator in azione è enorme. Se gli europei dovranno aspettare fino al prossimo anno, io ho avuto l'occasione di vederlo in azione sia a febbraio alla King of the Hammers che ad ottobre sulle dune di Glamis grazie a Nena Barlow di Barlow Adventures. In quest'ultima occasione, oltre che a vedere la Gladiator in azione mi ci sono anche seduto dentro.
Chi è Nena Barlow e la Barlow Adventures
Prima di entrare nel merito di questa Jeep Gladiator ci tengo a presentarvi Nena.
Nena Barlow è cresciuta nel sud-ovest americano, esplorando le strade secondarie con jeep, cavalli e scarponcini da trekking. È attiva nel settore Jeep e offroad dal 1996 organizzando tour, corsi di guida, scouting di percorsi, pianificazione di eventi fuoristrada, mappatura dei sentieri e recupero di veicoli. Nena ha archiviato migliaia di ore nel backcountry non solo al volante di una Jeep, ma anche a bordo di Hummer, Unimog, Ford, Toyota e Nissan. Nena è certificata Master Trainer dal International 4wd Trainer Association.
Nena, è la fondatrice (2004) e titolare della Barlow Adventures con sede a Sedona (AZ) ed a Moab (UT). Barlow's oltre al noleggio di Jeep, molte Jeep che partecipano al Rebelle Rally sono della Barlow Adventures, offre corsi di guida 4x4 e viaggi avventura con una particolare attenzione alla sicurezza ed alle pratiche di guida responsabili nel rispetto del territorio.
Imperial Sand Dunes: location perfetta per il test della Gladiator
Il Rebelle Rally è stata l'occasione di questo incontro. Jeep è sponsor del Rebelle e Nena vi ha gareggiato nelle prime 3 edizioni. Glamis è stata la meravigliosa location di questo test.
Le Imperial Sand Dunes di Glamis sono un grande erg (lungo 72 km e largo 9,7 km) situato nella parte sud-orientale dello stato americano della California, vicino al confine con l'Arizona e lo stato messicano della Baja California. Qui si è svolta l'ultima parte del Rebelle Rally e qui Nena Barlow si è unita allo staff della gara con la sua Gladiator.
2020 Jeep Gladiator Rubicon 3.6l V6 by Barlow Adventures: il test di Paolo Baraldi
Dopo questa doverosa introduzione, torno a parlare volentieri dell'oggetto di questo articolo: la Jeep Gladiator Rubicon 3.6l Pentastar V6 benzina con cambio automatico a 8 marce. 
Sabato 19 ottobre a gara finita, alle 7.30 del mattino con il sole che sorgeva, io e Nena siamo andati sulle dune per lo shooting e per la prova del pick up di Jeep.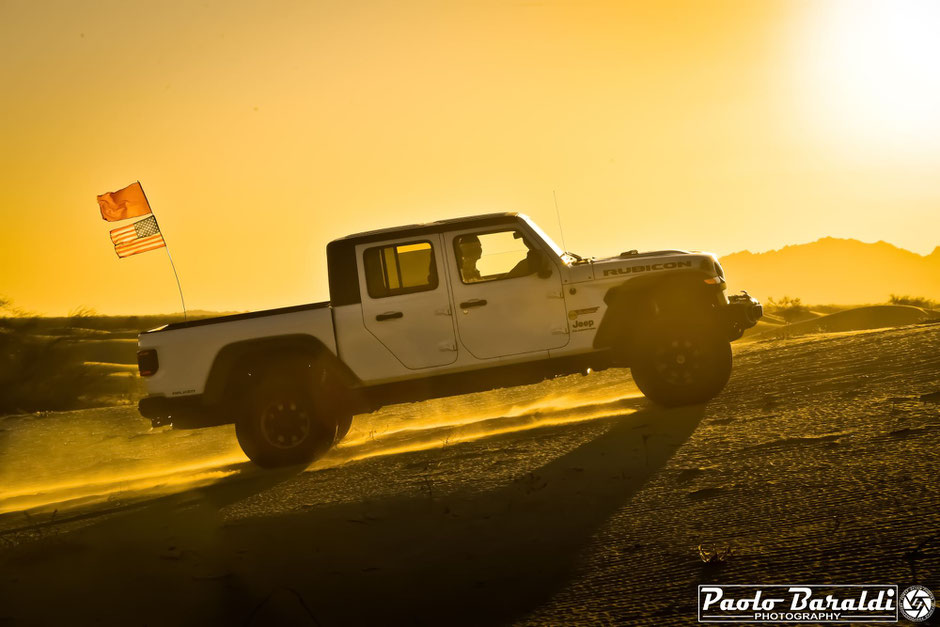 Sin dall'inizio questa Gladiator mi ha interessato perché al contrario di quella vista alla King of the Hammers, preparata per affrontare la Stock Class dell Everyman Challenge, è stata modificata in modo lieve e solo dove serve per poter fare un fuoristrada da viaggio. Infatti Nena utilizza principalmente questo pick up lungo i trails, ovviamente come ci dirà Nena non i più tosti, del Moab e di Sedona e per i corsi di guida sulla sabbia.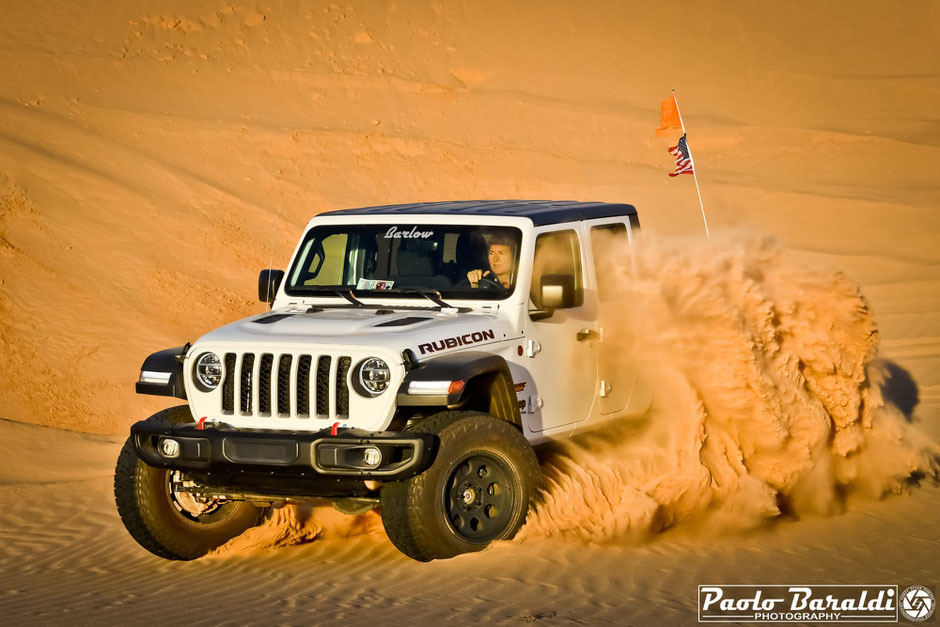 Vediamo quindi come si è intervenuti. Le sospensioni sono state rialzate di 2 pollici utilizzando il kit di Mopar e sono stati sostituiti gli pneumatici originali con i Wildpeak AT3W 35x12.50x17 della Falken.
Dal punto di vista estetico, queste piccole modifiche hanno completamente cambiato l'aspetto della Gladiator rendendolo più proporzionato ed allo stesso tempo più aggressivo rispetto alla versione di serie. Conferma della mia idea che mi sono fatto al Camp Jeep. I suoi ingombri, soprattutto lunghezza ed angolo di dosso non lo rendono comunque ideale per i percorsi più duri. Infatti Nena mi confida che "la sua lunghezza extra gli impedisce di affrontare i trails di roccia più aggressivi per i quali è stata progettata la sua sorella Wrangler JL", continua poi confidandomi che "essendo gli interni e il muso uguali a quelli del JL, quando sono al volante mi devo ricordare che si tratta del Gladiator per non osare sui tacciati hard."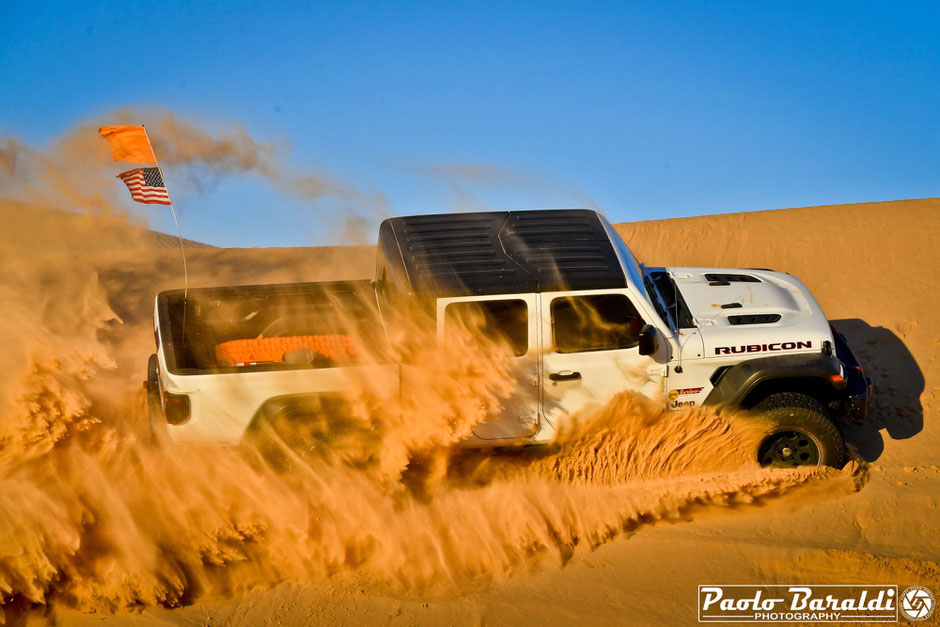 Detto questo e ben cosciente che si tratta di un pick up, ed aggiungo di un bel pick up, guidarlo è stato un piacere: capacità di trazione del Wrangler, ma con una maggiore capacità di carico utile. Il comfort di un passo più lungo sulle strade accidentate e la comodità di un pick up dove puoi caricare comodamente tutto quello che ti serve per le tue avventure.
Anche sulla sabbia, dove ben sappiamo che l'angolo di dosso è importante, se consci delle sue caratteristiche è piacevole e divertente da guidare soprattutto se lo si fa come lo fanno gli americani quando affrontano le dune a tutto gas.
In conclusione, come mi conferma Nena Barlow, la Jeep Gladiator è un'opzione perfetta per coloro che desiderano fare overlanding in terreni estremi.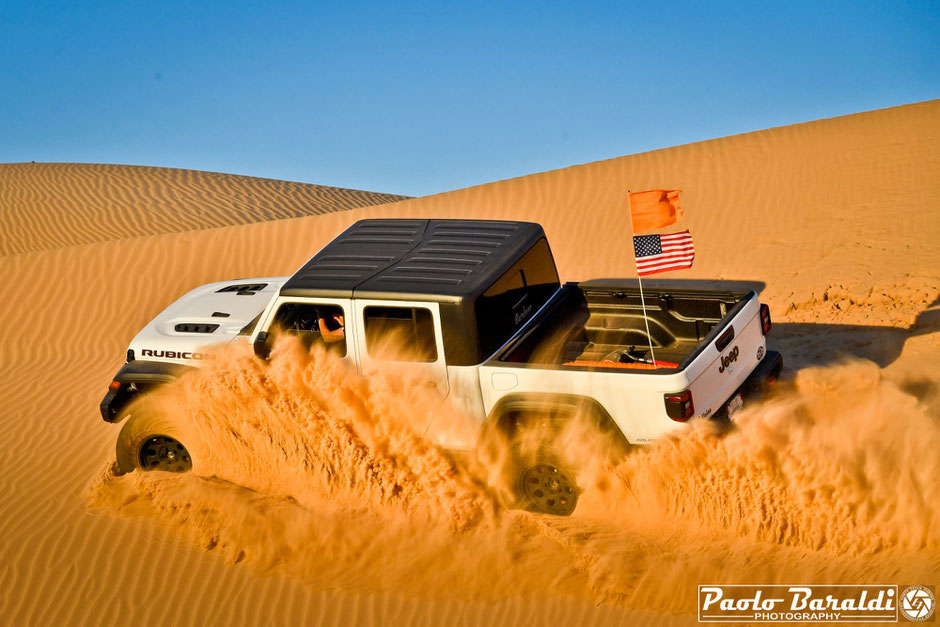 ---