Sospensioni IFS (Independent Front Suspension) o ponte rigido anteriore? Nelle gare di Ultra4 sono sempre più utilizzati i veicoli con le sospensioni indipendenti anteriori. In questo articolo, grazie a 4Low Magazine, Rich Klein e Jeren Gunter, andremo ad analizzare quali decisioni e quali aspetti della progettazione stanno dietro un veicolo IFS per la categoria 4400 di Ultra4 Raging.
Foto Paolo Baraldi e testo Rich Klein - 4Low magazine

Cosa comprende davvero la progettazione di una nuova auto da corsa per la categoria 4400 di Ultra4 Racing? C'è un aspetto della progettazione che è più importante?
Allo stato attuale delle cose, la decisione tra costruire una IFS (Independent Front Suspension) o un'auto con ponte rigido sembra essere la scelta più importante. Entrambi hanno i loro vantaggi, a seconda del tipo di terreno che si intende percorrere. La seconda decisione da prendere è se realizzare un single seater o un veicolo a due posti. A seguire, le decisioni considerano tutte le altre opzioni: motore, cambio, riduttore, ponti e sospensioni.
Le prime due decisioni sono quelle da prendere all'inizio del percorso progettuale perchè  poi andranno ad influenzare tutto il percorso costruttivo.
Perchè i veicoli IFS sono il futuro?
La tendenza attuale, anche se l'ultima King of the Hammers è stata vinta da un veicolo con ponti rigidi, suggerisce che i ponti rigidi stanno diventando un ricordo del passato. Questo è probabilmente vero perchè molte gare in Amercica hanno un layout short course o percorsi nel deserto con sempre meno passaggi nelle rocce. Questo, ovviamente, non vale per la King of the Hammers che, continua ad avere molti trails rocciosi e quindi entrambe le scelte sembrano avere ragione.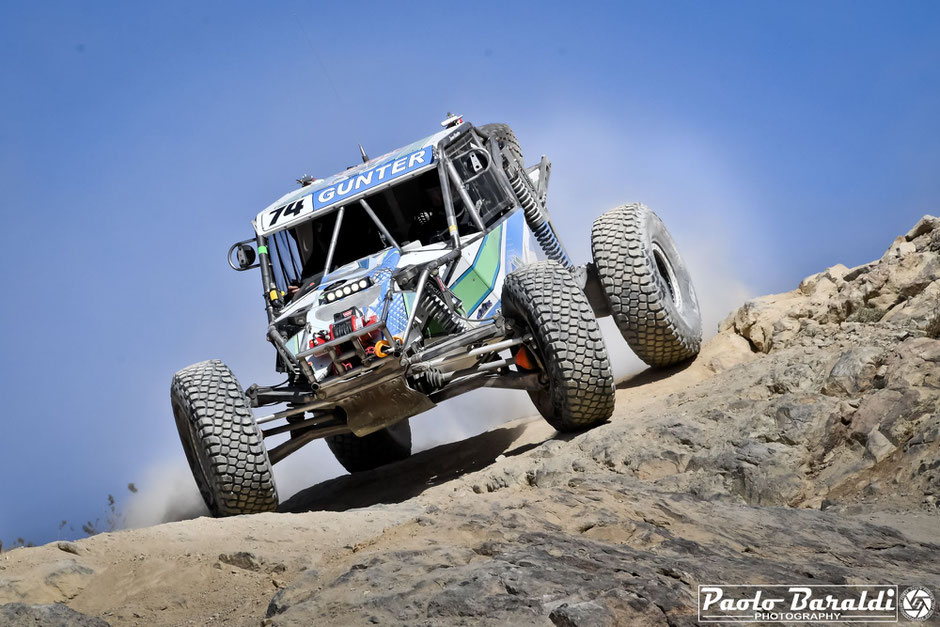 Per Jeren Gunter la UFO Motorsports è stata la scelta migliore
Quando Jeren Gunter decise di giocare duro e far costruire un nuovo veicolo Ultra4 per il 2020, cercò un costruttore che avesse dimostrato le sue buone capacità costruttive con idee che funzionassero e disposto a provare alcune opzioni considerate fuori dagli schemi. La scelta di Jeren è caduta su Joe Thompson della UFO Motorsports ritenendo che UFO costruisse i migliori 4400. Joe è famoso per i suoi veicoli IFS monoposto costruiti per i Fratelli Gomez.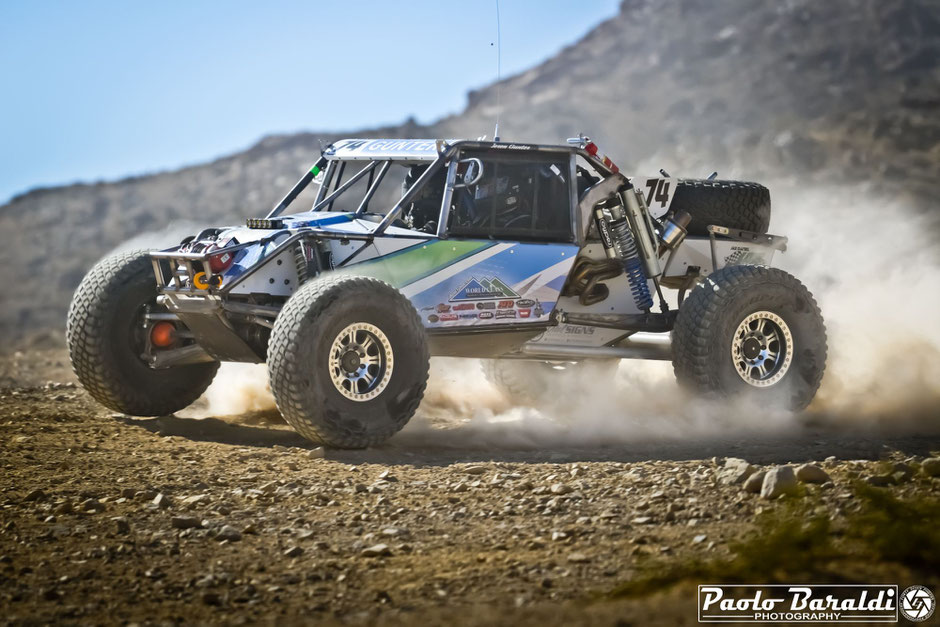 Single seater o due posti? La prima IFS 4400 a due posti realizzata dall UFO Motorsports
All'inizio, Jeren era contrario ad una due posti; pensava che avrebbe richiesto troppi compromessi nella progettazione e svantaggito del baricentro perfetto che stava cercando. Poi, Jeren ha optato per un sistema di erogazione del carburante ad iniezione diretta, che avrebbe fornito un maggiore chilometraggio a fronte di un utilizzo inferior di carburante. Eliminando così la necessità di un serbatoio più grande, si è potuto guadagnare più spazio per il resto della progettazione. In questo modo l'opzione dei due posti è diventata realtà. L'auto di Jeren Gunter è stata la prima IFS 4400 a due posti realizzata dall UFO Motorsports.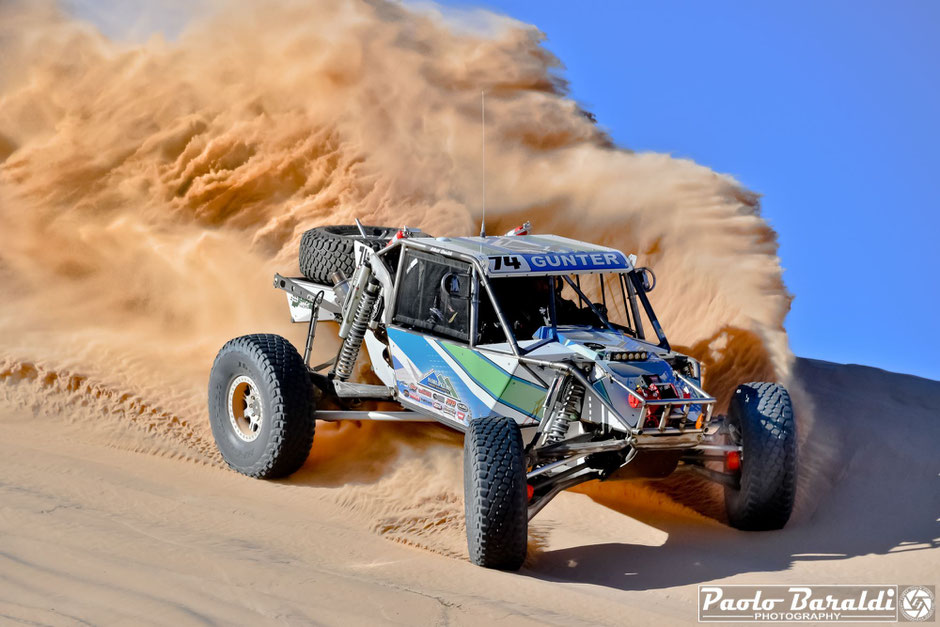 Tra i vantaggi di una due posti, ovviamente c'è il navigatore. Un copilota ha un valore molto importante nell'aiutare il pilota in caso di uso del verricello ma anche nel seguire il tracciato di gara, nel scegliere la traiettoria migliore nei trails congestionati ed è un importante aiuto nelle eventuali riparazioni.
Dopo aver attentamente analizzato tutte queste opzioni con Jeren, Joe Thompson è passato alla costruzione
"La differenza più grande tra i due stili progettuali (IFS o ponte rigido) è lo sterzo, con una differenza nella sensazione di guida che è come tra il giorno e la note. – ci dice Jeren - Con un ponte rigido, devi indovinare cosa farà la macchina, perché quando il volante si muove, non vuol sempre dire che le gomme lo facciano. Questa nuova auto IFS ti fa davvero sentire cosa sta facendo la macchina".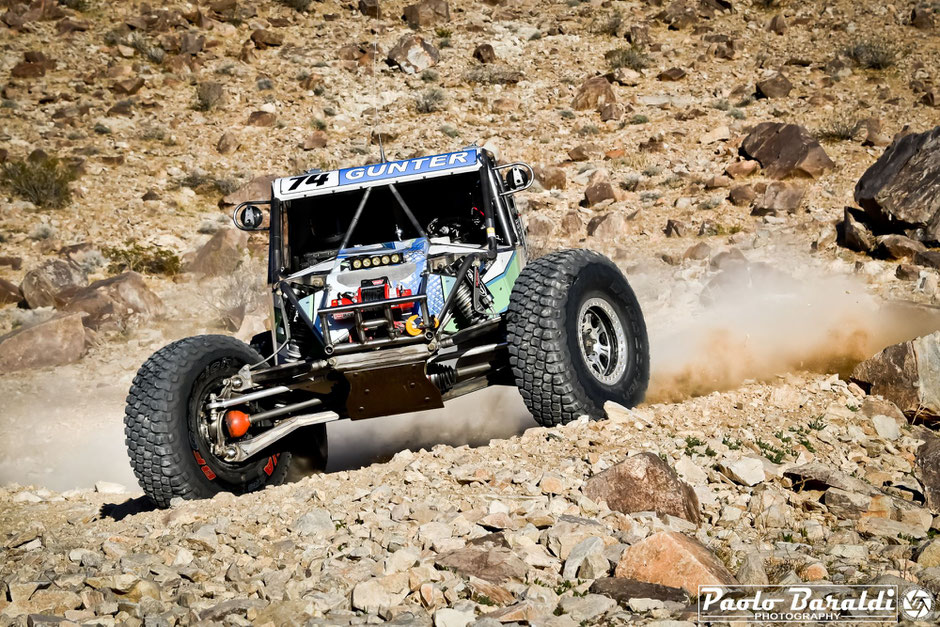 La costruzione di questo veicolo è stata completata a gennaio. Jeren ed il suo navigatore, Matt Smith, durante i primi test sono rimasti subito colpiti dalle qualità di questo veicolo. Lo si gestisce molto meglio di quanto immaginavano e percorrendo le piste del deserto, letteralmente "vola" sopra il terreno sconnesso ed accidentato.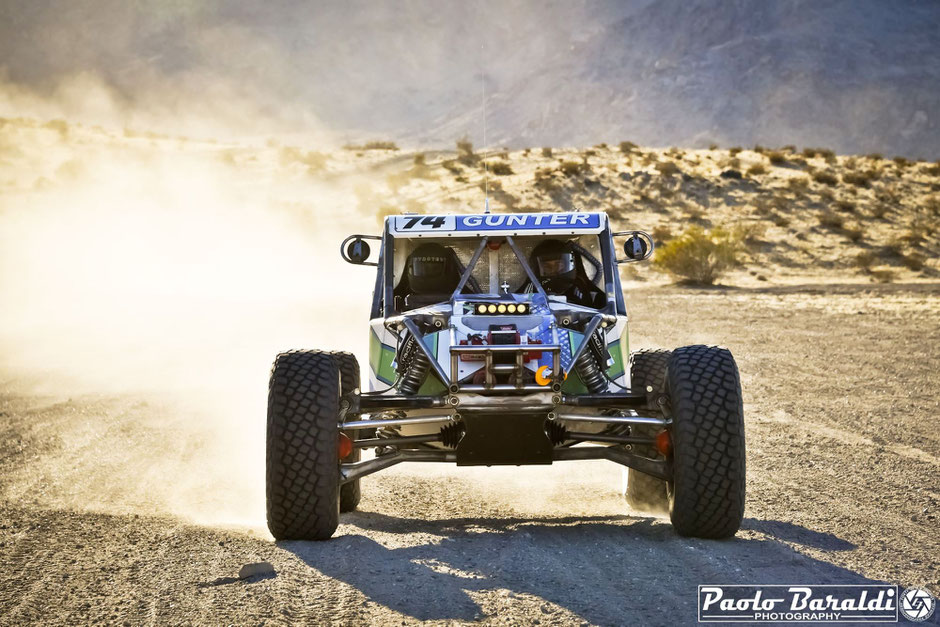 Specifiche tecniche Ultra4 IFS two-seat di Jeren Gunter
Motore: 440cu direct inject V8 7.2l
Potenza: 782 HP
Coppia: 656 Ft/Lb
Radiatore: CBR
Cambio: Turbo 400
Riduttore: SCS
Differenziale anteriore: Spidertrax
Ponte posteriore: Spidertrax
Sterzo: Howe
Freni: Wilwood
Sospensioni: Anteriori indipendenti. Posteriori 4-link
Ammortizzatori: Rdflo. Front is 3.0" 4 tube with a 2.5" coilover. Rear 3.75" 6 tube wtih 2.5" coilover
Cerchi e gomme: Raceline Monsters 17" with Bf Goodrich KR3 40"
Verricello: Warn
---
Un ringraziamento speciale a 4Low magazine, Rich Klein e Shelley Krehbiel 
---