"Since 1989, Europe Truck Trial offers exciting competitions with serial Trucks and prototypes across Europe. This year we visit many successful current venues and this time also some classics from the past years. It again passes through five different countries in Europe. Truck Trial to impress not only the action also connect people and friends and fans. We wish you all a good timely planning of the season 2022. See you at the Truck Trial!"
Photography and story by Paolo Baraldi

I don't know if you've ever had the chance to see the Europa Truck Trial drivers in action? If the answer is no, then you have to do it!
If you like driving precision, if you want to see a vehicle grappling with unthinkable obstacles and if you think that a truck can't overcome gravity, then the Europa Truck Trial is the one for you!
Here the 2022 Europa Truck Trial events: 
1. 04-05 June 2022: Montalieu-Vercieu - F
2. 23-24 July 2022: Large opencast mine in Kamsdorf - D
3. August 20-21, 2022: Voitsberg-Zangtal - A
4. 03-04 September 2022: Hülen-Lauchheim - D
Europa Truck Trial against gravity
It seems that the drivers' mission of the Europa Truck Trial is to refute the Newtonian laws on gravity. Thanks to an excellent feeling with their vehicles, the pilots know very well how far they can go, which is certainly beyond what any of us can imagine, performing spectacular but controlled evolutions. Surely, even the organizers are complicit in this challenge by tracing obstacles that are ever more challenging and that challenge the abilities of the drivers.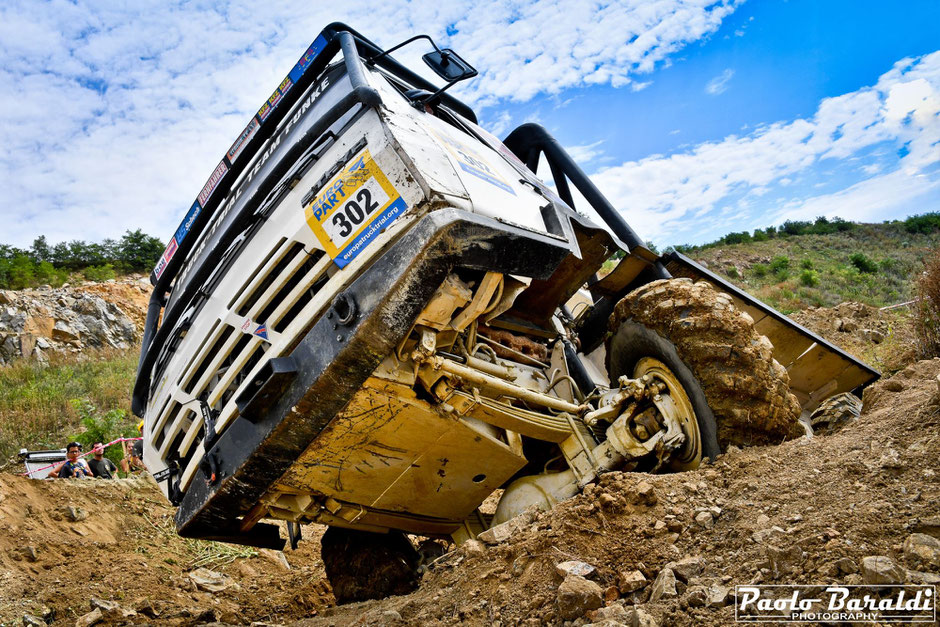 Precisely these skills of the pilots, who have nothing to do with speed, make the Europa Truck Trial spectacular and appreciated by those who love precision and mastery of driving on rough terrain.
What is Europa Truck Trial
Europa Truck Trial is a European race with truck where it counts the ability of drivers to manage the vehicle on extreme terrain. In these competitions time plays a secondary role. Much more important is the expertise in overcoming obstacles (side slopes, steep slopes, ditches, etc.) by committing the fewest possible errors. Team work is fundamental in this type of competition and the harmony and trust between pilot and co-pilot is a winning weapon.
Although among the 4 categories of the Europe Truck Trial there are Prototypes, where every kind of modification and preparation is allowed, the soul of this championship are the vehicles derived from the commercial and standard ones (2,3 and 4 axles) where the allowed changes are really limited.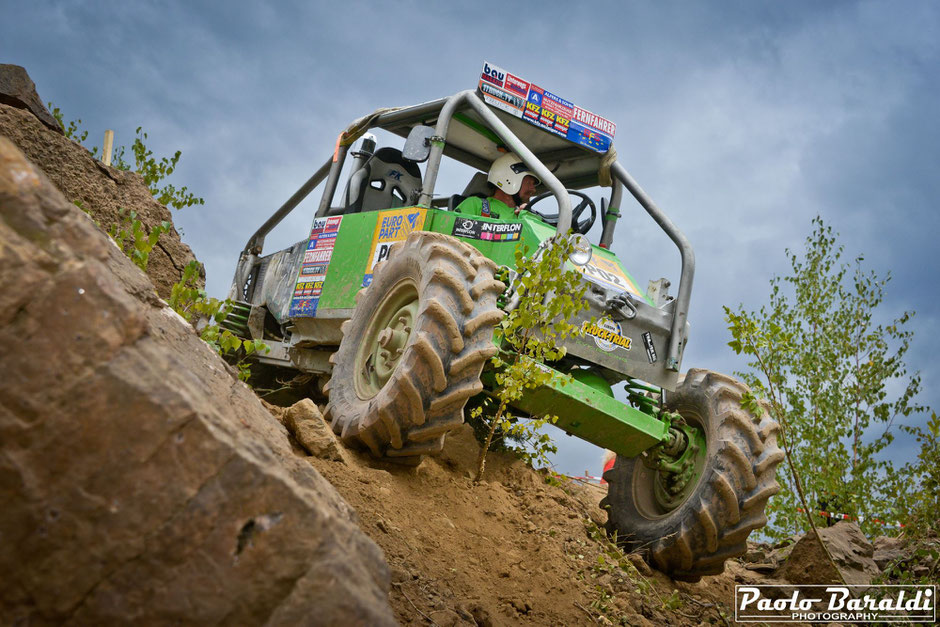 To give you an idea of the aptitude differences between the various categories, let's try to assign each an adjective that reflects it:
- 2 Axles: Agility
- 3 Axles: Elegance
- 4 Axles: Spectacularity
- Prototypes: Boldness
Every year, the championship consists of 4/6 races that take place in different European countries. Some of the locations are historic, like Montalieu Vercieu in France, and others are new. At each race points are awarded to the teams based on their position in the standings, the sum of the points outlines the championship standings.
The longest european offroad championship
Europa Truck Trial is the longest European offroad championship. In 2019 Europa Truck Trial celebrated the important milestone of 30 years with 6 memorable competitions in 5 nations (Belgium, France, Germany, Austria, Slovenia and again Germany for the Grand Finale) and 61 teams competing in these races (30 in the 2 axles, 9 in the 3 axles, 11 in the 4 axles and 11 in the Prototypes categorie). During these years, the European nations involved in the competitions have been as many as 14: France, Czech Republic, Austria, Belgium, Lithuania, Germany, Sweden, Spain, Holland, Croatia, Hungary, United Kingdom, Italy and Poland.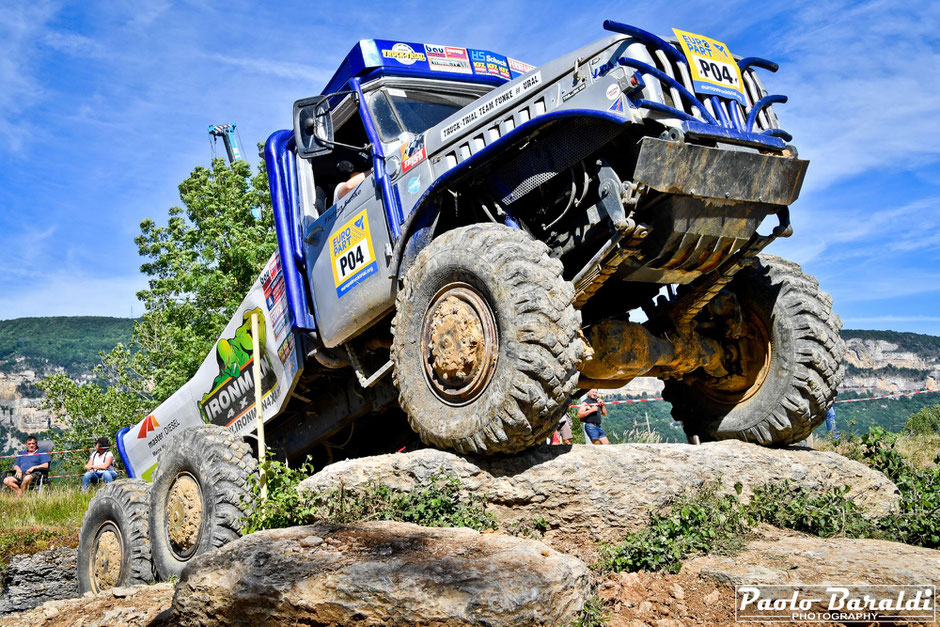 This large number of countries available for the races and consequently a great variety of terrains is one of the factors that makes the Europa Truck Trial a complete, exciting and never predictable championship.
The organizers (Jurgen Funke and Hermann Schoch) certainly do not sit on their laurels after such a long and honored career and are already working for future years to make Europe Truck Trial even more compelling and visible to all.
---
Interview with Jurgen Funke
To learn more about all aspects of the Europa Truck Trial I did this interview with Jurgen Funke.
- When and how did you get in touch with Europa Truck Trial?
Through a friend and participant, I heard about Truck Trial for the first time in 1993 in our offroad club (I had a Suzuki LJ80) and was even able to ride a race in Oubenice / CZ as a passenger. At the next run in Loretto, Austria even try on a French Berliet itself. But it remains for the time being until the year 2000. Then I got the opportunity to buy my Ural-Proto and become a participant, I visited with my wife and a caravan the race in Roppen, Tyrol as a viewer. We were thrilled and I decided to buy the truck and started already2 races in this year ( in Hungary and France). From 2001on  I was a fixed participant in the prototype class with my 3-axles truck.
- Describe what it means and what it feels like to compete in the Europa Truck Trial?
For me as a person, working always on a desk (in a office for technology and sales) Truck Trial was a great opportunity to get to know the whole from the practice! Not only the construction and repair of trucks, axles, engines, etc., but also driving with low loaders, semi-trailers, excavators and various equipment - which our customers had in use at the time and I myself with it from a completely different perspective met. The friendships and the atmosphere in the paddock did the rest to the enthusiasm!
- Have you always raced with Ural in the prototypes?
Yes, this Ural accompanies me from the beginning. I've been through the whole development with the truck, such as more horsepower, better axles, better cardan shaft from the beginning and therefore I know every single screw.
- What prompted your children to compete with you and then Felix and Leonie make the Young Funke team?
From the beginning at the age of 8, my son Felix was always on the move and always with me - except once in Sweden! I think that leaves traces and so the enthusiasm has become strong. He watched every single section for 9 years and was allowed to join me in the cockpit in 2010 as my co-driver. That was also the case later with my other children Leonie and Florian.
In 2010 I became European champion together with my son for the third time - very emotional!
Felix and Leonie then took over as driver and co-driver our Ural-Proto and in 2012 they won also the European championship of the prototypes. Then came the desire for a truck in the categorie III and it resulted in the Steyr 3- Axles from Team Kröpfel, a very well-known truck in the scene.
- Now, your co-pilot is your son Florian. What is it like competing with your child? 
It is the most beautiful thing when you can compete in a sport together in a team with your own child. I just love it and am ready to use a bit more energy for that.
- Even if you continue to compete, what prompted you to become an organizer?
In 2006, after a shortage of event space, Charly Alfers asked me directly if I could help him organize a run in Austria. That was in "Edt bei Lambach", in Austria. The rest is history. Now, I only do competitions as education and training for my children. They learn very fast!
- How is working with them?
I strive/endeavor to bring in all my experience from our parental business. "In peace lies power" and as a team we achieve more! Where many different opinions come together, it is good to sometimes have a pioneer or decision maker, but sometimes good if you allow a constructive discussion and so the important agendas always evolving. Trucktrial has an excellent team and enthusiastic people, I love working with all these friends and fighting for a cause. This one thing is Europatrucktrial and we want to make this sport as spectacular and attractive as possible for the teams, for the spectators and for the sponsors.
- Explain to us the role and value of the commissioners and staff members?
Without a perfect sporty leadership (=leading commissars), the competition and the European title would not be worth anything. Year after year the regulations are developed further and Trucktrial becomes more and more exciting and more attractive to all. There delivers great pictures and thus corresponding ever increasing media interest.
- Who decides how to track the competition zones and with what criteria?
On the one hand, it is defined in the regulations and will be adapted and implemented as best as possible by the commissioners in charge of the given terrain.
- How do you see the future of Europa Truck Trial?
We all want to continue the good work with enthusiasm, to gain ever new groups of people, the youth is enormously important to us. We want to be a highly exciting and attractive event for the economy and the sponsors in the future as well, it has to be a lot of fun for the teams and the final ones should be well received by the audience and thus also in the social media!
Therefore we are also happy with our collaboration with Nano-Games - gaming (HDC-Heavy Duty Challenge).
- What advice do you have for those who want to start racing in Europe Truck Trial?
Interested parties should visit a competition (just like me) and go directly in contact with the teams. There are no secrets, we answer each question to each and so everyone can explore how he or she can put the wishes into practice. The Trucktrial Family will always be of assistance.
- Changing the subject, a feeling of friendship and family is felt in the paddock ... tell us about these relationships
I think exactly this feeling is the cohesion of the big european trucktrial family! Without these relationships, there would be no 30th anniversary and I invite everyone simply look through the paddock on Friday or Saturday evenings, when everybody is repairing, cooking or discussing, and even take those impressions home. You will find the answer.
---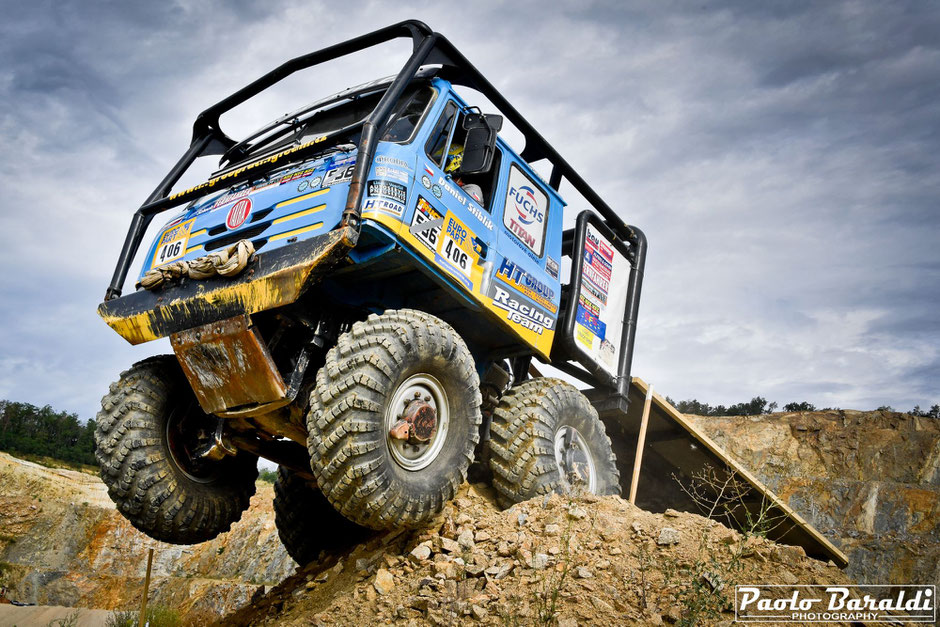 HDC by Nano Games
One of the various interesting innovations for the future is the Heavy Duty Challenge. This is a video game created by Nano Games that reproduces the Europa Truck Trial races allowing everyone, thanks to a simulator, to experience the thrills of driving a truck in the race.
---