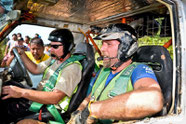 Foto e testo di Paolo Baraldi
L'edizione 2015 del Rainforest Challenge in Malesia ha visto protagonista un equipaggio particolare composto dall'italiano Thomas Tonicello e dallo statunitense JT Taylor. Ecco la loro esperienza.
Dopo molti anni di assenza, l'Italia è tornata ad essere rappresentata al Rainforest Challenge grazie al friulano Thomas Tonicello in equipaggio con lo statunitense JT Taylor. Lo "Jedi" e "Captain America", come li ha chiamati Luis Wee, si sono incontrati per la prima volta a Kuala Lumpur dove tra l'altro hanno visto per la prima volta il 4x4 a loro affidato dall'organizzazione; un Toyota LJ70 motorizzato con un diesel turbo compresso da 3000 cc. Fuoristradisticamente parlando, i due si sono potuti conoscere meglio solo durante il prologo dove, oltre a trovare un feeling anche linguistico hanno dovuto imparare a capire il loro veicolo.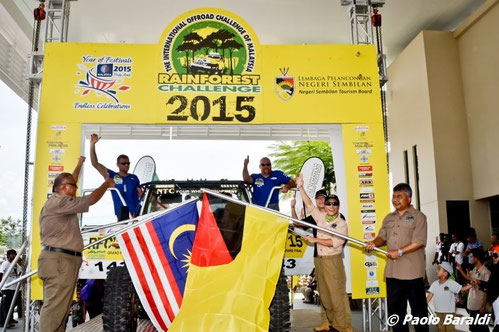 Prima di parlare della loro esperienza malesiano, proviamo a presentarvi Thomas e JT.
Thomas Tonicello è un vero appassionato di fuoristrada e di avventura e può vantare numerose esperienze nazionali ed internazionali, oltre ad essere, per passione, un ottimo meccanico e preparatore. Thomas non è nuovo al Rainforest Challenge, infatti è stato uno tra i primi italiani a partecipare alla gara malesiana nel 1999 quando il Rainforest Challenge era agli albori della sua storia. L'edizione '99 insieme a quella del 2007 è stata una tra le più dure di tutte.
JT Taylor vive a Colorado Springs anche se è sempre in viaggio per le sue numerose attività nel mondo del fuoristrada. Il suo motto è "been there, done that". JT è un sergente in congedo dell'esercito americano ed è stato il primo sergente a ritornare dall'Iraq con l'onorificenza della Stella di Bronzo. Come Taylor dice spesso, la sua esperienza maturata nell'esercito, ora gli è di grande aiuto nella sua attività nel mondo del fuoristrada. Le sue ottime capacità strategiche e meccaniche gli hanno permesso di ricoprire il ruolo di Crew Chief in vari teams come: Brad Lovell, Speed Technologies, Shannon Campbell. Ha partecipato come assistenza, manager o pilota in moltissime competizioni blasonate come la Baja 1000, la Baja 500 ed il Norra. Proprio in questi giorni JT Taylor si trova in Argentina e Bolivia per la Dakar nel team di Robby Gordon. JT è stato uno dei 13 concorrenti originari della King of the Hammers e da quel momento non ha perso nessuna edizione; fino ad oggi perchè Dave Cole lo ha voluto nel suo staff.
L'affiatamento tra i due è subito risultato perfetto e ne sono prova le buone prestazioni del prologo. Purtroppo il Toyota, non molto affidabile, li ha lasciati a piedi proprio nel bel mezzo della Twilight Zone costringendoli ad una camminata fuori programma nella giungla e di notte di ben 6 ore per raggiungere il campo Terminator. Prima che si rompesse il fuoristrada, Tonicello e Taylor hanno dato prova delle loro abilità superando con maestria gli impervi pendii malesi ed aiutando molti equipaggi dietro di loro; infatti erano tra i primi nella Twilight Zone.
Questa loro grande sportività a portato a loro l'ambito premio di Gentlemen Team. In classifica finale li troviamo alla 21° posizione, che con soli pochi giorni di gara è un ottimo risultato. Thomas Tonicello e JT Taylor hanno reso orgogliosa l'Italia e gli Stati Uniti per la loro ottima condotta di gara e per la loro grande sportività che è stata un esempio per molti altri equipaggi. Se il loro Toyota non si fosse rotto così presto, sicuramente li avremmo trovati tra i primi di questa leggendaria competizione che è stata inserita tra le prime dieci gare più dure al mondo. 
Ecco le loro impressioni di gara.
Thomas Tonicello ha così commentato questa sua esperienza: " sono stato uno dei primi italiani a partecipare al Rainforest Challenge ed ora che sono di nuovo qui nella giungla malese l'emozione e forte. Dal 1999 ad oggi sono cambiate molte cose in questa gara ma la giungla e le sue insidie sono sempre le stesse. Non bisogna mai prendere sottogamba la natura qui in Malesia; ne siamo testimoni io e JT che dopo aver abbandonato il nostro Toyota rotto abbiamo camminato di notte per 6 ore con la paura di perdere la strada o di essere attaccati dalle tigri. Per noi è stata una vera sfida che ci ha unito come equipaggio ed amici. Questo è il Rainforest Challenge".
JT Taylor, alla sua prima esperienza in Malesia, ha detto che "è impossibile paragonare il Rainforest Challenge a qualsiasi altro tipo di gara che ho fatto. Il fango, l'acqua e l'uso del verricello rendono questa gara molto impegnativa ed anche se le speciali sono corte il tutto è molto divertente. Il nostro Toyota non è molto performante rispetto agli altri veicoli qui al Rainforest; Il verricello PTO è molto veloce e bisogna imparare a gestirlo soprattutto perchè io non leggo il cinese e tutte le indicazioni dei comandi in abitacolo sono scritte in cinese. Io e Thomas ci siamo spesso scambiati i ruoli ed abbiamo trovato un buon feeling. La mia esperienza più dura qui in Malesia è stata sicuramente la Twilight Zone. E' stata un'avventura incredibile tra ripide salite e scivolose discese dove abbiamo dovuto sfruttare tutte le nostre conoscenze tecniche di winching per verricellare il Toyota tra i fitti alberi della giungla, spesso con incredibili passaggi in pendenza laterale".
Thomas e JT si godono un rilassante bagno in un torrente nella giungla; meritato premio dopo tante fatiche