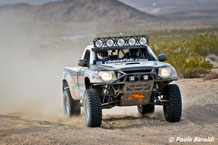 Photos Paolo Baraldi
The custom Toyota Tacoma built on a stock chassis, running original doors and a 4.0L V6 engine, showed the unlimited field what a durable truck and a plan can do.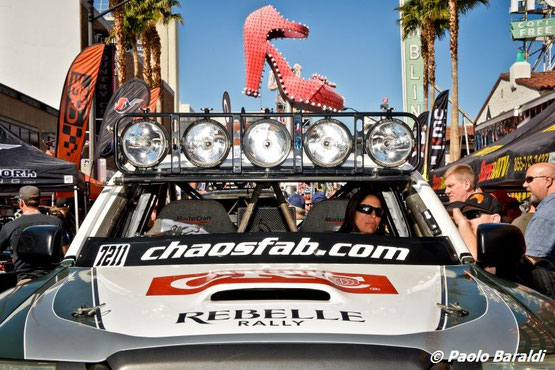 As the dust settled and the time ticked down, Team TOTAL CHAOS Fabrication charged the Nevada desert and crossed the finish line in 5th place in class at the 2017 Mint 400.  Underpowered in the world of 7200 trucks and running in the Unlimited race, with 7 DNF'd vehicles in the class, Nicole Pitell-Vaughan drove every last race mile and brought the Toyota Tacoma across the finish line virtually unscathed.
It was an overcast and windy day at this year's Mint 400.  And while many were focused on the party aspect of Vegas and the spectacle of the Mint, Team TC was focused on the task at hand, knowing they were bringing a knife to a gun fight.  However, Pitell-Vaughan was racing the Nevada desert and with reports of an absolutely brutal course, she made a plan and stuck to it. 
Known as the "The Great American Off-Road Race," the Mint 400 has a long and storied history in the world of racing on dirt, launching originally in 1967.  After a 20-year pause, the return of the Mint has not only been welcomed back, but has been growing rapidly in both size and scope, with Las Vegas as its backdrop.  However, at the heart of the festivities is a brutal racecourse designed to test both vehicle and driver.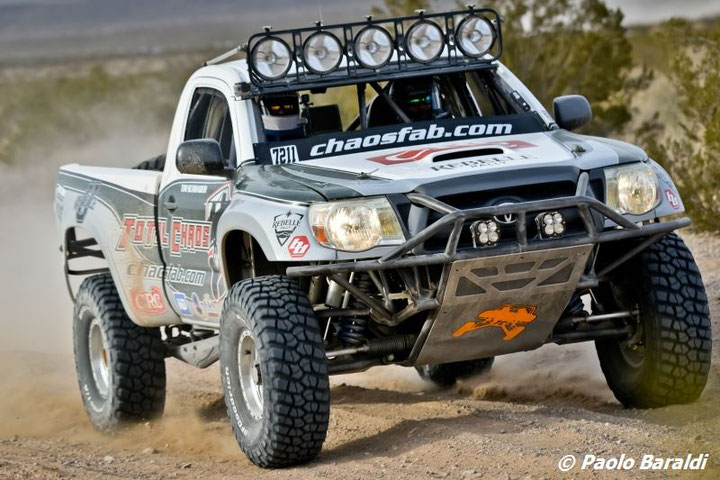 The 116-mile lap was run 3 times, so the plan was to drive solid for the first lap and sort out the track, race the 2nd lap, and bring it home on the 3rd.  All things went according to schedule on lap 1, but lap 2 was a game of survival with the Trophy Trucks that started an hour earlier roaring through.  So with lost time on lap 2, and only 10 ½ total hours to complete the course inside the time limit, Nicole had clear air and charged hard, setting a blistering pace on lap 3.  They passed vehicle after vehicle broken along the track – not surprising considering the refrigerator-sized rocks and deeply rutted course.  The team stayed inspired by the fans and teams who cheered them on, as the pump gas, door-banger Toyota on 35" BFG Mud Terrains, purchased off the shelf at Tire Rack, put the hammer down to get to the finish. 
"We want to thank our partners because we couldn't make it to the finish line without them.  Our partners are more than a logo on a truck or a name on paper.  TOTAL CHAOS Fabrication only partners with the best, and our results and reputation depend on it.  We ask our customers, fans, and friends that when choosing to make their buying decisions, support those that support TC."
CHAOS:
"My life's lesson from the 2017 Mint 400- If you spend your time looking in the rear view mirror it slows you down. You lose your focus looking forward. And for us at the Mint 400, that was getting to the finish line. We were so focused on not slowing the trophy trucks down we lost over an hour on the course on lap 2. Once we started lap 3, Tim and I were 100% focused on the task the lied ahead - finishing every mile of the Mint 400. But we were under the gun on time! When you don't have to worry about what is behind you in life, we proved that you can put the pedal to the metal and make it to the finish. THANK YOU to all of our sponsors and to our entire Team at TOTAL CHAOS for helping us drive a door banger pump gas Tacoma to the finish line in the 7200 Pro class!"
CRC:
"For the last 2 years TC has partnered with CRC to tackle 9 grueling days of off road in Africa to compete in the Rally Aicha de Gazelle. Finishing a solid 2nd place in 2016 was extremely rewarding. I was stoked to have CRC join our race program once again for a 3rd year in a row here in America for the 2017 Mint 400.  TOTAL CHAOS has been using CRC chemicals and lubricants for more than a decade during all of our vehicle maintenance and race preps. Their products are premium and trusted. We apply CRC Anti-Seize to every uniball cup during the final assembly process of every suspension system that we manufacture to ensure that the proper maintenance and prep of your TC suspension system is easy. We use CRC products to maintain all of our shop manufacturing equipment and to keep the facility looking spotless. I am grateful for the opportunity to partner once again with a premium global brand and to have them supporting our competition efforts with Team TOTAL CHAOS!"
Rebelle Rally:
"The sport of off road is an adventure filled with life lessons. It is part of my DNA and the foundation of my career. Life lessons, independence, and an adventurous spirit combined with a challenging brain game in the dirt are exactly what the Rebelle Rally is creating to share with women across the globe. I was introduced to Rebelle Rally founder, Emily Miller during navigational training class for Africa. She is a pioneer in our sport and an accomplished off road desert racer who believes that sharing her experiences and knowledge of off road driving has a positive impact on women who would otherwise be intimidated by the challenge. The Rebelle Rally launched in 2016 as the first all-women's 7 day off road navigation rally in the US. I assisted her staff and I witnessed a movement in the making. She is providing women a platform to compete with their brains, while challenging them at driving off road and developing a level of self-confidence and independence that they can apply to their careers, families and daily life when it is all over. When I was offered an opportunity to ambassador the Rebelle during the Mint 400 there was no way I could turn it down. More women need to know that an event like this exists in the US, and it is created specifically for them. It is rough yet refined. It provides premium amenities to conclude your day in the dirt with luxury, while be surrounded by laughter and a warm welcome from her hand selected staff." 
Rebelle U:
"If competition is not your goal but a better understanding of off road navigation and general trail mechanics is, then sign up for the Rebelle U. Learn map and compass navigation skills, gain knowledge and an entry level understanding of vehicle maintenance and leave with a better foundation for basic driving skills. Even if competition is not your ultimate goal there is plenty of trail knowledge to be gained and an unforgettable weekend of fun in the dirt to sign up for. I have participated in a version of this class and even someone with my level of driving experience can take home fundamental tools to make you an even better driver and navigator."
Baja Designs:
"I knew we were going to have to drive most of the Mint 400 at night. Nothing matches the distance and clarity of a Baja Designs light! I have used other brands of lights in the beginning and they suck. We've been running Baja Designs Lighting exclusively for over 10 years.  Every one of our daily driven recreational vehicles, dual sport motorcycles and competition rigs runs BD equipment. Lil T is equipped with 5 – La Paz 8" HID's and 2 – XL80 LED Auxiliary Lights on the bumper.  This is a perfect blend of old school and new school technology covering us from speeds of 5mph to 85+mph.  These same HID La Paz lights have been re-used on 2 TC custom built rigs and have never skipped a beat!  We depend on their products to be there when the sun goes down and the racing gets tough. 2 Vegas to Reno finishes, a 2nd place in Africa in a 9 day rallye and a Mint 400 finish. Thank you 'Scientists of Lighting' for your continued support of Team TOTAL CHAOS."
K&N:
"TC has used and trusted K&N products for 15 years in our fleet of vehicles. We are excited once again to earn them another checkered flag in our race Tacoma at the 2017 Mint 400. They have never let us down. We have used their Tacoma air filters during 9 grueling days of competition in Africa finishing 2nd place in 2016. Reliability and dependability half way around the world!  Thank you K&N for all your continued support."
WD:
"TC relies on WD Passport portable hard drives to back up and store all our videos and photographs. They make file sharing simple and easy between the entire TC creative crew. I want to thank them for another opportunity to be a part of the WD family at the 2017 Mint 400! We have worked together for 4 years proving the dependability and durability of their equipment. They are trusted to store our 2TB of footage from racing in Africa, America and on a daily business basis. Thank you WD for all your continued support."
FOX:
"TC has partnered with FOX shocks for nearly 20 years. We go back to the mid 90's when we were racing Stock Mini Nissan race truck on a set of dual 2.0 8" travel shocks. Our desert racing career has been built around FOX equipment and we are excited to bring them home to another checkered flag in our TOTAL CHAOS Tacoma. That's 7 solid races- 3 MORE 1st place finishes, 2 Vegas to Reno finishes and now the BITD Mint 400 finish. The last lap that track was just brutal, and the harder we pushed the Tacoma to make the time limit, the better the suspension worked. Thank you for your continued support!"