Thanks to the people who work behind the scenes we can participate and watch magnificent competitions. Ultra4 Europe has a highly qualified staff that works hard to make its races unique. I interviewed Chris Bowler, Ultra4 Europe Race Director, to better understand his work.
Photography and story by Paolo Baraldi
In the racing world, everyone's attention is always given to drivers, their performance and the final classification. When we talk about the race course, we evaluate its length, its difficulty and whether it was up to the expectations of the teams and the public.
Instead, it is very rare to read about how a race was designed, organized and implemented.
For each race there is a team of people who professionally work behind the scenes to make sure that everything runs smoothly, balancing different needs: safety, difficulty, fun and show for the pubblic.
Since 2012 the Ultra4 style has landed in Europe. Since then Ultra4 Europe has had an ever-increasing success until today, which is considered to be the most complete and tough off road championship in the Old Continent.
The reason for this success is certainly not accidental! As happens in America with Ultra4 Racing, behind Ultra4 Europe there is a staff of highly qualified people who follow every aspect of the organization and management of each race. Their target is Ultra4 high standards.
Chris Bowler, Race Director of Ultra4 Europe
Chris is one of the kindest, most helpful and professional person I've ever met in the off road world. Although he is always busy, he always finds a minute to help or answer questions from drivers, journalists or public. It's always a pleasure to meet him on the races!
In this article I interviewed Chris Bowler to learn more about his story, his behind the scenes work and his experiences.
- Chris tell me about your encounter with the off road world
I first became interested in 4x4 vehicles when I was 17. I was given a 1952 Series 1 Land Rover for passing my school exams. A friend at school had a Land Rover so I wanted one too! I spent 3 years restoring the vehicle which became my training into mechanics.
- Which 4x4 vehicle do you drive?
I still have the car which has a roll cage, Rover V8 engine, all fitted and build my me and as a family we regularly used to compete in off road trials. I joined the British Army and always had a passion for driving any type of vehicle, from a bike to a Challenger 2 Main Battle Tank, I was always into repairing and modifying vehicles. I built a Bob Tail Range Rover despite all the Officers in the Mess thinking I was mad to cut up  a perfectly good Range Rover.
I served in the British Army for 18 years in the Royal Logistic Corp in many countries and most of the time I was with vehicles,  driving, looking after and operating as well as designing and testing. I was also the Team Manager for the Armd Forces Rally Team rallying as a co driver and later as Team Manager in Land Rover Defender 90 TDi vehicles competing in Stage Rallies at a National level,  all over UK and Iceland.
I used to drive in Army Navigational Rallies winning 4 Wheel Driving Force 3 times and Ex Roadmaster 2 times.
Since leaving the Army and moving to Wales I now run a Land Rover repair Workshop working on any Land Rover as well as racing 3 different off road race cars – TD5, V8 and stock Discovery.
In the last 10 years I have competed in Comp safaris, challenge events as well as 3 x King of the Valleys.
- Do you also participate in races as a driver? Tell me about these experiences
I have competed in Comp Safari, Trials, Team Recovery and AWDC events such as King of the Valleys, XTC and other off road races. My passion is to build and compete in vehicles at any level.
- When and how did you join the Ultra4 Europe staff?
I was first asked to design and run as course for King of Wales 2015, at Walters, Richard Crosssland asked if I would help out! Since then I seem to have become the only one who wants to design course – having done now 10 King of events in France, Wales, Britain, Spain and Poland.
- What does Ultra4 represent for you?
I very much see Ultra4Europe as a sport that takes endurance, vehicle design and team spirit to a limit. All working together to make the ultimate off road event. Regardless of how tough or easy the course is, we all work together to make the events work and give new or experienced drivers and teams the chance to experience the best racing experience.
- What is your role in U4E?
My role is to plan, design and then set out a course to fit the format as discussed by U4 staff, planning courses in different countries at new locations, different terrains and speaking and working with people from different countries is a real challenge. I can speak German well but my Spanish and French is getting better following planning and running events in different countries.
- Before each race you take care of drawing the race course... what do you think to accomplish this important task?
U4E is very much a multi national team!! The planning of the events involves a site visit, GPS traces and lots of time looking at the course on Google Earth. Once the course is in my head, I can visualise the course and then I start to design different routes and obstacles. The first King of France was a flat field. Working with the site owner we together came up with obstacles and routes which were then built so a race could be run. It is all about teamwork. The course must flow and be a mix of the right terrsin: rock, speed, technical so that the driver gets a hard, challenge and then a reward of a fast easy section before they then have to think about the next section which will slow them down. A good flowing course is vital. Too much rock or too much speed is not the U4E way!
- And what do you do during the race?
During the race, I am the reaction Course for the Race Ops ensuring the course runs smoothly, reacting to incidents, blockages and making sure teams can race the course without any problems.
- You are the U4E Race Director, JT Taylor is Ultra4 Racing Race Director. How do you work together in Europe?
In Europe, I am described as the European JT. JT Taylor and I share the same job but together we want the course to flow, run a great race and hope that teams experience the best racing experience. When working together we do the same job, very often building the course together and then being on site as the race runs to keep the course flowing during the race… a good team!!!
- From those years you are also on the staff of King of the Hammers ... what do you do for KOH?
In 2017, Dave Cole asked me to join his Core Team for King of the Hammers. I spent 4 weeks in Johnson Valley working as part of the Team building Hammertown and then during race week helping run the event as a permanent staff member.
- Tell me about the King of the Hammers ... your experiences and impressions?
It was a great opportunity to work with a team of guys who has much more experience than myself in an event that is considered the toughest 1 day off road event in the world. The challenges of working in Johnson Valley are an extreme like no other.
In 2019, Dave Cole asked me back to run in a more managerial role, looking after the logistic areas of the event. I still planned the race line up, ensuring all cars enter the start area in the correct order, but my main job was a behind the scenes job ensuring the logistical requirements to run the event ran smoothly. A very rewarding job, working with many different people and agencies in a foreign country. A bit like working in the Army but no saluting!!!
- What do you find common between U4 races in America and those in Europe?
In Europe, we look at King of the Hammers as the pinnacle of off road events but to be fair, we can never copy or reproduce KOH in Europe but what we can do is make off road events where the limit is just enough to give a challenging, tough and enduring race that teams have to truly fight ti win for. More important is that we give every team the opportunity to race their own race so the Stock class or the top 4400 class car much come away from a U4E event feeling like they have had the best toughest race and want to return to the next one, ready to race better. U4E is not all about the top drivers with the money and the powerful cars, it is about any team running their race and doing well.
- Many consider the 4400 as the Formula 1 of the off road vehicle, what future do you see for Ultra4 in Europe and America?
4400 class cars are certainly an amazing type of car combining slow rock crawling with high speed, incredible stable, capable off road racing machines. The technology to make them work has grown massively of the last 8 years and the cars are very much different from the early cars. This makes designing courses so much harder as the top cars are so much more capable. I have to look at ways to give them the challenge as well as being fair to all the other classes in race so that they do not feel like the race is impossible. That is a challenge for me to still see a Stock class car compete and finish, thinking they have run the toughest event whilst allowing the 4400 class cars to run a hard, challenging event.
New and challenging venues will be the future for U4E. The opportunity to meet new teams, in different countries, share experiences and race in different countries that will spread the word that is the amazing world of Ultra4 off road racing!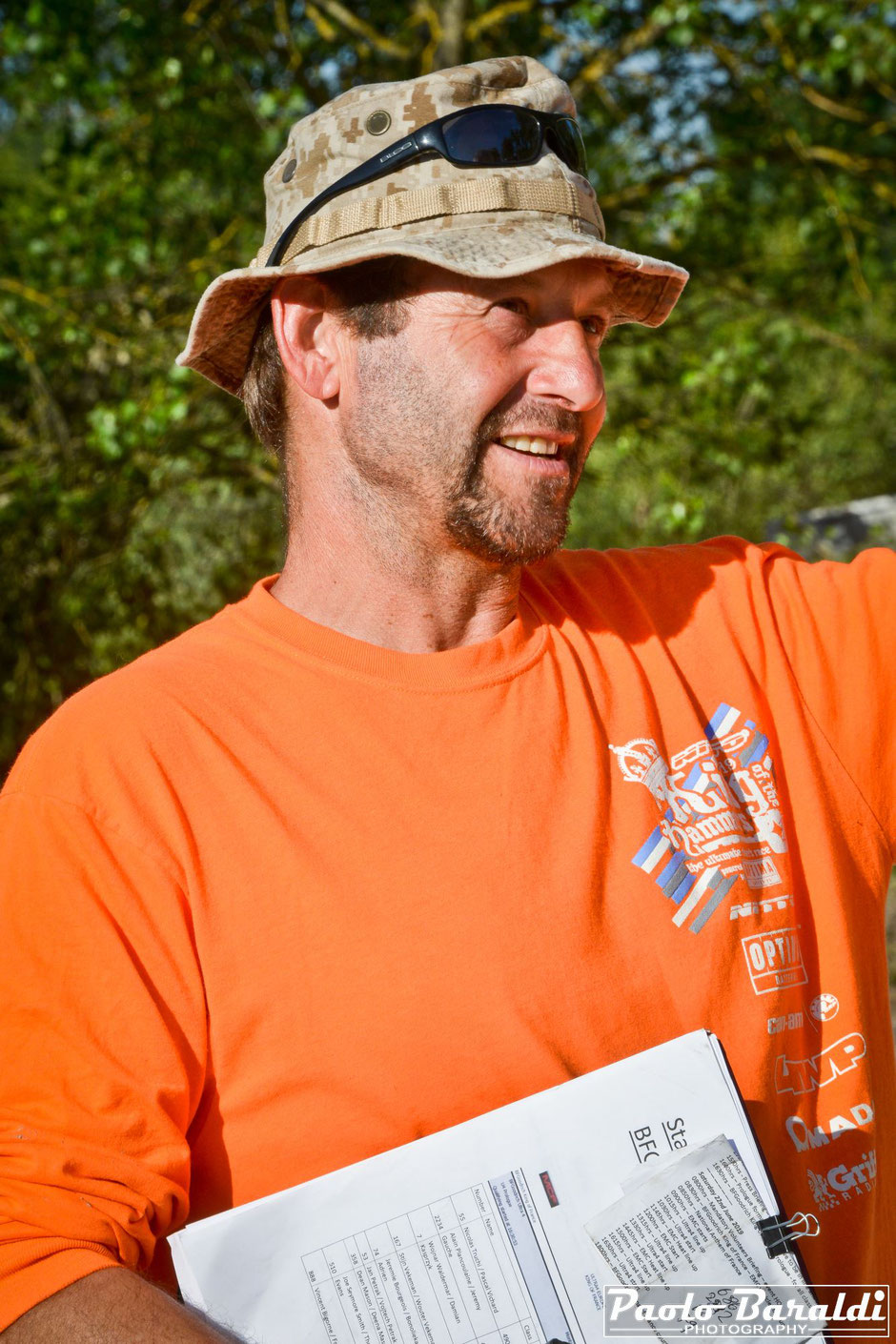 ---