Tony Pellegrino, titolare della Genright Off Road, ha voluto sfidare la King of the Hammers con una missione impossibile: finire la gara di fuoristrada più dura al mondo a bordo della sua Jeep JKU Terremoto. Missione compiuta per Tony!
Foto e testo di Paolo Baraldi


Alla King of the Hammers 2019 ho avuto il piacere e l'onore di sedermi accanto a Tony Pellegrino sulla sua Terremoto per partecipare alla Genright KOH Experience. Già in quell'occasione ho avuto la possibilità di apprezzarne le doti fuoristradistiche e la qualità costruttiva.
Terremoto: una Wrangler JKU speciale
La Terremoto, una Jeep Wrangler JKU, è stata costruita da Genright Off Road nel 2014 per esporla come show car al Sema Show. "abbiamo rimosso ogni elemento di serie da questa Jeep", mi spiega Tony Pellegrino, "e abbiamo incominciato a ricostruirla partendo dal solo telaio e dalla carrozzeria utilizzando tutti i nostri prodotti". Nel corso degli anni, la Terremoto è stata sempre aggiornata e migliorata ed ha accompagnato Tony in ogni uscita ed in ogni esposizione diventando in poco tempo la bandiera di Genright Off Road.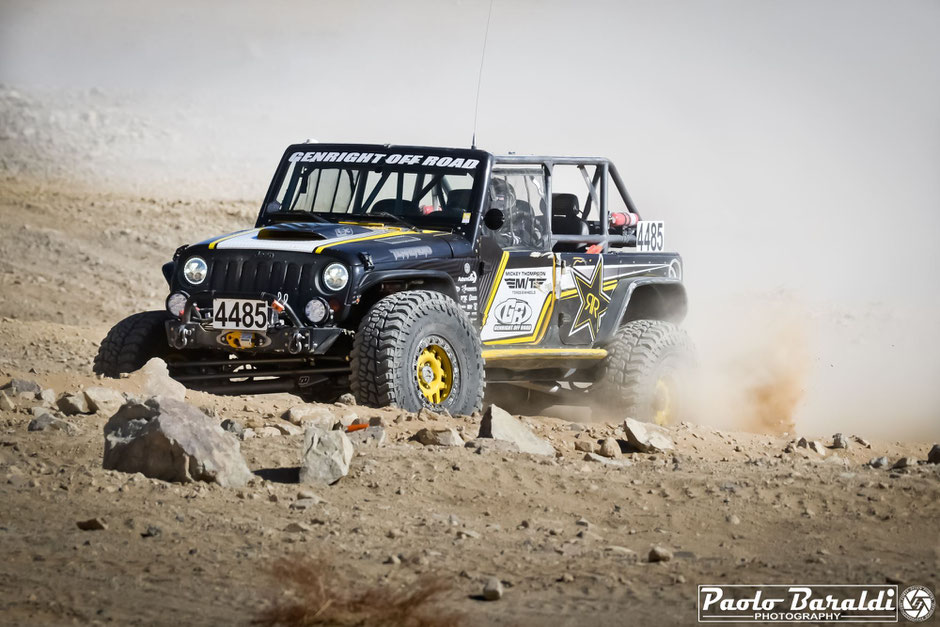 La sfida di Tony Pellegrino: correre la King of the Hammers con una Jeep street legal
In occasione della King of the Hammers 2020, Tony Pellegrino ha voluto mettersi in gioco in una nuova sfida: "Volevo dimostrare che i prodotti che vendiamo ai nostri clienti resistono agli utilizzi più impegnativi possibili, ed ho fatto proprio questo finendo con una Jeep JK a 4 porte (street legal) la King of the Hammers (nella classe 4400 Unlimited) davanti ad oltre 60 veicoli Ultra4 costruiti appositamente per la gara".
Tutto è iniziato nel periodo del Ringraziamento 2019, Tony Pellegrino con alcuni amici e clienti ha trascorso 10 giorni nella Johnson Valley ed in quell'occasione Nick Repanich ha accompagnato Tony sulla Terremoto percorrendo tutti i famigerati Hammers. In quell'occasione scherzarono su quanto sarebbe stato bello partecipare alla KOH con la Terremoto. "Dopo essere tornato a casa", Tony racconta, "ho chiamato Nick e gli ho chiesto se sarebbe stato interessato a partecipare insieme a me alla King of the Hammers. Gli ho detto pensaci… e prima che potessi riattaccare ha detto sì! A metà dicembre, Nick è venuto in Genright per aiutarmi e lavorare per adattare la Terremoto al regolamento della KOH".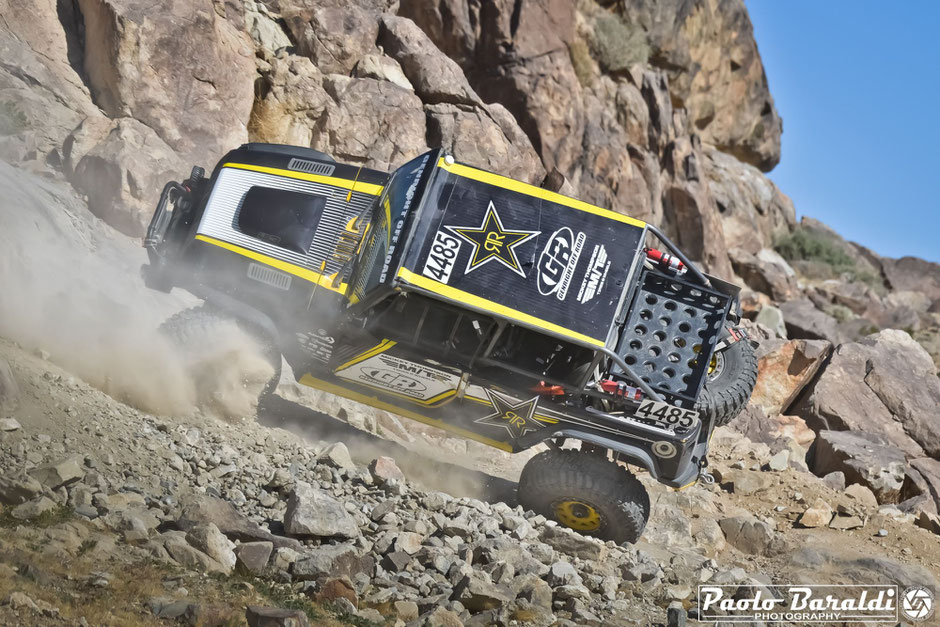 Senza togliere risorse e tempo alla preparazione della macchina di Jordan Pellegrino (figlio di Tony), la Terremoto è stata aggiornata nelle varie parti richieste dal regolamento e nelle parti più soggette ad usura. Dopo un test di 300 miglia su strada (ricordo che la macchina è rimasta steet legal) per verificare che tutto funzionasse perfettamente, sono iniziati i prerun nella Johnson Valley.
---
Terremoto è una Jeep Wrangler JKU del 2014 alla quale è stato installato un motore LS3 da 640 HP con una coppia di 595 FTT/LBS con un cambio 4L80 ed un riduttore Advanced Adapters. I ponti sono dei Currie Extreme 70 Hi Pinion. Le sospensioni anteriori sono Genright Elite 3 Link e quelle posteriori Genright Elite Double Triangulated 4 Link con ammortizzatori Fox 3.0"x14" IBP (Internal Bypass) Coil Over con Fox 2.0" x4" Air Bumps.
Chassis           
Frame / Chassis Design: Factory Jeep (frame and tub)
Frame / Chassis Materials: Box type, Cold Rolled Steel
Cage / Cage Material: GenRight 8-point 2" x .120" thick wall DOM Tube
Overall Wheelbase: 118" (2" longer than stock)
Overall Length: 183"
Belly Pan Clearance: 20"
Overall Height: 75"
Wheel Track Width: 82"
Overall Weight: 4990
Drivetrain      
Front Suspension / Type / Materials: GenRight Elite, 3 Link with Summit Machine 7075 Aluminum Links
Front Shocks: FOX 3.0" x 14" IBP (Internal Bypass) Coil Over
Front Bump Stops: FOX 2.0" x 4" Air Bumps
Front Axle Housing: Currie Extreme 70, Hi Pinion (70" wide WMS to WMS)
Front Differential / Locker: Auburn "Select-A-Loc" Electric Locker
Front Ring & Pinion / ratio: Currie 70, 5.38:1 gears
Front Differential Cover: Currie "Thick" fabricated cover
Front Axle Shafts: Yukon 35 Spline
Front U-Joints: Yukon Super Joints
Front Drive Flanges / Hubs: Yukon Locking Hubs, 5 on 5.5 bolt pattern with 5/8" studs
Front Brakes: R1 Concepts Big Brake Kit with 14" Rotors and Billet Machined 6 Piston Calipers
Front Steering Setup: AGR Ram Assist with GenRight CrMo Hi-Steer Tie Rod & Drag Link
Front Driveshaft: JE Reel with 1350 U-joints
Rear Suspension / Type / Materials: GenRight Elite, Double Triangulated 4 Link with Summit Machine 7075 Aluminum Links
Rear Sway bar            : Rock Jock with forged CrMo arms
Rear Shocks: FOX 3.0" x 14" IBP (Internal Bypass) Coil Over
Rear Bump Stops: FOX 2.0" x 4" Air Bumps
Rear Axle Housing: Currie Extreme 70, Hi Pinion
Rear Differential / Locker: Auburn "Select-A-Loc" Electric Locker
Rear Ring & Pinion / Ratio: Currie 70, 5.38:1 gears
Rear Differential Cover: Currie "Thick" Fabricated cover
Rear Axle Shafts: Currie 40 Spline Full Floating
Rear Drive Flanges: Currie Full Float. 5 on 5.5 bolt pattern with 5/8" studs
Rear Brakes: R1 Concepts Big Brakes with 13.6" Rotors and Billet Machined 4 Piston Calipers
Rear Driveshaft: JE Reel thick wall 2" diameter with 1350 U-joints
Tire Make / Size: Mickey Thompson Baja BOSS 40 x 13.50 x 17"
Wheel Make / Size / Bolt Pattern: KMC Machete FORGED 17 x 8" w/aluminum bead lock ring, 5 on 5.5
Powertrain     
Engine Make: Custom Built Chevrolet LS3
Engine Displacement: 427 cu/in (bored and stroked)
Engine TQ: 595 ft/lbs @ 5800 rpm
Engine HP: 640 @ 6200 rpm (on pump gas)
Engine Induction: Naturally aspirated fuel injection through eight RC brand "wet" injectors
Engine Modifications: Holley Dominator ECU, K1 forged crank and rods, Wiseco forged pistons, West Coast Stage III L92 Heads, Custom Ground Comp Cam, CHE Rockers. LS7 lifters
Batteries: Dual Odyssey relocated under drivers side rear seat
Radiator / Fans: Griffin custom 4 core with two 12" Spal fans
Air Intake: FAST (1375 cfm ) Throttle body on a Edlebrock Victor JR manifold & K&N Air Filter
Exhaust: Custom stainless steel 3" with a Magnaflow muffler
Transmission Make: RDE built 4L80, full manual valve body
Transmission Adapters: Advanced Adapters
Transmission Cooling System: Griffin large Universal cooler with Spal fan behind the rear seat
Torque Converter: Coan brand Billet 4000 stall, no lock up
Transmission Shifter: Art Carr 4 speed gate shift
Transfer Case(s): Atlas 3:1
Fuel Containment: GenRight 32 gallon bladder type fuel cell and skid plate with dual Aeromotive Phantom fuel pump, filters and regulator
Body / Interior           
Body / Body Panels: GenRight Aluminum fenders, Aluminum rock sliders and bumpers with GenRight Rash Guards
Body Modifications: Aluminum 1/2 Doors
Skid plate / Material: Completely FLAT 7075-T6 Aluminum, 3/8" thick belly skid
Painter Name: DH Graphics did the Jami Pellegrino designed wrap
Hood / Grille:             Fiberglass & Carbon Fiber with functional scoop and side vents
Floors / Firewalls: Striped to bare metal and LineX'd
Dash / Gauges / Switches: GenRight Custom Aluminum, Racepak digital gauges and Racepak Smart wire MIL Spec switches
Steering Column / Wheel: Sweet brand quick release, Momo wheel, with tilt column
Pedal Assembly / Cutting Brakes: CNC brand pedals and master cylinders
Seats / Harnesses: 4 individual PRP brand bucket seats with Ostrich skin and suede on GenRight mounts
Electronics: Apple iPad, Lowrance 8" GPS unit, 60 watt Rugged Race Radio & 4 person Intercom, 40CH Cobra CB and SSV Bluetooth sound system, keyless entry for all 4 doors
Lights Interior / Exterior: VisionX 7" LED headlights, 6.7" VisionX ADV series lights on bumper and 12" VisionX light bar on winch fairlead. VisionX Dura Mini LED back up lights in the rear bumper and Rock Lights
Safety - Fire Extinguisher: Scosche billet aluminum fire extinguisher mounts
Winches - Front / Rear: Warn 9.5 CTI with in dash controls
Extras: Vintage Air; Heating and A/C system with billet butterfly vents, GenRight modified rear corner guards with frenched in LED tail lights, Flush mounted wireless rear view camera thru iPad, Scosche billet aluminum side mirrors, PRP rear tire strap, GenRight rear cargo carrier, VisionX rear Chaser bar, Fuel Safe quick fill (takes 11 gallons in 20 seconds), PRP Window nets, PRP 5 point harnesses,  Rugged Radios Mac Driver / Co-driver Pumper unit
---
"La maggior parte dei piloti non lo avrebbe fatto con la macchina da gara" racconta Tony, "abbiamo avuto delle buone sensazioni per la grande sfida che ci aspettava anche se quello che mi preoccupava era il deterioramento del percorso dopo le gare degli UTV, l'Every Man Challenge e quella dei T1. Infine, anche se ho una certa familiarità con gli Hammers, non avevo mai percorso con una Jeep in discesa il Backdoor. Siamo andati a vedere se era possibile farlo senza ribaltarci; lo ho provato 4 volte per essere più sicuro".
Missione compiuta! Tony Pellegrino conclude la King of the Hammers a bordo della Terremoto
Dopo 11 ore e 45 minuti, Tony Pellegrino taglia il traguardo della King of the Hammers 2020 in 32° posizione portando a termine la missione di mostrare al mondo intero che la Terremoto allestita con il sistema di sospensioni standard e tutte le parti di Genright Off Road avrebbero resistito alla brutale King of the Hammers e non nelle classi inferiori (4600, 4500 o 4800 dell'Every Man Challenge), ma nella categoria Unlimited 4400 con il percorso più duro di tutti: 3 anelli, uno nel deserto e 2 lungo i trails più impegnativi, per un totale di 212 miglia.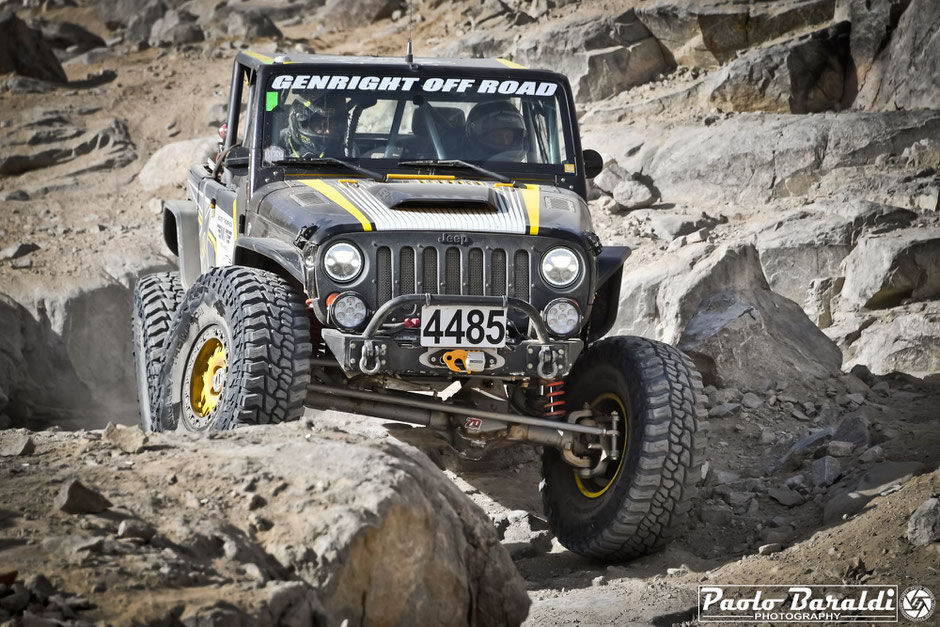 Genright Off Road
Genright Off Road è stata fondatata da Tony Pellegrino nel 2006 con l'intento di costruire una società dedicata alla pregettazione, produzione, assemblaggio e distribuzione dei migliori prodotti per Jeep. Tony ha oltre 30 anni di esperienza sia nell'ambito commerciale che nella produzione di prodotti per il fuoristrada. Sin dagli anni '70 Tony Pellegrino è un fuori stradista ed ha corso e terminato 9 volte la King of the Hammers!
Oggi, Genright offre la linea di prodotti per Jeep più completa. Tutti i collaboratori della GR guidano una Jeep e sono orgogliosi di realizzare e vendere prodotti di alta qualità per Jeep!
GenRight Offroad
4535 Runway St, Simi Valley, CA 93063
---