When American automotive culture and passion for offroad meet, a fascinating and performing vehicle can be born. Sam Collins built his Ultra49Ford in his home garage for the King of the Hammers by combining modern technology with a 1949 Ford F8 body.
Photography and story by Paolo Baraldi


In the reports of the King of the Hammers, we are used to telling the stories of the big teams and describing the best performing vehicles driven by top drivers. All this does not reflect the whole world of Ultra4 Racing; there are many "private" drivers and crews who only thanks to their great passion for offroad and for Ultra4 make economic and personal efforts to participate in the King of the Hammers.
Walking around in Hammertown
One of the things I love most, when I am in the Lakebed, is walking in the suburbs of Hammertown because it is here that, in my opinion, I can find interesting people, with unique stories and with vehicles built in the garage that are real works art. This is certainly the case with the Ultra49Ford team.
Collins and his story
"My name is Sam Collins and I live in the backwoods of Washougal, WA with my wife, Sarah, and three daughters, Juliet, Sophia, and Rosalie". Sam introduced himself when we met, he continues: "I work as a sheet metal superintendent and do off road fabrication and racing operations out of my shop at home. Most all of my friends are off roaders and fabricators and we have been hanging out for over twenty years. I currently race in the Ultra4 and BITD series in the 4400 class with a custom 49 Ford race truck, designed and built by me. I have been offroading since I could drive. Starting at 10 years old when I was driving my dad's farm truck around the property I knew that off road would be my thing. Some years later I transformed that farm truck, a 66 Ford, into a competition offroader. I entered into the Four Wheeler magazine "Top Truck Challenge" where I went on to be narrowly edged out of 1st, placing 2nd. I then entered a couple of Werock competitions but lost interest wanting something a faster pace. Having always rode quads that became my next off road challenge. I would race for the next few years doing grand prix and endurance races in the Northwest. My last season I never lost a race in my class. All the while my friends were offroad racing in the Ultra4 series. After doing endless amounts of research, I figured it was time to get back into trucks. I started building my current race truck in 2016 and started to race in late 2017".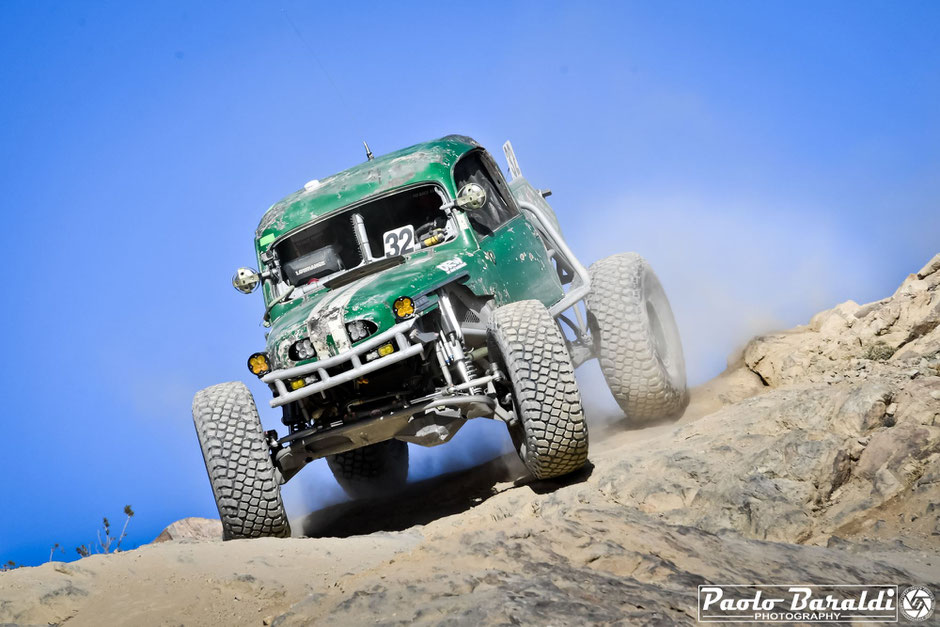 Sam Collins started competing with his Ultra49Ford in 2017; in 2018 he was 47th out of 114 at the King of the Hammers and first at Vegas to Reno in the 4400 category. In 2019 he ranks 17th at the King of the Hammers and this year he is KOH Finisher in 30th place. Very important results that demonstrate the team's skill and the qualities of the vehicle.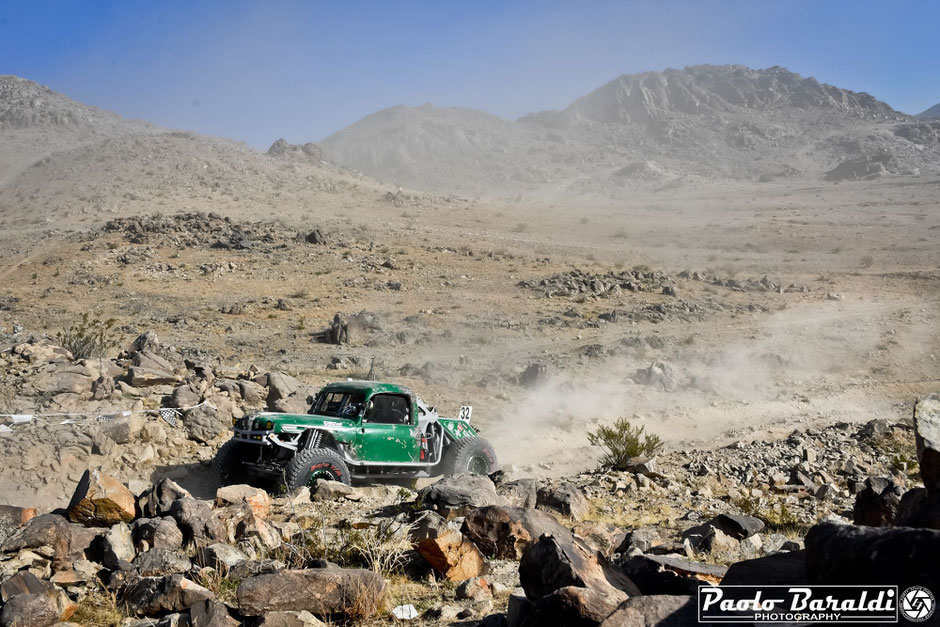 All the secrets of Ultra49Ford
As I said, Sam Collins built his Ultra4 rig in his home garage with the help of his friends. Now let's see what it is. The whole tubular chassis was made with 2" steel tubes to which Collins decided to still rely on Ford for the body using that of a 1949 F8. The Ford F8 belongs to the first series of Ford trucks built from 1947 to 1952 The first generation F-Series was marketed in eight different chassis that gave to the model its name; the F1 was the lightest capacity pick up while the F8 was the heaviest truck. The F7 and F8 were heavy commercial trucks, marketed under the "Big Job" brand.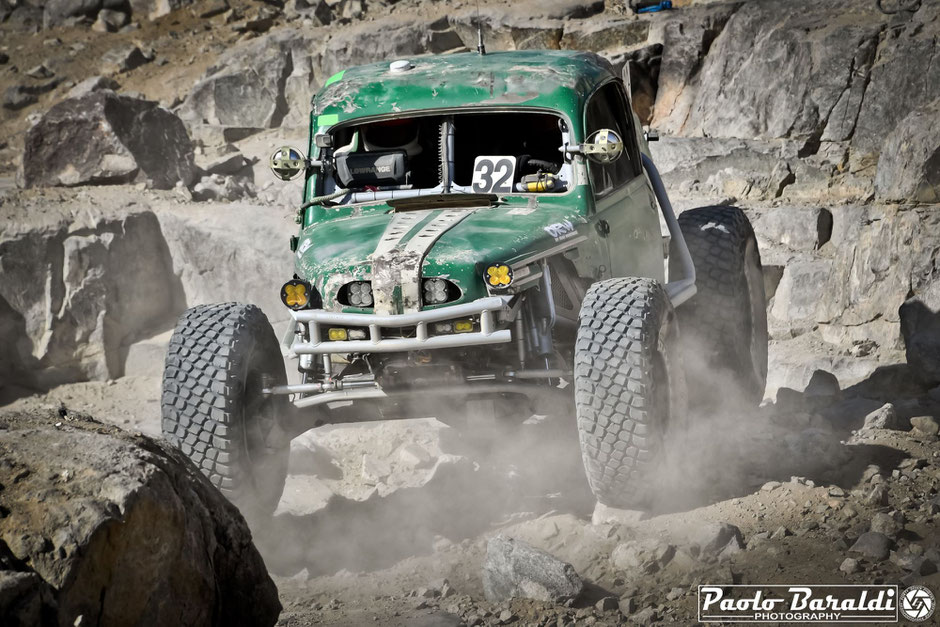 For the engine of his prototype, Sam once again turned to Ford choosing a 2015 5.0-liter Ford Coyote with 450 HP. The gearbox is a TH400 with a Hero 3 Speed gearbox. For the axles, he chose Spidertrax 3.5" Pro on the front and 4" Pro on the rear. The suspension geometry is a 4-link with Fox Factory 3.0 shock absorbers, 4 tube bypass, 2.0 coil over and PAC springs. The rims are SMT Aamerican Forged 17x9 with BF Goodrich Racing KR3 40x12.5 tires.
Chassis           
Chassis Design: Custom Tube
Frame / Chassis Materials: 2" main chassis with 1.75" and 1.5" non-supporting tubes, all .120 wall
Cage Builder / Cage Material           : Sam Collins, Same as chassis
Overall Wheelbase: 115"
Overall Length: 163"
Belly Pan Clearance: 17"
Overall Height: 75"
Wheel Track Width: 84"
Overall Weight (Estimate if uncertain): 5000 est.
Tires & Wheels         
Tire Make / Size: BFG Racing KR3, 40x12.5
Wheel Make / Size / Bolt Pattern/ Backspace: SMT AMERICAN FORGED 17x9, 8on6.5, 4.5 backspacing
Suspension     
Front Suspension Type & Material: 4-Link 7075 Alum.
Front Sway Bar: PAC
Front Shocks: Fox Factory 3.0, 4 tube bypass, 2.0 coil over, PAC springs
Front Bump Stops: 2.0 Fox
Rear Suspension Type & Material: 4-Link with trailing arms
Rear Sway Bar: Ruffstuff
Rear Shocks: Fox Factory 3.0, 4 tube bypass, 2.0 coil over, PAC springs
Rear Bump Stops: 2.5 Fox
Axles  
Front Axle Housing: Spidertrax 3.5" Pro
Front Differential / Locker: Gearworks HP 10"
Front Axle Shafts: Spidertrax 35 spline innner, 40 spline outer 300M
Front U-Joints: CTM
Front Drive Flanges / Hubs: Spidertrax Unit Bearings
Front Brakes: Wildwood 6 piston
Front Steering Components: Howe 9" ram, PSC CBR pump and PSC accessories
Rear Axle Housing: Spidertrax 4" Pro
Rear Differential / Locker: Gearworks HP 10"
Rear Axle Shafts: Spidertrax 40 spline 300M
Rear Drive Flanges: Spidertrax Unit Bearings
Rear Brakes: Wildwood 6 piston
Ring & Pinion Manufacturer & Gear Ratio(s): Gearworks 6.20
Powertrain     
Engine Manufacturer: Ford Coyote 2015 crate motor
Engine Displacement, Liters or Cubic Inches: 5.0L
Engine Horsepower: 450
Engine Torque: 400
Engine Modifications: Stock
Battery: Odyssey group 31
Radiator / Fans: CBR
Air Intake: Custom 3.5" tube with KN filter
Exhaust: 304 stainless with Racetek Mufflers
Transmission Make & Type: Reid TH400 with billet internals, built by Maximum Transmission
Transmission Cooling System: Griffen Large offroad cooler
Torque Converter: TCS custom billet
Transmission Shifter: Art Carr
Transfer Case(s): Hero 3 speed, 1-1, 1.4-1, 3.0-1
Front Driveshaft Builder & Components Used: Allied Fab 1350, 2.125"x 3/16" wall tube
Rear Driveshaft Builder & Components Used: Allied Fab 1410-1480 3"x 3/16" wall tube
Fuel Cell or Tank, Type, Size & Builder: Jaz 26 gallon
Fuel System Pumps & Filters: Bosch 044 dual in tank pumps, Holley hydromats
Body / Interior           
Body / Body Panels: 49 Ford F8
Body Modifications: Minor trimming
Skid plate / Material: Hardox 500 1/4"
Painter Name: Original Paint
Hood / Grille: Factory hood, no grille
Floors / Firewalls: Aluminum panels
Dash / Gauges / Switches: Factory dash, aluminum guage and switch pods, Speedhut Guages
Steering Column / Wheel: Custom column, Joes racing wheel
Pedal Assembly / Cutting Brakes: Wildwood dual master cylinders
Seats / Harnesses: PRP
Electronics: Lots of race stuff all wired by Allied Fab
Lights Interior / Exterior: Baja Designs LED
Safety - Fire Extinguisher: 3x5lb fire extenguishers
Winches - Front / Rear - Brand & Capacity: Warn 9.5ti
---