It's not a hot rod, it's not a rat rod and it's not a trophy truck but it's Trophy Rat! Let's discover this wonderful rig made by Keith Northrup of Northrup Fab.
Photos and text by Paolo Baraldi

The American scene of offroad vehicle builders is full of talented people. But often it is necessary to stand out from the crowd and build something that is not only visually appealing but is also highly performing. The example that we report in this article is the latest creation of Keith Northrup and well represents what he is able to do at Northrup Fab. The Trophy Rat, so called because it contains both the soul of a rat-rod that of a trophy-truck, is a real fusion of two automotive worlds that rarely meet.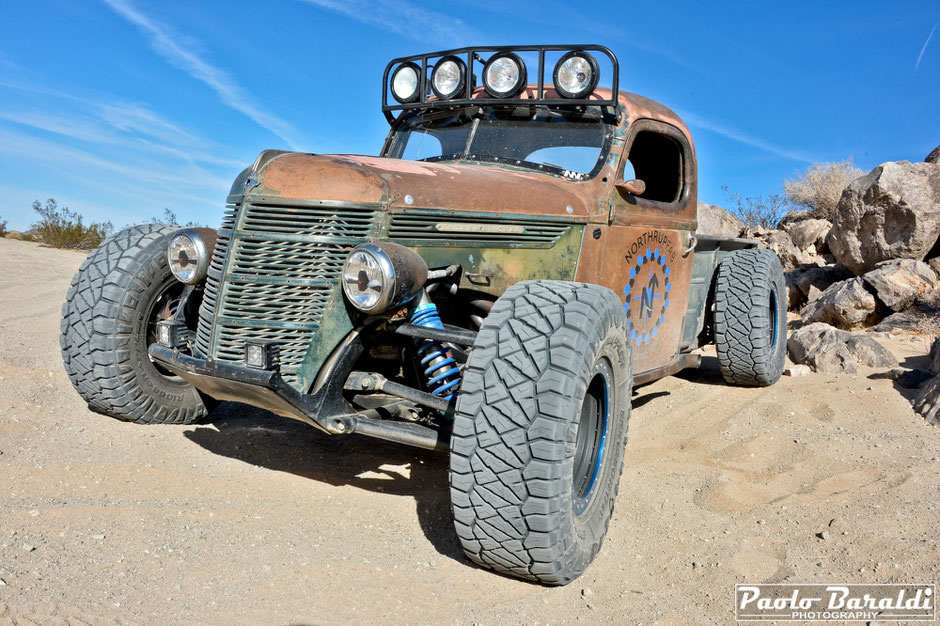 Surprisingly, the initial project was completely different from the one that we have before our eyes. It all started from a 5.7 GM LS6 aluminum-block V8 engine, coming from a Corvette, destined for demolition. While Northrup started rebuilding the engine, assisted by C&D Machine in Kirkland, Washington, he imagined finding a Porsche Cayman to build a German sports car powered by powerful American "muscles".
As the engine reconstruction was ending, Keith receives a phone call that would change everything. On the other side of the phone was his friend Tyler Anthony, who informed him that he was scrapping some old vehicles that were part of a series of never-completed projects. Among these was an International Pickup of 1937 that Northrup had already seen. Without hesitation, Keith Northrup went to pick up the International and, along the way back to his workshop, the whole new project took shape in him.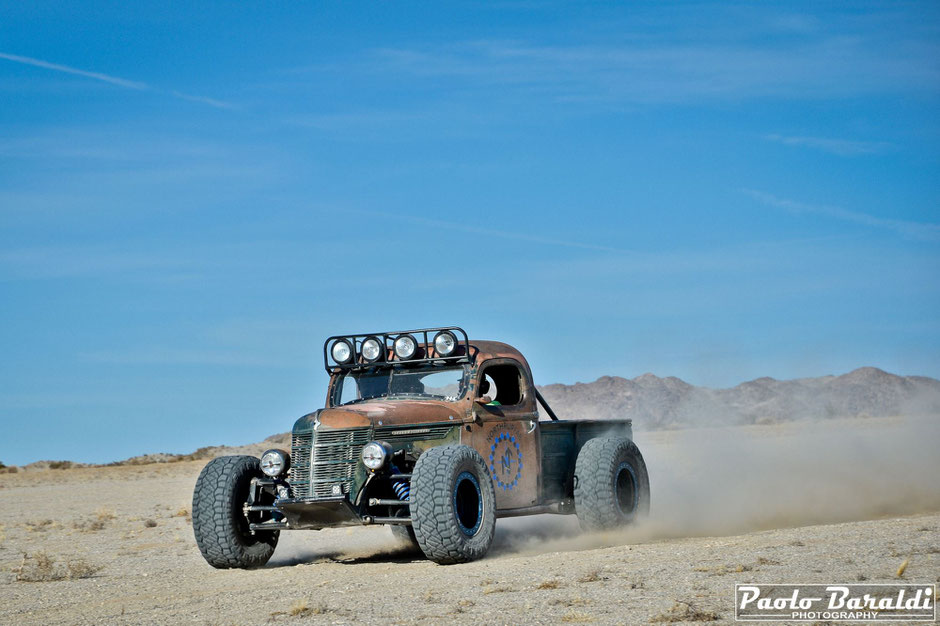 International is famous for the low quality of its chassis, so Northrup had already decided to build a new one from scratch. This gave him the freedom to adapt the frame to his needs. Keith would have kept the classic look of the pickup with all the original bodywork elements but with a new tubular structure built largely with 1 inch DOM pipes. This is the same material used to build an Ultra4 chassis. From how well it is made, you would never say that this is the first rig with independent front suspension built by Northrup Fab. To make sure that his first attempt had been a success, Keith sought advice from the expert Nick Nelson, another off-road builder. The final result is incredible with a total excursion of 14", well 6" in compression, controlled by King Shocks coilover shock absorbers of the 2.5". This result is incredible, considering how low this vehicle is! The four-link rear suspension features 2.5" coilovers and a Speedway Engineering anti-roll bar that helps provide greater stability. The rear axle is a Spidertrax with Yukon Grizzly Locker differential and 4130 35-spline chromoly shafts axle.
Keith Northrup, with the help of Tyler Anthony and Jason Blanton, took a total of two and a half years to complete the Trophy Rat. "The goal behind the whole project", Keith Northrup told us, "was to have a hot rod, a rat rod, a trophy truck and a little gem to use on the street all in one vehicle". Seeing this Trophy Rat in action, we can say that the goal that has been reached has been greatly exceeded!
Trophy Rat specifitations:
- Body: 37' International pickup
- Frame: Custom Full TIG welded tube chassis tip to tail
- Engine: LS6 with Cali heads, Comp cam, and new internals
- Horse power and torque: 320HP/315Torque at rear wheels 
- Gear box: Gearworks trophy truck TH400
- Supensions front and rear: Custom A-arms front with trailing arm 4 link in rear
- Brakes: Wildwood 6 piston up front/ 4 pistons rear  with Spidertrax rotors
- Rear axle: Spidertrax housing, unit bearing , 35 spine axles.  Yukon diff with grizzle locker
- Wheels: 17" TrailReady Beadlock on Nitto  35" tires 
- Shocks: 2.5" king coilovers / 8"front - 10" rear 
- Cooling: CBR race radiator , oil cooler , trans cooler 
- Steering: Howe trophy truck Rack and pump