She left us doing what she loved most! Jessi Combs has always pursued her dream in the motoring world by making it a true lifestyle and inspiring many women who shared the same passion with her. From the sky she continues to race for all of us!
Photography and story by Paolo Baraldi

We should have met last February in Hammertown for a photo shoot and an interview. We have not seen each other for various reasons and for different commitments.
My first encounter with Jessi Combs took place, I believe in 2011 or 2012, in Las Vegas for the Sema Show. Then every year we met for the King of the Hammers to which she participated with excellent results.
Jessi interpreted in everything the spirit of Offroad Lifestyle. Her was a real lifestyle dedicated to the motor world and for this reason I wanted to write about her and her story in my magazine.
Fate wanted this to not happen ...
I never wanted to talk about Jessi in this way but here I am doing it with my heart broken with pain. The only thing that gives me strength is that she died doing what she loved most.
Tribute to Jessi Combs
Jessi was fast, damn how she was fast!
Like she was fast, she was determined, full of joy, available to everyone, always with a smile drawn on her face and ready to pass on to everyone her passion for motorsports.
Jessi Combs has inspired and will still inspire many women and all of us who have been lucky enough to meet her!
On August 27, at 39, in the Alvord Desert in Oregon, Jessi was attempting to break her speed record aboard the North American Eagle, a jet-car made from a 17-meter Lockheed F-104 Starfighter with power of 45.500 horses. An incredible means that, even if developed to reach up to about 800 miles per hour (1290km / h), has never managed to exceed the 477,59 miles per hour (768.61 km / h) reached by Combs in 2016.
That day, while Jessi chased her dream, something happened ... something happened to take her running in the endless tracks of the sky. Race in peace Jessi!
Jessi Combs, the fastest woman in the world on four wheels
"It may seem a little crazy to walk directly into the line of fire... - Jessi wrote on August 24 - those who are willing, are those who achieve great things. People say I'm crazy. I say thank you".
Jessi, that fateful August 27 in the Alvord Desert, was trying to break the record for the fastest woman in the world in an absolute sense, established in 1976 by Kitty O'Neil in a three-wheeled vehicle, while she was already the fastest woman always on the four wheels since 2013 with an average of 398.954 miles per hour (about 632 km / h) on the two laps, and a peak of 440.709 miles (about 709 km / h) at the North American Eagle Supersonic Speed Challenger. Three years later, on 7 September 2016, Jessi Combs surpassed herself: her Other American Eagle was raised to 477.59 miles per hour (almost 769 km / h). In October of last year she had reached the impressive speed of 482,805 miles (777 km / h) but due to some technical problems she had not been able to complete the lap.
Jessi Combs: 27 July 1980 - 27 August 2019
(From the official biography) Jessi Combs was born in the Black Hills of Rapid City, SD. With a lifelong desire to become a race car driver, this fearless young lady found a love for speed and its machines at a very young age. Her family explored everything around them and gave her a solid appreciation for off-roading as well as racing in many forms.  In addition to her love for everything automotive, Jessi is somewhat of an artist and spends as much time as she can creating with her own hands.  She loves metal working, leather craft and photography, and can make almost anything one can dream up. She is an independent and adventurous spirit, boasting, "I will try everything at least twice...  I wouldn't want to be jaded by the first attempt."   
Having turned down a full scholarship to a prominent interior design school, she traveled North America before settling in Denver, CO to pursue a career in snowboarding.  This proved more painfully demanding on her physically than she had anticipated and rather decided on a career that involved her love for the throttle pedal and showcased her artistic abilities.  She moved to Laramie, WY to attend WyoTech where she studied Collision/Refinishing, Chassis Fabrication, Street RodFabrication, and Trim/Upholstery, graduating at the top of her class with a degree in Custom Automotive Fabrication.
Her time and involvement at the trade school led to her first fabrication job when the marketing department hired her and another student by the name of Ben Bright to build a car from the ground up in six months to debut at the Specialty Equipment Marketing Association's (SEMA) show.  The car was auctioned for charity and Ms Combs hasn't looked back since.
While her chosen career path didn't initially include time on television, she found herself on Overhaulin' as a guest fabricator and was soon hired as the co-host of Xtreme 4x4, part of the Powerblock on Spike TV; a position she held for four years and 90+ episodes.  Together with co-host Ian Johnson, they built everything from race trucks to street trucks and trail rigs to trailers for an audience of millions.
In a widely publicized yet unexplainable accident in 2007, while working in the studio, Jessi was folded in two by a large piece of machinery that had fallen on her, burst fracturing her spine's L3.  The accident should have left her wheelchair bound; but instead, after surgery, bed rest, therapy, eight months and a little help from God, Jessi was granted full medical release.  Appreciative of her health and her time with Xtreme 4x4, Jessi chose to move on with her career and in 2008 left the show in pursuit of other opportunities.
The next year was full of appearances on shows like 2 Guys Garage, TruckU, SEMA Show Special, DuplicolorTV, Full Throttle TV, Pirate4x4 TV Live, and Bosch 125.  Her on-screen personality was beginning to take shape as she honed her skills as a TV host while maintaining her integrity as a metal fabricator, builder and industrial artist.  In 2009 she appeared as a host and builder on the 7th season of Mythbusters to fill in for Kari Byron's maternity leave.
Recently, the Velocity Channel has been her home for television as she could be found on All Girls Garage and Overhaulin's 2011's return to TV as a host and 'A-Team' hybrid member. She can currently be seen on The List: 1001 Car Things To Do Before You Die on AOL's autoblog.com, also airing on the Velocity.
The training associated with these programs has allowed Jessi to become a performance driver for the film and commercial world. She has driven everything from super cars to monster trucks, relics to rally cars, hot rods, two wheels, four wheels and even at times, no wheels. Stunt driving has opened a whole new passion into the arena of possibilities between woman and machine for Jessi.  
When it comes to competitive driving, Combs feels right at home in the driver seat. She has raced Ultra4's King of the Hammers in 2010, 2012, 2013, taking home a spec class win in 2014 as the first female to ever place at any Ultra4 event; she pressed on and wrapped up the season with the National Championship. Finishing the Baja 1000 is winning, although in 2011 taking home a class 10 podium finish is a true landmark in her racing resume. The North American Eagle Supersonic Speed Challenger added Jessi to the team for the 2013 attempt to break the 512 mph Women's Landspeed World record made in 1976 by Kitty O'neil; to date, Jessi is the fastest woman on 4-wheels holding a record of 398 mph with a top speed of 440 mph (the team remains in pursuit for her to become the Fastest Woman on Earth). Early 2015 Combs competed in the Rallye Aicha des Gazelles, a 9 day all-female rally race that only uses 1960 hand-drawn maps and compass; they pulled 10th place overall and a 1st place finish in the First Participation category. The Race of Gentleman, held by the longstanding Oilers car club, invited Jessi as the first women to compete in their carnival event by racing a 1913 twin engine Model T down the beach; her ability to handle any situation with any car will forever be in the history books.
Jessi is proud of the relationships she has fostered throughout her career and she continues to represent many companies as a brand representative as well as a product expert.  These relationships coupled with her skills provided her the opportunity to develop a woman's line of welding gear (PPE) with Lincoln Electric in order to fill the demand and growth of ladies in the industry. Jessi has joined 8 years of epic 4-wheeling journeys with WARN Industries and proceeds to spread the word about their proven quality with the rest of the world. As a hands on builder, aligning with establishments such as CRC and Industrial Metal Supply only help her mission to express to others what woman are capable of in the shop.  
Not known for sitting still, this fast-paced girl is also working on starting her own metal fab shop: "A place where bad ass hot rods, motorcycles, custom trucks, race vehicles, and anything metal will originate with a feminine touch; where chicks can finally have a place to get dirty, be creative, use their skills, explore talents, go fast, and have fun in a comfortable working environment". Her achievements and dedication to the hands on way of living have parlayed into a new brand that encompasses the lifestyle other passionate woman possess while living a REAL DEAL life.
With a lifelong dream to become a driver, this fearless young lady found a love for speed and its machines at a very young age. That passion has brought Jessi to some remarkable achievements in her life which have empowered millions globally to recognize her as one of the best female role models in the world of motorsports. Men love her skills and looks while women are fascinated and drawn in by her capacity to rock it out in a man's world.
A talented athlete as well, Jessi has trained in multiple forms of driving such as Drifting, Stunt Driving, Performance Racing, Evasive Driving, and off-road among many others. This has allowed Jessi to become a performance driver for the film and commercial world where she has driven everything from super cars to monster trucks, relics to rally cars, hot rods, two wheels, four wheels and even at times, no wheels. Driving has opened a whole new passion into the arena of possibilies for her between human and machine.  
When it comes to competitive driving, Combs feels right at home in the driver seat, like she was born for it. Her ability to keep a low heart rate, remain calm and methodically think through high stress situations is a quality attribute to any team. Jessi is sure to be racing in multiple motorsport facets to not only win, yet also in attempt to prove a woman's worth behind the wheel. Her desire to become a professional driver resonates with the fans, making her a person they can vicariously live through as well as an inspirational individual who is continuously breaking the mold and challenges them to push their own limits.
Official website - Official FB page
Racing Career Highlights:
2018 - Landspeed - NAE - new top speed of 483.227 mph
2018 - Gambler 500 Mini Moto Enduro - 2nd - ironman 100 miles
2018 - Ultra 4 King of the Hammers - 1st - Stock class - 3rd overall Every Man Challenge
2017 - Ultra 4 King of the Hammers - 12th - Ultra4 Unlimited class
2016 - Landspeed - NAE - new top speed of 477.59 mph
2016 – Ultra 4 King of the Hammers - 1st - EMC Modified Class
2015 – Rallye Aicha des Gazelles - 1st - First Participation - 10th overall
2015 – SCORE Baja 1000 - 2nd - Class 7
2014 – Ultra 4 National Championship - 1st - Spec Class
2014 – Ultra 4 Western Region Series - 1st - Spec Class
2014 – Ultra 4 American Rock Sports Challenge - 3rd - Spec Class
2014 – Ultra 4 Glen Helen Grand Prix - 2nd - Spec Class
2014 – Ultra 4 Stampede - 1st - Legends Class
2014 – Ultra 4 King of the Hammers - 1st - Spec Class
2013 – Set world land speed record - Fastest Woman on 4-Wheels - 398 mph with a top speed of 440 mph
2011 – SCORE Baja 1000 - 2nd - Class 10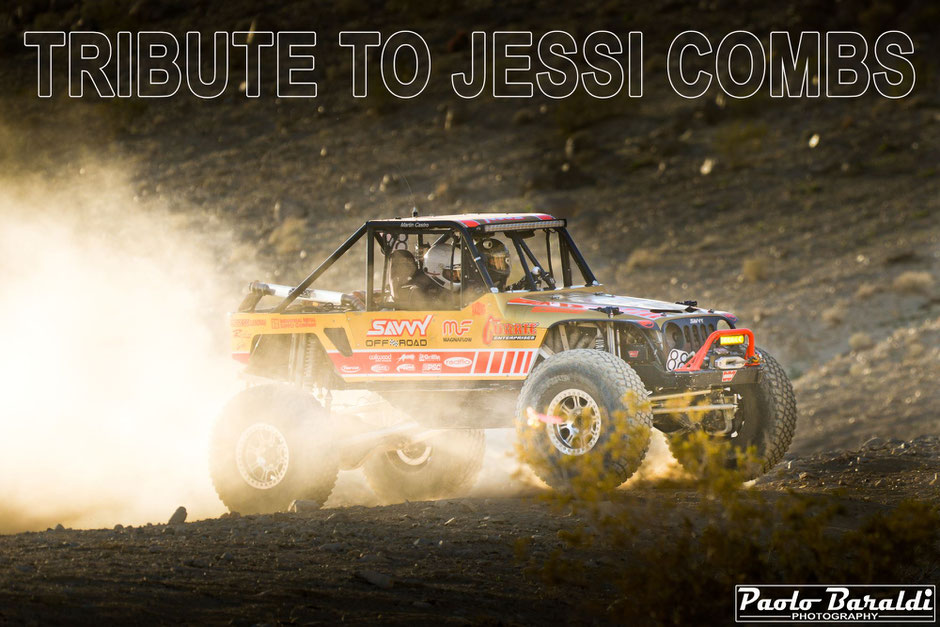 ---