Ci ha lasciato facendo quello che più amava! Jessi Combs ha sempre rincorso il suo sogno nel mondo dei motori facendone un vero e proprio stile di vita ed ispirando molte donne che condividevano con lei la stessa passione. Da lassù continua a correre per tutti noi!
Foto e testo di Paolo Baraldi

Ci saremmo dovuti incontrare lo scorso febbraio in Hammertown per uno shooting fotografico e per una intervista. Per vari motivi e diversi impegni di tutti e due, non ci siamo visti.
Il mio primo incontro con Jessi Combs è avvenuto, credo nel 2011 o 2012, a Las Vegas per il Sema Show. Poi ogni anno ci si incontrava per la King of the Hammers alla quale lei partecipava con ottimi risultati.
Jessi interpretava in tutto e per tutto lo spirito di Offroad Lifestyle. Il suo era un vero è proprio stile di vita dedicato al mondo dei motori e per questo motivo desideravo scrivere di lei e della sua storia nel mio magazine.
Il destino ha voluto che questo non accadesse…
Non avrei mai voluto parlare di Jessi in questo modo ma eccomi qui a farlo con il cuore spezzato dal dolore. L'unica cosa che mi da forza è che è morta facendo quello che più amava.
Dedicato a Jessi Combs
Jessi era veloce, cavoli se era veloce!
Tanto era veloce, tanto era determinata, piena di gioia, disponibile con tutti, sempre con il sorriso disegnato sul volto e pronta a trasmettere a tutti la sua passione per i motori. 
Jessi Combs ha ispirato e ispirerà ancora molte donne e tutti noi che abbiamo avuto la fortuna di conoscerla!
Il 27 agosto, a 39 anni, nell'Alvord Desert in Oregon Jessi stava tentando di battere il suo record di velocità a bordo della North American Eagle, una jet-car ricavata da un Lockheed F-104 Starfighter lunga 17 metri e con una potenza di 45.500 cavalli. Un mezzo incredibile che, anche se messo a punto per riuscire ad arrivare fino a circa 1290km/h, non è mai riuscito a superare i 768.61 km/h raggiunti proprio dalla Combs nel 2016. 
Quel giorno, mentre Jessi rincorreva il suo sogno, qualcosa è successo… qualcosa se la è presa per portarla a correre nelle sconfinate piste del cielo. Race in peace Jessi!
Jessi Combs, la donna più veloce al mondo su quattro ruote
"Può sembrare un po' folle camminare direttamente sulla linea di fuoco… – aveva scritto Jessi – quelli che lo fanno, sono quelli che ottengono grandi risultati. Le persone dicono che sono folle. Io le ringrazio".
Jessi, quel fatidico 27 agosto nell'Alvord Desert, stava cercando di battere il record per la donna più veloce del mondo in senso assoluto, stabilito nel 1976 da Kitty O'Neil su un veicolo a tre ruote, mentre era già la donna più veloce di sempre sulle quattro ruote dal 2013 con una media di 398,954 miglia orarie (circa 632 km/h) sui due passaggi, ed una punta di 440,709 miglia (circa 709 km/h). alla North American Eagle Supersonic Speed Challenger. Tre anni dopo, il 7 settembre 2016, Jessi Combs si superò: la sua Other American Eagle venne portata a 477,59 miglia orarie (quasi 769 km/h). Nell'ottobre dello scorso anno aveva raggiunto l'impressionante velocità di 482,805 miglia (777 km/h) ma a causa di alcuni problemi tecnici non era riuscita a concludere il giro.
Jessi Combs, 27 luglio 1980 – 27 agosto 2019
Jessi Combs è nata a Rapid City nelle Black Hills del Dakota del Sud con il desiderio di diventare un pilota di auto da corsa. Dopo essersi laureata al Wyoming Technical College con una tesi sulla fabbricazione automobilistica, Jessi si era fatta strada come pilota in varie gare, costruttrice di vetture ed anche come ospite e conduttrice di parecchie trasmissioni televisive legate al mondo dei motori come il reality show 'Xtreme off-road 4x4' programma in cui gli ospiti insegnavano come modificare i veicoli per aumentarne le prestazioni.
Come pilota ha partecipato a numerose competizioni in diverse specialità. I suoi ottimi risultati alla King of the Hammers le sono valsi il nome di "Queen of the Hammers".
Sito web ufficiale - pagina Facebook ufficiale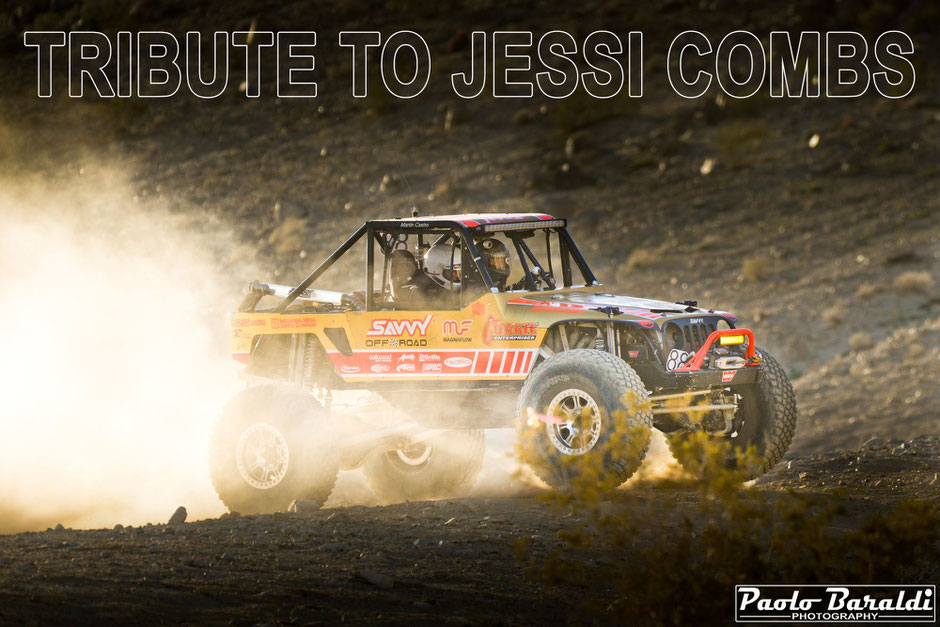 Alcuni dei risultati sportivi di Jessi Combs
2018 - Landspeed - NAE - nuova velocità massima di 483.227 mph
2018 - Gambler 500 Mini Moto Enduro - 2 ° - Ironman 100 miglia
2018 - Ultra 4 King of the Hammers - 1 ° - Classe di serie - 3 ° Complessivo Every Man Challenge
2017 - Ultra 4 King of the Hammers - 12th - Ultra4 Unlimited class
2016 - Landspeed - NAE - nuova velocità massima di 477,59 mph
2016 - Ultra 4 King of the Hammers - 1 ° - Classe modificati EMC
2015 - Rallye Aicha des Gazelles - 1 ° - Prima partecipazione - 10 ° assoluto
2015 - PUNTEGGIO Baja 1000 - 2 ° - Classe 7
2014 - Ultra 4 National Championship - 1st - Spec Class
2014 - Serie Ultra 4 Western Region - 1a - Classe spec
2014 - Ultra 4 American Rock Sports Challenge - 3a - Classe spec
2014 - Ultra 4 Glen Helen Grand Prix - 2nd - Spec Class
2014 - Ultra 4 Stampede - 1st - Legends Class
2014 - Ultra 4 King of the Hammers - 1 ° - Classe spec
2013 - record mondiale di velocità terrestre - La donna più veloce su 4 ruote - 398 mph con una velocità massima di 440 mph
2011 - Baja 1000 - 2 ° - Classe 10
---