Why me? David Robson's answer that he gave me when I asked him to do this interview. A few modest words which perfectly portray one of the Ultra4 Europe pillars. In this article we will know not only find out the Robson representative of U4E but also the man David.
Photography and story by Paolo Baraldi

I believe that someone has participated in at least one Ultra4 Europe race, both as a driver (or co-driver) and as a team crew or simply as a spectator, well know David Robson. Always smiling and helpful, David is one of the pillars of U4E.
During the races, you can see him on the start/finish line, but the best of David can be seen behind the scenes where he is always available with everyone for advice or help. Impeccable in his role as European logistics manager and friendly and convivial in moments of relaxation is the man to whom you would ask to take care of your most precious asset. In addition to my esteem for what was said before, I prefer David when, with eyes lit up with joy, he talks to me about his offroad travel experiences ... I would listen to him for hours!
From the East Midlands, a life on the road for Ultra4 Europe
From the East Midlands, and more precisely from Hinckley (a city of over 43,000 inhabitants located in the county of Leicestershire in England), David, often accompanied by his son Joe, travels Europe on board the Ultra4 Europe truck to deal mainly with logistics on the competition fields.
For him it's not a job, it's a passion that lives like a mission to make crews and the public happy!
David Robson, loved and respected also in the Lakebed in California at the King of the Hammers
Together with Chris Bowler, David Robson is one of the very few Europeans to play an important role in the staff of the King of the Hammers. Knowing well Dave Cole, the professionalism of Ultra4 Racing and the high standards of KOH, even if David Robson will never admit it, having an important task in the staff of this important race is not something that everyone can aspire to. A deserved prize for Robson's excellent work in Europe!
When I proposed this interview to David Robson, he was amazed: "why me?" A few words of real modesty that portray him perfectly and that enhance his human qualities!
So here's the full interview where David Robson tells his story and timidly opens up to make himself better known.
- When and how did you get passionate about off-road?
Well I suppose I have always been interested in offroad since my days in the military where we used Land Rover ser11A on the ranges and convoy escort vehicles. After a few years I purchased a 4x4 to tow a caravan and became involved with a local 4x4 club mainly to reduce insurance costs this led to days and weekends green laneing where i was involved with teaching others how to drive offroad safely thanks to my military training. This in turn led me into winch challenge after agreeing to co-drive for a good friend and this continued for a number of years until things started to get very expensive.
- I know you love adventure travel, tell us about some of your experiences
You ask about adventure and travel well this started after my wife and I bought an overland camping trailer one of the very first of its kind in the UK. With this which was only 3 Mtr long carried its own tent and contained every thing including a fridge freezer and kitchen sink we started to travel through Europe taking in the glorious Alps and Pyrenees. Some of these trips were organised tours others were a follow the sun kind of trips with very good friends. One of these trips led us although trailer less into the depths of Morrocco where 200mtrs into the famous Erb Chebby dunes i stripped the splines on both rear drive shafts and ended up winching the 200 Mtrs out then had to find a local welder and perform a bush fix by welding the flanges to the end of the shafts and drove on for another couple of days before we came to Zagora where we found a garage who could supply new shafts and flanges. After fitting the guys at the shop would not let us leave until they put the car over the pit and carried out a full check and grease up at no extra cost.
- When and how did you meet Ultra4 Europe?
I first met Ultra4 at the very first event which was held at Walters Arena in Wales in 2012. I was part of a pit crew, sadly we were not very successful due to breakdowns but we had a blast. The following year I was back in Walters as a volunteer I was Hooked. Since then I have gone from just a volunteer to being part of the core group, with my son Joe we made a formidable team dealing with organising sponsorship areas and, line up, and course control where necessary, fast response and recovery all with my trusty Defender 90.
- What is your role at Ultra4 Europe?
This year I have a new role as European logistics. My role is to ensure that all of the equipment needed to set, mark, and decorate the courses throughout Europe arrives at the correct location on time, and in a useable condition.
- Both before and during and after each race you are very busy, which is your favorite moment of the race?
I think for me the best part of every race is the moment the flag drops and the first car leaves the line, then you know that all of the work has been worth it and hopefully the crews will enjoy another spectacular course set by a dedicated and amazing team.
- Can you tell me your best memory in Ultra4 Europe?
I have many memories with Ultra4 but I think one which will always stand out is the last event in Varano De Melegari in Italy. This race was to be a 1 day event over an 8 km course in a mountain riverbed. The course was all set after 2 days work and looking awesome. Then on the Wednesday evening the winds got up and when I looked out on thursday the gale force winds were still blowing and the whole course had been destroyed. The weather forecasts showed that the winds were due to drop over Friday, the decision was made to mark the prologue course with weighted traffic cones which Pier Acerni was able to acquire for us. Saturday Morning 4am saw me out dropping equipment at points along the proposed course then set up started all over again and at the stroke of 9am as the lest flag was placed on course the first car went off the line.
- For you, in the context of the European off-roader, what does Ultra4 Europe represent?
For me Ultra4 Europe represents for all of the 5 classes a level playing field with strict regulations for each class through the Global Rule Book, and a format to suit the conditions of each event. This brings us to The Big One.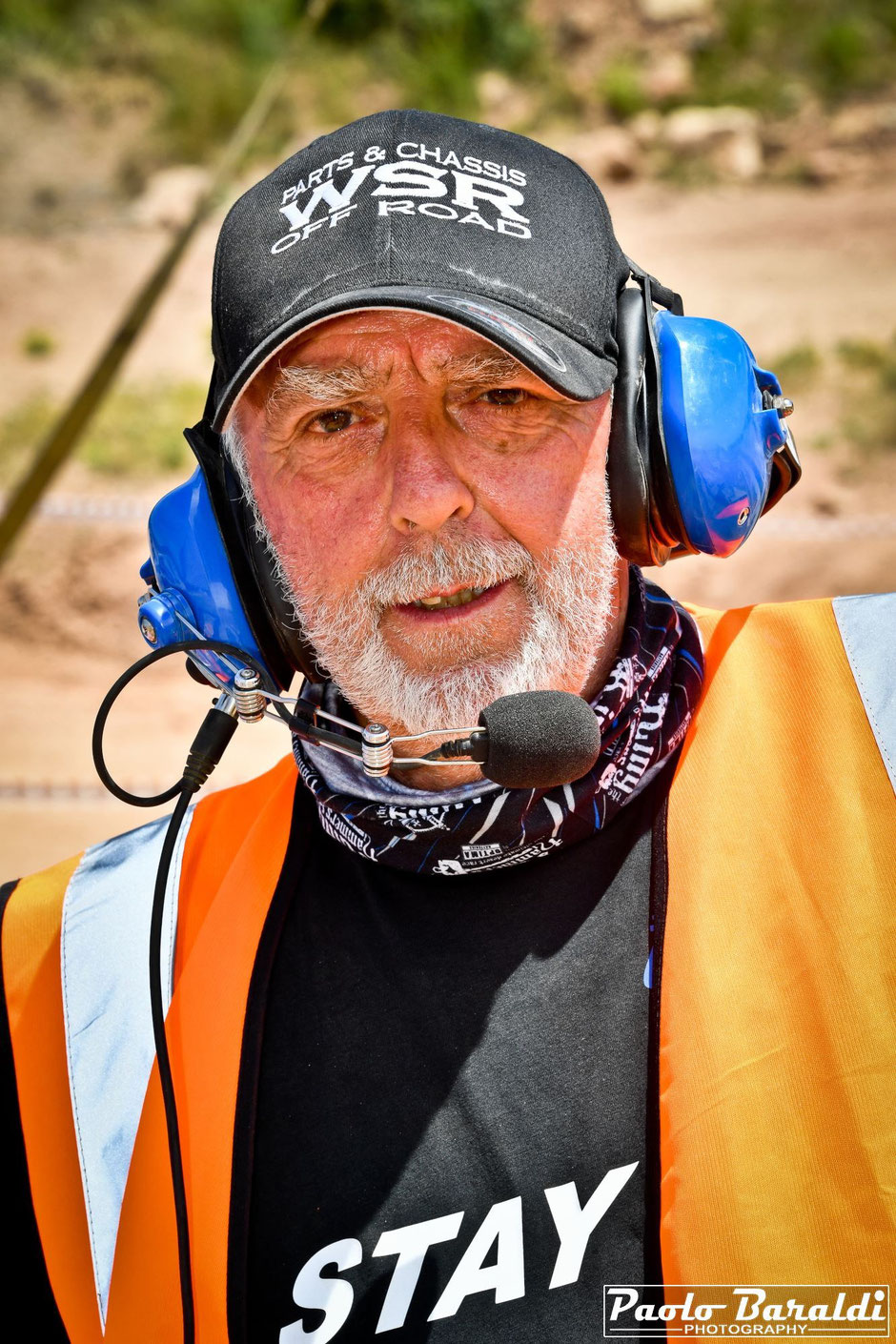 - In addition to Europe, for many years you have been active at the King of the Hammers, when was your first time in the lakebed and what did you think?
I have been attending King Of The Hammers since 2014 when as a spectator I was amazed at the size of the town in the high desert constructed from trailers, marques and RV's which starts to grow 2 weeks before the event and is gone 2 weeks after. And since 2014 I personally think Hammertown has grown 3 fold and there is now street names so makes it easier when you want to find someone.
- What do you do at KOH?
Now after attending for 5 years as part of Ultra4 Europe I have been involved in many tasks from Crowd Control. Through Start Line crew, recovery manager in Back Door, race line up and this year pit manager at remote Pit 2A 4 miles out in the desert.
- What differences did you find between KOH and the European races?
In comparison Ultra4 Europe is a snack in the park. KOH is a full blown dinner in the best restaurant in town with hundreds of race teams and thousands of spectators.
- Next year there will still be the Road to Hammers for European drivers, what do you feel to advise them to better face the King of the Hammers?
So, with Road to the Hammers continuing and if you are successful in gaining a place. You will need the best team you can put together with a car built for reliability and also for you personal fitness to the highest level quote from a competitor from a previous race. This is like sitting in an industrial tumble dryer for 12 Hours and this was just 1 Lap and you have 3 to cover.
- And finally, with your experience, what do you recommend to those who want to approach Ultra4 Europe races?
If you are thinking about getting involved in Ultra4 racing there is no need to spend stupid money. Why not start off in Stock class, don't get me wrong it is still not cheap but a darn lot cheaper than going in at higher level and you can still have a great load of fun.  The Global Rule Book can be found on the Ultra4 web site, so take a look and start building and remember if you need any clarification on any points there are people just an email away.
---