Quando la cultura automobilistica americana e la passione per l'offroad si incontrano, nasce un veicolo affascinante e performante. Sam Collins ha costruito nel suo garage di casa per la King of the Hammers il suo Ultra49Ford unendo le moderne tecnologie con una carrozzeria Ford F8 del 1949.
Foto e testo di Paolo Baraldi


Nelle cronache della King of the Hammers, siamo abituati a raccontare le storie dei grandi teams e descrivere i veicoli più performanti e guidati dai top drivers. Tutto questo non rispecchia la totalità del mondo di Ultra4 Racing; ci sono molti piloti e crew "private" che solo grazie alla loro grande passione per l'offroad e per Ultra4 fanno sforzi economici e personali per poter partecipare alla King of the Hammers.
A spasso per Hammertown
Una delle cose che più amo, quando mi trovo nel Lakebed, è passeggiare nella periferia di Hammertown perché è qui che, a mio giudizio, si possono trovare persone interessanti, con storie incredibili e con veicoli costruiti nel garage che sono delle vere e proprie opere d'arte. Questo è sicuramente il caso del team Ultra49Ford.
Collins e la sua storia
"Mi chiamo Sam Collins e vivo nei boschi di Washougal, Washington, con mia moglie Sarah, e le mie tre figlie, Giulietta, Sophia e Rosalie". Così Sam si è presentato quando ci siamo incontrati, continua: "Lavoro come sovrintendente in una carpenteria ed a casa faccio tutti i lavori sui miei fuoristrada. Quasi tutti i miei amici sono fuoristradisti ed io ho iniziato a guidare un 4x4, il Ford del 1966 di mio padre, quando avevo 10 anni". Alcuni anni dopo, Collins ha trasformato il Ford di suo padre in un 4x4 da competizione ed ha partecipato a molte gare come il Werock. "Stanco di andare piano", come Sam racconta, "grazie ad alcuni miei amici mi sono avvicinato al mondo Ultra4 e nel 2016 ho iniziato a costruire il mio attuale veicolo".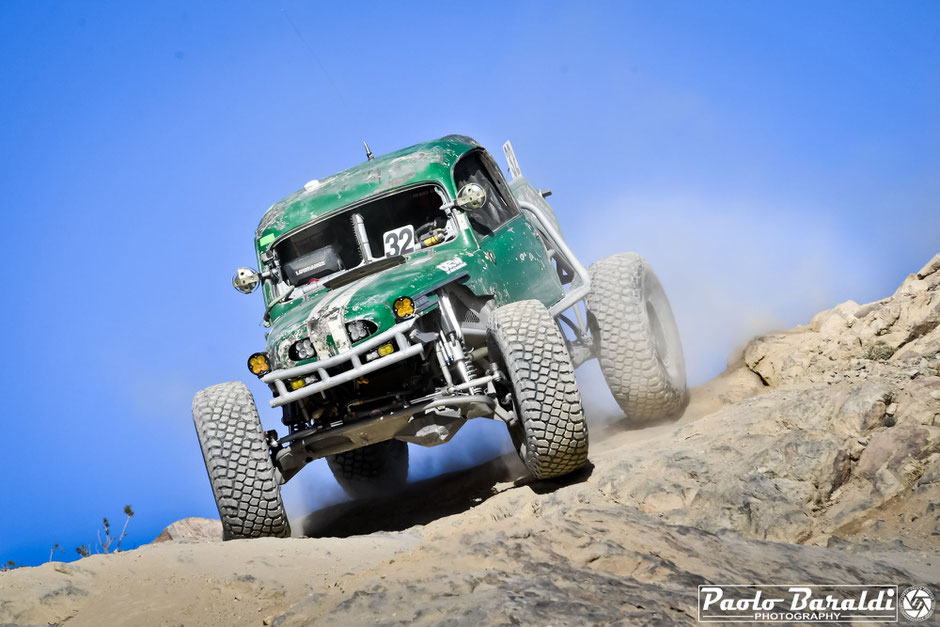 Sam Collins ha iniziato a partecipare alle gare con il suo Ultra49Ford nel 2017; nel 2018 è 47° su 114 alla King of the Hammers e primo alla Vegas to Reno nella categoria 4400. Nel 2019 si classifica 17° alla King of the Hammers e quest'anno è KOH Finisher al 30° posto. Risultati molto importanti e che dimostrano la bravura del team e le qualità del veicolo.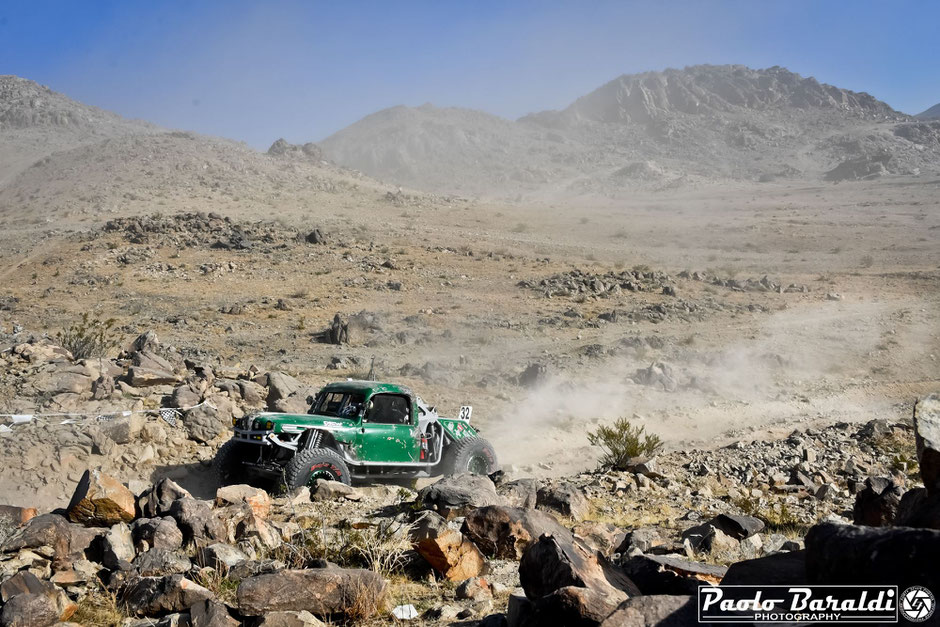 Tutti i segreti di Ultra49Ford
Come ho detto, Sam Collins ha costruito il suo Ultra4 nel garage di casa con l'aiuto dei suoi amici. Vediamo ora di cosa si tratta. Tutto il telaio tubolare è stato realizzato con tubi di acciaio da 2" al quale Collins ha deciso di affidarsi ancora a Ford per la carrozzeria utilizzando quella di un F8 del 1949. Il Ford F8 appartiene alla prima serie dei veicoli Ford costruita dal 1947 al 1952. La F-Series di prima generazione fu commercializzata in otto diversi chassis che davano il nome al modello; l'F1 era il pick up di capacità più leggera mentre l'F8 era il truck più pesante. Gli F7 e F8 erano camion commerciali pesanti, commercializzati con il marchio "Big Job".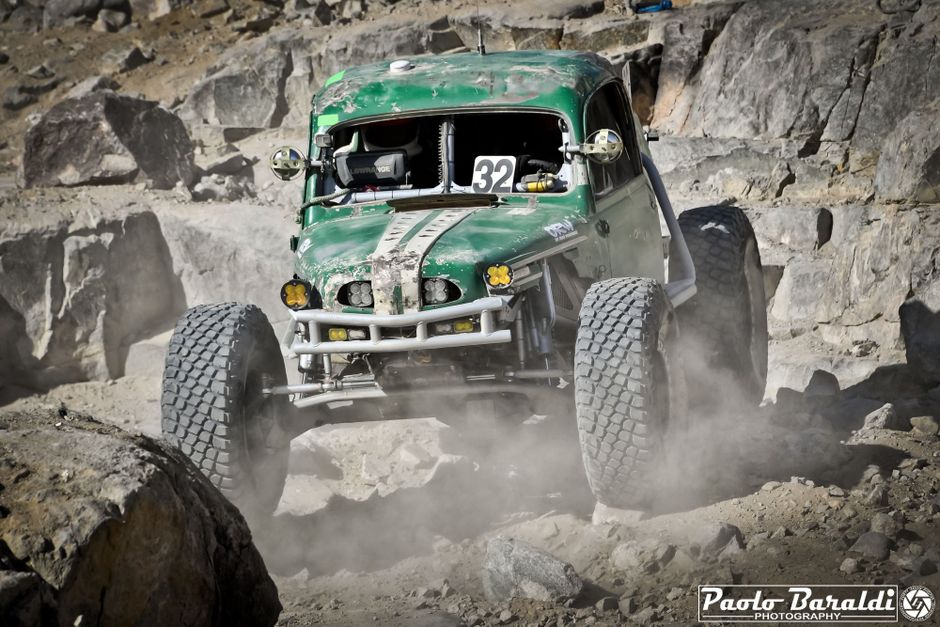 Per il motore del suo prototipo, Sam si è ancora una volta rivolto a Ford scegliendo un Ford Coyote del 2015 da 5.0 litri e con 450 HP. Il cambio è un TH400 con un riduttore Hero 3 Speed. Per i ponti ha sceldo degli Spidertrax 3.5" Pro all'anteriore e 4" Pro al posteriore. La geometria delle sospensioni è un 4-link con ammortizzatori Fox Factory 3.0, 4 tube bypass, 2.0 coil over e PAC springs. I cerchi sono SMT American Forged 17x9 con pneumatici BF Goodrich Racing KR3 40x12.5.
Chassis           
Chassis Design: Custom Tube
Frame / Chassis Materials: 2" main chassis with 1.75" and 1.5" non-supporting tubes, all .120 wall
Cage Builder / Cage Material           : Sam Collins, Same as chassis
Overall Wheelbase: 115"
Overall Length: 163"
Belly Pan Clearance: 17"
Overall Height: 75"
Wheel Track Width: 84"
Overall Weight (Estimate if uncertain): 5000 est.
Tires & Wheels         
Tire Make / Size: BFG Racing KR3, 40x12.5
Wheel Make / Size / Bolt Pattern/ Backspace: SMT AMERICAN FORGED 17x9, 8on6.5, 4.5 backspacing
Suspension     
Front Suspension Type & Material: 4-Link 7075 Alum.
Front Sway Bar: PAC
Front Shocks: Fox Factory 3.0, 4 tube bypass, 2.0 coil over, PAC springs
Front Bump Stops: 2.0 Fox
Rear Suspension Type & Material: 4-Link with trailing arms
Rear Sway Bar: Ruffstuff
Rear Shocks: Fox Factory 3.0, 4 tube bypass, 2.0 coil over, PAC springs
Rear Bump Stops: 2.5 Fox
Axles  
Front Axle Housing: Spidertrax 3.5" Pro
Front Differential / Locker: Gearworks HP 10"
Front Axle Shafts: Spidertrax 35 spline innner, 40 spline outer 300M
Front U-Joints: CTM
Front Drive Flanges / Hubs: Spidertrax Unit Bearings
Front Brakes: Wildwood 6 piston
Front Steering Components: Howe 9" ram, PSC CBR pump and PSC accessories
Rear Axle Housing: Spidertrax 4" Pro
Rear Differential / Locker: Gearworks HP 10"
Rear Axle Shafts: Spidertrax 40 spline 300M
Rear Drive Flanges: Spidertrax Unit Bearings
Rear Brakes: Wildwood 6 piston
Ring & Pinion Manufacturer & Gear Ratio(s): Gearworks 6.20
Powertrain     
Engine Manufacturer: Ford Coyote 2015 crate motor
Engine Displacement, Liters or Cubic Inches: 5.0L
Engine Horsepower: 450
Engine Torque: 400
Engine Modifications: Stock
Battery: Odyssey group 31
Radiator / Fans: CBR
Air Intake: Custom 3.5" tube with KN filter
Exhaust: 304 stainless with Racetek Mufflers
Transmission Make & Type: Reid TH400 with billet internals, built by Maximum Transmission
Transmission Cooling System: Griffen Large offroad cooler
Torque Converter: TCS custom billet
Transmission Shifter: Art Carr
Transfer Case(s): Hero 3 speed, 1-1, 1.4-1, 3.0-1
Front Driveshaft Builder & Components Used: Allied Fab 1350, 2.125"x 3/16" wall tube
Rear Driveshaft Builder & Components Used: Allied Fab 1410-1480 3"x 3/16" wall tube
Fuel Cell or Tank, Type, Size & Builder: Jaz 26 gallon
Fuel System Pumps & Filters: Bosch 044 dual in tank pumps, Holley hydromats
Body / Interior           
Body / Body Panels: 49 Ford F8
Body Modifications: Minor trimming
Skid plate / Material: Hardox 500 1/4"
Painter Name: Original Paint
Hood / Grille: Factory hood, no grille
Floors / Firewalls: Aluminum panels
Dash / Gauges / Switches: Factory dash, aluminum guage and switch pods, Speedhut Guages
Steering Column / Wheel: Custom column, Joes racing wheel
Pedal Assembly / Cutting Brakes: Wildwood dual master cylinders
Seats / Harnesses: PRP
Electronics: Lots of race stuff all wired by Allied Fab
Lights Interior / Exterior: Baja Designs LED
Safety - Fire Extinguisher: 3x5lb fire extenguishers
Winches - Front / Rear - Brand & Capacity: Warn 9.5ti
---