Chi ha detto che per correre e divertirsi devi spendere tanti soldi? La Gambler 500 HooptieX ne è un valido esempio. Compri un catorcio spedendo non più di 500 dollari, allacci le cinture, metti il casco e… buon divertimento. Ecco come tutto questo è accaduto alla King of the Hammers.
Foto e testo di Paolo Baraldi


Lo so, vi ho abituato a reportage americani dedicati a gare professionali, molto competitive ed adrenaliniche ed a veicoli dalle grandi prestazioni e dall'elevata qualità tecnica. Questa volta, desidero invece farvi vedere e parlarvi di un aspetto molto diverso del mondo dei motori a Stelle e Strisce. Un aspetto di questo sport molto più goliardico ed alla portata di tutte le tasche. Sto parlando della HooptieX Gambler 500.
Tutto può accadere nella Johnson Valley
Mercoledì 5 febbraio, giorno della Everyman Challenge, mentre dal Backdoor rientravo in Hammertown, lungo il trafficato percorso scorgo un accampamento diverso da quelli a cui sono abituato vedere nel Lakebed. Macchine a due ruote motrici, che assomigliavano più a dei rottami, attorniate da un chiassoso manipolo di persone.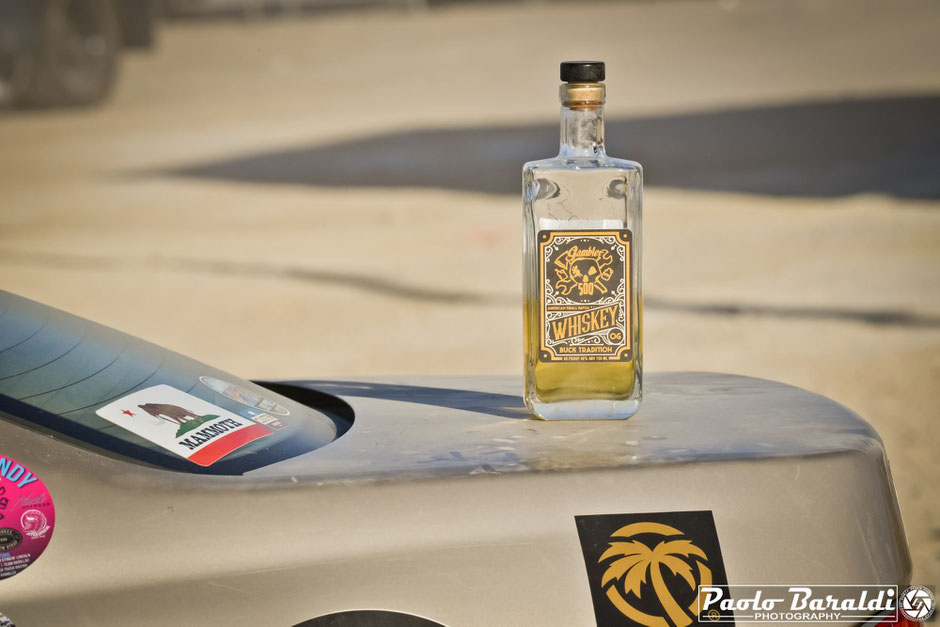 Non posso fare altro che fermarmi per conoscerli e per farmi raccontare la loro storia. In realtà sapevo già che sabato 9 febbraio avrebbero corso i veicoli della Gambler 500 ma non potevo perdermi l'occasione di parlare con loro. C'era chi beveva una birra, chi tagliava i passaruote con un flessibile per farci entrare le gomme e chi chiacchierava e si godeva il deserto.
HooptieX Gambler 500 ovvero come correre con catorcio
Tate Morgan, insieme ad alcuni amici, è la mente dietro la Gambler 500. La prima Gambler 500 si è svolta in Oregon nel 2014 secondo un principio molto semplice: comprare un hooptie, ovvero un catorcio (nello slang un'auto di merda), spendendo non più di 500 dollari (anche se in realtà alcuni ne spendono di più), prepararlo al minimo (cinture e casco obbligatori), mettersi al volante, divertirsi e provare a finire la gara.
Gambler 500 Hooptie X alla King of the Hammers
Quest'anno alla King Of the Hammers, è stata la prima volta che la tribù della Gambler 500 e HooptieX sono scesi nell'arena della Short Course per dare spettacolo, ovviamente senza passare per le dure zone rocciose, lungo il tracciato nel deserto e sui salti.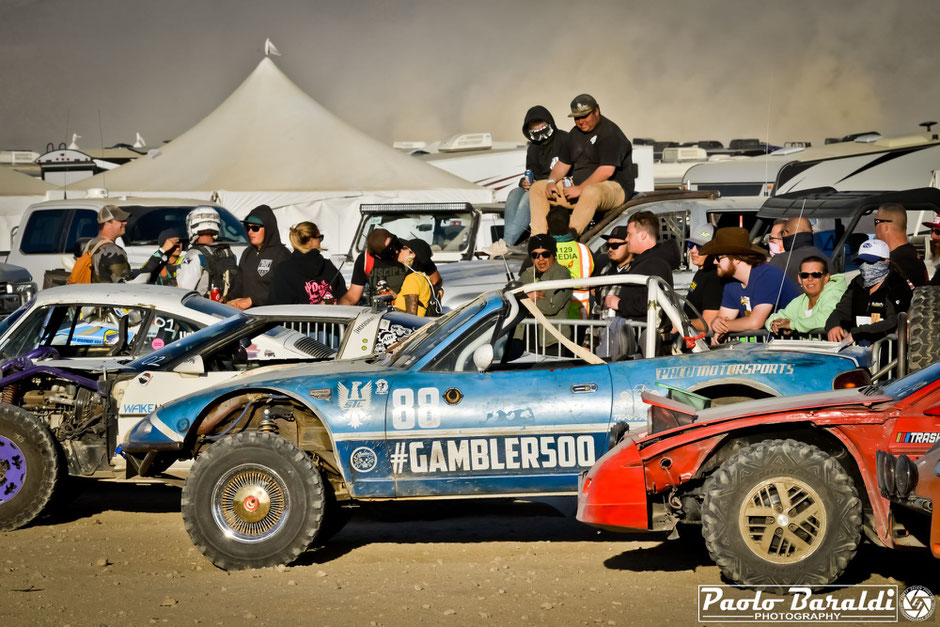 I piloti, alcuni travestiti, si sono presentati sulla linea di partenza con le loro hooptie, alcune veramente in uno stato vicino alla demolizione, altre verniciate e graffittate con una bomboletta spray e addirittura una tutta coperta con una pelliccia sintetica. 
L'atmosfera non poteva che essere che spensierata e divertente con un numeroso pubblico venuto per guardare questi "pazzi" piloti in azione.
Il momento clou dello spettacolo è stato il salto finale... alcune auto hanno fatto esplodere le sospensioni mentre altre hanno lasciato sul percorso pezzi di carrozzeria o paraurti.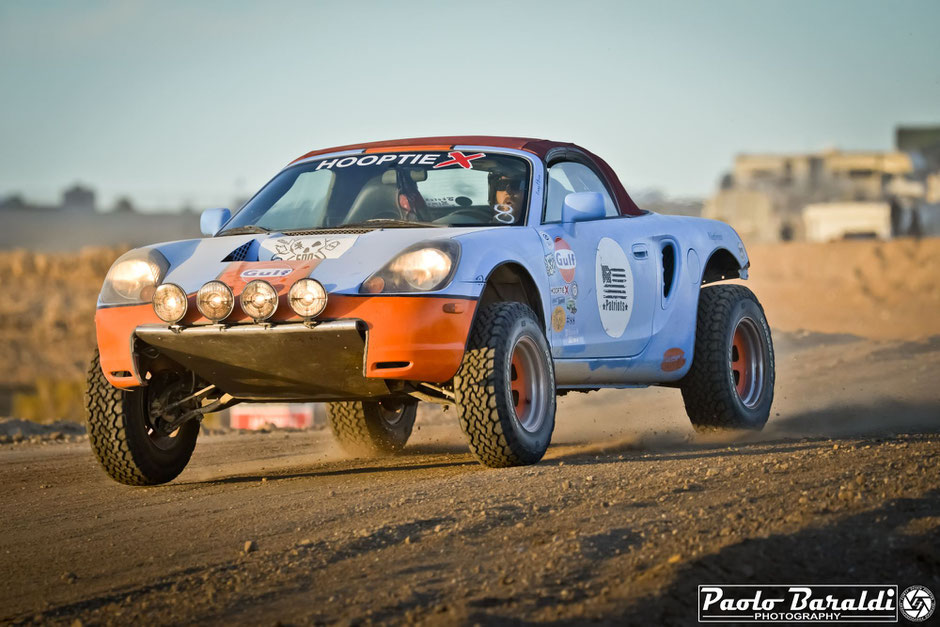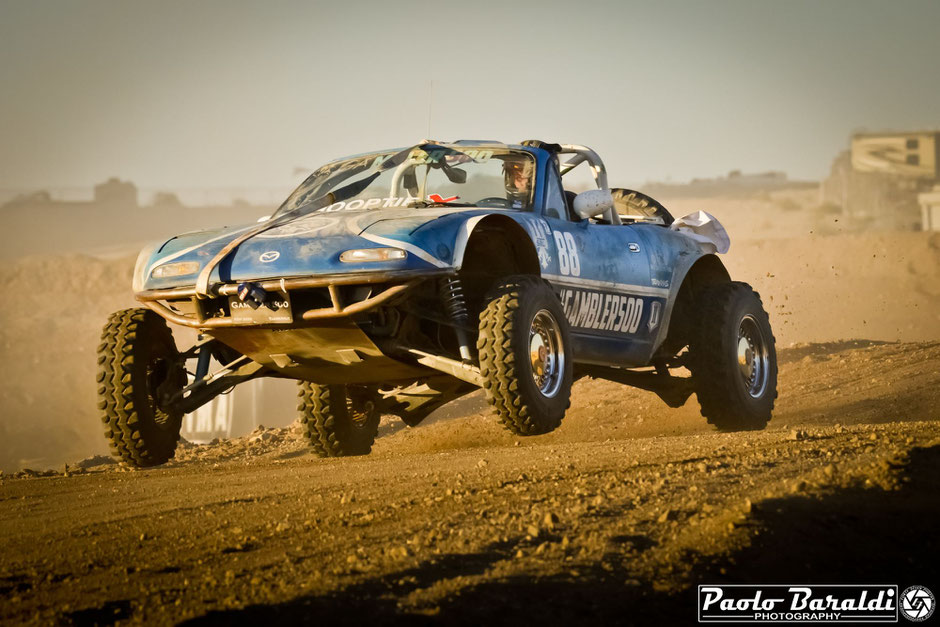 ---