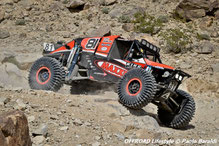 Foto e testo Paolo Baraldi
Quando ti chiedono "Com'è la King of the Hammers?" Tu li guardi... sorridi e sai che non si può descrivere veramente che cosa è la KOH.
Per avere quel sorriso, l'unica cosa da fare è prenotare un volo per l'anno prossimo!
Sono ormai parecchi anni che seguiamo Oltre Oceano la King of the Hammers ed ogni volta è un'esperienza unica ed indimenticabile. Sarà la particolare formula della gara così avvincente, sarà l'ambientazione unica del Lakebed nel deserto del Mojave e sarà che in America quando fanno le cose le fanno alla grande ma la KOH è sempre bella! Ogni anno che passa, questo evento diventa sempre più grande, più organizzato e più spettacolare. Basta dire che quest'anno Hammertown già dal primo giorno di apertura, ovvero sabato 4 febbraio, era gremita di persone, camper e 4x4 cosa che gli scorsi anni avveniva solo verso metà settimana. Il merito di tutto questo va certamente all'organizzatore Dave Cole che in soli undici anni ha saputo far crescere in modo esponenziale questa gara tanto che quest'anno tra i media presenti, provenienti da tutto il mondo, c'era anche la BBC con due troupe, una per Top Gear ed una per girare una serie dedicata alla KOH, l'NBC e molte altre televisioni internazionali. Pensandoci meglio, forse, tutto questo non è dovuto solo a Dave Cole ma anche a quella particolare cultura americana che sa bene come fare business abbinando show e sport. Proprio questo atteggiamento è quello, che nel nostro piccolo, manca a noi europei ed italiani. Tutto questo le aziende di settore a stelle e strisce, ma anche le grandi case automobilistiche come FCA che con Jeep è partner ufficiale dell'evento, lo hanno ben capito; non solo sono presenti in maniera massiccia, con gli alti ranghi in campo, ma sponsorizzano con migliaia di dollari la manifestazione ed i teams. Questo, per loro non significa gettare nella "spazzatura" i propri soldi ma vuol dire coltivare e concimare l'orto dal quale ogni giorno traggono profitto. Del resto la celebre frase di Henry Ford docet: "Chi smette di fare pubblicità per risparmiare soldi è come se fermasse l'orologio per risparmiare il tempo". Si è proprio così perché se non si offre alle persone la possibilità di realizzare i propri sogni e di seguire le proprie passioni ed agli organizzatori di creare eventi, il terreno diventa sempre più arido è arriverà il giorno in cui non darà più alcun frutto. Questo non vuol dire solo investire negli eventi e nei loro partecipanti ma significa investire nella comunicazione di qualità con professionisti del settore. Tutto ciò negli States è molto chiaro ed i risultati si vedono; e da noi? Non sarà già troppo tardi per capirlo? In attesa che qualche cosa accada anche qui nel Vecchio Continente, ecco come è andata la King of the Hammers 2017.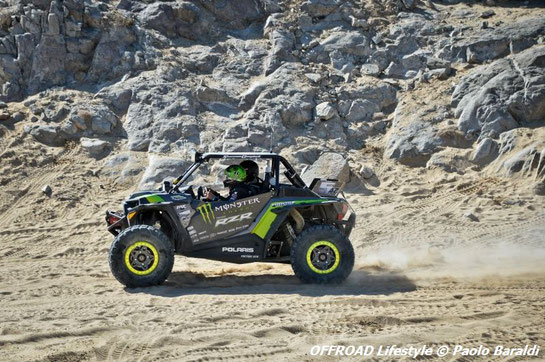 La settimana è stata veramente ricca di eventi come la King of the Motos, il Vision X Shootout e la gara degli UTV, tra l'altro vinta da Shannon Campbell con in seconda posizione il figlio Wayland e terzo  Jon Crowley, ma come al solito gli Ultra4 con tutte le varie sottoclassi hanno tenuto banco. Ad aprire le danze sono stati i due giorni di qualifica che si sono svolti su di un corto tracciato a prima vista tranquillo e che invece si è rivelato essere molto insidioso. Sin dalle prime battute delle qualifying si è subito intuito che nessuno era li per giocare e nelle due Power Hour tutti i big hanno dato il massimo per accaparrarsi la migliore posizione nella griglia di partenza. Il più veloce è stato Jason Scherer, già vincitore nel 2009 della KOH, che ha così dichiarato la sua velleità di entrare a far parte, insieme a Campbell, Slawson, Miller e Healy, nel ristretto club dei "two times winners"'.
Giovedì, tanto per scaldare gli animi al punto giusto, si è disputata lo Smittybilt Everyman Challenge, che con un giro in meno, ha seguito il tracciato della main race. L'EMC è stata vinta da Brad Lovell,  che vince anche la 4800 class, con un grande vantaggio rispetto agli avversari tanto da far sembrare la corsa quasi una passeggiata. Marty Mann è primo nella 4500 class, e Ben Varozza nella 4600 class!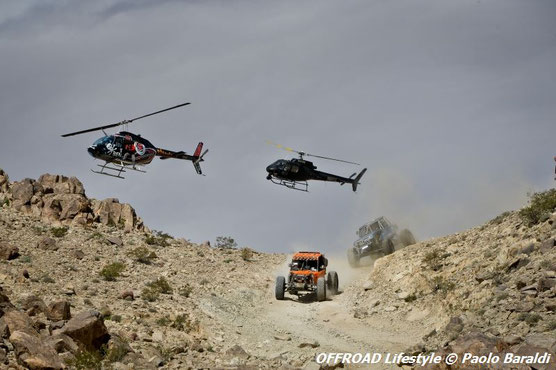 Finalmente siamo a venerdì 10 febbraio; il giorno da tutti più atteso! Alle 6 del mattino, con il sole che faceva capolino dalle montagne, i  concorrenti hanno iniziato ad allinearsi per lo start che è avvenuto puntualmente alle 8. Sin da subito il ritmo della gara è stato velocissimo e come spesso accade qui nella Johnson Valley le lotte, i sorpassi ed i colpi di scena non sono mancati. Ma la vera notizia riguarda la famiglia Campbell: Shannon ed i figli Wayland e Bailey. Quest'ultima, come negli UTV, subito dopo una buona prima parte di gara ha accusato problemi meccanici che l'hanno attardata; la ragazza comunque è ancora giovane, la stoffa c'è e sicuramente farà ottimi risultati. Shannon e Wayland, hanno invece dato vita al "Campbell affair" con un'intensa lotta e bellissimi sorpassi tanto che Campell padre ha così commentato: "siamo stati stupidi, avremmo potuto rovinare l'intera gara... ma ci siamo divertiti". Così, dopo 187 massacranti miglia e deluse le aspettative di vittoria di Scherer comunque terzo, Shannon Campbell dopo il 2008 ed il 2012 vince, entrando così nella leggenda anche per aver corso le ultime venti miglia su un cerchio e con un altro pneumatico bucato, per la terza volta la King of the Hammers con solo 28 secondi, praticamente una inezia su una gara di oltre 6 ore, di vantaggio rispetto all'erede Waylamd. A sera inoltrata, non potevamo non andare dai Campbell, nella loro pit in Hammertown, per salutarli. Shannon ci confessa che "questo è stato il giorno più bello della mia vita non solo perchè  ho vinto ancora una volta la KOH ma perchè ho avuto l'onore di correre insieme ai miei figli". In settima posizione troviamo il beniamino di tutti noi europei: Levi Shirley. Esausto ma felice, ci racconta che "quest'anno, più che mai, è stata una corsa molto veloce con tutti i top driver sempre a fondo con il pedale dell'acceleratore". È ormai sera inoltrata; abbracciamo Levi e la sua bella famiglia, diciamo arrivederci a Dave Cole e salutiamo il Lakebed per avviarci verso Los Angeles e rientrare in Italia con tantissimi ricordi e tantissime belle emozioni.