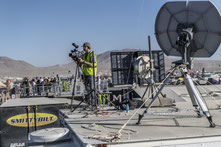 King Of The Hammers live streaming: il backstage
Più di 2 milioni di persone hanno seguito in streaming live la King Of The Hammers 2018. Ma cosa c'è dietro tutto questo? E' quello che vi spiegherò in questo articolo.
Foto Nicolas Stevenin (Journal du 4x4)
Come ben sapete, ogni anno nel deserto della Johnson Valley sorge dal nulla Hammertown il "campo base" della King of the Hammers. Qui, lavora il team di produzione video che offre ai numerosi fans di Ultra4 di tutto il mondo una trasmissione live della King Of The Hammers, dell'Everyman Challenge, della corsa degli UTV, dello Shootout e della King of the Motos. Per rendere tutto ciò possibile, è necessario, oltre ad un grande team di persone specializzate, di enormi risorse tecniche se si pensa che l'area della gara è vastissima e che non dispone di copertura telefonica 4G. Le trasmissioni avvengono quindi grazie ad una connessione satellitare. L'antenna si trova sul camion della produzione TV, il quale dispone di un enorme generatore diesel solo per il suo funzionamento. Questo camion è il vero centro nevralgico dell'intera operazione.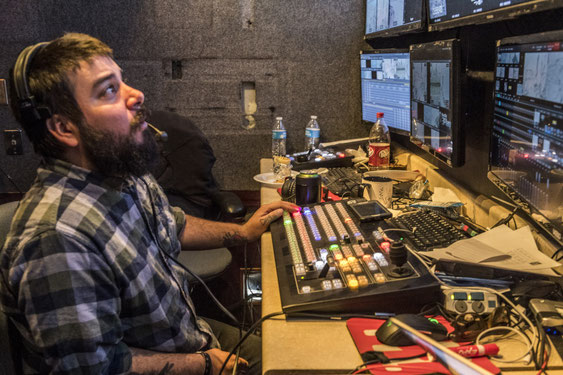 Al suo interno, lavora una squadra di 7 persone guidata dal regista: Timothy Coyote Cote. È lui che, scrutando il PC che gli dà le posizioni dei veicoli in gara ed i numerosi schermi con le immagini provenienti dalle varie postazioni esterne, dirige le riprese e sceglie cosa mandare in onda dal vivo. Gli assistenti di Timothy gestiscono i cameramen, gli elicotteri ed i piloti dei droni dicendo loro cosa filmare e quale macchina seguire. In base agli eventi della gara, ai piloti in testa ed alle azioni più spettacolari, Timothy seleziona il video che vuole inviare sul live. Allo stesso tempo, alcuni membri della produzione sono responsabili della creazione dei replay, degli slow motion e degli inserti pubblicitari che vengono trasmessi. Ben 40 cameramen tra cui 4 operatori di droni sono sparsi nel deserto nelle aree più spettacolari come il BackDoor, il Chocolate Thunder ed il Jackhammer. Alcuni hanno postazioni fisse mentre altri sono mobili e possono muoversi secondo le necessità. Anche il cielo è protagonista! Ci sono infatti due elicotteri che inviano in diretta alla regia le loro riprese.
Il collegamento tra il camion della produzione e le varie postazioni è reso possibile da una moltitudine di piccole antenne e di ripetitori installati, quasi un mese prima della gara, nei punti più alti della Johnsson Valley. Molti cameramen, specialmente quelli che operano nella zona dello start/finish, lavorano con un pesante zaino che accoglie il trasmettitore mobile e l'antenna. Grazie a questa enorme "macchina" che lavora praticamente ininterrottamente, è possibile seguire in diretta da casa propria la King of the Hammers senza aver la paura di perdersi i momenti più salienti della corsa. 
Tutto il materiale prodotto dagli operatori durante la KOH Week, serve inoltre per il montaggio del DVD e per i canali televisivi, come la NBC, che manderanno in onda degli speciali dedicati all'evento.