Nata per celebrare le imprese spaziali degli Stati Uniti a inizio anni '60, la ritroviamo in versione offroad rivista e rimaneggiata dal team Triple Nickel Racing. Seppur a 2 ruote motrici è in grado di dire la sua nelle polverose piste dei deserti americani.
Foto e testo Paolo Baraldi

E' strano dover dire che una tra le più belle auto che ho visto durante la mia trasferta californiana per la King of the Hammers, non era un 4x4. Credo che sarete d'accordo con me alla vista di questa Ford Galaxie del 1964 realizzata da Triple Nickel Racing. Ho visto per la prima volta questa Galaxie parcheggiata ad Hammertown vicino allo stand di PCI Race Radios e non capivo bene cosa ci facesse li una Gasser. Mi avvicino e con immenso stupore mi accorgo che questa Ford era in realtà costruita per le corse offroad. Non una delle tante showcar con gomme più grandi e qualche optional appariscente ma un vero e proprio bolide realizzato per correre alla Mexican 1000.
René Aguirre (proprietario, costruttore e pilota), Eric Dove (builder e pilota) e Joe Thompson (builder e pilota), accomunati dallo stesso sogno e tutti con una grande esperienza nella preparazione di auto da gara, sono il Triple Nickel Racing team e sono gli autori di questa bella Galaxie da loro chiamata Galaxia de la Baja. Basta affacciarsi nell'abitacolo per vedere il rollbar, i sedili da gara PRP ed il GPS Loweance, abbassarsi per osservare le sospensioni modificate con ammortizzatori Fox ed il telaio della Galaxie rinforzato o alzare il cofano dove si trova un 427 Dart stroker con cambio old school Ford Toploader collegato ad ponte posteriore Ford 9-inch, per capire che non si tratta di uno scherzo. Siamo veramente davanti ad un veicolo da gara con prestazioni incredibili che rendono ancora più affascinante questa auto.
Il Triple Nickel Racing team ha iniziato la sua avventura nel 2012 e solo dopo un anno erano già sulla linea di partenza della loro prima corsa: la Norra Mexican 1000. Quell'anno arrivarono secondi nella classe Vintage Production Sedan e 16° nella generale. Nel 2014, nella stessa gara, vinsero la loro categoria. Ho avuto il piacere di sedermi a fianco di René Aguirre per un test drive nel Lakebed. Sono rimasto assolutamente affascinato da questa Ford che in accelerazione ti appiccica al sedile e le cui sospensioni sono indescrivibili da quanto lavorano bene sulle woops prese a tutto gas. Concedetemi l'affermazione, ma questa Galaxie è un vero trophy truck travestito da macchina vintage.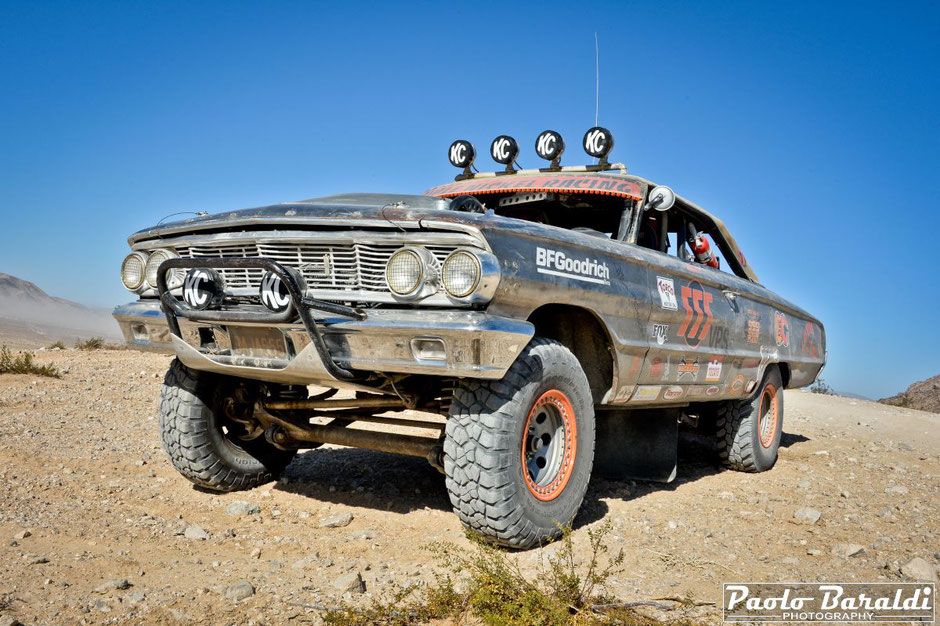 IL PREPARATORE
Triple Nickel Racing 
René Aguirre 
Referente: Krysten Laine - Navigator & PR