Born to celebrate the US space companies in the late 50s, we find it in the off-road version made by the Triple Nickel Racing team. Although 2-wheel drive is able to do a great job in the dusty tracks of the American deserts.
Pictures and text Paolo Baraldi

It is strange to say that one of the most beautiful cars that I saw during my Californian trip for the King of the Hammers was not a 4x4. I think you will agree with me at the sight of this 1964 Ford Galaxie made by Triple Nickel Racing. I saw for the first time this Galaxie parked in Hammertown near the PCI Race Radios stand and I did not understand what a Gasser was doing there. I approached and with pleasure I realize that this Ford was actually built for offroad racing. Not one of the many show cars with big tires and some cool parts but a real racing car made to race at the Mexican 1000.
René Aguirre (owner, builder and pilot), Eric Dove (builder and driver) and Joe Thompson (builder and pilot), who share the same dream and all with great experience in the preparation of race cars, are the Triple Nickel Racing team and they are the authors of this beautiful Galaxie called Galaxia de la Baja. Just look inside to see the rollbar, the racing seats PRP and the GPS Loweance and go in the ground to observe the suspensions modified with Fox shock absorbers and the frame of the Galaxie reinforced or raise the bonnet where there is a 427 Dart stroker with old school gearbox Ford Toploader connected to Ford 9-inch rear axle, to understand that this is not a joke. We are really in front of a race vehicle with incredible performances that make this car even more fascinating.
The Triple Nickel Racing team began its adventure in 2012 and only a year later they were already on the starting line of their first race: the Norra Mexican 1000. That year they arrived second in the Vintage Production Sedan class and 16th in the overall. In 2014, in the same race, they won their category. I had the pleasure of sitting next to René Aguirre for a test drive in the Lakebed. I was absolutely fascinated by this Ford that accelerates you stick to the seat and whose suspensions are indescribable from how well they work on the woops taken at full speed. Grant me the statement, but this Galaxie is a real trophy truck disguised as a vintage car.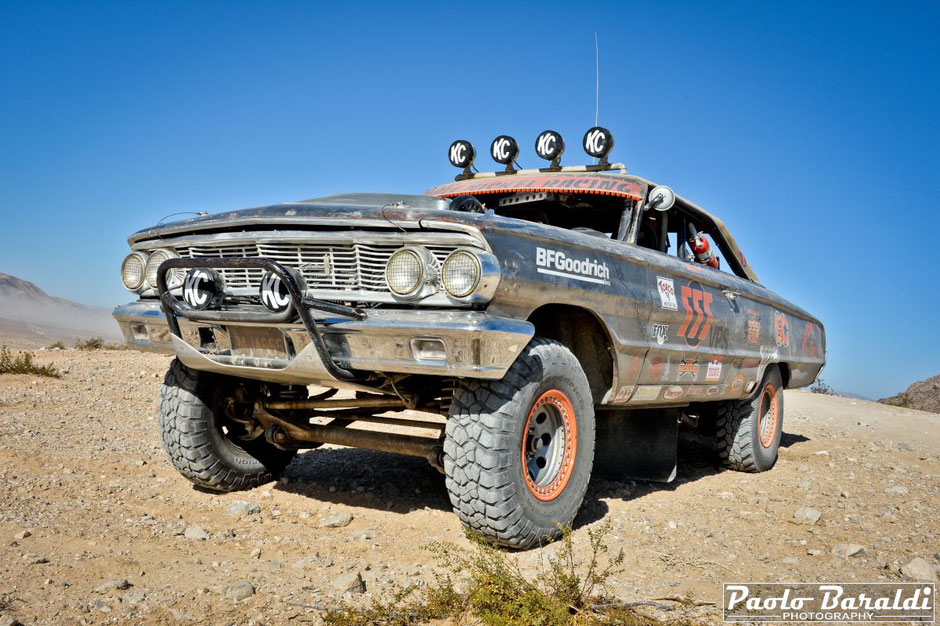 Team
Triple Nickel Racing 
René Aguirre 
Contact: Krysten Laine - Navigator & PR
On Fabebook