Da un pick up Power Wagon del 1951 e dalla passione per il fuoristrada di Jeremy Benson è nato il Race Tractor. Un bellissimo prototipo in stile Ultra4 che esibisce una grande personalità e stile.
Foto e testo di Paolo Baraldi

Quando Jeremy Benson ha sentito dire che, sulle Cascade Mountains ad est di Seattle, a pochi chilometri da casa sua, Bellingham nello stato di Washington, c'era in vendita un vecchio Dodge Power Wagon del 1951, sapeva che doveva essere suo. Ma ciò che Jeremy non sapeva al momento dell'acquisto era che il pick up sarebbe diventato quel "fenomeno" da deserto e da rock crawling che oggi abbiamo davanti agli occhi.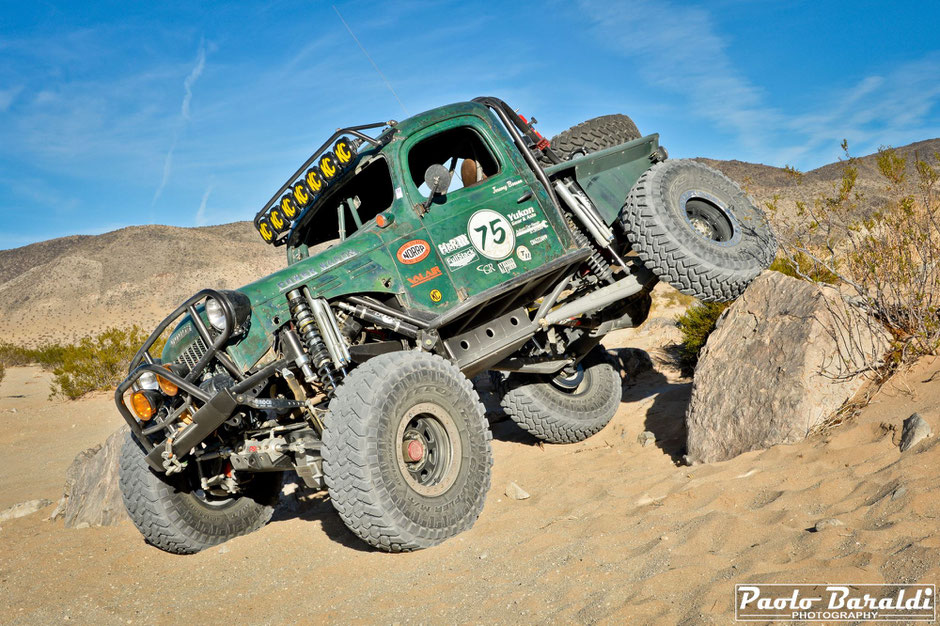 Dopo averlo portato a casa e messo a nudo, si rese conto, a causa delle non buone condizioni del veicolo, che il lavoro di restauro che aveva in mente stava prendendo una strada molto diversa. Avendo a disposizione un motore diesel Cummins 12-valvole da 5.9 litri di prima generazione proveniente da un Dodge pick up W250 del 1992 ed un cambio manuale Dodge modello NV4500 del 1998, Jeremy ha eliminato il motore, la trasmissione di serie ed i relativi componenti per fare spazio al nuovo propulsore. Non molto tempo dopo, nel progetto di Jeremy si fece avanti una nuova idea: trasformare questo vecchio truck in un "rig" in stile Ultra4 in maniera di realizzare qualcosa di unico, funzionale e divertente da guidare.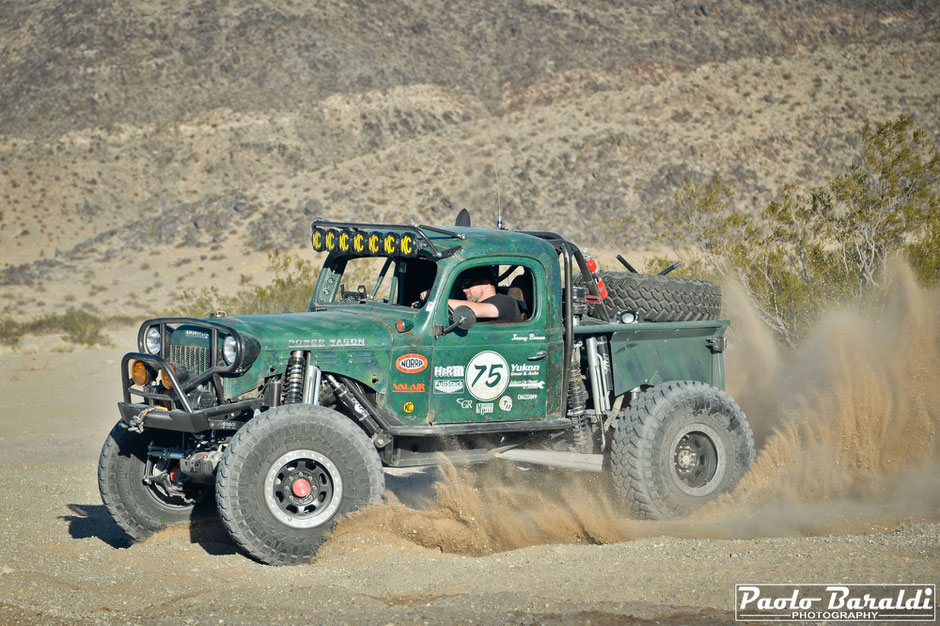 Jeremy Benson è cresciuto nella classica cultura americana dei pick up ed ha affinato le sue abilità nella fabbricazione di 4x4 sin dalla giovane età. Avendo preparato diverse Jeep e dopo aver partecipato nel 2011 alla gara di King of the Hammers come volontario addetto al recupero, Jeremy sapeva che la "build" che stava facendo doveva essere in grado di affrontare l'inesorabile terreno della Johnson Valley. Di conseguenza, il "RaceTractor" è stato costruito attorno ad un telaio tubolare in stile Ultra4, con la cabina che è rimasta l'unico elemento originale del Power Wagon del 51.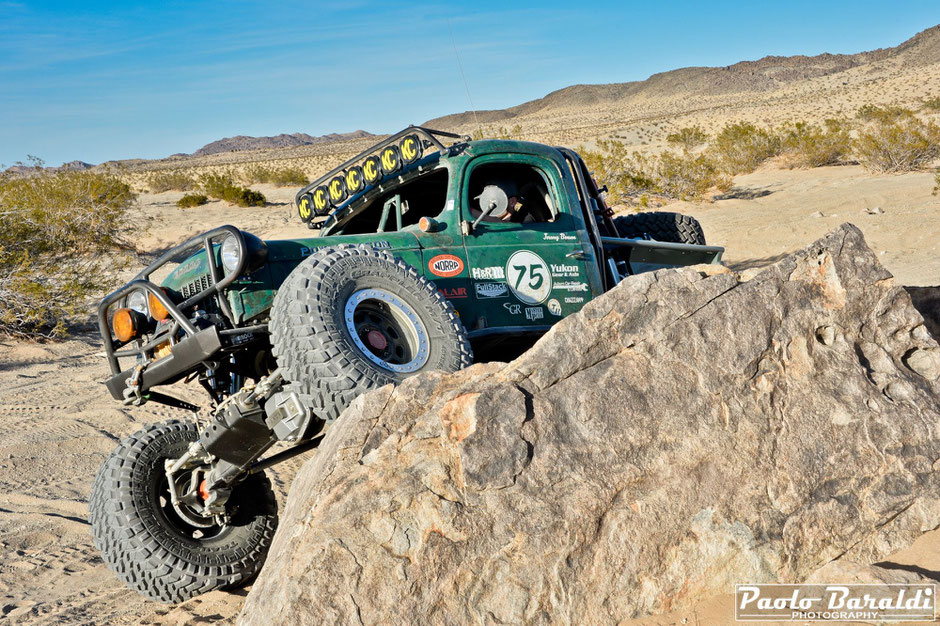 Proseguendo i lavori, Jeremy ha utilizzato un ponte anteriore Dana 60 a pignone Ford di tipo Kingpin, abbinato ad un assale posteriore GM Corporate 14 Bolt. La geometria delle sospensioni è un 4-link con, sia all'anteriore che al posteriore, degli ammortizzatori coilovers Fox Factory Race accoppiati con dei triple bypass sempre della Fox. Concludono, e rendono imponente la preparazione, delle gomme da 40" Trail Grappler della Nitto montate su cerchi Trailready HD da 17".  Sebbene Jeremy non ha partecipato con il Power Wagon alla King of the Hammers, ha corso e finito il NORRA Mexican 1000 nella classe Ultra4, portando a casa un terzo posto.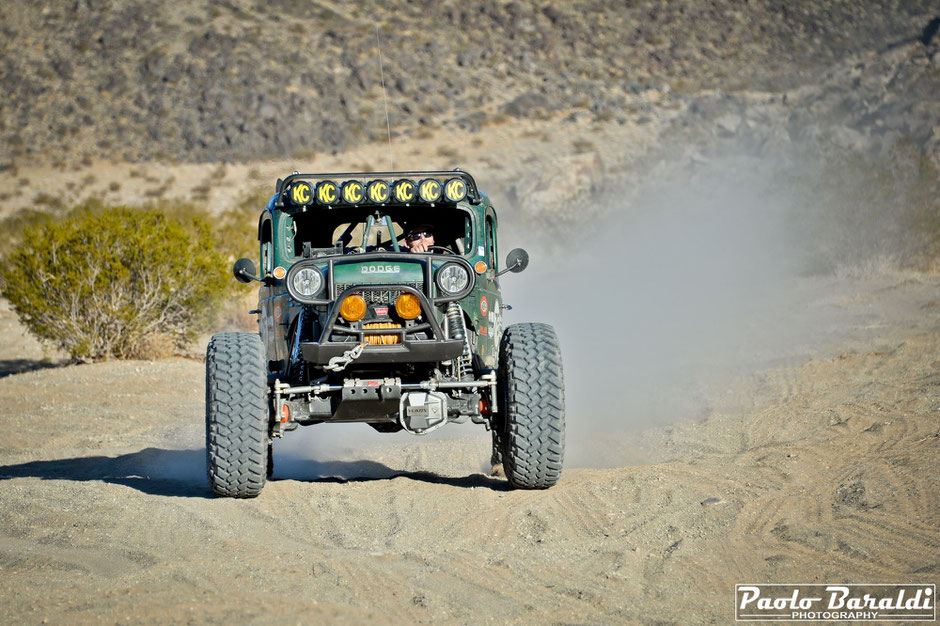 Il desiderio di Jeremy è quello di mantenere il suo Race Tractor così come è: un veicolo 4x4 unico nel suo genere e di continuare a guidarlo ovunque voglia, a prescindere che vada a prendere i suoi figli scuola o che si avventurarsi lungo gli sterrati della contea di Whatcom o nei trails del Lakebed.
SPECIFICHE TECNICHE
- Il telaio tubolare è stato realizzato utilizzando dei tubi di acciaio DOM da 2" mentre per gli elementi secondari sono stati utilizzati dei tubi DOM da 1 3/4". Poiché l'abitacolo della cabina è piccolo, il montante B dietro la cabina è stato rifatto per avere più spazio all'interno per sedili e più comfort.
- Il motore, proviene da un pick up Dodge W250 del 1992. Si tratta di un diesel Cummins 5.9 litri modificato con una pompa di iniezione maggiorata, iniettori da 50 hp, un turbo He351 CW più grande dell'originale. La potenza è di 350 HP con una coppia di 650 ft/tq.
- Il cambio, un manuale a 5 marce è un NV4500HD cheproviene da un Dodge del 1998. E' stato ricostruito con un albero di ingresso Heavy Duty Valair da 1 3/8 "e una la quinta marcia migliorata. La frizione in ceramica è una Valair.
- Il riduttore è un Atlas II con albero di entrata da 300 m e ingranaggi da gara. Rapporto 3.8.
- Il ponte anteriore è un Dana 60 a pignone Ford di tipo Kingpin del 1979. È stato modificato restringendolo di 4" e rinforzato con un traliccio di lamiera, mentre le C sono della Solid con nocche rinforzate. I semiassi a 40 spline sono RCV con differenziale ARB con rapporti Yukon a 4,56.
- L'assale posteriore è un GM 10,5" 14 bolt con rinforzo. Il differenziale è un ARB con rapporti Yukon a 4,56. I semiassi sono Yukon chromoly.
- I freni posteriori utilizzano pinze GM con pistone singolo e dischi da 3/4ton. Quelli anteriori sono a doppio pistone della Ford.
- Lo sterzo è il sistema idraulico completo di PSC e utilizza i bracci dello sterzo Artec.  
- La sospensione anteriore è un 4-link a triangoli inversi. Gli ammortizzatori sono dei coilover Fox Factory Race da 2,5 x 14 " abbinati a dei tripli bypass da 2,5 x 14" sempre della Fox. I bumpstops da 2.5 "x 2" sono Fox.
-  La sospensione posteriore è un 4-link con bracci longitudinali inferiori e bracci superiori a triangolo. Gli ammortizzatori sono  dei coilovers Fox Factory Race 2,5 x 12 " con dei triple bypass da 2,5 x 14" montati sui bracci longitudinali. I bumpstops sono dei Fox 2.5 x 2 ".
- Gli pneumatici sono dei  Nitto Trail Grappler da 40"x13.50 R17 montati su cerchi in lega Trailready HD da 17".