With the victory at BF Goodrich King of Poland, Jim Marsden was crowned 2019 Ultra4 Europe Champion. With this exclusive interview Marsden talks about this important result and how he lives the Ultra4 world.
Photography and story by Paolo Baraldi

There are many European offroad drivers who stand out for their skill and their successes. Among these one is on a higher step: Jim Marsden.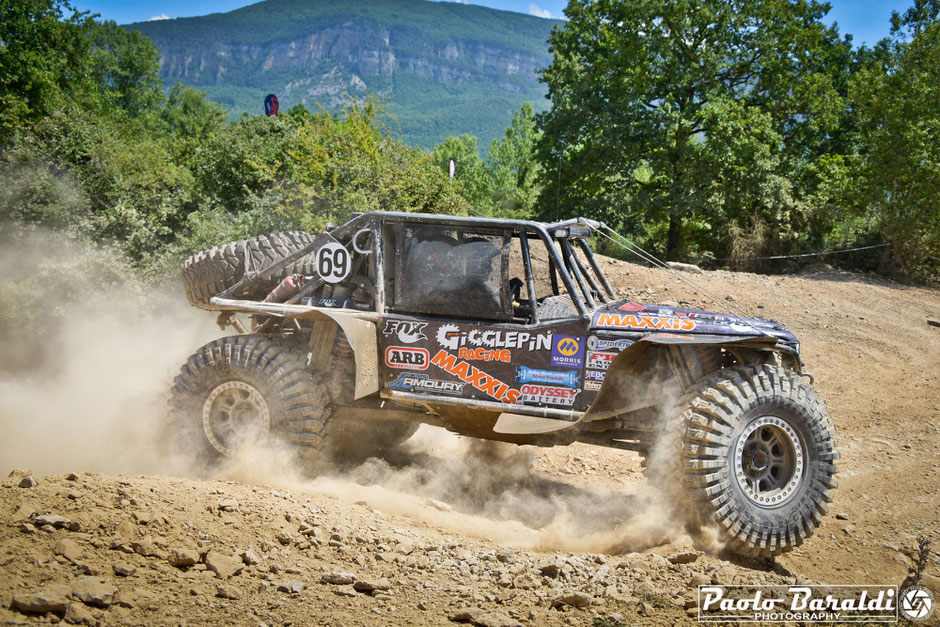 Jim Marsden from 2000 is on the European offroad scenes; races which, besides having given him a great reputation, have allowed him to develop and test his Gigglepin winches. Jim is the most successful European offroad driver; last year he won six titles in international competitions and 7 this year!
Marsden crowned 2019 Ultra4 Europe champion
However, on his important sporting curriculum lacked a title that Jim pursued for years and which, as he told me, represents the crowning achievement of his career as a driver. Finally in October, in Poland, at BF Goodrich King of Poland he managed to make it his own. I'm obviously talking about the title of Ultra4 Europe champion.
The Ultra4 Europe records of Jim Marsden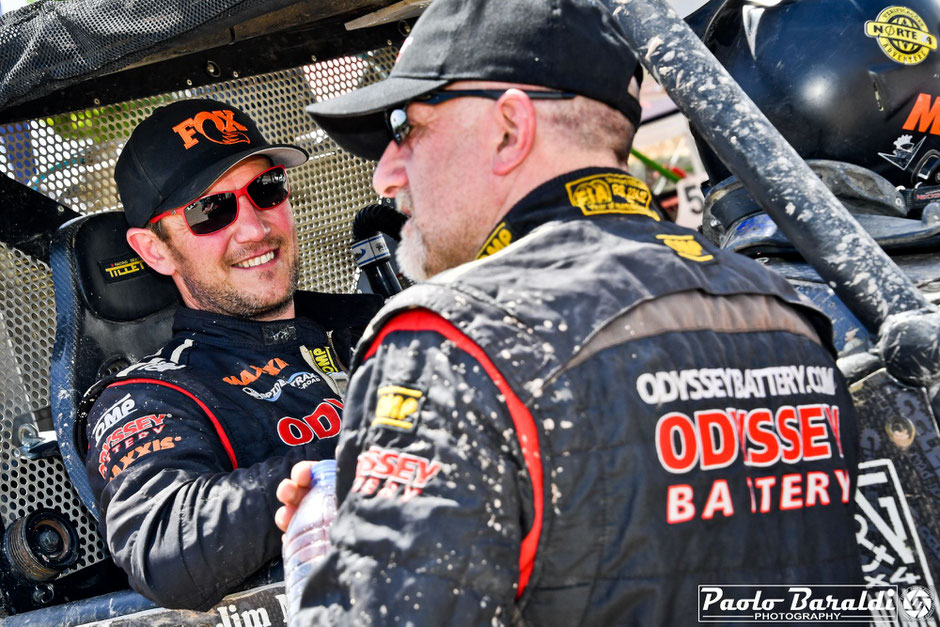 Only 2 other drivers, since the Ultra4 Europe championship was born, have won 3 of 4 races in the same season: Levi Shirley (USA) in 2014 (King of the Mountains, King of the Valleys and King of Portugal) and Emmanuel Costa (PT) in 2016 (King of France, King of Italy and King of Portugal).
Jim Marsden, since Ultra4 Europe has existed, holds another record: he is the only driver with the most victories from 2012 to 2019. He won 6 races!
King of the Glens (UK) – 2014
King of Britain (UK) – 2016
King of France (FR) – 2018
King of Spain Les Comes (ES) – 2019
King of Britain (UK) - 2019
King of Poland (PL) – 2019
Behind him: Emmanuel Costa (PT) with 5 races won, Rob Butler (UK) and Levi Shirley (USA) with 3 races won and Pier Acerni (IT) and Bailey Cole (USA) with 2 races won. Axel Burmann, Jorge Araujo, Jesus Pato, Casey Currie and Nicolas Montador have won an Ultra4 Europe race.
To celebrate the title of 2019 Ultra4 Europe champion, I made this interesting interview with Jim Marsden.
- When and how did you meet Ultra4?
I have been offroad racing since 2000 and when King of the Hammers arrived in 2007, it was clear that it was something special and something we all wanted to be a part of.
- What was your first Ultra4 Europe race and why did you decide to participate?
My first Ultra 4 race was at Walters Arena, Wales in 2012. It was the King of the Valleys and it was gateway into a whole new world of racing. We came from international winch challenge scene and we only ever flirted with fast driving as most of our racing was at slow speeds or hanging off a winch! Ultra4 offered us the opportunity to drive extreme terrain in at speed and that was to become our new challenge. That one race in Wales changed the lives of many people.
- You race both: King of the Hammers and Ultra4 Europe. What are the differences between America and Europe?
The USA is huge! And as such they have more land mass and far more racers than we do in Europe. But Europe has so many different countries and different nationalities and that makes the racing here very special. Plus the USA have been racing since 2007 and Europe since 2012. Every year more cars are being built to race in Europe and I expect 2020 to be a gala year. There will only ever be one King of the Hammers, But Europe offers a diversity that makes it stand out as a superb race series.
- What do you recommend to those of the Team Europe going to race at KOH?
Wow that's a tough question. Lip balm, lots of spares, a great team and a good sense of humour. Without those things you will never survive.
- This was a great U4E season for you. Tell me about this experience.
There have been many highlights but it all started at the first race of the season, the inaugural King of Spain.
Set an hour from Barcelona and in the foothills of the Pyrenees, it was stunning location. The race started well and we won the prologue in hot, dry conditions against a talented line up. But then the worst weather in 10 years set in and the course turned to hell. Steve Grant was in the co driver's seat as Helder da Rocha was injured, and although Steve is an experienced racer, the bad weather and the pace of the course had him being violently ill only 3 laps into the race. He jumped out during a pit stop and I pushed on, finishing the day in first overall, despite a few punctures.
At this race that we meet and first started working with the wonderful Brian and Thomas from Malta. They were racing with Team Nusu, racer Neville Cainter and his family. We were short on pit crew, and they kindly stepped up to help Staci and Steve in the pits and saved the day, fixing our punctures.
The next day Mark Dean, a racer who had already broken his car, dived into co-drive and in improving conditions we hit the dirt again. But the terrible visibility and my driving soon had Mark being ill as well!
But he soldiered on and we crossed the line in 1st place. A superb start to the season. We are Kings of Spain!
Next was King of France at a new location near Lyon. The weather was fantastic and there was a big turn out with all the heavy hitters present for the race. The format was awesome with a prologue on day one, followed by two days of racing, where the crews raced three, one hour sessions per day round a 8 km rock course. It was hardcore to say the least.
We started well, winning the prologue and set about trying to win in conditions that did not suit our car. Portuguese ace Helder da Rocha was back in the car co driving while Gigglepin mechanic Matt was joined by Steve Grant, Thomas Tanti and Brian Aguis from Malta in the pits. Staci Reeson was crew chief and media specialist keeping everything and everyone in order.
We drove hard and fast but taking care of tyres knowing that punctures could not be afforded in this brutal race. At the end of day one we had built a commanding one lap lead and I was in the form of my life. The car felt amazing and the crew had everything under control.
On day two we kept up the pressure winning the first two heats. Then in the final session we got to lap three and I started to wind down the pace to save the car. Then, "Helder something is wrong with the car?!" it was a question and statement. At that point Little lady lurched violently and I knew our race was run. The rear axle welding had failed and we had lost the entire passenger hub including the shaft and the wheel! Game over for King of France. Racing can be a cruel mistress and it was sad end to a race we had all loved.
Next it was time for King of Britain and it was a return to Wales and Walters arena. This was going to be a battle Royal and all the big guns had turned up once again. Plus this time there was also going to be a Saturday night, King of the Hammers style "Shoot-Out", Game on!
We qualified second behind a revitalized Rob Butler who was driving his IFS car with great skill in the wet conditions. Day one started and it was raining hard and freezing cold although it was the middle of July. We started well, but only a few Kilometres in to the 20kilometres lap and we get a puncture. We worked fast and got back on track, soon passing the cars in front of us. We made it back to second place and it was all to play for. In the afternoon session it was clear that we had to get past Rob Butler, but could we find the right passing point on this tight course?
Plan drawn up it was time to get serious and we blasted off the line and the hunt was on. 4 laps in to the 5 lap session we got ourselves were we needed to be and caught Rob going down a rock section. We had being saving a sneaky line for just such an occasion and passed him. Then all hell broke loose!
Rob laid down the power and his IFS skipped down the JLR rock waterfalls, leaping huge distances as we fought to keep him behind us. But at the final waterfall we checked to avoid some huge rocks and Rob blazed past only to run into a tree! We had nowhere to go and drove over the back of his car and powered down the course. Then another car got caught in the chaos and we had to take a sketchy line to pass him, puncturing our drivers side front tyre! This was a race to the finish line and I didn't lift with the flat tyre reinflating on the fast sections, then folding up under us on left hand turns, all the time with Rob all over us trying to find a way past. Then we see Rob alongside us, both cars touching as we accelerate hard in to the forest. At the next left hand bend I over cook it and fly into the trees. We reverse up and expecting Rob to pass, but nothing? Where was he? Not waiting find out, we powered for the finish line and won the session. We later found out that Rob had hit a tree damaging his steering and brakes. A bitter blow for our good friend, but what  an incredible battle to be part of.
That evening we drove the Shoot-Out winning by a full 8 seconds. The crew then worked hard that night be sure everything was ready and the next day we raced on a drying course, as the rain finally eased. We kept our heads and drove a good pace to stay ahead of the field and to record our second win of the year. It felt so good to win our home event and become Kings of Britain.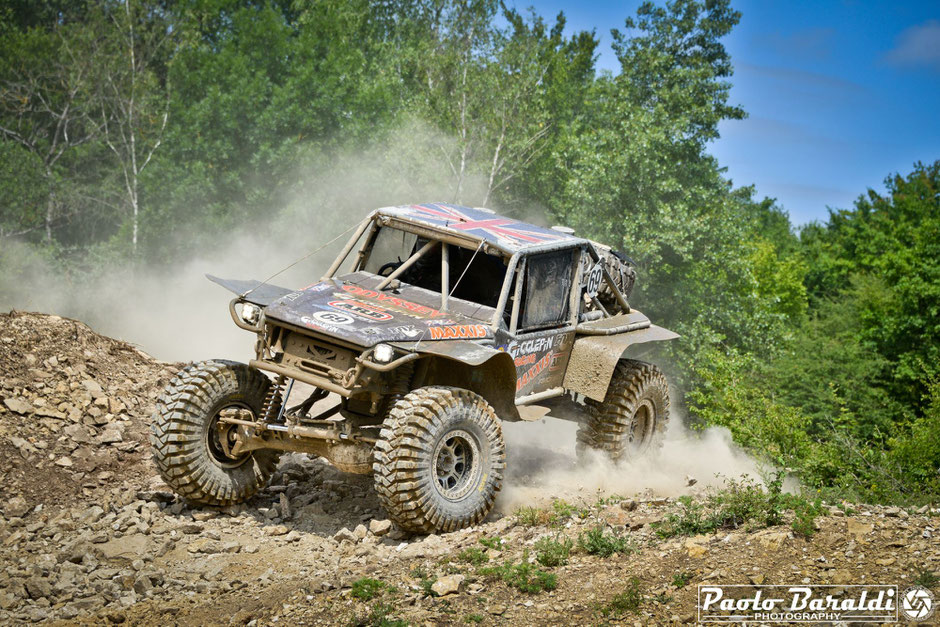 King of Portugal is an event that has become our nemesis. We have podiumed, but never won and always seem to have the right pace but technical problems also find us lacking. But this year we are confident that we are ready to kick some ass and we arrive in Vimioso to see a field of 67 world class cars including a 2 seat Dragon. This was going to be amazing! But life is full of twists and due to extreme dry conditions the national government place a ban on all rural activities, including off-road racing to stop forest fires. We are all gutted it is cancelled and this event still haunts us….
2018 was the first year for King of Poland and we return in 2019 for the season decider. We are leading the championship, but Ultra 4 is never easy and anything can happen. It was still all to play for!
The local community welcomes Ultra 4 and the racers travel into town under police escort to meet over 200 school children, who love to meet the crews and take the opportunity to sit the cars and have pictures taken with the teams.
Then after lunch we head back to the Motorsport park and line up for the prologue. We are last off the line and have already spotted some of our rivals laying down some fast times. But Little Lady is ready for battle and she allows herself to be guided round at break neck pace landing a huge jump to take the win by 5 seconds from French superstar Cedric Porcher.
The race format was similar to previous races seeing us racing 4, 1.5 hour session over two days. But it was never going to be easy and heavy rain meant we were not sure whether we need a car, a boat or fishing gear for the course ahead.
However we are wet weather specialists and Little Lady had her big arches in place, while Helder and myself donned our water proof suits. The flag dropped and the racers charge of the line every 30 seconds. We run a controlled pace and are surprised to see the Crazy Germans charging hard.
But we didn't panic and kept it tidy finishing the first session in first place a full lap ahead of the rest of the field, although we would need to change the alternator for the afternoon session.
Thomas and Brain have flown over from Malta to join us again, with Michael from the Gigglepin workshops and Staci keeping everything in control in the pits. The guys and girls work hard through lunch to get Little lady ready and we line up for the second session.
We blaze off the line and only half a lap in and the alternator stops charging. We can't believe it and have to start thinking fast, thankfully the standing water on track means that cooling is good and we make it back to the hot pit. The guys dive on the car and fit a new alternator in under 8 minutes.
We head out the pits and are mortified when only a few 100 metres later this alternator stops charging as well! "What is going on?!"
Helder and I discuss our options and we decide we have no choice but to stay out and race the best we can. Our Odyssey Batteries are amazing and unbelievably get us round four, fourteen kilometer laps to the end of the session. We finish 2nd but still retain the overall lead.
The next day and what a change, the sun is shining and the course is dry! The EMC head out on course first and sweep the line making for ideal race conditions. We leave the line in second place behind Cedric Porcher who had won the previous days final session.
He put down a good pace, but we had a plan and caught him at the end of the second lap putting pressure on him as he entered the rocks. He pushed hard and sadly got a puncture and that was our chance! We flew by and stayed out in front till the end of the session our one lap lead still intact.
Once again our fab 4 in the pits service Little lady while Helder puts together a nice lunch, Racing isn't all hard work. The sun is shining and the course is now very fast. We know what we have to do and we head off the start line in high spirits. The first lap is bang on pace, not to fast, not to slow.
Then as we head in to the wooded gully on lap two, hell descend on us. "Helder what is that noise?!" memories of France come flooding back as horrible noise comes from the back of the car and its clear we have serious problems. We stop at a safe place and dive under the car to find that a rear upper link bolt had sheared in half and as a result we had lost the anti-roll bar links, rear propshaft and were very lucky not to damage the shock absorbers. We dig through our spares box and to our horror find that the spare bolt we normally carry is not there! But we find a M12 bolt that is long enough and after some clever winching to realign everything, we get it fitted and head back on track. We make our way back to the hot pit having to winch twice on the big hill climbs as we struggle in front wheel drive. The guys do good and replace the bolt and fit a new rear propshaft in record time. Back on track, but without a sway bar we push the pace trying to make up time lost. But in a twist of fate Cedric has also had problems and had also stopped on course. I pulled out the stops and we hit 110mph down the back field as we pushed for the line! Then there it was, the chequered flag! We flew over the line, but had we done enough?
Ultra 4 Race director Richard greets us at the line and confirms that we are the winners of King of Poland and Ultra 4 European Champions for 2019!
- What was the most beautiful U4E race of this 2019?
My Favorite race this year was King of France. The location was fantastic and the weather superb. I drove really well and the team was fantastic as always. But sadly fate had other ideas and we weren't able to win. But it was superb event.
- What does it mean for you to be a Ultra4 Europe Champion?
There has been so much spoken about this over the years and I have always felt I have under achieved by not winning, as its one of the few titles I don't hold.
So to finally bring it home and against a very strong field is an amazing achievement and we intend to celebrate long and hard.
- What advice do you have for those who want to approach Ultra4 Europe races?
Its never been easier to start racing, there are so any ways into the sport with the class system. But I would always advise that people go and watch and speak to the other racers. Everyone is really friendly and always happy to help.
- Little Lady is for sale, can you give me a preview of what your new car will look like and few tech spec?
Ha Ha I wish I could!  But we have not yet decided what we are building, but whatever happens we have to sell this beauty first.
- What are your plans for 2020 seasom?
No plans yet, But I feel the need for a new adventure…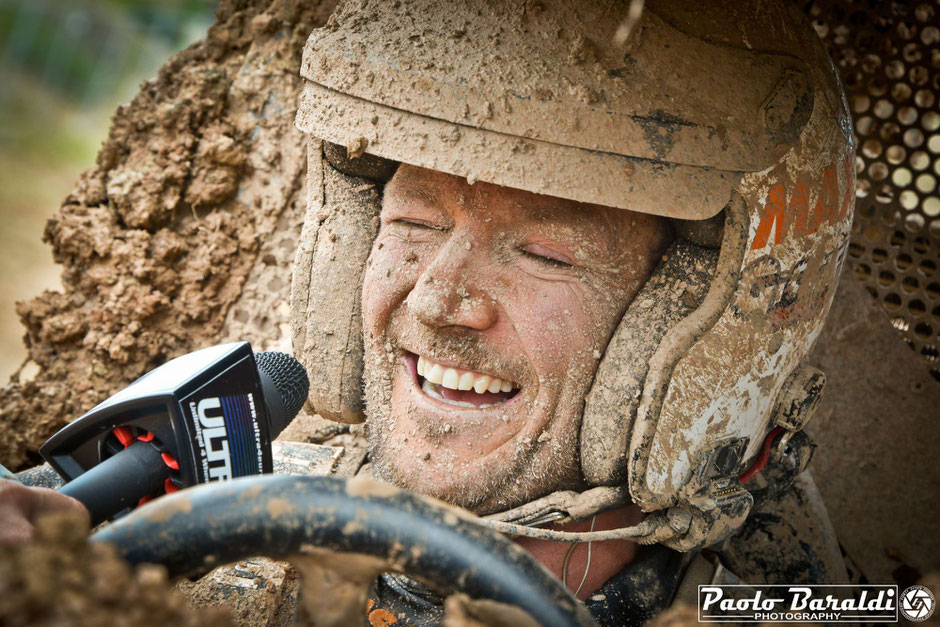 ---