Only a few drivers in Europe have won 6 titles in international competitions in just one year. Jim Marsden of Gigglepin Racing holds this envied record for the year 2018. In this article we will discover all the secrets of his rig Little Lady.
Photos and text by Paolo Baraldi

In Europe, Jim Marsden is the most performing, multi-talented and winning offroad driver of these last decades. During his career there are numerous victories he has collected in the different off-road specialties. From Xtrem Challenge France to Croatia Trophy, just to name a few of his hits, and from King of the Hammers to Breslau, Jim left his signature. The 2018 season was for him one of the best of these last years. Jim Marsden has in fact won the King of France, the Welsh One50, the Breslau 500, the Breslau Poland, the Balkan Offroad and the Wild Boar Valley Challenge. When a driver passes easily from the Ultra4 races to the trophy-marathon races, without neglecting the extreme, and collects in each of these specialties important results can only be a complete and talented driver.
In addition to the driver, and of course the co-pilot, to collect many important results, as Jim Marsden did, the car is equally essential. I still remember when, in Croatia, after the victory at Croatia Trophy Jim told me: "this year my goal is to show that a car built for trophy races is also performing in the Ultra4 races"; and he did it! In 2018, with the new Ultra4 rig he also dominated in trophy competitions. In Bulgaria Jim told me that "I would like to compare myself and the car, always here at Balkan Offroad, in the cross country category".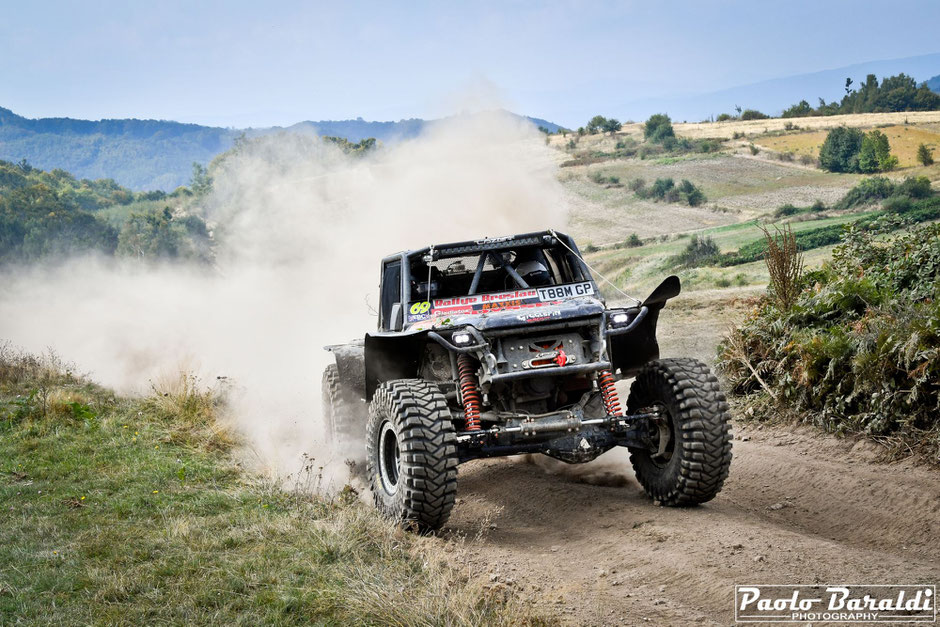 Now let's find out all the secrets of Jim's car, which he calls with love "Little Lady". The tubular frame is an Offender built by the English Offroad Armoury with a body similar to the Defender made in the Gigglepin Racing workshop. The heart of this prototype is a Chevrolet LSX 454 with 650 horsepower, the Spidertrax ProSeries axles, the coilover and bypass by FOX, the Raceline wheels with Maxxis Trepador tires and the Gigglepin GP100 and GP84 winches could not be missing. In addition to the undisputed power of this car, I believe that the strength of Little Lady is the excellent set-up and reliability achieved after a long initial phase of testing. In addition to all this, the success of Jim Marsden in the different off-road specialties is also due to an initial project process that led to the creation of a polyvalent vehicle; not a mediocre compromise on different terrains but a performing "rig" in every situation because the Ultra4 car were born for this reason: to be extremely fast machines and at the same time agile spiders on the rocks (extreme). With the results obtained in the races, our final judgment can only be positive. Little Lady is beautiful to look at, pleasant to hear the LSX sound and spectacular when it's in the race.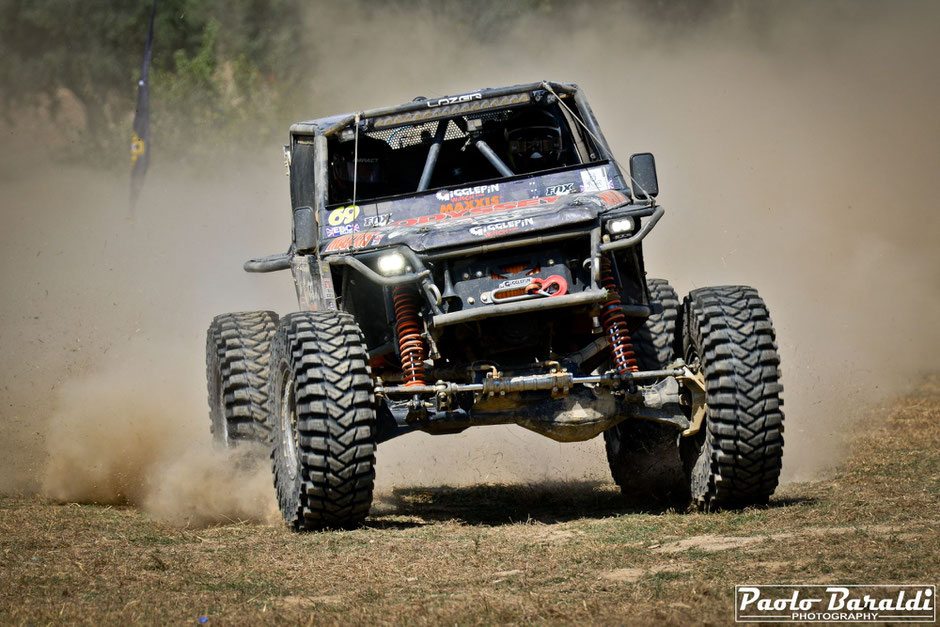 CAR SPEC:
Frame: Offroad Armoury Offender
Body: Gigglepin
Engine: Chevrolet LSX 454 7.4litre
HP & torque: 650BHP 600ftlb
Radiator ecc: Allisport rad and coolers
Batteries: Odyssey PC1500
Shaft axles: Spidertraxs
Axles: Spidertrax ProSeries
Inside axles: ARB 40 spline lockers
Gearbox: Alders 4L80E
Transfer case: Atlas 2 speed race case
Propshafts: Bailey Morris
Suspension: FOX
Rod ends and suspension joints: FK rod ends
Wheels and tyres: Maxxis Trepador tyres and Raceline wheels
Winch: Gigglepin GP100 on the front and Gigglepin GP80 on the rear
Lights: Lazer
Seats: Tillett racing seats
Harness: Corbeau custom
Fuel cell: Allisport
Swaybar: Pac racing springs
Front axle knuckle joints: Yukon gear and axle
Clean products: Duck smart
Brakes: D&G tuning (calipers) Wilwood (master cylinders and discs) EBC (kick ass brake pads)
Steering: D&G Pro ram and PSC CBR pump
Oils and fluids: Morris lubricants
Winch ropes: Gigglepin SuperRope
Frame coatings: Raptor bed liner
Recovery equipment: Damar webbing products
Name: Gigglepin Racing
Driver: Jim Marsden
Co drivers: Helder da Rocha (Breslau 500, Breslau Rallye, Wildboar, King of France, King of Portugal), Ryan Dunn (Cherimont, King of Poland), James Ayre (Balkan offroad rallye) and Alex Wilson (Welsh One50)
2018 EVENTS RESULTS:
Cherimont (Belgium) 8th
King of France (France) 1st
Welsh One50 (wales) 1st
Breslau 500 (Poland) 1st
Breslau Rallye (Poland) 1st
Balkan Offroad Rallye (Bulgaria) 1st
King of Poland (Poland) 4th
Wildboar trophy (Croatia) 1st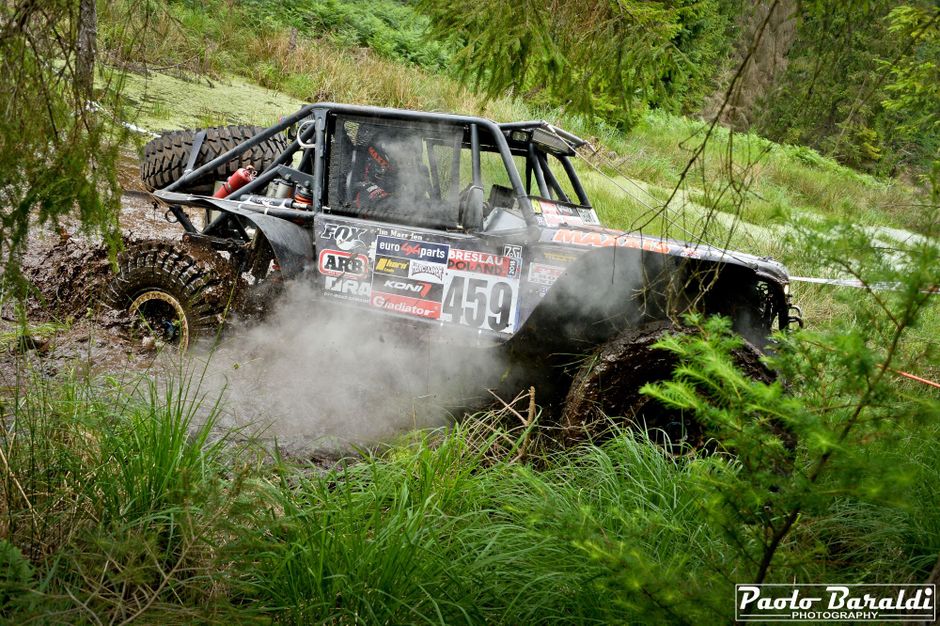 JIM MARSDEN TELL US ABOUT HIS AMAZING 2018
This year has been amazing!
2017 was a year of promise that never really delivered as we suffered reliability problems on our way to winning two titles. But a full rebuild over the winter period saw us back and ready for action in 2018.
We tested the car at Cherimont in Belgium, knowing that the deep clawing mud would be a big test for Little Lady. She was incredible! But we had a few niggles to iron out. At the King of France the team was on top form and we took the title in a hard fought battle against the best Ultra 4 racers in Europe. Then it was off to Wales for the inaugural Welsh One50, billed as the toughest event in the UK! Alex Wilson stepped up to co drive for this one and we cruised through with Little lady making short work of those rock hard trails, title number two in the bag!
Next was the Breslau 500 and the Breslau rallye. A near 2000km marathon once combined. Portuguese ace Helder da Rocha was co driving me but there was a problem. He had never used a road book before and navigation is key to success at this event. Me and Helder worked together working our way round the various problems and showing blistering pace on track, when going the right direction! We won the Breslau 500 and moved to the Breslau Rallye. We had problems on day 3 when a propshaft failed and we found themselves having to complete a 120 km stage in only front wheel drive. We raced hard and eventually won both titles after 9 days of racing, over an hour ahead of our nearest rivals in a dominating display. This team was flying.
Next it was off to Portugal for King of Portugal the event that has been Jims nemesis. No stone was left unturned and the car preparation was total with new radiators, oil coolers and gearbox being replaced. It was exciting from the start sliding off the track during the prologue and having to start near the back of the pack. On race day we passing over 20 cars on the first 36km lap getting up to 2nd place as the racers struggle on the tough course. But an overheating gearbox finishes our event early and the team are forced to retire. However there is no time to rest as we only have two days to get the car ready before drive 3200km to Bulgaria for the Balkan Offroad Rallye. The journey to Bulgaria is fraught with drama as the van blows a turbo and the support 4x4 has gearbox problems. But the team is strong and girls and boys drive day and night to reach Sofia in time for the race.
The Balkan Offroad Rallye is the Jewel of European off-road racing and one Gigglepin have not raced before. It was not going to be easy with over 1600km across mountains, rivers and plains of Bulgaria. James Ayre joined the crew to co drive and made a killer mistake on the first tulip costing the team a 30 minute penalty. Not a great start, but it settled the nerves and from then on James was brilliant. We then established the times that few could match, it did not matter beating. On day 3 disaster struck as we suffered three punctures in stage. We repaired one, but had to race over a 100km with a flat tyre across imaginable terrain. Unbelievably the Maxxis tyre held together and we held on their lead. After racing 8 days we pushed on winning by over an hour as we crossed the line on the sands of the Black Sea. A magnificent achievement.
King of Poland is new event on the calendar and the big boys had all come out to play. It was going to be tough, very tough. It started well on a fast motor cross style course with me and Ryan securing 2nd  in the prologue. Next day we won the first session but problems in the second saw us drop a lap and the title looked out of reach. The next day we pushed hard and won both sessions but it wasn't enough after the unusual brake problem the day before and we had to settle for 4th in a race we had dominated.
The Wildboar trophy in Croatia is another event that the team has not attended until now. It is set in the hills of Buzet, Croatia and has a mix of teams from across Europe with strong contingents from Romania, Hungary, Italy, Belgium, Holland, Austria and Germany. Over 5 days of racing the crews had to battle with the famous Blue Mountains and rivers that had terrifying vertical drops and near insane climbs. Helder da Rocha was again racing with me and the team was ready for this brutal event. Before we started the word on the street was that Little Lady was too big and wide for the tight trails of Wildboar and even the organisers expressed concerns. But just how tight could it be? I had shocker on the prologue and put Little Lady on her roof, but Helder recovered well and only a couple of minutes were lost, but we would be starting in 23rd position the following day. Next day was a 110km marathon stage through amazing forests and mountains. Helder smashed the navigation as me set about doing what he does best. We jump up the table to 2nd place only 10 minutes behind the leader. Over the week we pushed hard but the course was very tight in places and we had to breathe in deep to squeeze through on more than one occasion. On the final day the team had a 20 lead with only one Super Xtrem stage remaining. As the crews walked the stage it obvious that starting first was going to be a huge disadvantage. But this is where me and Helder excel, we planned the stage and executed it with style increasing our winning margin to 31 minutes.
What a season. Six international tiles across three different disciplines including Ultra4, Trophy Raid and Winch Challenge. We said it wasn't possible, but the guys and girls in the Gigglepin team made it happen.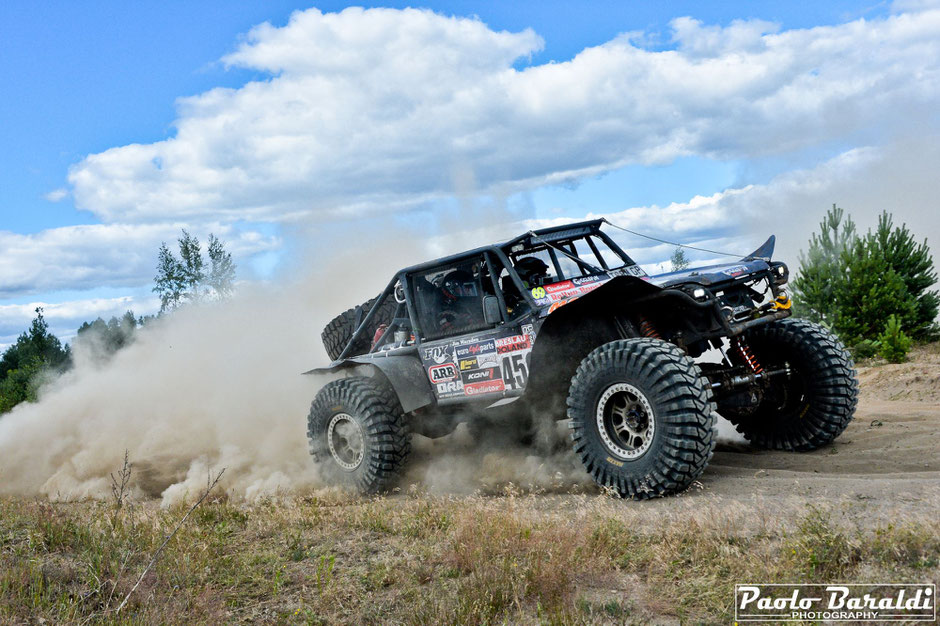 A huge thank you to Helder da Rocha, James Ayre, Alex Wilson, Ryan Dunn, Staci Reeson, Steve Grant, Martha Tansy, Karen Major, Matt Weeks, Lawrence Harrison, Elli Tansey, Samuel Marsden, Ben Ryan, Iain Cherry, Ferdinando Bartolucci and the many other people that have helped throughout the year and huge Thank you to all our amazing sponsors that support us through the good and the bad: Odyssey Batteries, Maxxis tyres, Offroad Armoury, Gigglepin Winches, ARB, Morris Lubricants, FOX, Spidertrax, Raptor, D&G Tuning, EBC Brakes, Wilwood, Lazer Lamps, FK Rod Ends, Allisport, Prolinx Suspension, Tillett Racing Seats, Alders Transmissions, Pac Racing Springs, Duck Smart, Corbeau, Raceline Wheels, Yukon Gear and Axle and Damar webbing.