Jeep ha affidato a Savvy Off-Road il nuovo Gladiator per portarlo in gara al King of the Hammers 4WP Every Man Challenge. Robby Gordon e Erik Miller lo hanno guidato vincendo le qualifiche e classificandosi sesti nella  Spidertrax 4600 Stock Class.
Foto e testo di Paolo Baraldi

Presentato lo scorso novembre al Los Angeles Auto Show e ad oggi non ancora commercializzato, il nuovo Jeep Gladiator ha inaspettatamente fatto la sua apparizione nella Johnson Valley (California) durante la King of the Hammers week. Questa volta non in esposizione come ci ha abituato Jeep, partner di Ultra4 Racing, con i nuovi veicoli, ma in gara nella Spidertrax 4600 Stock Class del 4WP Every Man Challenge.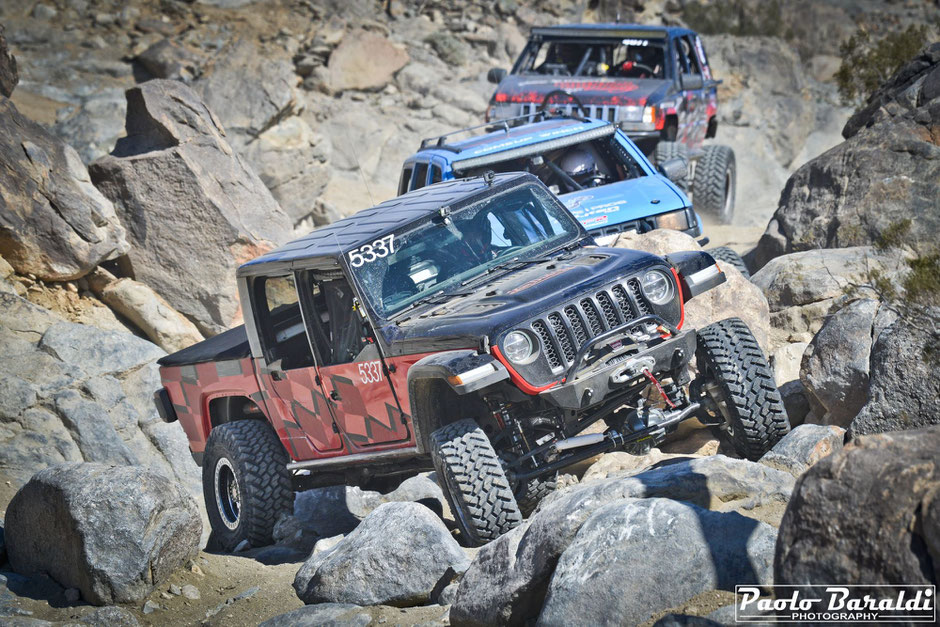 Solo 10 giorni prima dell'inizio della King of the Hammers week, Jeep ha consegnato a Savvy Off-Road un Gladiator Rubicon pre-serie per prepararlo per partecipare all'Every Man Challenge nella categoria Stock; ricordiamo che per questa categoria il motore deve essere serie, come il telaio e la carrozzeria, si può usare un solo ammortizzatore per ruota e pneumatici Massimo da 35 pollici. Tim Kuniskis, Head of Jeep Brand - North America ha dichiarato: "Jeep ha frequentato per molti anni la King of the Hammers, ascoltando, osservando e coinvolgendo i fuoristradisti che animano Hammertown. Questa volta, abbiamo pensato, anche se non ancora in produzione per inostri clienti, di utilizzare la più dura gara di fuoristrada di un giorno al mondo come ultimo banco di prova per il nostro Gladiator."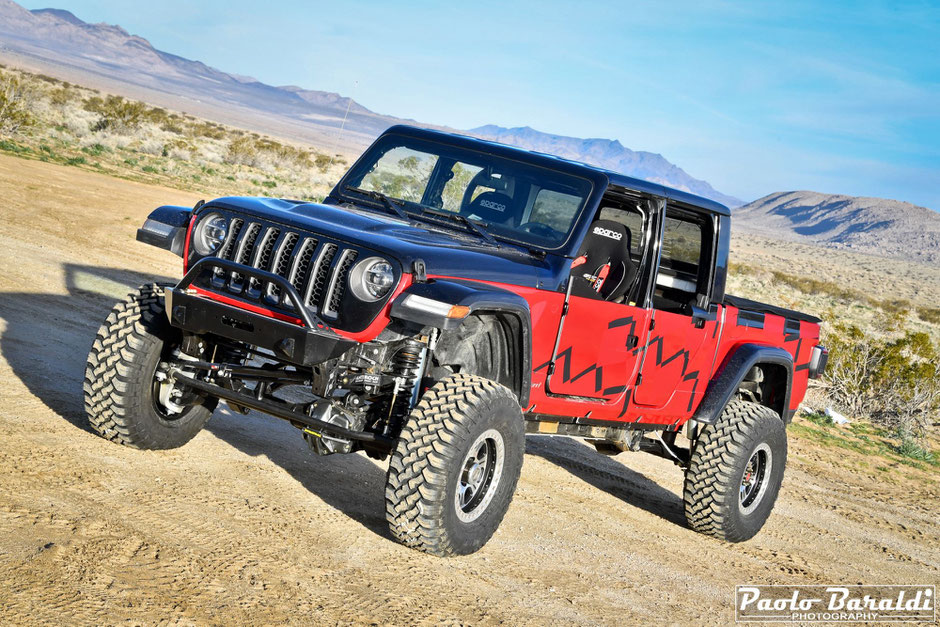 Savvy Off-Road, con sede a Corona in California, ha una lunga esperienza in questo tipo di preparazioni: ha vinto ben cinque volte consecutive l'EMC (dal 2012 al 2016) e poi ancora nel 2018. Dal quartier generale di Savvy Off-Road ci hanno ditto che "è stata una missione difficicile quella di portare il Gladiator sulla linea di partenza dell'Every Man Challenge. Abbiamo avuto solo due settimane di tempo, da quando Jeep ci ha consegnato il Gladiator, per prepararlo. I nostri partner si sono subito resi disponibili fornendoci i migliori prodotti per concludere la nostra missione."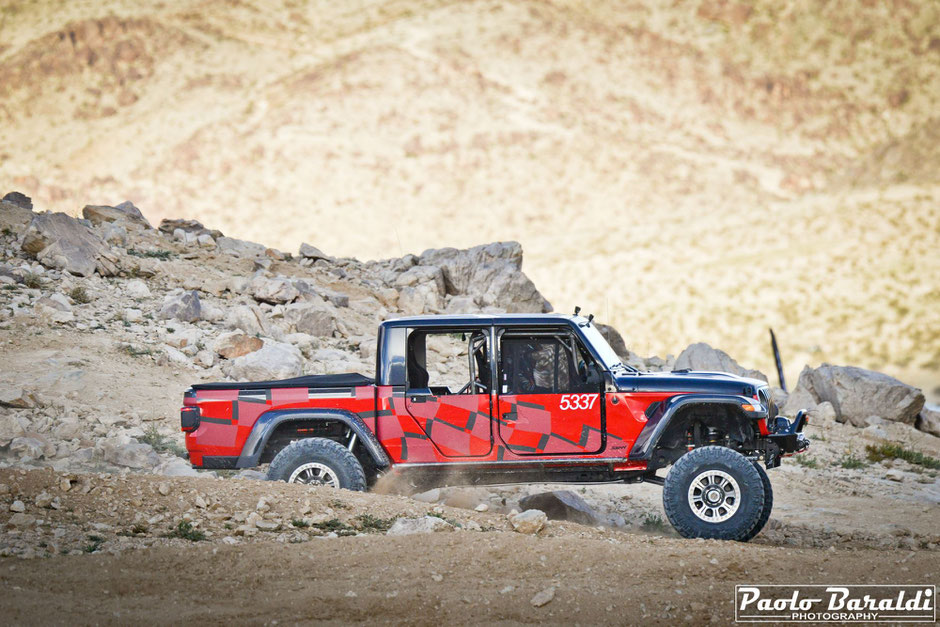 Il Jeep Gladiator Rubicon è equipaggiato con un motore originale da 3.6 litri Pentastar V6 con 285 cavalli ed una coppia di 260 lb/ft. Il cambio è quello automatico a 8 rapporti. Savvy Off-Road ha utilizzato per le sospensioni il kit Rock Krawler da 4.5" realizzando in proprio il 4-link posteriore ed abbinando al kit gli ammortizzatori Fox 2.5" con serbatoio esterno.  I ponti di serie sono stati sostituiti con dei Dynatrac ProRock 60 High Pinion. Savvy si è occupata anche della realizzazione del rollbar interno, dei paraurti ed ha equipaggiato il Gladiator di tutto quanto necessario per la gara.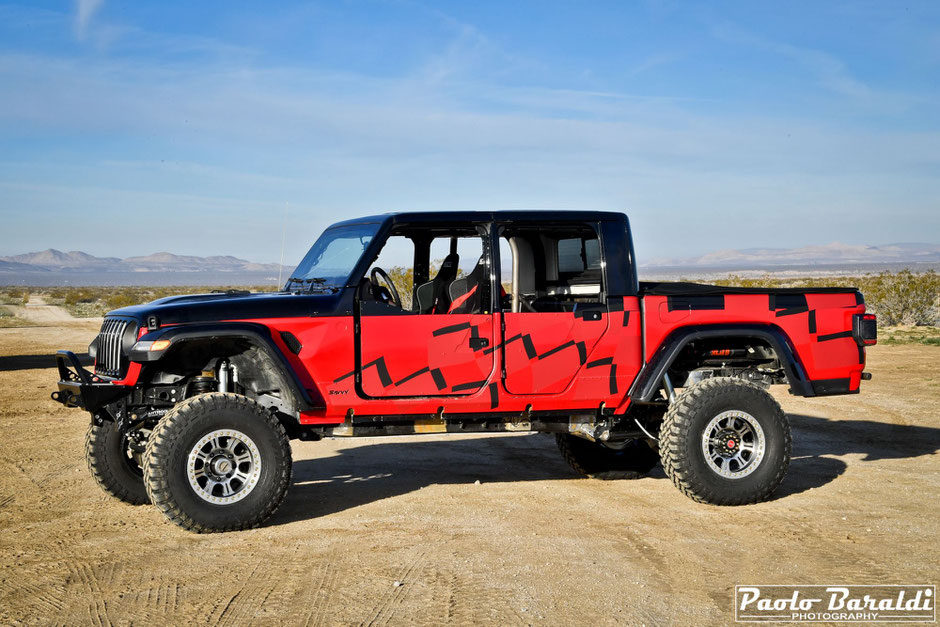 Per condurre in gara il Gladiator e per riuscire nella missione di farlo arrivare al traguardo, sono stati scelti due piloti di tutto rispetto: Robby Gordon, che vanta una lunga carriera nelle desert race, nella Nascar, nella IndyCar ed in molte alter gare, ed il due volte vincitore del King of the Hammers Erik Miller.
Nelle qualifiche, il Gladiator è partito nella Power Hour, come ultimo veicolo, con Erick Miller alla guida che ha fatto registrare il miglior tempo della Spidertrax 4600 Stock Class.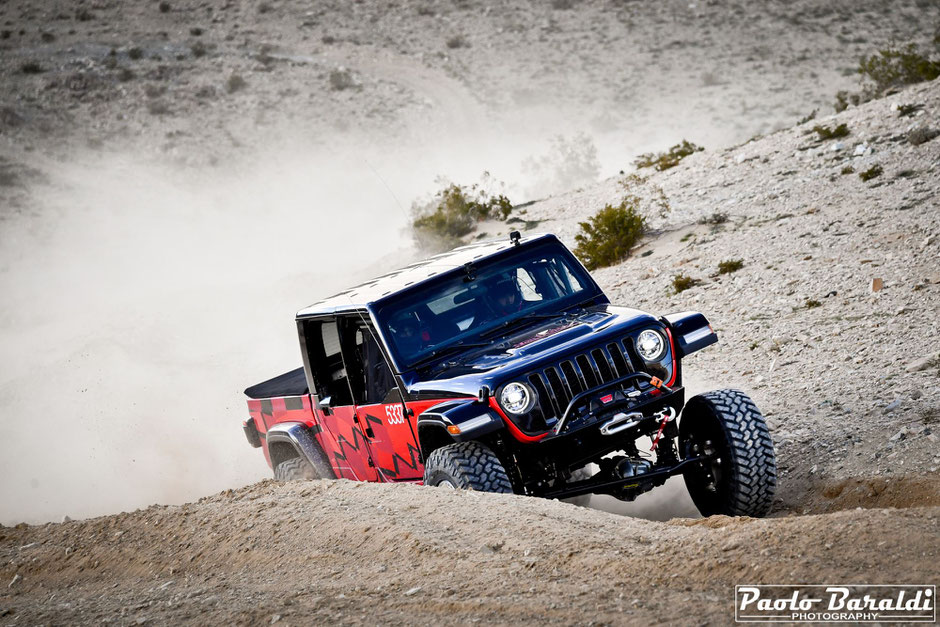 Il percorso di gara del 4WP Every Man Challenge ha avuto una lunghezza di165 miglia diviso in due giri: uno nel deserto ed uno attraverso i più duri Hammers della Johnson Valley. Robby Gordon ha guidato il Gladiator nel primo lap nel deserto preoccupandosi di raggiungere la più alta velocità possible, mentre Erik Miller si è occupato di far passare al Gladiator tutti i trails del secondo lap.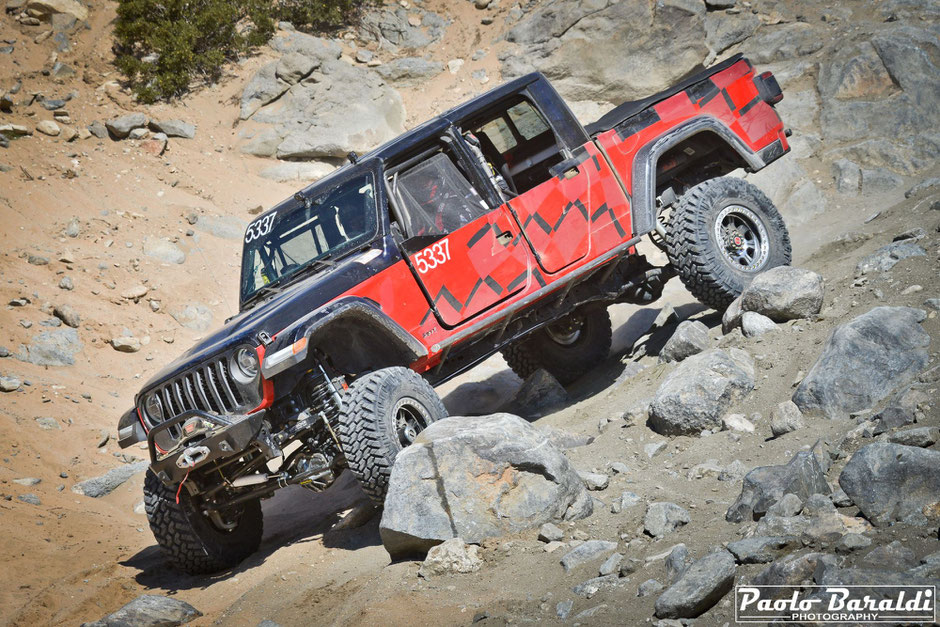 Dopo poco più di 10 ore (10:04:17), Erik Miller e Robby Gordon hanno concluso la gara classificandosi sesti nella Stock Class; un'impresa impressionante per questo nuovo pick up di Jeep che ha superato positivamente il duro test della King of the Hammers.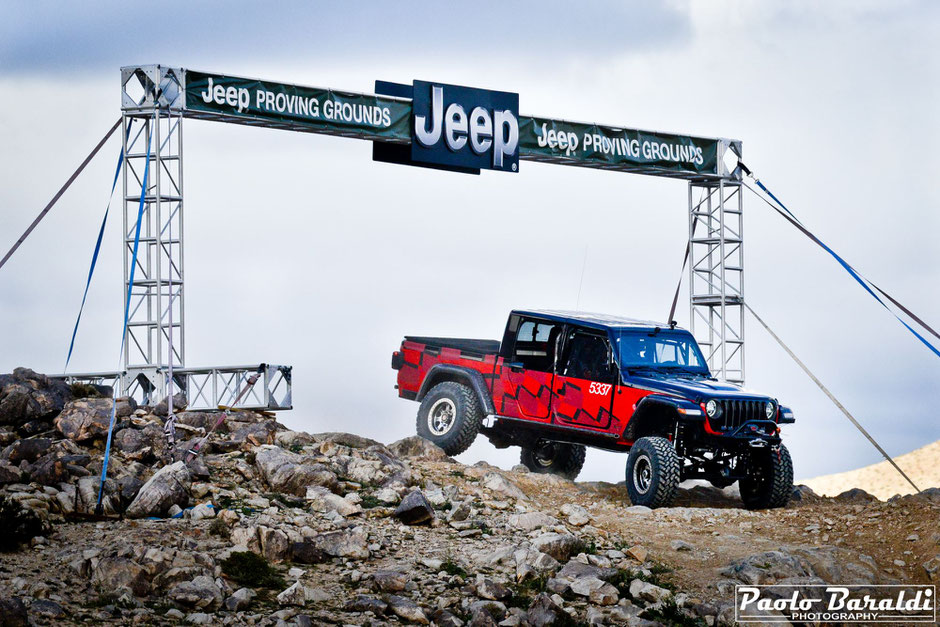 2020 Jeep Gladiator 4600 Stock Class
Motore Pentastar V6 da 3,6 litri da 285 cavalli e 260 lb/ft di coppia
Cambio automatico a otto rapporti
Ponti Dynatrac ProRock 60 High Pinion - 69 "wide con blocchi ARB.
Scatola guida PSC con tiranti Yeti.
Sospensioni Rock Krawler 4.5" con 4-link posteriore Savvy Off-Road
Ammortizzatori Fox 2.5" con serbatoio esterno
Fox 2" Air Dumps
Cerchi Raceline Monster 231 con Beadlocks
Pneumatici Falken Wildpeak MTS 35"x 17"
Scarico Magnaflow
Serbatoio  RCI con pompe Bosch 44
Batterie Odyssey
Sedili Sparco con cincture a 6 punti
Rollbar Savvy Off-Road da 2"
Paraurti posteriore e paracolpi Savvy Off-Road
Paraurti anteriore Savvy Rock Krawler
Savvy Under Armour pancia piatta
Verricello WARN Zeon 10S
Il preparatore:
Savvy Off-Road: www.savvyoffroad.com
---
---
---