Fans, drivers, crew and teams counted down the 10 most iconic drivers in Ultra4 as a part of the countdown to the 2020 Nitto King of the Hammers week. In this article I put them all together with a surprise for the Europeans: Jim Marsden.

"i·con /ˈīˌkän/ noun: A person or thing regarded as a representative symbol or as worthy of veneration.
Drive. Determination. Passion. Three key factors in becoming a winner and becoming an icon. Bailey Campbell, Levi Shirley, Jim Marsden, and 2-time King and all around awesome guy Erik Miller all demonstrate these key characteristics. Who do you guys think is the most Iconic racer of all time? We are now taking fan nominations in the comments."
With these words, Ultra4 Racing's communication called its fans to the vote which gave the following results.
#1 Shannon Campbell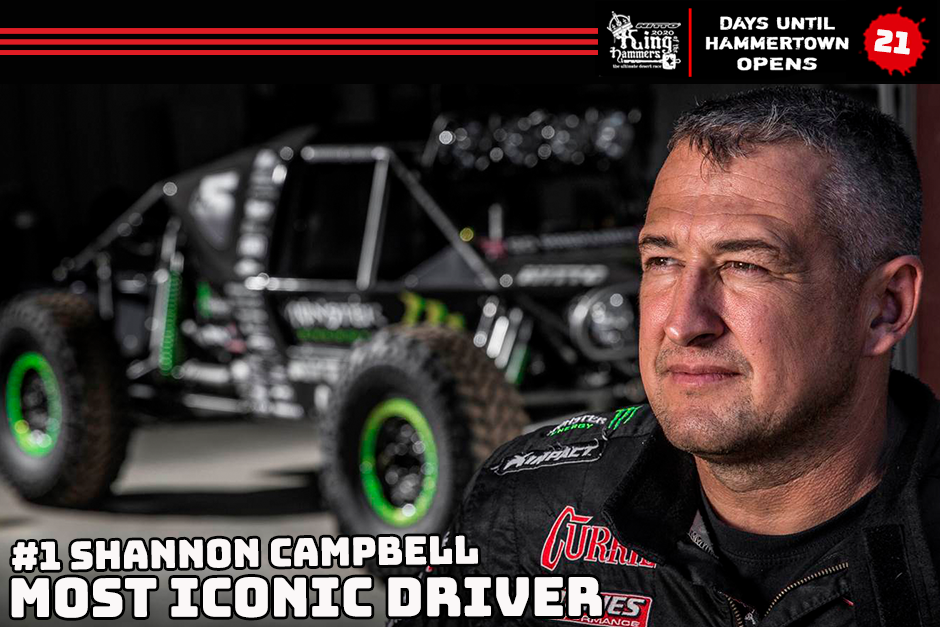 Shannon Campbell. The man, the myth, the legend. What can be said that hasn't already been said? Off Road Motorsport Hall of Fame inductee, 3-time King of the Hammers, innovative and consistent builder, larger than life personality, "checkers or wreckers" racing style, competitive, genuine, generous, likeable, determined, larger than life… the list goes on. You will run out of words before you run out of accolades for Shannon.
If it can move, Shannon can race it and he will probably win in it. A throwback to the old school days of racing, Shannon is not only fierce competitor on course, but he's an iconic fan favorite and mentor off the course. Everyone has a story about how Shannon helped them out in the pits, or spent time with their kids at the track, or gave his trophy to a fan, or told you he was going to beat then went out and beat you. Badly. And then had a beer with you after and helped show you how you could get better.
Father of a racing dynasty, rock crawling legend, Ultra4 legend, campfire legend, visionary in design, experienced competitor, mentor to some of the most successful drivers in Ultra4 history, and consummate racer to the bone. Shannon Campbell is the #1 Most Iconic Driver in Ultra4 Racing. Congratulations, Shannon, on being the baddest of the bad, fastest of the fast, and most iconic of the Icons.
#2 Erik Miller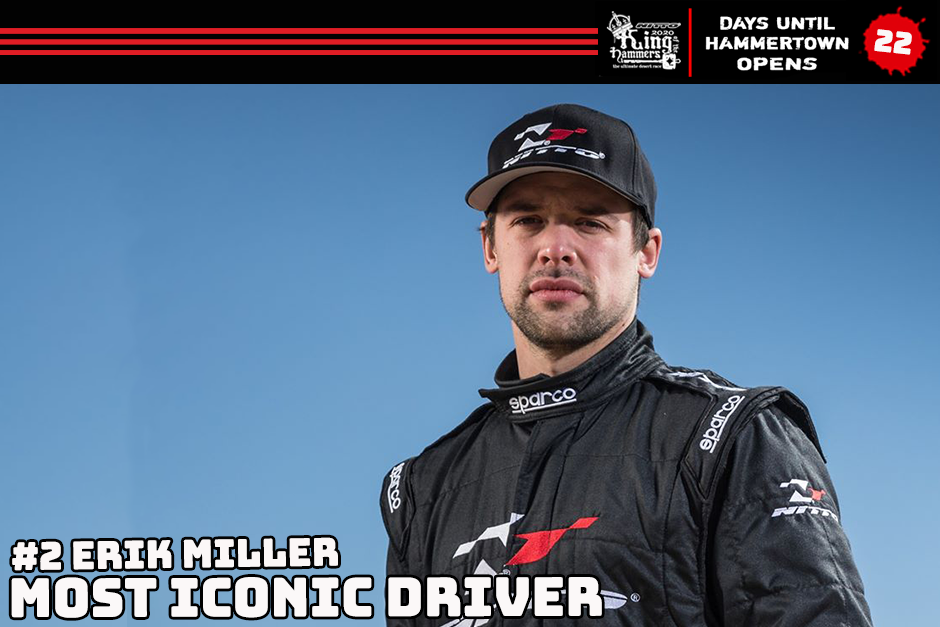 Erik Miller is a 2-time King, Nitto National Champion, builder, business owner, father, and icon of the solid axle race crowd in a world of chicken wings. Smart, determined, and innovative, Erik was the first East Coast racer to win the King of the Hammers, breaking the myth that only a west coast rock guy could win. Erik and team's meticulous attention to detail and professional approach to race prep and planning make him a formidable competitor. Erik's natural driving talent and almost super human ability to remain cool under pressure has made him a Champion. Racing 4400 Unlimited cars, a 4600 stock class car, UTV's, or supporting one of the many Miller Motorsports chassis that have dominated the straight axle build set the past few years. Respected as a competitor and admired as a person, Erik is our #2 Most Iconic Driver.
Erik Miller was born out of grassroots beginnings in small town Maryland. He shares his success with his team of dedicated friends that span from Virginia to New York who volunteer their time to the race effort, ranging in anything from fab work to pit support. They have traveled the country winning races from Pennsylvania to California, earning consistent time on the podium year-round. If you've ever met Erik Miller at an Ultra4 race, you've probably seen a serious and highly focused driver. While that intense focus continues to guide him off the track, his "normal" life is much more relaxed and laid back, especially after becoming a father last year.
With humble beginnings in local rock crawling comps at the age of 17, Erik has persistently climbed the rock sports ladder, enjoying continued success along the way, all the way up to winning multiple titles as King of the Hammers, as Ultra4 National Champion, as coach and mentor, and precision planner for success. His partnership with Big B racing to innovate the manufacturing process of his Miller Motorsports chassis have paved the way for consistent, repeatable success for him as well as other owners of his championship chassis.
#3 Jessi Combs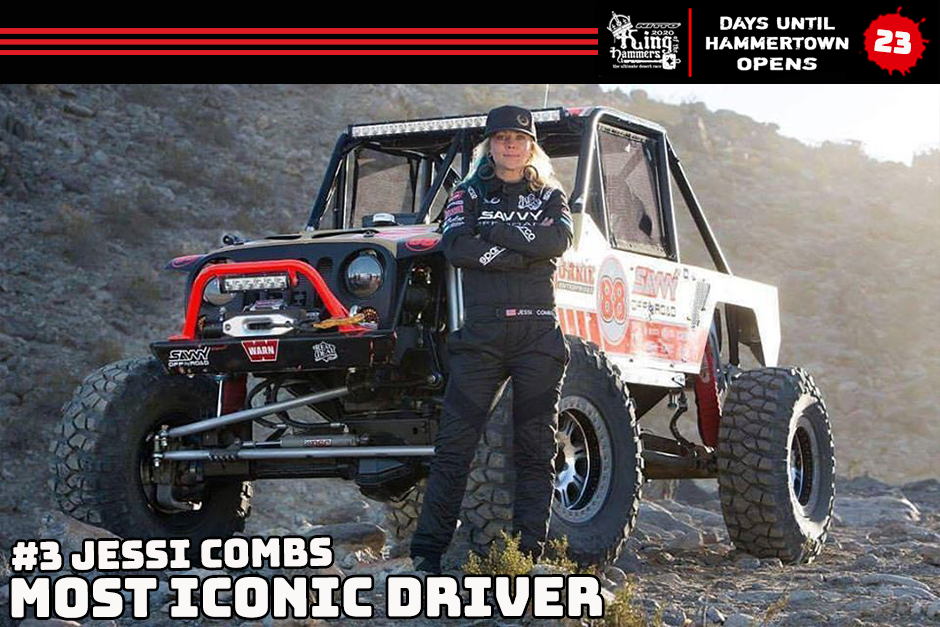 Jessi's passing caught everyone by surprise. Full of life, spirit, and smiles, everyone has a Jessi story. Winning the Spec class at the King of the Hammers and winning the 4600 Stock class (and an overall podium position) were just a few of many icon moments Jessi Combs brought to Ultra4 Racing and the King of the Hammers.
With a lifelong desire to become a race car driver, she found a love for speed and its machines at a very young age. In addition to her passion for automotive, Jessi was an artist who spent much of her time creating with her own hands. She loved metal working, leather craft and photography, and would create anything she could dream up.
She was an independent and adventurous spirit, boasting the skills and the personality to host and star in well known automotive shows. Not known for sitting still, Jessi began her own metal fab shop building hot rods, motorcycles, custom trucks, race vehicles and more. After realizing a need in the industry, she developed a line of welding gear for ladies. Her ability to create opportunities for women and achieve her goals, all while maintaining her fast-paced and hands-on way of living will forever define Jessi in the hearts of people around the world.
The Jessi Combs Foundation was founded in 2019. The mission of the foundation is to educate, inspire and empower the next generation of female trailblazers & stereotype-breakers. To learn more, please check out www.thejessicombsfoundation.com
#4 Jason Scherer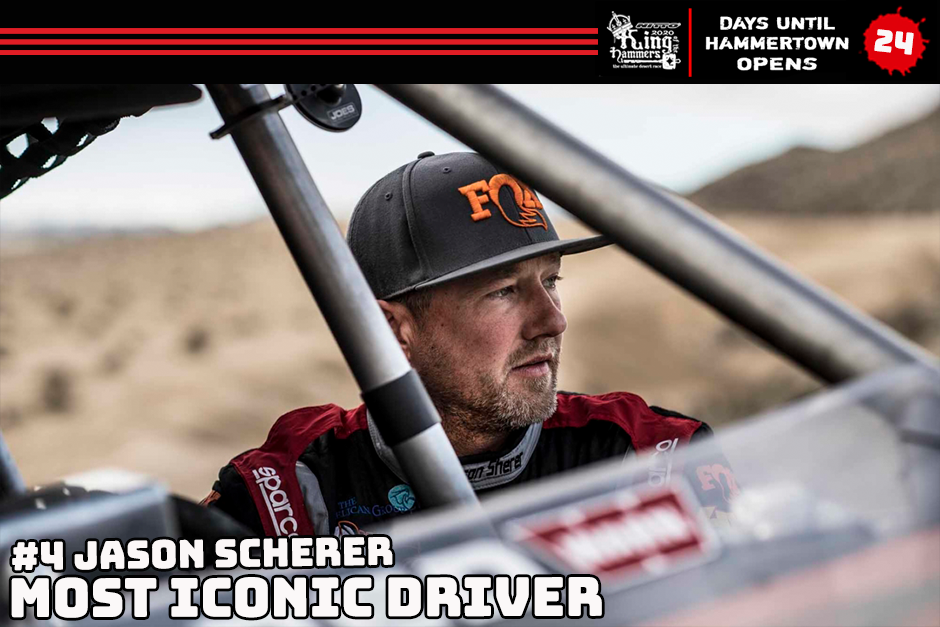 Jason Scherer is the only back to back King in Ultra4 history. A 3-time winner (once in the early days, then back to back in 2018 and 2019), 3-time Ultra4 National Champion, Crandon World Champion, Triple Crown of Off-Road Champion and other rock crawling championships, Off-Road Hall of Fame Impact Award winner, and all around nice guy, Jason Schererererer is a model of physical and mental preparedness. Jason and Rage 4th meticulously prepare for KOH and leave nothing to chance as their focus is to win and become the only 4 time champion in KOH history.
Jason Scherer has been racing for over 20 years. He not only holds the most KOH podiums, he also has a top 25 finish in every King of the Hammers race since 2008. Jason's growing list of established race series finishes has earned him the honor of being nominated for Dirt Sports "Driver of the Year" award two years in a row. Scherer embraces his racing career with a very supportive wife and children who join him on the trails of Northern California in their 1972 Jeep CJ-6.
#5 Loren Healy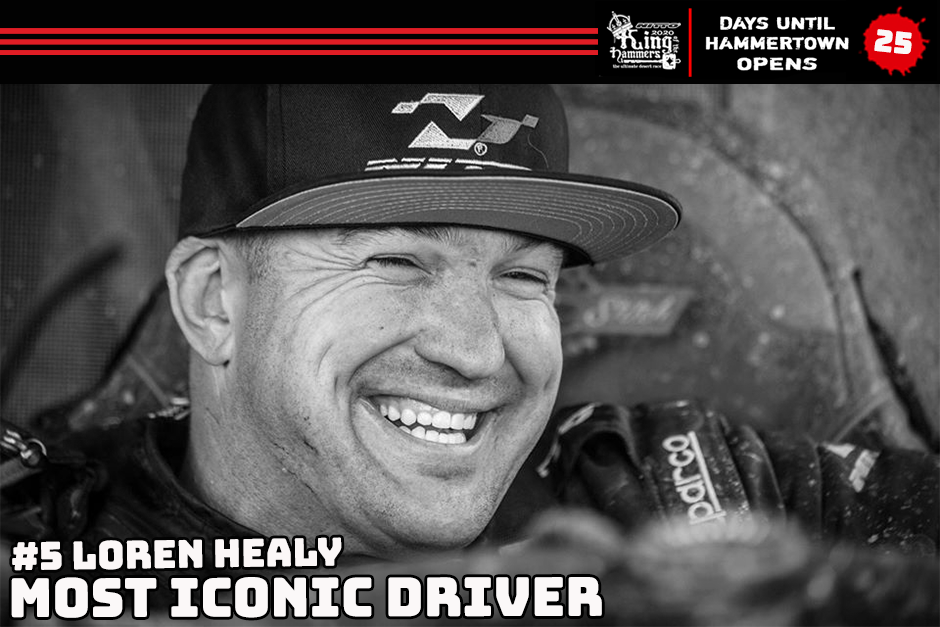 Loren Healy catapulted to fame by winning the 2010 King of the Hammers as a rookie driver who qualified through LCQ. Since then, it's been nothing but up for this legendary icon. Loren has followed up his win with another King of The Hammers title in 2014, joining the 2X King Club, has landed National Championships, East and West Championships, helped launch Nitto's new UTV tires by racing UTV classes at KOH and regional events, delivered the most iconic Milk Run ever, and has been an incredible ambassador for the sport.
In addition to winning the most races in Ultra4 History, Loren has been a mentor to drivers and teams, as he was mentored by other legends such as Shannon Campbell. His competitiveness, sportsmanship, and intensely professional approach to racing has made him a favorite on the trade show circuit with sponsors and fans alike. A true professional who's love for the sport is evident, Loren has recently teamed up with fellow Fun Haver Vaught Gittin Jr to continue to expand the reach of Ultra4 and the Loren Healy legend far and wide.
Always considered a threat, Loren is typically the driver to beat in most racer's minds. If you finished ahead of Loren, you had a GREAT day. For KOH 2020, Loren and team have their sights set on a 3rd championship AND is chasing another elusive "complete season". Loren is the only driver to have won the Nitto National Championship and the King of the Hammers in the same calendar year (2014). Is this the year that Loren repeats this groundbreaking accomplishment? #KOH2020 is the first step.
#6 Tom Wayes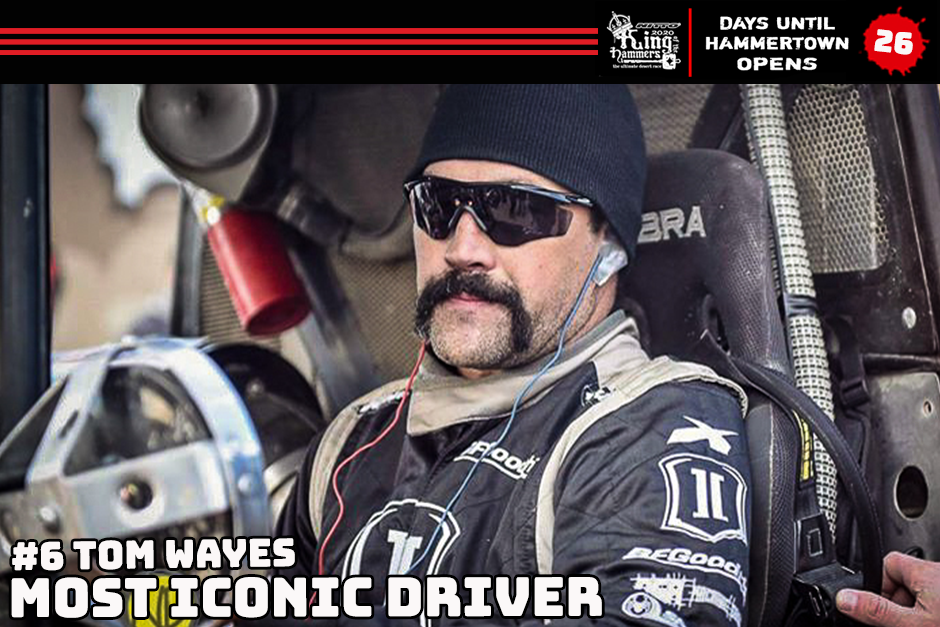 Tom Wayes (and his mustache) are living legends of old school racing with new school ideas. Generally considered the fastest man at KOH by many of his peers, Tom is legendary for his passes, his competitiveness, and his near misses. Determined, smart, and fierce on course, Tom is also a renown Alaskan heli-ski guide and all around man's man who wrangles bears at the cabin in his down time.
While Tom is constantly in the mix of who is going to win KOH (and has had EPIC back to front runs, canyon side wall passes, and insane 3 wheel pushes in past years) plus has multiple series podium finishes to his name, many wonder if this is finally his year. A fast ,new car that was debuted at #KOH2019 is dialed in and ready for a new year. Is Orange the new Black? Is this Tom's year? We know the driver is fast. Just a few more weeks until we find out. 
#7 Bailey Campbell
Bailey Campbell has been a trail blazer of an icon in Ultra4. Coming from a strong racing family, Bailey is a member of the Rock Royalty team of young guns who are second generation drivers that are shaping the future. On the track, Bailey is ferocious and focused, driving with a passion and energy that is in her blood. Off the track, Bailey always has time for fans, friends, and family as an approachable and affable star in the sport. Racer, photographer, business woman, and friend, Bailey Campbell is our #7 most Iconic driver.
You hesitate to label Bailey as a "female driver" because to put any type of qualifier on her talent and record might appear to take away from the accomplishments, but as a role model and icon for young women interested in the sport, Bailey stands at the top. Cool, bad ass, and confident, Bailey is all business with a human heart. Paying her dues in Dirt Riot, Ultra4 and 2 passenger solid axle cars, Bailey has quickly earned her way into top tier Campbell cars with each passing season with podium finishes and outright victories. 2019 was another year where her consistent performance and drive for success put her in the Top 10 in National Points and Top 10 at the King of the Hammers.
#8 Randy Slawson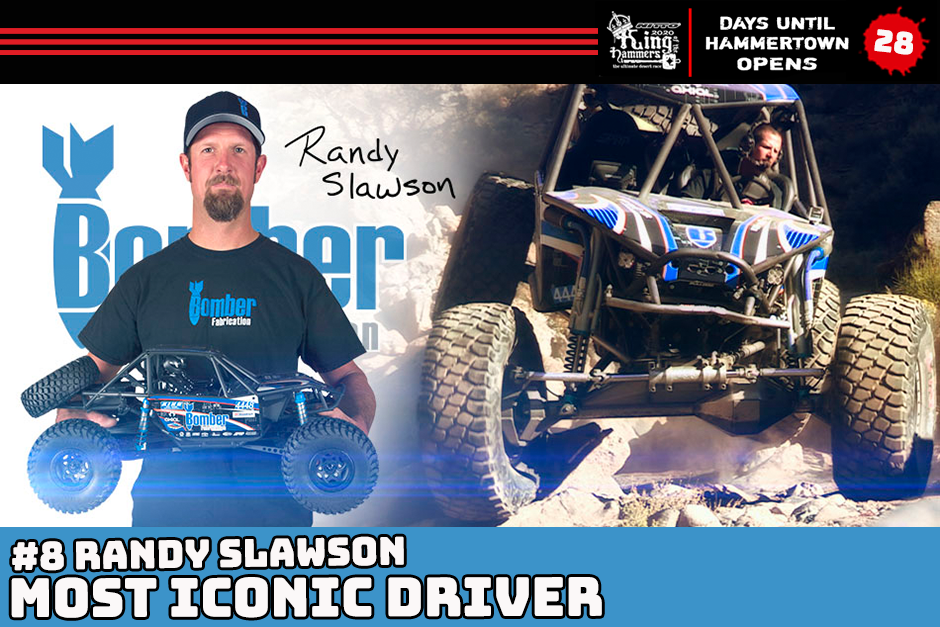 Randy Slawson is a 2-time King of the Hammers, a master fabricator, and a local legend in Johnson Valley. His Bomber cars are proven winners and his impact on the sport has had a significant ripple effect on the engineering, performance, and strategy around the King of The Hammers.
A regular in Johnson Valley, Randy knows what it takes to make cars that perform in the Ultra4 world. Randy developed lighter, stronger cars that really push the line between performance and strength. Randy is the definition of garage built, originally trying out new designed built in his own garage before expanding.
Adept at dodging competitors throwing rocks, Randy is a focused competitor who knows what it takes to win. His Bomber cars are famous the world over for their performance and reliability and Randy is a threat every year to win the King of the Hammers. His 2 wins could have easily been 4 titles if things had shaken out a bit differently!
#9 Levi Shirley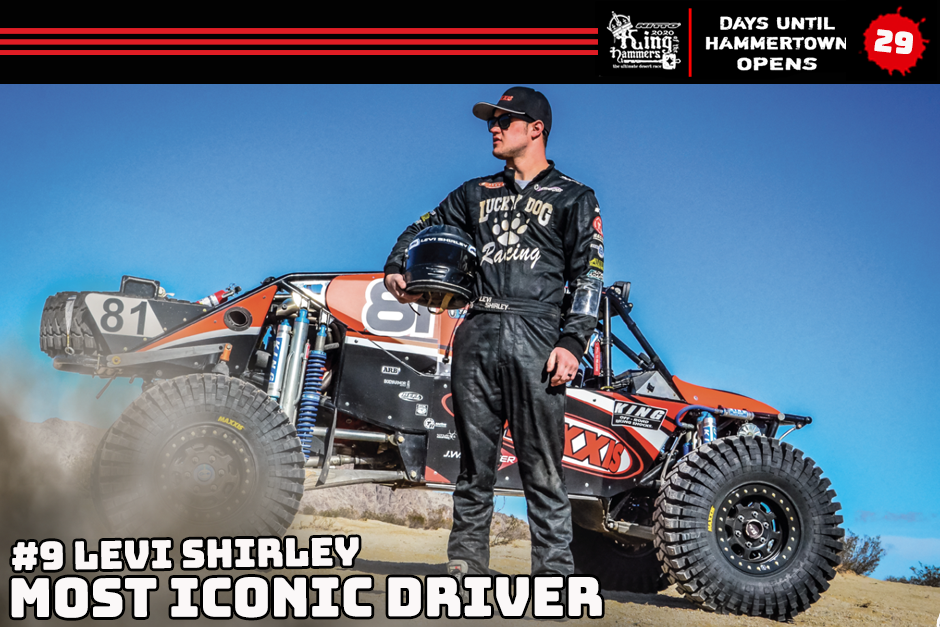 Levi Shirley was named the Ultra4 Sportsman of the Year 2011 and 2014. The title is a huge honor, as fellow drivers in Ultra4 Racing vote on this title and it should tell you everything you need to know about Levi's character. In 2015, Levi proved himself a top contender by taking 3rd place at the toughest off-road race in North America, the King of The Hammers.
He followed this huge accomplishment with an incredible race season of five top-ten finishes. He then ended the 2015 season with the Ultra4 National Championship. In 2017, Levi had five podium finishes, and became the Ultra4 West Coast Series Champion and runner up in the 2017 Ultra4 National Championship.
Levi is also well known in the ULTRA4 EUROPE community. He was the first American driver to race in the Ultra4 European Series. Levi became a triple threat after taking three titles in the 2014 Ultra4 Europe Series: King of the Mountains in Italy, King of the Valleys in Wales, and King of Portugal.
As a leader of the "next generation" of racers and a member of the AMSOIL Rock Royalty court, Levi grew up in the sport he's learned to conquer, establishing himself as a winner, a competitor, and an icon. Friendly with the fans, fierce on course, and humble in spirit.
#10 Jim Marsden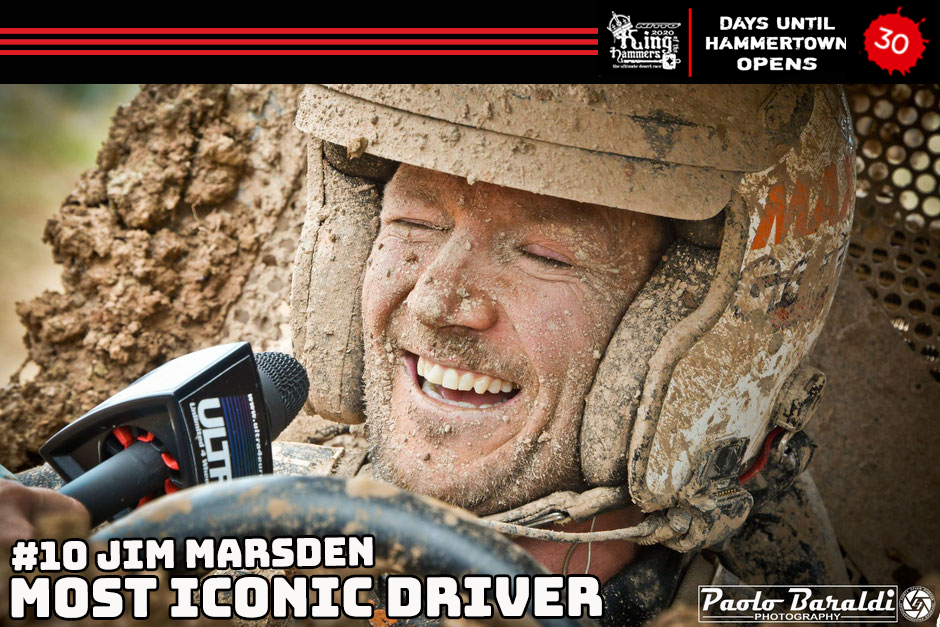 The effervescent Jim Marsden. The 2019 Ultra4 Europe Champion, 2019 winner of the King of Britain, King of Spain, and King of Poland, Jim is the winningest driver in Ultra4 Europe history. In addition to these accolades in 2019, Jim also won The Welsh One50, the Croatia Trophy, and was inducted into the Welsh One50 Hall of Fame this year.
Racing around the world, including the Everyman Challenge, Jim is well known for his expertise, his winches (GigglepinWinches.com), and his sporting attitude. In addition to winning almost everything he enters; Jim is also an accomplished on-air personality for King of The Hammers live broadcasts as well as the Ultra4 Racing Nationals and the Mint 400. Knowledgeable, competitive, and smart, Jim Marsden was voted our #10 Most Iconic Driver for Ultra4. 
---