Bryce Menzies Takes Back To Back Wins In His AWD Mason Truck.
The Toyo Tires Desert Invitational Presented by Monster Energy kicked off an action-packed week of racing featuring the biggest purse in desert racing. $270,000 in prize money was awarded across T1, T2, B1, B2, B3, and Class 11 vehicles.
KOH Media


Saturday kicked off with qualifying for all classes before the B2 vs B3 Grudge Match. Confused by the alphabet soup?  T1s are unlimited desert racing trucks, while T2s use a sealed crate engine to keep costs down and level the playing field.  B1s are unlimited class buggies (B for buggy, T for truck) but unlike the T1 trucks the B1s typically use a rear engine and a transaxle.  The exception is 4WD vehicles from the 4400 class, such as Paul Horschel's Bronco buggy. B2 buggies use rear mounted four-cylinder Ecotec engines and B3 buggies are UTVs such as Can-Am Maverick X3s.
B2 vs B3 Grudge Match
The B2 vs B3 Grudge Match stems from UTVs having to start behind the B2s in most races, even if they qualify faster than the B2s.  Despite a greater number of B3 entries, four of the top five qualifiers were B2 buggies, with Chase Warren setting the fast time over the five-mile qualifying course.  These results proved to be foreshadowing for how the main race would play out over 304 miles of punishing terrain in Johnson Valley OHV Area.  Only seven of the 39 entries in the B2 vs B3 Grudge Match finished before the eight-hour time cutoff. While they did not have to contend with the boulder strewn Hammers trails, there were still enough punishing rocks and whoops to give an advantage to the B2 cars, which benefit from taller tires and additional shock absorbers. The 4WD capabilities of B3s give them an advantage in situations where traction is limited, such as silt beds, but those were a non-issue after heavy rains pummeled the Mojave Desert in the week prior to the race.
The first three vehicles across the finish line were single seat B2 cars, with Wheeler Morgan taking home the victory and a total of $60,000 for his efforts. "We ran flawless today, no mechanical issues," Morgan reported. "We had one tire change scheduled on the end of lap three. And yeah, it was a clean day just kind of kept finding ourselves moving forward and had a lot of fun doing it."  Kyle Cheney was the top finisher in B3 in his Can-Am Maverick X3, finishing 45 minutes behind Morgan and earning himself $10,000 for being the top B3.  "I really wanted to win that fifty grand for the overall," Cheney confessed, "but I've never raced like actual desert and man those B2 buggies freakin' rip so I'm like, okay, I'll just try to win the UTV race so I will just forget about winning the overall. But man, my Can-Am did awesome today!"
EMPI Class 11 Showdown
The racing wasn't over after the sun went down, it just moved from the desert to the short course, where the EMPI Class 11 Showdown Presented by Baja Jerky played out under the lights of Hammertown. Class 11 VW Bugs were a big hit with the fans on the lakebed and at home following on the live show.  A dozen full-bodied Bugs with minimal modifications took part in a shotgun start on their way to making 25 laps around the short course, complete with jumps, banked turns, and plenty of paint swapping.  Blake Wilkey took the win and went home $20,000 richer, holding off 4400-class racer Bryan Crofts and his Off The Grid-sponsored Class 11 car.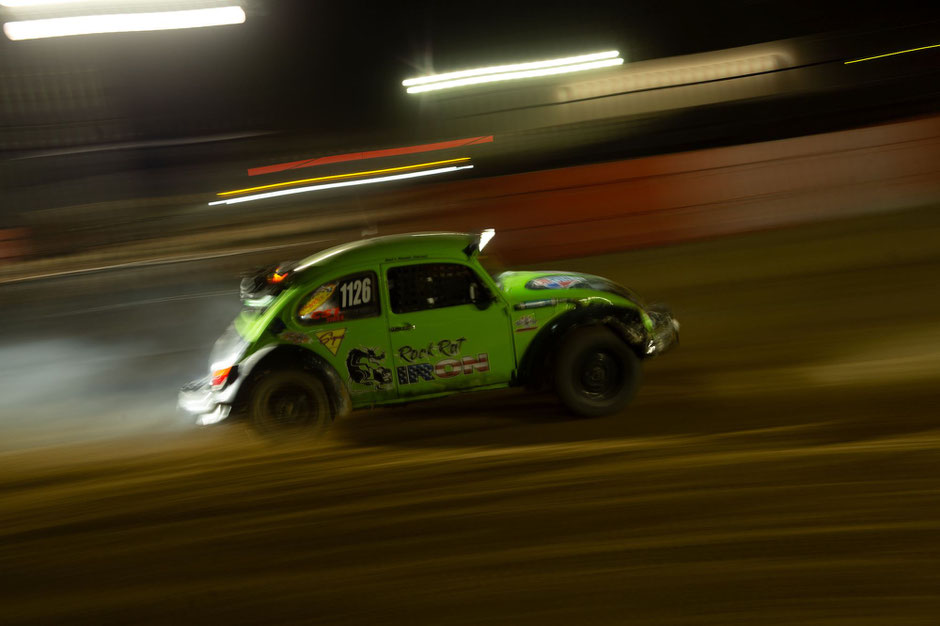 Sunday's T1, B1 & T2 Race
Bryce Menzies was the fast qualifier for Sunday's Toyo Desert Challenge and led flag to flag to take the win in his Toyo-equipped Mason Motorsports 4WD T1 truck for the second year in a row, earning him $50,000 in the process.  "It was insane out there this year! This course was so rough, it threw everything at us and to come away with a back-to-back win is unbelievable."  While Menzies won handily, Cameron Steele finished second only 14 seconds ahead of Kyle Jergensen, who physically finished ahead of Steele but finished third by the slimmest of margins on corrected time. Steele lost all oil pressure the last 20 miles of the race but refused to give up, an instinct that will serve him well when he participates at four more races throughout the week. "I think it definitely helps kick us out of the gate, second place, you know, puts a lot of energy into the team, all those long hours that everybody has to put in," Steele shared at the finish line.
Cody Parkhouse was the fast qualifier in B1, putting him second off the line at the start of the race.  Mechanical issues sidelined Parkhouse early on though, opening the door for Ray Griffith to take the class victory in B1 for a $10,000 payday. Casey Currie finished second in B1 in the same 4x4 vehicle that he plans to race in the unlimited 4400 class race on Saturday. "We broke a sway bar but otherwise the car is still in good shape," Currie reported.  Adam Lunn rounded out the podium in the B1 class, sharing driving duties with RJ Anderson in his new Racer Engineering buggy.
Despite running sealed crate engines with limited horsepower, the top finishers in T2 beat all the B1 buggies, largely due to the increased rear wheel travel possible with a solid rear axle. Dustin Grabowski edged out Pierce Herbst and Brad Lovell to take home $10,000 for the class win. "We had a flawless day, the Herbst Smithfab truck worked great," Grabowski revealed after taking the checkered flag.  Third place finisher Brad Lovell is no stranger to King of the Hammers, having won the Legends class in the Every Man Challenge four times, including last year.  "I feel bad for me and everyone else who has to run this course in the EMC race," Brad confessed.  "It is going to be a rough one out there!"
The Toyo Desert Challenge kicks off a week of competition that includes the All Balls Racing King of the Motos on Tuesday, the Can-Am UTV King of the Hammers presented by PROGRESSIVE Insurance on Thursday, the 4WP Every Man Challenge on Friday, and culminates with the OPTIMA Batteries King of the Hammers Presented by Lasernut on Saturday, February 6th, with unlimited 4WD vehicles running though the most challenging terrain imaginable.
T1 B1 T2 Podium Quotes
Bryce Menzies Team #7 – 1st Place Overall/1st T1
So how'd it go out there today?
"Oh man it was it was a good game rough. The course from the rain just got super chewed up super thick, really square edge and a ton of rocks man. I'm surprised we only had one flat, but I earned that one.  That is on me. Other than that it was insane. This course was so tough it threw everything at us and to come away with a back-to-back win is unbelievable."
You're one of the few people we see still has a hood on with visibility and issue out there today!
"Yeah, with a lot of the up and down hills. It was a very technical very hard and it started kind of square and outs everybody's smashing the front of their trucks into holes. And, man, there's one of the roughest races I've ever done. So I'm glad to make it here to the finish and it feels good to win again!"
Cameron Steele Team #16 – 2nd Place Overall/2nd T1
"We didn't win but after having a couple of tough races at the Hammers last year, second place is definitely better than third! The last 70 miles going into the finish our guys were like, 'You're like a minute thirty out of second' so we abused it a little bit. She is not happy. But I'm happy. Thank you to Mike Craft who has been a little under the weather. And he's not here with us today. But he's our race engineer and he makes a lot of this possible."
So, does this set the tone for the weekend, Cameron?
"I think that we really want to be successful and be on the podium for every race, except for probably the bike race. I think it definitely helps kick us out of the gate, second place today puts a lot of energy into the team, all those long hours that everybody has to put in. For us to be able to do this. Just thinking about it coming in town and all those bumps going, 'Oh, my God, I got to ride the bike in two days.'"
Yeah, what's the course like? I mean, you're in a T1 unlimited truck today. And you're going to get into a UTV on the same course.
"Nobody that races any of the four wheel drive classes wants any part of that desert course right now. That is the ugliest, just like it is so sheer every hole is I mean, we're running on 40s with 30 inches of wheel travel and it's like running into a brick wall every eight feet just I can't even imagine going out there and the EMC car. But I did get in a couple of good prerun laps so I have an idea of what I want to do. We'll see what happens but right now I want to say thank you to Lasernut for making it this all possible. Really cool. Appreciate it. Thank you everybody. Thirty five years of off road racing and you know, having Monster and Method and BFG all standing behind us so strong is really cool. So, I just want to thank all those guys and make it possible. Baja Designs.  Fox.  Without them, we don't race. We don't have a big bank account. So, it's all about the all about sponsors. Thank you to all of them."
Kyle Jergensen Team #27 – 3rd Place Overall/3rd T2
You said it was super rough out there?
"Very rough, very rough. The truck ran great. I think I just got out driven by Bryce and maybe they missed a little bit on suspension setup. I didn't have any flats. We never got out of the truck. We pretty much had a perfect day. We just weren't fast enough."
Was lap traffic an issue out there?
"No, we did not have any, no lap traffic and this will be third place."
I noticed your hood's missing. Did you guys take it off?
"Yeah, visibility was an issue on the course is very, very tight technical stuff. So, we decided to just take it off at the beginning. give ourselves a visibility, and we probably could have done it no problem without but it's just a little less headache for me like having to look up so much."
Had you raced out here before?
"No, not at King of the Hammers. I mean, I used to race Lucerne all the time. But not King of the Hammers."
So, what did you think?
"it was rough, rough. it just deteriorated. Sandy, rocks. We were just using every inch of suspension. And it wasn't enough sometimes. There were some hard hits that we tried to avoid but that's it. We just weren't fast enough. Next time, I guess."
You guys are out there running hard all day putting time on most of the field, that's for sure.
"Yeah, I had poor communication with the crew on splits, especially behind us, I knew Menzies was just checking out and then we had a lot of pressure from (Bobby) Pecoy  and I don't know what happened to him and then Cameron was four minutes back and then I think he made some time up on us. We're happy to be at the finish line though. It was a good day."
Dustin Grabowski Team #6172 – 4th Place Overall/ 1st T2
Did you have mechanical issues?
"No, we had a flawless day all the way up until about five miles from the finish, and we end up getting a flat trying to run away from the Herbst boys but all in all, we had a perfect day. My Herbst Smithfab truck was perfect and it was just a great day."
What was the course like out there?
"Oh, the course. The first lap was it was fun, it was nice and smooth.  By the last lap, we knew we had a lead. So we were just trying to you know, take it easy on the truck, not break anything and just get here and to secure the win."
Was lap traffic an issue out there at all?
"This last lap we maybe passed two trucks besides I was it was good all day."
Okay, and have you raced out here before?
"No. I've raced out and like the MORE series and Lucerne but never on this side and never like this course. And like, 10 to 15 miles of the course we ran today's what we run during the MORE stuff so it was pretty much all new course."
Has it changed a lot since pre running to now?
"Oh yeah, the course is 100% different now. It's so rough and it's I wouldn't want to do any more laps."
Tim Herbst Team #6174- 5th Place Overall/2nd T2
Is your other truck still running?
"The other truck broke down. Yeah, the first lap I lost a driveline. They're stuck out there I think to bringing them in now."
So, then you got in your son's truck and drove a few laps?
"Yeah, yeah. Like a lap and a quarter, a lap and a half. Enough to have a good time"
So how did racing a T2 compare to racing a T1?
"This class is a great class, real competitive. Speed's your friend here, you gotta be damn smart."
Were there passing opportunities out there?
"Yeah, yeah, there was. I got Grabowski with flat tire and then all of a sudden he came around us that we got him back, come up and hit him a little bit and then he came around and gave us a love tap. We came back around so you know, all fun out there. It really has a lot of places where you can you can pass and be competitive instead of just get really stuck."
Dust probably wasn't an issue then?
"It was an issue but not as bad as it could have been, it was coming up pretty good, depending on which way the wind was blowing, but it would have been a lot worse, obviously if it hadn't rained on Thursday."
Did this truck have any mechanical issues?
"No just a flat tire. And then Cameron hit us in the rear and we lost both our tires. So we had to come into the pit and get that over here and then a flat on the dry lake. Other than that it seems pretty bulletproof."
So the limited power helps?
"Oh absolutely, as long as you don't really do something stupid you know get through this stuff pretty good. Now they've been they've been doing pretty well on these trucks in Parker we got first and second and here we got the first and second again (in T2). We're happy with them."
Brad Lovell Team #6138 – 6th Place Overall- 3rd T2
So the first question I want to ask you is about you have to race a few days out here in a single shock per corner truck with 37s…
"So yeah, I feel really sorry for me and everybody else who is going to be out here running in the EMC race. That course is torn up, especially the area that we've come through five times. You know, we're going to be hunting for lines all over the place. It got to the point that you know, in a full blown T2 you know, we're kicking a little bit and having to ease up so it is rough."
"This is our third season campaigning in the AMSOIL T2 here, but it's the first time we've raced it out here and it's pretty exciting because these guys don't mess around. And we really didn't have too many problems. We had a fuel pump die on us and we were able to get that fixed pretty quick. One flat and then we broke a hood pin early on so that was kind of flying up in my face, but the trucks been great JBS Motorsports preps it for us. And for hats off to BFG and the whole team out here who've been helping us out and making sure that trucks good and keeping track of things."
We've seen a lot of trucks come in with no hoods on them. Was visibility an issue out there?
"Yeah, absolutely. So we were talking about pulling the hood for visibility, and I figured it wasn't in good sport, and then we broke a hood pin so it happened anyway..."
You guys were running fast out there. Nice job.
"Yeah, you know, we really tried to run like a Baja pace out here. We thought that it was gonna be really rough. And it did get really rough. I think we gave up a little bit on the first lap, and these guys in front of us were kind of battling it out for the win. So it's a tough one to miss that. But hey, we're really proud to be up here on the podium."
And hopefully another podium finish for you later this week!
"Yeah, hopefully we can come back in 4800 and defend our win from last year, but it's gonna be rough out there. I mean, it is torn up so it's gonna be a different King of the Hammers, quite honestly."
Casey Currie Team #2- 15th Place Overall/2nd B1
What sort of mechanical issues did you have?
"We got two flats and then the sway bar broke going out on the last lap. So this thing has a high roll center, so when the sway bar breaks, it's just very difficult to drive. On all the off camber and even in the whoops, if you're going super-fast it wants to walk sideways. So just that last time was tough, man, it's just we don't want to roll over."
You are the first Ultra4 car we have seen.  And the second B1.
"Oh, really? You know, it was brutal out there. So it's good. I'm excited, the whole team worked hard. The car is phenomenal. So if it wasn't for that swaybar I think would have been way better off. The punctures who were my fault. So all in all was a good day."
What are you racing the rest of the week?
"In the UTV race in my new Polaris.  I qualify tomorrow night."
Yeah, so is that the only thing that are you racing?
"If everything's good we'll race this in the 4400."
---
---
---